Samara Oblast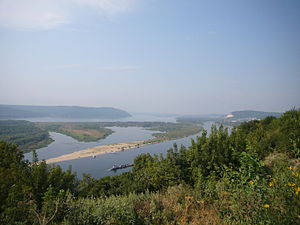 Samara Oblast
(
Russian
: Сама́рская о́бласть
suh-MAHR-skuh-yuh OH-bluhst'
) is a region in the
Middle Volga
, bordering
Ulyanovsk Oblast
to the west,
Tatarstan
to the north,
Orenburg Oblast
to the east, and
Saratov Oblast
to the south.
Samara region is located in the southeastern part of the European territory of
Russia
in the basin of the
Volga
, the largest river in
Europe
. The region has the area of 53,600 km² (0.31% of the total territory of Russia). The area stretches from north to south for 335 km and from west to east for 315 km. Samara region is forest-steppe region. In the north it is covered with coniferous and broadleaved woods, and its south and east are mainly steppe areas. The largest mountain range of the area and one of the most beautiful places in
Russia
are Mountains Zhigulevskie. The main river of the region except Volga, the most significant rivers are Samara, Sok, Kinel', Big Irgiz, Kondurcha.
Cities
— the industrial capital with over one million residents; was a closed city under the USSR for its role as a center of the Russian aerospace industry
— big oil city
— the region's third largest city, founded as a 17th century fortress
— very large city named after the Italian communist, and a major automobile producer; most of the city was destroyed in a 1950s flood, but new cultural monuments have since been built, including the massive 2003 Cathedral of the Transfiguration
Other destinations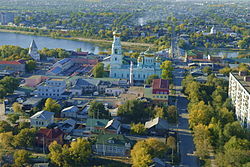 Samara River Bend National Park (Samarskaya Luka)
Zhigulevsky Nature Reserve
Understand

Samara Oblast is a heavily industrialized region along the Volga and Samara rivers. The region rose to prominence during WWII when its distance from the war front and abundant petroleum deposits made it an attractive area for a new industrial center. The region has little tourist infrastructure, but that in itself can make for interesting travel. The capital, Samara, is of particular interest since it is one of Russia's largest cities, formerly closed to all foreign visitors, and has lots to see and do.

Talk
Get in
By train
There is a daily overnight train from
Moscow
, which leaves around 14:00 and arrives around 08:00 in
Samara
. Samara is also a major stop on the South Ural route of the
Trans-Siberian Railway
.
By plane
Kurumoch International Airport (
KUF
)

Go next