Samsø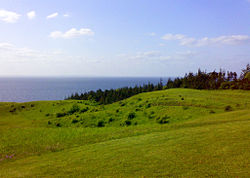 Samsø
is an island in central
Denmark
, between the big island of
Zealand
and the mainland
Jutland
peninsula.
Understand
Nationally, Samsø's main claim to fame is that the first potatoes of the year hail from the island. It has more garnered international attention because the heat and energy used on the island is exclusively produced from renewable sources.

Get in
By ferry
Samsø RederiFrom Jutland, ferries depart from Hou south of Aarhus to Sælvig every two hours between 06:00-20:00. The crossing takes an hour and tickets cost 104 kr for a one-way passenger ticket in high season (52 kr in low season), and 458 kr for a car in high season (205 kr in low season). There is a bus service directly between Aarhus and the harbour in Hou (line 103).

Samsø LinjenFrom Zealand, ferries depart from Kalundborg to Ballen the number of departures a day dependent on the season. The crossing takes one hour and a half, and tickets cost 109 kr for a one-way passenger ticket in high season (62 kr in low season), and 435 kr for a car in high season (219 kr in low season). To Kalundborg there is direct train connections from Copenhagen once or twice per hour depending on the time of day.
By plane
While it is possible to take a taxi flight from
Roskilde Airport
to the island's small airfield, the vast majority of travelers take one of the island's two ferries.
Get around

Samsø is ideal for bikes. Bring your own or rent one. You can also drive your own car around to most places, as most roads are paved and of a good quality. Samsø has a network of bus routes too.

See
phone: +45 86 59 21 50

address: Museumsvej 10

Visit the Eco Museum Samsø in Tranebjerg. The museum has several departments spread out across the Samsean landscape, and tries to communicate the cultural history of the island through activities, events, exhibitions and restored historic buildings. The headquarters in Tranebjerg are situated in an old restored half-timbered and thatched roof farm from 1917. It has been furnished and decorated as a Danish farmhouse from the 1850s (supposedly wealthy residents) and the garden has several activities going on throughout the summer months, including weaving, spinning and folk music arrangements. A part of the farm house has been dedicated to exhibit Samsø's pre-historic past, from the Stone Age to Medieval times. Other Eco Museum buildings on Samsø includes two old style mills, several different historic farm house types, an old post office, a blacksmith shop and archives on local history. Open from April to October all days. Some locations are only open in June, July and August. Interesting for both kids and adults.
Do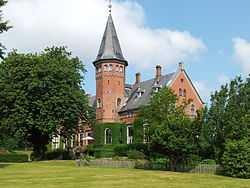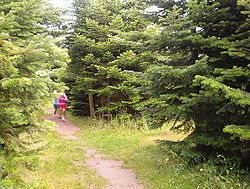 Although cars are allowed and public transportation by bus is available, Samsø is ideal for a bike ride. It allows you to take in the nature and countryside much better, do small side trips and get some fresh air in your system.
Samsø is great for
surf fishing
. The coast is varied and you can change location easily on an island the size of Samsø, so you should have a good chance of catching a nice fish. Trout, mullet and flatfish are common, great for garfish in May-June.
Soak some sun, play or swim at the beach. Nearly everywhere you go, the beaches are good and accessible. Go to the
Stavns Fjord
laguna on the northwest coast. Besides the beautiful scenery here, the shallow waters and sandy beaches north (Mårup strand) and west (Sælvig strand), makes for a very good and child friendly beach experience in the summer. Go on a seal safari from Langør with the old wooden fishing boat
M/S Tunø
in the summer.
Pick up some fresh produce from the farmers. The groceries are displayed in front of many farms, when they are in season. You just pay for what you pick up and it is good quality. Strawberries, potatoes, onions, leeks, carrots, green peas, you name it. Some sell local honey, pickles or jams as well.
North island
phone: +45 2427 3717

The world's largest labyrinth

NordbyThis is the northernmost village on Samsø. It has a nice old-fashioned village charm, with timber framed houses, thatched roofed farms and a lovely central village pond with ducks. Superb options for eating and also hotels.

Nordby BakkerNordby Bakker is a very beautiful landscape on the northern tip of the island. The rolling grassy hill slopes offers excellent vistas. It is a protected area and no agriculture is allowed here, except for a few grazing sheep, that help maintain the habitat free of tree and shrub growth. Good site for a picnic.
South island
Eat
With plenty of fresh local produce, good dedicated cooks and a broad interest in organic farming and experimentation, Samsø offers many good to excellent dining opportunities.
Cafés and restaurants
are to be found all across the island.
phone: +45 86592500

address: Sælvig 48

This restaurant also has take-away and they bring out all across the island for 50 kr extra. It is also a hotel.

phone: +45 61519165

address: Langør 25

Smokehouse and restaurant with big terrace with a great view.

phone: +45 27 29 45 20

address: Langgade 15, Tranebjerg

A cosy lunch eatery with attached café, wine, liquor and gift shop in the center of Tranebjerg. Great open-faced sandwiches, plenty of seafood options, but also other dishes. Cakes and coffee and many luxury liquors to go along. Sometimes arrangements or musical events.

Maarup Havn

phone: +45 81933322

address: Mårup Havn 1

Cozy and quiet atmosphere at the small harbour. The menu consist of mainly seafood, but also Bulgarian tapas. The wines are from Bulgaria
Ballen has the most restaurants:
phone: +45 86591072

address: Strandvejen 83, Ballen

Lunch and evening dinners with traditional Danish food. Discotheque every Saturday night in the summer (above 18, show identity).

phone: +45 28 77 38 77

address: Aavej 10, Ballen

Gourmet restaurant with plenty of local produce. Lunch and evening menus.

phone: +45 86 59 10 18

address: Havnevej 9, Ballen

Great quality lunch and evening menus every day of the week. Modern Danish cuisine with plenty of local seasonal produce, including seafood.

phone: +45 20349319

address: Åvej 21, Ballen

Ambitious restaurant focusing on products from the island.

Røgeriet

address: Havnevej 3

Small seafood restaurant.
Drink
phone: +45 86 59 68 98

address: Østre Ringvej 22, Nordby

Try the Samsø Bryghus brewery and farm in Nordby. Here local organic brews of all kinds are produced from scratch. With more than 11 standard brews, you should be able to find a favourite. The many flavours of beer can be enjoyed in a nice attached café.The café also sells hot meals, cake and assorted organic and locally produced groceries such as wine, candy, vegetables, meat and even yarn. The meat and vegetables is produced on the farm. Every Tuesday evening in the summer you can participate in a beer tasting and guided tour. Reservation required. 100 kr.

HøstYou can have a glass of wine or champagne on the terrace. It is also a fashion store.
Sleep
There are plenty of options for a place to stay on Samsø, but the island is a popular destination in the summer, so you might not always get what you hoped for.
Stay safe
It is fairly easy for you to stay safe on Samsø, but be aware of your surroundings and take care of the environment and the bird life here. A few areas are closed to human traffic when the birds are breeding and nest their eggs, as many species are nesting on the ground. Keep your dogs on a leash and don't let your pets run wild. Don't start a fire outside of carefully marked fireplaces. If you go by car, drive carefully and be aware of both bikers and hikers, as the roads are often narrow.

Go next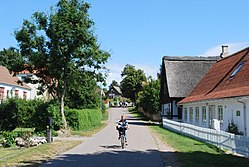 TunøTunø is a small car-free island and is perfect for a day trip. It offers good quality beaches; sandy, shallow waters that are child-friendly; and good opportunities for surf fishing as well. There is a small central village on Tunø and most of the residents are farmers. It is a beautiful, slow-paced island and there are several options for staying here overnight. You can bring your own tent to the camping grounds, or pay more and stay in a small cosy house in the village, at the old inn or you can rent a summerhouse for an extended stay. The four-day music festival Tunø Festival is held every year in early July.
Depending on how you got to Samsø in first place, you can either take the ferry to Zealand (Kalundborg) in the east or to Jutland (Hou south of Aarhus) in the west.