Samut Prakan
Samut Prakan
(Thai: สมุทรปราการ) is a town in the Bangkok Metropolitan Region in
Thailand
.
Understand
Samut Prakan, also known as Pak Nam, is 29 km south of
Bangkok
, near where the Chao Phraya River flows into the Gulf of Thailand. The town dates from the Ayutthaya period and has plenty of historical and cultural sites.
Get in
By plane
People flying into Bangkok unknowingly arrive in Samut Prakan since is located there.
If you do not want to take a metered taxi the
BMTA
bus 553 runs from the airport 05:00-22.00 using the route
Suvarnabhumi Airport - Kingkaew Rd - Wat Salud (Bangna -Trad) - Ramkhamhaeng 2 - Srinakarin Rd - Theparak Intersection – Crocodile Farm – Samut Prakan (Pak nam). Fare 32 baht.
By car
You can use the old Sukhumvit Rd and also Hwy 303 to get here from Bangkok. The distance is only 29 km.
By bus
Consult the
Bangkok Mass Transit Authority (BMTA)
web site for full details.
Air conditioned buses
(of the BMTA)
Line No. 502 (Sam Rong - Pak Khlong Talat)
Line No. 506 (Pak Kret - Phra Pradaeng)
Line No. 507 (Sam Rong - Tha Phra)
Line No. 508 (Pak Nam - Tha Ratchaworadit)
Line No. 511 (Pak Nam - Pratunam-Ratchadamnoen Klang Rd(Khao San)-Southern Bus Terminal 'Sai Tai')
Line No. 513 (Rangsit - Pu Chao Saming Phrai)
Line No. 523 (Sam Rong Thewet via Expressway)
Line No. 525 (Pak Nam - Tha Chang)
Line No. 102 (Pak Nam - Chong Nonsee)
Line No. 126 (Nonthaburi - Sam Rong)
Line No. 129 (Thang Duan - Kasetsart University - Sam Rong)
Line No. 142 (Wat Lau - Samut Prakan)
Line No. 145 (Suan Chatuchak - Samut Prakan)
Non-air conditioned buses
Line No. 2 (Sam Rong - Pak Khlong Talad)
Line No. 6 (Phra Pradaeng - Bang Lamphu)
Line No. 13 (Rangsit - Phu Chao Saming Phrai)
Line No. 20 (Pom Phra Chun- Tha Nam Din Daeng)
Line No. 23 (Sam Rong Thewet via Expressway)
Line No. 25 (Pak Nam - Tha Chang)
Line No. 45 (Sam Rong - Ratchaprasong)
Line No. 82 (Phra Pradaeng - Bang Lamphu)
Line No. 102 (Pak Nam - Chong Nonsi)
Line No. 116 (Samrong - Sathorn)
Line No. 129 (Kasetsart University - Sam Rong via Expressway)
Line No. 138 (Chatuchak - Phra Pradaeng via Expressway)
Line No. 145 (Suan Chatuchak - Pak Nam)
By Skytrain
Samrong, the first
BTSstation on the Sukhumvit Rd south of the border with Bangkok opened in April 2017.
Riding there from Bangkok and continuing by other means may be handy if you wish to avoid the frequent congestion on Sukhumvit Rd.
Get around



Several BMTA bus and van lines run through Samut Prakan. Metered taxis work the same way as in Bangkok.

See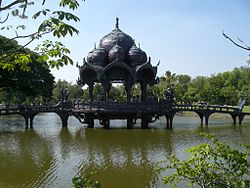 phone: +66 2 323-4094

address: 296/1 Sukhumvit Rd

Ancient Siam has scaled replicas of buildings from all over Thailand and is interesting to cycle around.

phone: +66 2 703-4891

address: 555 Moo 7, Taiban Rd

This is the largest crocodile farm in the world but also features crocodile wrestling and acrobat elephant shows. There is an education and research centre for the preservation of wildlife, and also a dinosaur museum.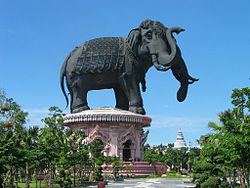 phone: +66 2 371-3135

address: Sukhumvit Rd to Samut Prakan

The most noticeable landmark in this area is the three-headed elephant. The three storeys inside the elephant contain antiquities and priceless collection of ancient religious objects of Kun Lek Viriyapant who is the museum owner. Its body is made from bronze with a pink pedestal rounded base decorated with millions of small tiles. The body is about 29 m high, and the total height is about 44 m. The design of all three floors represents three worlds. The lower floor is the underwater world, the upper floor is the earth, Kao Prasumain, and the top is the second heaven.

Si Nakhon Khuean Khan Park and Botanical Garden

phone: +66 24 610972

This place is a park, recreation area, and fitness facility for everybody. In addition, everybody can study the ecology of plants and animals locally and in the neighborhood. The garden is a combination of a park with a beautiful landscape which includes water plants, local plants that can grow in brackish water and traditional orchards. These parks and gardens is a green area that the government designated as the "lung of Bangkok". It has a wooden bridge along a garden for observing nature. There is also a seven meter tower overlooking the scenic surroundings and there is a bike service to rent bikes to ride around the park.

Wat Khun Samut ChinThe temple in the sea that can only be reached by boat. Years ago, this temple sat in the middle of a local village with a school and a clinic surrounded by farms. It was an area where Chinese cargo was unloaded from Chinese junks. Now it is surrounded by the water of the Gulf of Thailand, but the monks still live in the temple.
Do
Bang Pu Seaside

phone: +66 23 239983

Bang Pu Seaside or Bang Pu is a tourist attraction and a famous place to rest along the Gulf of Thailand. Bang Pu Seaside encompasses 639 rai and is in a natural environmental. Bang Pu has trekking routes and bird watching throughout the year for more than 200 species of birds. A special attraction is the ten thousand seagulls that migrate from Siberia in early winter around mid-October to November annually. Suk Ta Bridge stretches out into the sea about 500 m and makes a great spot for bird watching and watching the sunset. Bang Pu is excellent for watching brackish water fish such as Tiger blowfish, needlefish, and mudskipper because it is at the junction of the Chao Praya River and the Gulf of Thailand. At the end of the bridge is Suk Jai Pavilion which has a restaurant where tourists can taste fresh seafood. In addition, there is a dance patio for dancing activities for seniors every Saturday at 16:00.
Buy
Pak Nam Market

address: Downtown Samut Prakan

A large wet market with lots of very fresh seafood.
Eat
Bang Namphueng Floating Market

address: Moo 6, Bang Kobua, Phra Pradaeng

Focused on food and fruit although various trinkets are sold, too. Most visitors are Thais wishing to a break amidst the greenery.
Sleep
Many visitors use the province to stay the night close to
Suvarnabhumi Airport
.
phone: +66 2 738-8191

address: 99 Moo 6, King Kaeo Rd

Nawarat Resort

phone: +66 2 7503040(-2)

address: 19/49 Moo 7, Bang Na-Trat Rd

About 15 min drive from the airport.

phone: +66 2 181-2255

address: 88 Soi King Keaw 43

phone: +66 2 3134480(-9)

address: 199 Moo 4, Soi Bangna Garden

phone: +66 2 7521658

address: 18/11 Moo 11, Sukapibarn Road 5, Bangpli Yai

Family-owned budget accommodation with swimming pool, gym and 24-hour restaurant. Rooms have TV and high speed internet. A/C optional. About 20 minutes drive from the Suvarnabhumi International Airport.