San Andrés
San Andrés
is one of the two principal islands of
San Andrés and Providencia
. It is 200 km east of Nicaragua. San Andres and Providence belong to Colombia and are located in Colombian waters.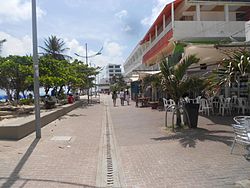 San Andrés is a tourist destination but not as slick and modern as others in the Caribbean. The island specializes in all-inclusive budget vacations that cater towards Colombian tourists. Outside of the downtown area there is a rural feeling, with small houses close to the main circle road, small sidewalks with some areas without any sidewalks at all, and many people hanging out on the streets, even at night. The people are extremely friendly and generally speaking the island is safe.
The sea surrounding the area is known by Colombians as the "Mar de siete colores" (seven-coloured sea), due to the variations of depth. To fully appreciate this, it is needed to go to the highest place in the island, around 70 meters high. Any locals will give directions to that precise spot, which is a normal stop for the island tours.
Get in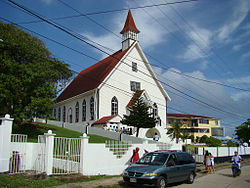 By plane
Gustavo Rojas Pinilla International AirportThere are flights from Bogota, Medellin, Cali, Cartagena and Panama City, as well as charter flights from Canada (via Air Transat). The lowcost-airline VivaColombia offers the cheapest flights from the Colombian mainland starting at about US$120 for roundtrip. Colombian customs need to be cleared upon arrival to the island. Check with your local travel agency to see what documents you need to travel to Colombia. For many passengers, a tourist card has to be presented on arrival. Airlines flying to San Andrés sell them on the counter for the official price of US$25. If arriving from outside Colombia, exchange currency at the airport, the rates are similar as downtown if not better. Any foreign exchange in Colombia is very formal and a passport is required and a big official receipt handed with the passport details on it, before returning local currency.
Get around

Rent a golf buggy or a scooter. Golf buggies can cost around COP$100,000 a full day. The police do not let golf buggies pass towards the south side of the island (away from downtown) after a certain time, usually 4PM.
Use public transportation. It is very convenient, safe and cheap (bus COP$1700). Ask about the times though, busses may not go around the island (or outside downtown) after a certain hour of the evening.
Take taxis. They will take you anywhere. You can also talk a taxi driver to pick you up other days and move you around. They are very friendly. Prices: COP$11,000 from/to airport; COP$6000 Downtown/Sarie Bay. Prices double after midnight (April/2014).
Be careful with the motorcycles! Most of the locals move around in them, and besides the noise they make, they appear everywhere at relatively high speeds.

See
Rocky CayWonderful beach near a little island. You can reach the little island walking!

San LuisBeach good for kids. Protected by a little coral reef with small "ponds" great for children or relaxing.

West ViewNot a beach, but a snorkeling point. Entrance: COP$3000 (April 2014).

La PiscinitaNot a beach, but a snorkeling point. Entrance: COP$2000 (April 2014).
Do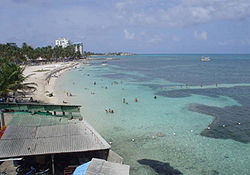 The beaches are very nice. All are open to the public, but the hotels outside of the downtown area have direct access to a number of them.
Buy

San Andres is a tax free zone - so prices are often cheaper than on the Colombian mainland. There's lots of shops in the town centre, many of which specialize in perfumes.
You can purchase alcoholic beverages at very competitive prices; bargain as much as possible, you may cross the street and find the same object cheaper. Check the bottles for rust around the cap, some bottles may have come by ship and may have spent many days in humid containers or warehouses.
Clothing is very cheap too and you can find famous brands as well as good quality local clothing. Beware of counterfeit merchandise, shop only in reputable stores and boutiques. Ask for warranty (in written).
Do not purchase marine souvenirs (artifacts and handcrafts made of coral). Commercialization of these products contribute to the deforestation of the marine ecosystem.

Eat

Most travellers to San Andres have meal plans included with their hotel packages. The variety and quality of the food varies with the hotel choice, but it is in general acceptable. Downtown in San Andres there are plenty of restaurant that serve what they call "almuerzo ejecutivo" (Executive Lunch) or "corrientazo" (short circuit) which is the local term for an economic lunch which may include soup, meat/fish, rice, vegetables, etc. There are also many street spots that sell smaller snacks like "arepas" (thick tortillas) and other local fast foods.
Native cuisine is found downtown, though many foreign travelers enjoy typical islander cuisine found around the "El Cove" bay and San Luis, where the typical dish of the island can be enjoyed: Rondon, which is a soup of crab, fish, pigtail, plantain, potato, breadfruit, etc.
Outside of downtown there are small shops selling everything from produce to beer and liquour. Ask at the hotel desk for the nearest one.
Tap water in San Andres is not suited for consumption. It comes from wells and/or desalinization stations.

Drink

Tap water on the island is not suitable for human consumption; it comes from wells and/or desalinization stations.
Alcoholic beverages are sold to adults (18 years of age) and are found everywhere around the island; they are very cheap so feel free to bargain and ask around in several shops. Check the caps though, some bottles may have stayed long periods in humid containers and warehouses and develop rust. Beware of counterfeit liquors by purchasing from a reputable store.
Try Coconut Water, or local beverages served in coconut shells: Cocofresa, Cocoloco.

Sleep
Various large all inclusive chain hotels can be found.
The largest chain is Decameron, with 6 hotels and a beach club: Marazul, MaryLand, SanLuis, Aquarium, Los Delfines, El Isleño.
Other hotels are:
Sol Caribe centro,
Sol Caribe campo,
Lord Pierre,
Bahia Sardina,
Casa Dorada,
Casa Blanca,
Cocoplum,
El Dorado,
Tiuna,
Toné,
Sunrise,
Sunset,
Calipso
Another accommodation option are the guesthouses called "Posadas Nativas" or Native Inns, run by the local
Raizal
people. These are bed and breakfast style including a homemade traditional island breakfast, and hosts speak English and Creole, which is great for international speakers who speak English and not Spanish.
For more information visit your local travel agency to see what packages are available.
You can also rent apartments for as cheap as COP$130,000 a night. Search for them online, there are plenty.
Nearby
Providencia
Island also has a variety of accommodation options.
Go next
Travel onwards, by plane or boat, to neighbouring
Providencia
.
Get a boat tour to visit small inhabited islands near by such as Cayo Bolivar, located a couple hours by boat from San Andres. This is usually a full day trip.