San Angelo
San Angelo
(pronounced "Snangelo" by locals) is a city in the
Northern Edwards Plateau
of
Texas
, on the Concho River. It is the home of Goodfellow Air Force Base, Angelo State University, and the Producer's Livestock Auction, the country's largest sheep and lamb market.
Understand
San Angelo is the county seat of
Tom Green County
, and the largest city in this mostly sparsely-populated part of west Texas. The military and college communities, along with business opportunities and Mexican immigration, have contributed to the city's growth and change over the years.
The city was founded in the late 1800s outside a new Army post, Fort Concho. The founder, Bartholomew DeWitt, named it "Santa Angela" after his wife, Carolina Angela. This was eventually shortened to "San Angela." The final change came in 1883 when the US Postal Service informed the town that the name was grammatically incorrect (
san
can only be used before a male name). Rather than revert to the original name, they changed it to "San Angel
o
."
The city has benefited economically from agriculture, the oil and gas industry, and after World War II, the US Air Force presence in the form of Goodfellow Air Force Base. Today, San Angelo's economy is largely supported by its two hospitals, telecommunications, agriculture, the university, and the region's largest employer, the Air Force.
Even though this city has over a 100,000 people, the locals will still notice if you're not from around here.
Get in
By car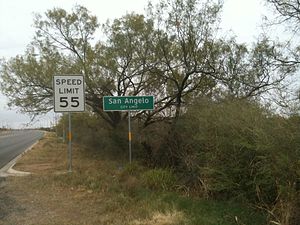 San Angelo is not on an Interstate highway, so there aren't any completely direct routes from any major cities.
From the
Dallas/Fort Worth
area, take Interstate 20 to
Abilene
, and then either US-277 directly to San Angelo, or US-83 to Ballinger and US-67 from there to San Angelo (neither route is substantially faster or slower).
From
San Antonio
, the best path is probably Interstate 10 to
Fredericksburg
, US-83 to Eden, then US-87 to San Angelo.
From
El Paso
one can start on Interstate 10, then get onto Interstate 20 when it splits off from 10, go through
Midland
and
Odessa
to
Big Spring
, and then take US-87 from there to San Angelo.
By plane
San Angelo Regional AirportServes San Angelo as a commercial non-primary hub airport that serves commercial, private and military aircraft. American Eagle provides service to Dallas/Fort Worth. Usually only 4 flights a day arrive here. It is the only commercial airport serving Concho Valley. There is also no ATM machine at the airport. There is also two places to eat at this airport with vending machines as well. This is a small airport and you have to be there 30 minutes prior to the flight departing if you need to check bags and get a boarding pass, even for e-check-in. The same person who is at the ticket counter is the same person who scans your ticket at the gate that's how small the airport is.
There are taxis that can pick you up at the airport, but usually you have to call them to come pick you up. There are also two rental car companies that serve the airport. Parking: there are 352 public parking places.
By bus
San Angelo is served by
Greyhound
55 E 6TH ST Station. Ticketing times vary.
Get around
A car is necessary to get around just like in most places in Texas, it's not really recommended to walk as everything is spread out. The main roads that can pretty much get you anywhere around town are Knickerboker, Bryant, Chadbourne, Sherwood, and Avenues L and N. Expressways US-67 (around the north) and Loop 306 (around the south) form a partial ring around the city.
Cars can be rented from:
Affordable Rent 325-949-8549
Avis Rent a Car 325-949-8681
Budget Car & Truck Rental 325-944-4718
Enterprise Rent-A-Car 325-658-1911
Hertz Rent A Car 325-944-1221
National Car Rental 325-944-9505
By taxi
Taxi service is available but usually needs to be called, as it's rare to hail a taxi on the street.
Red Ball Taxi and Shuttle 325-942-8899
Checker Cab 325-655-1982
Yellow Cab 325-655-3104
All American Cab 325-658-1982
See
Riverwalk

address: 418 W. Ave

Located on the Concho River, part of whats being done to beautify the River area it has 4 miles of walking/running trails, has 14 water displays, new and modern lighting on the riverwalk, and a memorial river stage dedicated to Bill Aylor Sr. The Celebration Bridge links the Historic City Center, the River Stage and El Paseo de Santa Angela, and provides access to Fort Concho from the river. Be sure to check out the San Angleo visitor center, (B) Hours of operation are Monday Friday 9AM to 5PM, Saturday 10AM to 5PM, and Sunday noon to 4PM.

Fort Concho National Historic Landmark

address: 630 S. Oakes St

Open established in 1867 to protect frontier settlements and in 1889 the last soldiers left and it was deactivated, now a historic preservation project and museum. The museum is open from 9AM to 5PM Monday through Saturday and from 1 to 5PM Sunday. Admission is $3, adults; $2.00, military and senior citizens; and $1.50 for children 6-17. Group rates are available. For information call +1 325-481-2646

The Cactus Hotel

phone: +1 325-655-5000

This historic hotel was Conrad Hilton's fourth hotel. Built in 1929, it's 14 stories tall; it no longer takes overnight guests

Old Town – Orient StThe city has designated Old Town as an historic district, shows what San Angelo has looked like in the past, very interesting if you are into early architectural styles. A few buildings have been relocated here.

Tom Green County CourthouseBuilt in 1928.

San Angelo State Park

phone: +1 325-949-4757

Has 7,563 acres to look around and hike, with numerous leisure and recreational activities, a lot of great sightseeing and has its own herd of Texan Longhorns and Bison.

Historical MarkersSan Angelo has over 39 historical markers to see about its history in a variety of areas ranging from cemeteries, churches and homesites. Very interesting to find out about some of the history around here.

The Sheep StatuesAll around San Angelo mostly in the downtown area you will see a small statue of a sheep painted a different color scheme, try to find them all.
Museums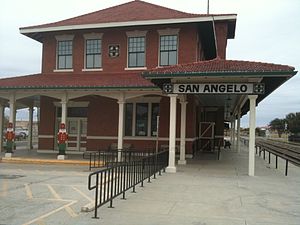 phone: +1 325-486-2140

address: 703 South Chadbourne

San Angelo Museum of Fine Arts

address: 1 Love St

Southwest Military Museum Foundation

address: 119 South Irving St

This museum is dedicated to honoring all United States veterans, their families, and their service to America, focusing on the period from World War I to the present.

phone: +1 8 325-653-0112

address: 1/2 E. Concho Ave

For 50 years this place operated as a bordello till it was closed by the Texas Rangers in 1946, now open as a museum and has all of the same furnishings as it would when it was open. Tours are Monday – Wednesday 4PM, Thursday – Saturday 1-4PM on the hour.
Do
San Angelo Art WalkHeld every third Thursday a viewing of the various downtown art galleries in downtown San Angelo free trolley service is available

Angelo State Planetarium

San Angelo Nature CenterAn educational center open to the public that has many exotic and native animals to see.

address: 2305 Pulliam St

San Angelo has almost a dozen places that you can golf at. Some are clubs, but there are some open to the public, such as the Quicksand Golf Course.

San Angelo Civic Theater

RanchesSan Angelo has a few ranches that offer bed and breakfast and can also be used for hunting. A lot of them have stocked exotic animals and offer a good time to just relax and enjoy the countryside.

phone: +1 325 482-9463

address: 113 E. Concho Suite 190

San Angelo's only winery.

Cinemark Tinseltown

phone: +1 325 223-2858

address: 4425 Sherwood Way

12-screen movie theater that has stadium seating. The only place to see a movie in the city.

Pearl HuntingSan Angelo is known for what is called Concho pearls. There are 12 varieties. They are found in freshwater mussel shells which live in the area lakes and rivers of San Angelo. They can be pink, purple and lavender pearls. So if you feel adventurous go out and see if you can find some pearls.

Stadium Lanes Bowling Center

phone: +1 76904 325 651-2695

address: 2105 Knickerbocker Rd
Sports
Angelo State University FootballPart of the NCAA Division II Lone Star Conference, go see a College football game here in Texas, it's an atmosphere unlike anywhere else in the country when it comes to football.

San Angelo ColtsGo see a baseball game of the United League Baseball, Ticket prices range from $6-9 for adults, they play their games at Foster Field, which seats around 4200 people.
Events
Buy
Downtown
, one cannot walk around Chadbourne, Concho, Oakes and other nearby streets in the downtown area without finding numerous small shops selling gifts, clothing, and antiques.
phone: +1 325 653-3397

address: 222 South Oakes St

Want an authentic pair of cowboy boots, or a saddle? You can't do much better than Leddy's.

Sunset Mall

phone: +1 76904 325 949-1947

address: 4001 Sunset Dr, Ste 1182

A typical mall, has stores that are featured in every mall. The Buckle is one of the popular stores in this mall. Has a couple places to eat as well.
Eat
Fast food
A variety of fast food restaurants located throughout the city including Burger King, Taco Bell, Sonic Drive-In, Jack in the Box, KFC, Wendys, Quiznos, Arby's, Long John Silver's, Subway, Popeye's, Wienerschnitzel, McDonald's, Denny's and IHOP.
phone: +1 325 227-4791

address: 1101 South Chadbourne St

Serves some of the best hot dogs in San Angelo, also serves hamburgers, has an old time (1950s) feel to it.

phone: +1 325 227-4432

address: 23 South Park St

Excellent locally-owned sandwich shop.

address: 4397 Sunset Dr # 400 and 2219 W Ave

WhataburgerA hamburger restaurant chain known in the South for its large hamburgers freshly cooked and tasty fries. Most meals cost more than $5 but less than $11.

Roadrunners Burger Deli

phone: +1 325 947-9462

address: 2424 Vanderventer

Known around town for having one of the best burgers around. Has very good beer battered onion rings and waffle fries. Most meals cost from $5-10.
Breakfast
Donut Shop

phone: +1 325 944-4238

address: 3119 Knickerbocker Rd
Pizza
They have some of the national pizza chains like Domino's, Little Caesars, Cici's, Pizza Hut and Papa John's etc. These are some of the more local/regional type of pizza places.
phone: +1 325 947-3283

address: 3536 Knickerbocker Rd

Part of a regional chain of Pizza. They do deliver as well.

phone: +1 325 227-6988

address: 2201 Knickerbocker Rd

Great Place to get wood fired Pizza, the Pig is their signature Pizza. Also has sandwiches during lunch time and has a pretty decent happy hour with a stocked bar and a late night menu. Also serves Bines which are a dessert and are very delicious. They always have live music playing outside, usually someone playing a guitar, $10-20.

Joe's Italian Ristorante

phone: +1 325 486-9339

address: 1601 S Bryant Blvd

This is more of a sit-down type of pizza place. It has really great pizza and you can even order pizza by the slice, in addition to a variety of large pasta dishes.
Chinese
China Garden

address: 4217 College Hills Blvd

Lin's Chinese Buffet

phone: +1 325 949-8882

address: 4388 Sherwood Way

Wok & Rice

address: 435 Bus US Highway 67-J
Japanese
Bonsai Garden

phone: +1 325 949-1862

address: 1801 Knickerbocker Rd

A hibachi grill-style Japanese food here in San Angelo, they put on a show while they cook your food, very fun times and a good source of entertainment. Prices aren't too bad either and serves sushi as well.

Shogun

phone: +1 325 227-4812

address: 4397 Sunset Drive Suite 100

Another hibachi grill-style Japanese food, they also put on a show while they cook your food also serves sushi as well.

phone: +1 325 949-0800

address: 3222 Sherwood Way

Serves Japanese and Korean food.
Mexican
Well, if you like Mexican food then you have come to the right place. They have a lot of good mom and pop Mexican restaurants, most of them are very good and aren't too expensive either.
Henry's Diner

phone: +1 325 223-0171

address: 3015 Sherwood Way

Mexican food with a full bar. Famous for their avocado enchiladas, their great salsa and their white sauce.

Esperanza

phone: +1 325 223-0204

address: 2218 W Avenue M

Gil's

phone: +1 325 655-5080

address: 837 Knickerbocker Rd

Hidalgo's Restaurant

phone: +1 325 658-3977

address: 2020 South Bryant Blvd

Hidalgo West

phone: +1 325 949-2251

address: 3108 Sherwood Way
Casual/sit down
You can find most of the standard American chains of restaurants such as Chili's, Carino's, Applebee's, Outback Steakhouse, TGI Friday's, Red Lobster, and Olive Garden. Beyond this there are other, more local options:
Drink
Bars and clubs
address: 2581 Sunset Dr.

A country-western themed night spot. If you want to put on your cowboy boots and Texas two-step around a huge dance floor, this is the place to go.

Stagecoach Saloon & Dancehall

phone: +1 325 655-4200

address: 4205 South Bryant Blvd

Another country place, where you can drink a cold beer, dance, watch live music, and play some pool.

address: 210 S. Chadbourne St.

A great place in San Angelo to catch a great rock show with up and coming bands and other bands, or if you just like the rock atmosphere. Usually it's $5 cover to get in and they have couches to sit on as well. Drinks aren't too expensive--they have beer for $2 on draft.

Fat Boss's Pub

phone: +1 325 617-4532

address: 114 S. Chadbourne

A pretty happening bar with cheap drinks, great table service, and an area in the back to sit on couches and just chill with friends. It has a pretty good ratio of men and women. Parking is usually the street around it or on the side, or there is also a parking garage in the area as well. The only negative is its small space--on Friday and Saturday nights, it can get so crowded that it feels nearly impossible to move.

Grinners Daiquiri Bar

phone: +1 325 655-2062

address: 217 S. Chadbourne St.

In addition to the beers and mixed drinks one can find at any bar, here you can sip on an ice-cold Piña Colada or Sangria. On weekends there will usually be a DJ spinning trance and house music.

phone: +1 325 653-7074

address: 10 W Harris Ave

Lone Wolf Pub

phone: +1 325 651-5295

address: 115 Paint Rock Rd
Pool halls
phone: +1 325 944-4900

address: 4509 Sherwood Way

A fun place to play pool; 18 and up can go and they do serve alcohol there with a fully stocked bar. They have over a dozen pool tables and foosball and dartboards. You pay for the pool table after you're done, so you pay for the time, and not how many games you play. Plenty of parking around the area as well.

Giz & Hums' Billiards & Brew

phone: +1 325 655-0099

address: 1425 West Beauregard Ave
Coffeehouses
Starbuck'sYour typical run of the mill Starbucks chain but it does have a drive thru with limited parking. Corner of Avenue N & Sherwood Way.
Sleep
Days Inn

phone: +1 325 658-6594

address: 4613 S. Jackson

Clean rooms, decent free breakfast. May be unsuitable for large groups, however

Fairfield Inn

phone: +1 325 482-8400

address: 1459 Knickerbocker Rd

Clean rooms with spacious bathrooms. Helpful staff.

Hampton Inn

phone: +1 325 942-9622

address: 2959 Loop 306

Nice rooms, some with refrigerator and microwave.

Hawthorn Inn & Suites

address: 1355 Knickerbocker Rd

One of the nicest hotels in town. Suites have full size refrigerators, stove-tops, and dishwashers.
Connect
San Angelo is part of the 325 Area Code.

Cope
Stay safe
San Angelo does not have a high crime rate just take caution as you would in any other town, they take drunk driving very seriously here in Texas and it is not uncommon to see a DUI checkpoint around so be forewarned, also they are very strict on the speed limit here and will pull you over and ticket you
Water
Be prepared to buy drinking water, the water is potable but honestly doesn't taste that good. There are water vending machines all over town that you can usually fill a gallon jug for a quarter. Another word of note-- if you ask for water at a restaurant it would be a good idea to ask if its filtered water or not or just buy water in a bottle there.
Go next