San Antonio
San Antonio
is the second largest city in the state of Texas and the 7th largest in the
United States
. It's the 24th largest metropolitan area in the country. Visited by more than 31 million annual visitors, San Antonio is a beautiful city at the axis of three different geological terrains:
Hill Country
,
South Texas Plains
and Prairie and Lakes. There's a lot to do in this city: fine art museums, historical missions and plenty of amusement parks in addition to great dining and lots of drinking. The culture and people are vibrant and interesting. San Antonio's downtown is one of the most lively in the nation.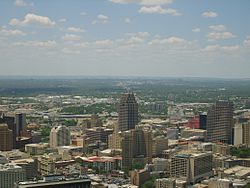 Understand
San Antonio is considered to be the cradle of Texan liberty. Its most well-known landmark is the Alamo, the site of the famous battle (1836) where Davy Crockett and Jim Bowie were killed. Though it must be said that when most visitors see the Alamo for the first time, their common reaction is "Hm, I thought it would be bigger."
No other city in Texas reflects the state's Spanish and Mexican heritage better than San Antonio. Hispanics make up a considerable fraction of the population though and it shows in most places. The Hispanic atmosphere of San Antonio makes it a truly unique U.S. city. This becomes most evident during Fiesta week, a yearly celebration that attracts 3.5 million people to its 110 plus events from all over to enjoy parades, music, festivals, fairs and food and drink in the charming downtown streets of the city. San Antonio also has a significant African-American population.
San Antonio, with a population upward of 1.5 million, and a metro population of nearly 2.4 million, still enjoys a small-town feel despite the hustle and bustle. Its people are friendly, open and bicultural, and the concentration of population around its center makes it easy to get just about anywhere within a 30-40 minute drive.
Climate
During the summer it can get hot, and sometimes humid. Temperatures in the 90s and 100s (°F) are typical from May to September, though there are some days that stay cooler. April and October have also been known to get into the 90s even 100s, and during the winter it typically is cool and rainy. Carry a light sweater, you never know when the weather may change in San Antonio.
Visitor centers
San Antonio Visitor Information Center, 317 Alamo Plaza, 800-447-3372. For visitors coming to San Antonio, a good starting place to see is the downtown Visitor Information Center and Official City Store across the street from Alamo. It is a wealth of information about San Antonio. Representatives there can assist you in getting a map of the city, help you get around, or anything else you may need in San Antonio. The San Antonio Convention & Visitor's Bureau has a savings website, the San Antonio Vacation Experience, for families and groups traveling to the city.
Get in
By plane
San Antonio International Airport (SAT

). Serves over 30 national and international destinations with non-stop service and many more with one-stop direct service. For destinations, check with individual airlines. Ground transportation from SAT to Downtown available by shuttle ($19 one way per person), by taxi ($25-35 one way, up to 4-6 persons depending on the size of the taxi), or by public bus (Number 5) which stops just outside Terminal B (brings you downtown in about half an hour for $1.20 exact change and runs approximately every 30 minutes).
By train
address: 350 Hoefgen St

The Texas Eagle provides service north to Chicago; the Sunset Limited train runs west to Los Angeles and east to New Orleans. Before Hurricane Katrina, the Sunset Limited was a transcontinental route with service to Orlando; now the route is truncated.
By car
Most visitors to San Antonio arrive by either I-35, I-10, I-37 or US 281. I-10 comes from
El Paso
to the west and
Houston
to the east. I-35 comes from
Austin
to the north and
Laredo
to the south. May be reached by automobile in about 1 hour from Austin, 4 hour 15 minutes from
Dallas/Fort Worth
or less than 3 hours from Houston.
By bus
By boat
San Antonio is in the middle of Texas. Therefore, it is not accessible by boat. Although there are many tubing opportunities around San Antonio, thanks to the huge abundance of rivers in the area.
The River Walk, in downtown San Antonio, does offer a
River Taxi
that shuttles people to hotels, restaurants and shops along its banks.
Get around
Public transit
San Antonio's bus system is known as the VIA Metropolitan Transit. It also runs the downtown trolley service (actually a bus) for a small fare. Bus fares range from about $1.10 to $2.50 depending on the service with a one-day $2.75 pass (for purchase at some retail outlets see VIA's Website under Fare information) for all routes. There are 4 different types of routes: Express, Skip, Frequent, and Metro. The Express routes usually run from the sub-urban areas (mostly Park and Rides) to downtown.Most of them run about once every 30 minutes. Skip service usually runs along the streets with high traffic, they are called Skip routes because they usually Skip bus stops that are serviced by the frequent routes. Skip routes also usually run about every 30 minutes. Frequent routes can also be found on high traffic roads and as the name implies, the stops are very frequent. Although Frequent routes come by about once every 15 minutes, it is usually faster to wait a little longer and take the skip routes if you are going a long distance,for example on San Pedro ave, it is usually quicker to wait for the #3 (Skip) as opposed to the #4 (Frequent) if you wanted to get from downtown to North Star Mall. Metro service is usually found in neighborhoods around the city, frequency varies with each route, but they usually run about once an hour. Discount fares are available to children between the ages of 5 and 11, senior citizens 62 and older, Medicare recipients, persons with disabilities and students. A reduced fee ID is required for reduced fares and can be acquired from VIA Information Centers (students may get the necessary forms from their campus administration). Bus schedules and route information can be found at VIA's
website
, by calling the VIA information line +1 210-362-2020 or for the hearing impaired at +1 210-362-2019, or at the San Antonio Visitor Information Center.
Taxi
Cabs are available to be hailed downtown, at the airport, or at military bases. In other areas you should reserve a cab in advance.
phone: +1 210 222-2222

phone: +1 210 599-9999
See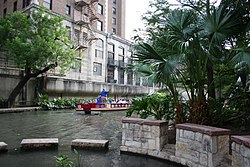 Museums and galleries
Blue Star Contemporary Art Center

phone: +1 210 227-6960

address: 116 Blue Star

A part of the Blue Star Arts Complex, the art center is a non-profit, non-collecting contemporary art center that advances the growth and understanding of contemporary art, artists and the curatorial process.

phone: +1 210 247-4000

address: 318 E. Houston Street

A short two blocks from the Alamo and 50 feet from the River Walk.

phone: +1 210 458-2300

address: 801 E. Cesar E. Chavez Blvd.

A one-story 50,000 sq. ft. museum featuring Texan history, brought to life by docent-interpreters, and the cultures of over 20 national/ethnic groups of people who have made Texas their home. Admission fee. Snack machines. Accessible from downtown via the Purple VIA Streetcar.

phone: +1 210 227-0123

address: 600 HemisFair Park

(Website in Spanish.) Contemporary art from Mexico.

phone: +1 210 824-5368

address: 6000 N New Braunfels

Free admission on Thursday evenings and the first Sunday of the month, except for select exhibitions and special events. Fine arts exhibits, library. museum store.

phone: +1 210 212-4453

address: 2800 Broadway

A vibrant museum for children, although with exhibits that might also appeal to adults. Groups, parties, events, hands-on learning play.

phone: +1 210 978-8100

address: 200 W Jones

Four floors of fabulous permanent collections, from Antiquities to Asian to Contemporary Art, as well as changing exhibits. Bring your sketchpad or camera (no flash, permanent collections only). Cafe SAMA serves only snacks. On the #7 Sightseer Special bus line, or via any of the buses along Broadway (#9,10,14) with several blocks walk. If you can do only one museum visit, this is the one to explore in San Antonio.

Southwest School of Art & Craft

phone: +1 210 224-1848

address: 1201 Navarro and 300 Augusta

Art/museum gift shop in the Ursuline Campus as well as student work in the hallways and cafe. On bus lines, and the Ursuline Campus backs up to an older, parklike section of the River Walk.

phone: +1 210 490-3554

address: 11731 Wetmore Rd

An outdoor museum which includes a private railroad, historic cars and trucks.

phone: +1 210 357-1900

address: 3801 Broadway

Dinosaurs, textiles, natural history, science treehouse, and more. A museum complex with lots of different activities going on - fun with kids!
Do
Events
Amusement parks
Parks
address: 19399 NW Military Highway

Eisenhower Park is roughly 20 miles from downtown, close to many good quality amenities for pre- or post-hike activities. The park has a good size parking lot, and parking is free. It also has onsite facilities you can rent if you'd like to have a social gathering on park grounds. The park offers 6.35 miles of paved and natural trails through a preserved Texas Hill Country landscape, providing plenty of opportunity to observe local plants and wildlife as well. The park is dog- and kid-friendly (it has a playground and children's rock wall), but bikes and other recreational transport options are not allowed on the trails. Trail difficulty ranges from easy to a moderately intense some trails might be challenging for those who find it hard to climb up and down rocky inclines.

Crownridge Canyon Natural Area

address: 7222 Luskey Road

Crownridge Canyon Natural Area is an excellent spot for a quick hike or trail run, and nature lovers will appreciate the variety of native plants (including a wildflower field) and animals often seen in the park. It's roughly 20 miles from downtown, close to many good quality amenities for pre- or post-hike activities. It offers 1.9 miles of paved and natural trails through a preserved Texas Hill Country landscape. The main trail is a low level of difficulty, suitable for most ages. No dogs or bikes are allowed on the trails. The park has a free parking lot which usually has enough parking.

address: 21395 Milsa

Friedrich Wilderness Park has a fairly extensive network of hiking trails with varying degrees of difficulty through a preserved Texas Hill Country landscape. Total trail length is approximately 10 miles. Some trails are paved and some are natural, with options for most skill or mobility levels. This is an excellent spot for bird watching or enjoying native plants (including a wildflower area). It's in northwest San Antonio, roughly 20 miles from downtown, close to many good quality amenities for pre- or post-hike activities. Kid-friendly, but no dogs or bikes are allowed on the trails. The park also offers nature classes for children. The park has a free parking lot, but on busy days it fills up quickly and you might have to park on the street and walk to the trailhead.
Sports
Tours
Theaters
San Antonio is home to several historic vaudeville theatres; The Empire, Aztec, Alameda, and the Majestic. There are also many live music venues including, Sunset Station, White Rabbit, Scout Bar, Blue Star Arts complex, Pearl Brewery, Cowboys, La Tuna's, Randy's Rock Bottom Tattoo Bar, and The Ten Eleven and many great local bands.
phone: +1 210 226-5700

address: 224 E. Houston St

Recognized as one of the most ornate facilities in the country, the Majestic has long held a special place in the archives of Texas theatrical and architectural history. In the heart of downtown San Antonio, the Majestic was designed and built in 1929 by John Eberson for Karl Hoblitzelle's Interstate Theatres, and stood proudly for many years as the largest theatre in Texas and the second largest motion picture theatre in the country. It was intended to be the most modern and ornate building in South Texas - complete with new sound and projection equipment - and was the first theatre in the state to be totally air-conditioned.
Buy
San Antonio is home to a variety of shopping venues with a wide selection of shops and stores. With ten major shopping malls within an hour drive of downtown as well as La Villita and Market Square in the heart of downtown San Antonio.
phone: +1 210 225-1000

address: 255 E Basse Rd

La Villita

phone: +1 210-207-8611

address: 418 Villita

30 shops and galleries offer distinct handcrafted items by artists from San Antonio and surrounding areas.

phone: +1 210 207-8600

address: 514 W Commerce

Visitors can browse through the 32 shops at "El Mercado," and 80 specialty shops in Farmers' Market Plaza. Market Square is also the scene of many Hispanic festivals where food and beverage booths spring up alongside the Guadalajara lamps and the strains of mariachi music blend with the excitement of Mexican dances.

phone: +1 210 225-0000

address: 849 E. Commerce

On the River Walk and connected to the Marriott Rivercenter and the Menger Hotel. It is also within walking distance of the Alamo. Houses over 100 retail shops including an IMAX theater.

phone: +1 210 582-6255

address: 15900 La Cantera Parkway, Suite 6698

In northern San Antonio adjacent to Six Flags Fiesta Texas. The Shops at La Cantera is an open-air mall anchored by Macy's, Nordstrom, Dillard's, and Neiman-Marcus. La Cantera offers stores on the higher-end of shopping such as Juicy Couture, Hugo Boss, Lacoste, Vera Bradley, Lucky Brand, Anthropologie, the Apple store, Aveda, Burberry, Gilly Hicks, Sleep Number, Sephora, Urban Outfitters, and more. Most people, though, come to La Cantera to eat and enjoy happy hour at some of the best,upscale yet casual restaurants in the city. Kona Grill offers $3, $4, $5 appetizers such as sushi, pizza, and egg rolls, with discounted spirits and beer. Yardhouse has hundreds of beers on tap available in a 1.4 liter yard in a classic rock-inspired setting. There is a wide array of food, the general rule for chains is to skip the dishes you find everywhere and try the specialties. Here, try the seared ahi sandwich. Other eateries are Grimaldi's Brick-Oven Pizzeria, P.F. Chang's, Perry's Steakhouse and Z Tejas - a southwestern-themed restaurant with great non-Tex-Mex food and fantastic happy hour specials.

phone: +1 210 342-2325

address: 7400 San Pedro

San Antonio's internationally-acclaimed shopping destination center boasts over 200 specialty stores and restaurants. Adjacent to the San Antonio International Airport, North Star is in the heart of the city. North Star is home to the largest cowboy boots in the world. They stand 40 feet high and 20 feet long! Stores include Saks Fifth Avenue, Pottery Barn Kids, Armani Exchange, Arden B., Montblanc, J.Crew, Oakley, The Cheesecake Factory, Talbots, Janie and Jack, Apple, bebe, Coach, Sephora, Guess, and Steve Madden.
Farmers Market
The
Pearl Brewery
(now an urban development) hosts a farmers market on Saturdays from 9AM to 1PM and Wednesdays from 4PM to 7PM. On Saturdays the market is next to the San Antonio River which forms an excellent green area, you can walk or take the river shuttle up from your hotel downtown.
Eat
Budget
phone: +1 210 223-3913

address: 110 Soledad Street

Overlooking the San Antonio River.

phone: +1 210 225-6718

address: 430 E. Commerce St

A great Tex-Mex restaurant if you're on a budget. This is the oldest restaurant on the River Walk, opened in 1946. You can enjoy good local-style dining in a colorful and romantic setting.

Ruthie's Mexican Restaurant

phone: +1 210 308-0253

address: 11423 West Ave

Great Latin food.

phone: +1 210 223-6692

address: 424 E. Commerce St

If you're tired of Tex-Mex, Schilo's is a great place for good German food at budget prices, right above the River Walk (next to Casa Rio). Try their Evening Specialties, available after 5PM, excellent value. Split Pea Soup is a long-time favorite.

Taco CabanaAnother great Tex-Mex place in San Antonio. It's a chain in Texas, Oklahoma, and New Mexico.

phone: +1 210 344-7281

address: 7231 San Pedro Ave.

Teka Molino is a famous Tex-Mex restaurant on San Pedro, two blocks from North Star Mall. Locals are familiar with their famous puffy tacos, carne guisada, guacamole cups, bean rolls, and home-made tortillas.

address: 918 N. Main St

Just north of Interstate (about a 15-minute walk from the Alamo). This diner/bakery offers huge portions at very low prices. Their cinnamon rolls are as big as a human head, and their chicken-fried steak takes up the whole plate. Not very touristy, more of a local place. Not to be confused with Luby's cafeteria which is just across the street and much more expensive.

address: 1906 N. Main St

Just east of San Antonio College, about 2 miles north of downtown. Popular with students at San Antonio College (SAC) as well as Trinity University because of its affordable prices, good food, and proximity to the campuses. Offers fried calamari, calzones, pizzas of all sizes, manicotti, and an eclectic mix of other traditional Italian food. Daily specials are available.

phone: +1 210 732-5222

address: 606 West Ave, 78201

Oldest originally owned restaurant in San Antonio, operated by the Quinones family since 1949. Jacala is known for their puffy tacos, enchiladas, and their margaritas.
Mid-range
Splurge
phone: +1 210 224-8484

address: 421 E. Commerce

From Commerce St. entrance, take the elevator down to the River level and walk through the restaurant to the riverfront entrance. A very popular Texas bistro, with locals and tourists alike, right on the River Walk. Hearty portions. Blackened prime rib is its signature dish. Reservations are advisable, especially weekends.

phone: +1 210-225-5550

address: 713 S Alamo St

Best tortas de jamon (ham sandwiches) north of Mexico City.

phone: +1 210 225-0722

address: 203 S. St. Mary's

Biga on the Banks has a reputation for innovation. Owner and Chef Bruce Auden is known for his culinary creativity. Reservations recommended.

Il Sogno

phone: +1 210 223-3900

address: 200 E Grayson St.

Chef Andrew Weissman offers a contemporary flair to authentic Italian cuisine. Excellent antipasto bar and great wine list. With appetizers and wine, expect $50-100/person.

phone: +1 210 225-2111

address: 231 S. Alamo St.

A friendly gathering place with rustic charm, high quality steaks and its historically significant location on the San Antonio River. The building was erected in 1847 and is basically unaltered since its original construction. Enjoy some of these delicious menu items: Escargots in Garlic Butter, House Smoked Salmon, Field Greens, Caesar Salad, Prime Strip Loin, Prime Ribeye, Filet Mignon, Lobster Tail, Prime Lamb Chops.
Drink
San Antonio's downtown is the hub of the city's nightlife, with hundreds of dining options, bars and clubs mostly on the Riveralk and throughout street level. Other major nightlife locales, include Southtown Arts District, home to First Friday Art Walk, a large art block party with crowds upward of 20,000 along Alamo St. Scores of dining, galleries, theatres and lodging options, that include more than 10 historic 19th century B&Bs adjacent to the Riverwalk.
Wander down through the River Walk and take your choice of bars and eateries. You can't go wrong. There are also several bars/restaurants in the Mercado block of tourist shops.
phone: +1 210 224-1031

address: 200 Navarro St, Suite 100

phone: +1 210 476-0005

address: 111 West Crockett St., No. 205

Swig features specialty martinis, cocktails, cigars and live music. The ambience is vintage 1940s with an exciting urban twist. Sit back and relax where the classic American cocktail meets its contemporaries-where Cary Grant meets Cameron Diaz. Enjoy friendly, attentive service in a relaxed upscale atmosphere. Martini time-with a twist.

address: 123 Losoya St # 19

British-themed bar & grill on the Riverwalk.

phone: +1 210 212-4770

address: 111 W. Crockett #201

Howl at the Moon is a singing, clapping, stomping, dance-on-the-piano, rock 'n' roll dueling piano show! It's part concert, part piano bar & all centered around audience interaction & 2 baby grand pianos. Howl at the Moon offers an experience beyond the average bar with live entertainment, comedy, & sing-a-longs throughout the night. Howl at the Moon is the perfect place for corporate parties & special events. Don't fret if you can't get there for your party or event–with their "Piano Shows To Go," they'll bring all the excitement & fun to you! On Thursday nights, bring your Texas college ID for free admission and drink specials -- usually $1 domestic, $2 Corona or Dos XX, and $3 UV Vodka $4 Bull Blasters. Great place to meet people on Thursdays.

phone: +1 210 224-2900

address: 207 N. Presa St.

Zinc serves wines from all corners of the globe with an emphasis on champagne and domestic varietals.

phone: +1 210 552-2896

address: 157 E Houston St

In the downtown, this sports bar is offering all the major events from large screens. Snacks and burgers is available.

SoHo Wine and Martini Bar

phone: +1 210 444-1000

address: 214 W. Crockett St

Extensive drink menu, in addition to your usual favorites SoHo also provides an impressive array of fun specialty house martinis such as the Ginger Tini, The Espresso Tini and the Carmel Apple Tini.

phone: +1 210-775-2886

address: 1031 Patricia Dr

Retox is local live music venue, retox is classified as a upscale dive bar. Voted best sounding bar in 2009, 2010, 2011. Voted number 1 happy hour by gotime.com.
Sleep
Budget
Drury Plaza Hotel San Antonio Riverwalk

phone: +1 210 270-7799

address: 105 S. St. Mary's St

The 24-story Alamo Bank building, opened as a Drury hotel in 2007. Direct access from the lower level of the hotel to the western side of River Walk downtown loop. Free hot breakfast buffets and evening social hour daily on the second floor of the 50-ft tall lobby. Views from the 22nd floor observation deck; pool/spa on same level. Free internet and long-distance phone calls. Pets accepted with a daily cleaning fee of $15 each.

Hampton Inn - San Antonio Downtown (Riverwalk)

phone: +1 210 225-8500

address: 414 Bowie Street

Hawthorn Suites San Antonio NE

phone: +1 210-655-9491

address: 13101 East Loop 1604 North

Non-smoking Hawthorn Suites by Wyndham San Antonio NE hotel.

Hawthorn Suites San Antonio Riverwalk

phone: +1 210-527-1900

address: 830 N St Mary's St

Studio suites; complimentary hot breakfast buffet. On the quiet north leg of the River Walk.

Hawthorn Suites - North San Antonio

phone: +1 210-798-3900

address: 6900 IH 35 North

Complimentary hot breakfast buffets and social hour in the evening. Also offers in-room business services, a work area complete with dual phone lines, Wi-Fi access, personal voice mail and daily newspaper.

Travelodge Inn & Suites San Antonio Airport

phone: +1 210-599-4204

address: 2383 NE Loop 410

Amenities including an outdoor swimming pool and large children's playground.

Microtel Inn & Suites San Antonio Airport/North

phone: +1 210 404-1900

address: 15314 Highway 281 North

Free transportation to San Antonio International Airport.

Days Inn Suites San Antonio North/Stone Oak

phone: +1 210-545-5400

address: 1505 Bexar Crossing

Well outside of San Antonio's downtown. Large and comfortable rooms, pool, free high-speed Internet (Ethernet). Just off a big freeway, so no neighborhood nearby to enjoy, but pleasant inside and with friendly staff.

San Antonio International Hostel

phone: +1 210 223-9426

address: 621 Pierce Ave

Beds start at $22.57 per night.

Super 8 Sea World / Medical Center

phone: +1 210 520-0888

address: 5336 Wurzbach Rd

Rooms starting at $54.99 per night, free continental breakfast, free wi-fi, free parking, non-smoking facility, elevator, free business center, centrally located.
Mid-range
Splurge
Stay safe

San Antonio is a relatively safe city for its size. As long as you take elementary precautions, you'll have a great time. Even when there are crowds for such events like the Alamo Bowl, it is still relatively safe. The River Walk always has something going on, but if you're in one of the quieter spots at night, exercise some caution. Inner city neighborhoods, particularly on the West and South Sides, should be avoided at night, though they are of little interest to tourists. In San Antonio, if it looks iffy, don't go there at night.

Connect
Free WiFi is available in coffee shops, libraries and in restaurants.

Cope
Consulates
phone: +1 210 271-0630

address: One Alamo Center, 106 S St Mary's Ste 200

phone: +1 210 226-1788

address: 310 S Saint Mary's St, Tower Life Bldg Ste 2201

phone: +1 210 227-1085

address: 127 Navarro St
Go next
To leave San Antonio, use US 281 south to get to Brownsville, I-10 east to get to Houston, I-10 west to get to El Paso, I-35 north to get to Austin, Waco, and Dallas/Fort Worth, I-37/US 181 south to get to Corpus Christi and Floresville, SH 16 north to get to Bandera, SH 16 south to get to Poteet, or US 281 north to get to Blanco and Johnson City. An alternate route to Austin is to use US 281 north and US 290 east. I-410 and SH 151 do not leave the city. However, Loop 1604 does go to small towns in the county.
New Braunfels - 30 miles northeast of San Antonio, this town is best known for its German culture and heritage, not to mention the Schlitterbahn, persistent in being voted the world's best waterpark.
San Marcos - 50 miles northeast of San Antonio, San Marcos is the home of Texas State University and its Aquarena Center, as well as two massive outlet malls that have more than 350 shops.