San Bernardino
San Bernardino
is a city in the
Inland Empire
in
California
.
Understand
San Bernardino is the largest city of
San Bernardino County
. The 2000 census shows the population to be 185,401. Of this, 45.2% are white and 16.4% are African-American. 27.1% is cited as "some other race", the majority of which is most likely Hispanic. The city, along with its outlying areas, has a large Hispanic and Spanish-speaking population. 40.4% of the population speaks a language other than English at home.
Recent decades have not been kind to San Bernardino. The closure of the Kaiser Steel facility in nearby
Fontana
in the 1980s and the closure of Norton Air Force Base in 1994 were cataclysmic to the economy of the city. Repeated attempts at downtown revitalization have been mostly unsuccessful. In 2012 the city declared bankruptcy in the wake of a stubborn economic decline. The city was further devastated by a mass shooting by terrorists that took place in 2015.
Get in
By plane
San Bernardino International AirportThe airport is accessed from I-10 at Thompson Rd at Exit #74 and from I-215 at Mill Ave, Exit #42B from the southbound lanes and from Inland Center Dr at Exit #42A from the northbound lanes. Alas there is a passenger terminal for both international and domestic traffic but there are no regular commercial or charter flights at present. The airport is used for general aviation, aircraft testing and maintenance; and a base for the US Forest Service to deploy aircraft to fight nearby forest fires. The next nearest airport for regular commercial flights to San Bernardino is the LA/Ontario International Airport (), west on I-10 and N Archibald Ave (Exit #55A). LA/Ontario is more compact, less crowded, has fewer delays, and usually cheaper and closer in than Los Angeles International Airport() which is away. The next closest airports to San Bernardino are in Palm Springs () which is east along I-10 and Santa Ana () also southwest of San Bernardino along I-215 and CA Hwy 91 through Riverside and Corona.
By train
The
MetroLink
San Bernardino Line
from the downtown Los Angeles Union Station (via Rialto and Fontana) and the
Inland Empire-Orange County Line
from Oceanside through Orange County and Riverside stop at at 1170 W 3rd St (second to last stop). The cost of tickets varies depending on how far you are traveling.
Amtrak
serves San Bernardino at the same location with the once daily
Southwest Chief
line between
Chicago
,
Kansas City
,
Albuquerque
,
Grand Canyon
(at Williams Jct) and
Los Angeles
and with the Amtrak Thruway Buses connecting San Bernardino to the
San Joaquins Line
in Bakersfield. From here the Metrolink Trains continue southeast to the south of downtown, along W Rialto St between S 'G' St and S 'E' St, where both Metrolink routes terminate at. The Amtrak train continues north to
Victorville
(next stop) from the Santa Fe Depot on its journey towards Chicago.
By bus
Intercity bus services
The intercity bus companies maintain separate stations or stops in different parts of town and are far away from each other. Some of the stops are in neighboring Fontana or Ontario instead:
El Paso Los Angeles Limousine Express

phone: +1 909 824-8424

address: depot at 620 W Mill St

Travels along I-10 between Los Angeles, San Bernardino, Indio, Phoenix, Las Cruces and El Paso on one route and on I-15 to Las Vegas and North Las Vegas on another route. They have additional depots at 11825 Valley Blvd in El Monte; 260 E 6th St St in downtown Los Angeles, and at 4425 S Atlantic Blvd in East Los Angeles.

address: bus stop next to John's Burgers at 1155 W 2nd St

phone: +1 909 884-4796

address: bus station at 596 N 'G' St

Greyhound travels primarily on Interstate 10 (Los Angeles-San Bernardino-Phoenix-El Paso-San Antonio); I-10/SR-78/SR-86 (San Bernardino-Indio-El Centro-Calexico); I-15/I-215 (Las Vegas-San Bernardino-Los Angeles & San Bernardino-San Diego on two separate routes. Some routes bypass San Bernardino between Barstow & Los Angeles); & 405/SR-91 (San Bernardino-Santa Ana-Long Beach). Passengers transfer in Los Angeles, Las Vegas, Phoenix, San Diego, Calexico, El Paso and San Antonio to continue to additional destinations in the U.S. and in Tijuana or Mexicali to continue south of the border.

phone: +1 909 822-7777

address: Agency at 1603 Valley Blvd. Suite C in

Fontana

Travels along I-10 between Los Angeles and El Paso via El Monte, Ontario, Fontana. Some of their buses go up along I-15 to Las Vegas from Ontario. They have additional depots at 11635 Valley Blvd in El Monte and 612 Wall St in downtown Los Angeles. Crosses into Mexico via El Paso/Cd Juarez.

phone: +1 909 424-1680

address: 1016 E Cooley St, Ste E2, Colton 92324

Ticket agency for bus travel on Tufesa and Intercalifornias and air travel to Mexico, Central America and South America.
Regional transit agencies
The following services provide rides to the surrounding cities in the Inland Empire (San Bernardino and Riverside Counties) from the Downtown Transit Center next to the Downtown Metrolink Station:
OmniTransOperates local city and commuter buses in-town and to the neighboring cities of Fontana, Rialto, Ontario, Rancho Cucamonga, Redlands, etc. Connections to Foothills Transit in Pomona, Chino and Claremont

phone: +1 909 878-5200

Goes up to Crestline by Lake Arrowhead on the RIM Off the Mountain route and to Running Springs and Moonridge by Big Bear Lake. They offer local services between communities surrounding Lake Erwin, Lake Arrowhead and Big Bear Lake on the Big Bear Off the Mountain route and connections from Victorville through Moonridge

phone: +1 951 769-8530

A cooperative to provide local public transportation to the Cities of Beaumont and Banning. Route #120 connects Beaumont to Calimesa, San Bernardino Transit Center, San Bernardino Metrolink Station and Loma Linda.

Riverside Transit Rt#200 (RTA)Operates local buses in and around Corona, Riverside city, Beaumont, Banning (Rt #31), San Jacinto and other cities in western Riverside County. The #200 bus connects Anaheim to San Bernardino via Riverside along Hwy 91.

Victor Valley Transit (VVTA) RT#15 B-V Link

phone: +1 760 948-3030

Regular commuter route route to Rialto, San Bernardino and Fontana from Barstow and Victorville.
Get around
The city is fairly navigable with I-210, I-10, I-215, and I-15 as the freeways in the city.

See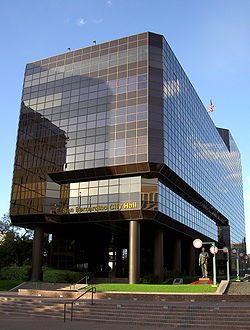 Site of the first McDonald Brothers Hamburger Stand

phone: +1 909 885-6324

address: 1398 North 'E' St

Location of the world's first McDonald's, now an unofficial museum. The original building no longer exists, but look for the huge red sign advertising 15 cent hamburgers which can't be purchased in the adjoining museum.

Downtown San BernardinoDefinitely a neat place to check out. Recently revamped with angled parking, festivals, new stores, lower speed (vehicles) and more street appeal, this place is a hit! It is a very lively core with all kinds of stuff to do and lots of parking despite not being shown. It incorperates beautiful, generous wall to wall structures along with scenic landmarks.
Eat
Happy Family Vegetarian Restaurant

address: 2150 South Waterman Ave

It specializes in vegetarian and vegan meals, and is often packed.

address: 111 E Hospitality Lane

It has exceptionally good Chinese and Cantonese cuisine, with a fancy sit-down atmosphere, lots of vegetarian options for relatively low prices (most meals under $15).

Mitla Café

phone: +1 909 888-0460

address: 602 N. Mt. Vernon Ave.
Sleep
Cope
Consulates
Most of the
foreign consulates
are located along Wilshire Blvd in/around the
Wilshire
neighborhood and
West Los Angeles
, between
downtown
and
Santa Monica
in Los Angeles. The following countries maintain consulates in downtown San Bernardino:
phone: +1 909 572-8800

address: 333 N 'D' St

They also have another consulate in Los Angeles.

phone: +1 909 889-9836, +1 909 889-9837, +1 909 633-1982 (emergencies only)

address: 293 N 'D' St

They also have consulates in Calexico, Las Vegas, Los Angeles, Santa Ana and San Diego.
Go next