San Carlos (Nicaragua)
San Carlos
is a city in
Rio San Juan
department of
Nicaragua
.
Understand
San Carlos itself might not be the most interesting or beautiful city in Nicaragua, but it serves as an important local transportation hub and the last place to stock up when heading into the more rural parts of the
Rio San Juan Region
. However, in the 2000s and 2010s, the town was awakened from its decades long slumber when the Malecón (lakefront) was redesigned, turning it into a nice place to catch the sunset or a local
fiesta
or just spend a lazy afternoon. With the construction of the new carretera to Managua (reducing the travel time for the 300 km from just over 12 hours by bus to 6 hours) and the completion of a bridge across the Rio San Juan just out of town there is bound to be a lot of development in the next few years.
Get in
By boat
In years past, there were boats to neighboring
Los Chiles (Costa Rica)
and all the way to
Ometepe
as of September 2018 neither of them has gone in over a year and there is no sign of them ever starting up again. However, the website of the national port administration unhelpfully still lists the Ometepe ferry.
By bus
There are buses to and from Managua. The trip takes 6 hours and costs C$200.
All buses to Managua stop in Juigalpa but some also do the San Carlos Juigalpa trip on its own.
Please note that the buses that say "Los Chiles" on the windshield do not go to Los Chiles Costa Rica but rather to a Nicaraguan town of the same name. If you want to go to the frontier, take one that says "Frontera" or "San Pancho".
===By plane===
There are twice weekly flights from Managua (~US$120 round trip).
The new airports in Sun Juan del Norte and on Ometepe have scheduled flights to and from San Carlos as well.
Get around

It's a small city - everything is in walking distance. A taxi is C$10 all around town (double rates at night). A local bus exists but is not useful for tourists. If you arrive at the airport, taxis should be waiting for you to take you and your luggage into town.

See
There are really only two sights in San Carlos - the malecon, and the fort just above the central park. The malecon can be seen in about 10 minutes, but you can definitely enjoy a lazy afternoon in sunny weather there and the sundowns are a sight to behold. The fort is interesting for those who read Spanish. If you don't, it's really only notable for its views of the lake and river.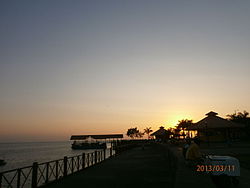 Do
Watch a baseball game. The stadium is close to the airport and although the local team has traditionally been abysmal and gets a pounding from pretty much the rest of the league, it's a cheap fun way to get in contact with the locals. Any taxi driver can get you there (it is quite some distance to walk).
You could theoretically swim in the lake at the malecon. The locals do. However, as a lot of San Carlos' untreated sewage used to be drained into the lake until quite recently, use your own best judgment. If you do want to swim, there are several piscinas (i.e. a swimming pool and someone selling drinks and food) — nothing too fancy and not in walking distance, but any taxi can get you there. Admission should be around C$40 per person and food and drinks don't cost more than at a normal restaurant.
Around November the malecon comes alive with the Carnaval Acuatico, held mostly on boats on the lake and the Rio San Juan. Its eighth edition in 2016 was held on the weekend of October 15.
There is a national sport-fishing tournament, usually around September.

Buy
There are numerous ATMs and at least two banks around town.
San Carlos did not have a supermarket for a long time (a Palí store has opened) but you can fulfill most of your daily needs at small ventas (also known as pulperias) all around town. The mercado has a decent selection of fresh fruits, vegetables, clothes and toiletries. Prices are slightly higher than in Managua and some prices (e.g. those of plantains) undergo a weekly cycle with the transports from Ometepe. As the rest of the Rio San Juan departamento is even less accessible, many travelers stock up on essentials before moving on.

Currency

Some shops accept Costa Rican colones and there are numerous cambistas that will gladly exchange Dollars Colones and Cordobas. For colones this is your last chance if you aren't headed for Costa Rica, so exchange them. Banks also change them though at worse rates and only during their business hours (remember to bring you passport if you want to change money at the bank). Be careful when changing money on the street as it only takes bad luck and lack of caution to meet the one dishonest cambista playing a trick on you. All ATMs will dispense both dollars and cordobas, though the dollars may sometimes have marks on them which means some merchants might refuse them.

Eat
Around the Malecon there are several little restaurants where you can get good food from 7 in the morning. La Fortaleza, the last of the restaurants on the raised platform right in front of the Malecon's central square, comes highly recommended with friendly staff and excellent prices. Quick service and super close to the pier if you have limited time. They are happy to accommodate vegetarians.
At 11 am the more fancy restaurants open but don't expect too much. Fish is the thing to eat in San Carlos (if you are not vegetarian).
Above La Fortaleza, with an entrance on the nearest side-street, is Restaurant Kaoma. Nicely decorated with a great view of the water, this is the place to sit and spend an evening with a few drinks. The menu is in English and Spanish, but expect to pay C$150-300 for an entree.
Attached to Hotel Cabinas Leyko is Restaurant Don Leo. They also have a Spanish&English menu, but more reasonably priced than Kaoma (though without the atmosphere) and with excellent WiFi.
Restaurante El Granadino

phone: +505 25830142

address: Frente a Cancha Alejandro Granja

Restaurante El Mirador

phone: +505 2583 0377

address: De la iglesia Católica 1 y ½ Cuadra al lago

nicely located with great views over the river and decorated with Spanish cannons (supposedly from El Castillo and supposedly used by Rafaela Herrera repelling the English pirates in the 18th century) but the food more often than not can't compete with the view.
Drink
San Carlos has two places where the young locals go to party drink and dance. both close to the malecon El Kaoma has an air conditioned (read: freezing cold) disco downstairs that really gets going on Karaoke nights (usually Thursday). Lots of fun to be had, just don't expect to know the songs.
La Champa is a place where you can go to dance. It is usually packed on Saturday nights but half empty on Friday evenings. It closes at 2AM but you can take out a beer.
As San Carlos is a port town, some of the bars can have a bit of an unsavory feeling to them, but the two discos mentioned above are safe.

Sleep
There are several budget
Hospedajes
all around the Malecon and in the streets leading up the hill, but San Carlos is only a place to stay if you arrive late at night with no forward-transit options.
Hotel Cabinas Leyko

phone: +505 2583 0354

address: Casa Cural, 2 cuadras al Oeste

nice option with parking, friendly staff, and free water - though not particularly cheap by Nicaraguan standards. Clean rooms with complimentary soap and shampoo. Rates include breakfast. They can also arrange tours throughout the area.

Hotel Gran Lago

phone: +505 2583 0075

address: De Caruna, 25 metros al Sur. San Carlos

The location of this hotel right at the Malecon is a blessing and a curse at once. On the one hand almost everything is in close walking distance, on the other hand during the frequent events at the Malecon it will get loud.

Hostal Santa Lucía

phone: +505 2583 0385

address: Sector 3, Frente a Quinta Santa Rosa
Stay safe
San Carlos might look like a sleepy town but crime does happen here as well. If you have to go longer distances at night, take a taxi. Besides that it should all be just common sense.

Connect
Cybers abound in San Carlos Internet is C$10 per half hour and usually charged after you leave.
The quality is pretty much the same everywhere but MniCyber Ortega is right at the Malecon with beautiful lake-views and there are also headsets which might or might not be working and the owner has a side business repairing computers.
Locals generally say that Claro has better service in San Carlos but Movistar is better for the surrounding countryside.
There is free Wi-Fi in the Parque Central just below the Spanish fortress.
San Carlos is one of the only places in this part of the country that has a post office. However the opening hours are short and not posted officially anywhere, so come in the morning and bring some patience. It has moved twice recently and at its present location has no sign. You'll have to ask around.

Go next
There are two boats leaving for Los Chiles in Costa Rica. One leaves at 10:30 and gets to Los Chiles at around noon. The other boat leaves San Carlos at 4 pm (C$180 ~ US$9 ~ 5000 Colones payable in either currency). Remember that you have to pay a border tax upon leaving in either cordobas or US dollars and the border officials may or may not have small change. The trip itself is scenic and passes through the rain forest on both sides of the Rio Frio. You are allowed to take pictures of everything, just not of the armed Nicaraguan border post about halfway through the trip.
Boats to El Castillo leave San Carlos at 6:30 am, 8 am, 10:30 (high season), 12:30, 2:30, 3:30 and 4:30. These change from time to time, so ask at the ticket office.
Boats to the Solentiname Islands leave on Tuesday and Friday around 11 pm. (C$70 ~ US$2.50) More expensive boats leave daily in both directions; ask for the schedule.
Boats to San Juan Del Norte leave Tuesday, Thursday and Friday at 6 am. (duration: 6 - 12 h, depending on the boat and season)
There is a bridge across the Rio San Juan and onwards to Costa Rica just out of town. Public buses run this route, but the schedule is liable to change.