San Cipriano
San Cipriano
is tiny town of 500 inhabitants close to Buenaventura in western
Colombia
. The town is in a humid subtropical forest, and therefore the weather is characterized by frequent rain and humid, warm daytime temperatures. Ethnically, the town is almost 100% composed of Colombians of African descent. Regarding the flora and fauna, the area is characterized by species native the region: toucans and subtropical birds, snakes, monkeys, and several wild species of mammals.
Getting there is half the fun, but the beautiful surroundings and tranquil vibe of the area can keep you busy for a day or two.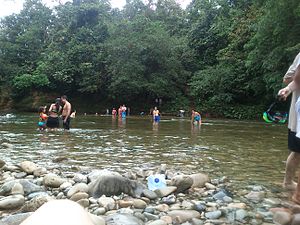 Get in
The only connection to the town is by railway. Due to the lack of trains, locals have set up their own ingenious transportation system with motorbike-propelled or human-powered vehicles that use the train tracks.
To get there take a bus from
Cali
to
Buenaventura
and get off at a place called Cordoba. Once there locals will approach you and lead you down the road approximately 500 m to the railway track. Negotiate the price for your trip (locals pay COP$3,000, but as a tourist you will probably need to pay COP$5,000 or more).
See
There are some beautiful cascades with some crystal clear pools to take a dip at a place called refugio del amor. Follow the dirt track out of town till you see an ecological trail with a sign saying 'refugio del amor'. Follow the trail till you reach the cascades. It's about an hour walking.

Do

The most common tourist activity in the town is to swim or bathe in the river. The water is cold but not intolerably so, and on a hot, humid day there are often dozens of locals and tourists swimming in river or sitting on the rocky shore.
Several places rent out inner-tubes; after renting one, just walk up the dirt track and hop in the river and flow back to town with some rapids on the way. Be careful because immedately after rainfall the river can rise dramatically within seconds.

Buy

There is not much to buy in the town; there are a couple of stores selling items such as candies or potato chips, but there are no souvenirs for sale.
In the town of Cordoba, which is the city that all tourists pass through on their way to San Cipriano, locals sometimes sell exotic fruits from the region, such as guamas, sugar cane, cacao, and anonas (which they mistakenly refer to chirimoyas).

Eat

Due to the town´s proximity to Buenaventura on the Pacific coast, good-quality seafood and shrimp are available for purchase at affordable prices in the town.

Drink

Domestic beers are for sale in the town.

Sleep
There are numerous hotels in the town, although the accommodations are extremely basic and rustic.
Hotel David
, about 500 m down the road, offers basic cheap accommodation.