San Diego/Balboa Park-Hillcrest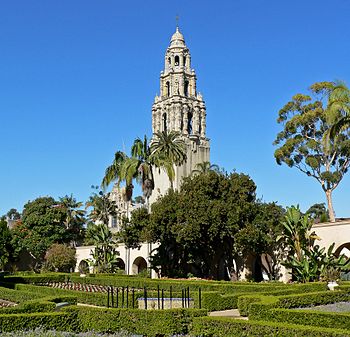 San Diego
's most beloved green space,
Balboa Park
is a massive urban park in the heart of the city just north of
Downtown San Diego
. Within the park's canyons and hills lie beautiful open spaces, lush gardens and vegetation, the renowned San Diego Zoo, the historic Old Globe Theatre, and numerous museums.
Hillcrest
, a neighborhood just to the northwest of Balboa Park, is a dense urban community that has undergone a lot of gentrification and is home to many locally-owned businesses and most of San Diego's gay nightlife.
Bankers Hill
to the south of Hillcrest is considerably quieter but home to several popular bars and restaurants.
Get in
By car
Being in the heart of the city, Balboa Park and Hillcrest are accessible by a number of major streets. Park Boulevard runs north-south through the park and the eastern edge of Hillcrest, connecting to Downtown to the south. 5th and 6th Avenues also provide a direct connection to the area, where one can continue north to Hillcrest or into Balboa Park via Laurel Street/El Prado over the Cabrillo Bridge. Laurel Street continues west towards the San Diego International Airport. Washington Street and University Avenue provide the major connection through Hillcrest, connecting to neighborhoods east and west.
SR-163 runs north-south through the neighborhood, connecting Hillcrest to Downtown to the south and Mission Valley to the north. However, there is no direct connection into Balboa Park from SR-163.
Parking can be very congested however, parking is available if you look in the right places. Parking lots arefound throughout Balboa Park. There are two large parking lots in the park. One is for the San Diego Zoo and one is at Inspiration Point (on the east side of Park Boulevard north of Presidents Way), which is served by a free tram which connects the lot to many of the museums in Balboa Park. The tram runs 9AM-6PM daily, with extended hours during the summer. On-street metered parking is also available and can be paid for with coins and
pre-paid Parking Meter Cards
. Soon many meters will also accept credit or debit cards.
By bus
The
Metropolitan Transit System (MTS)
operates buses in San Diego, which can be a good way to avoid parking hassles. The MTS has a couple of lines which directly serve Balboa Park, the Route 7 and the Rapid 215, both frequent services which run along Park Boulevard and connect Balboa to Downtown to the south and Mid-City neighborhoods to the northeast (note that the 215 only stops at the Naval Medical Center and Zoo Place within Balboa Park). Hillcrest is quite well connected, with a few frequent routes running south to Downtown along the western edge of Balboa Park (3, 11, 120) and a couple connecting Hillcrest to neighborhoods east and west (1, 10).
See
Most of Balboa Park's museums offer
free admission one Tuesday per month
to residents of San Diego County and to active-duty military and dependents.
phone: +1 619-297-9327

address: 3525 7th Ave

Operated by the San Diego Historical Society, this historic residence is open for guided tours.

Spruce Street Bridge

address: in south Hillcrest at the end of Spruce Street, west of First Avenue

Something of a neighborhood secret, this steel-cable suspension footbridge dates back to the 1910s, and connects to a nearby residential neighborhood. There's not a whole lot to it really, but it is very scenic as you walk right through the treetops on the sides of the canyon.
Museums
Art museums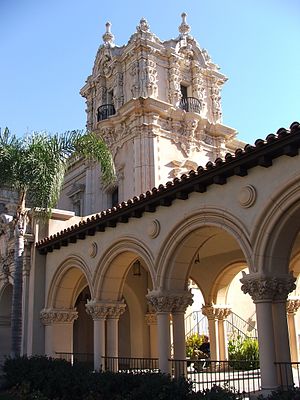 Science and technology museums
Reuben H. Fleet Science Center

phone: +1 619-238-1233

address: 1875 El Prado

This popular science museum is filled with dozens of interactive exhibits of interest to children, young adults and grown-ups too. There's also an IMAX theater in the building, one of the world's first.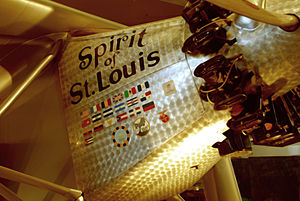 San Diego Zoo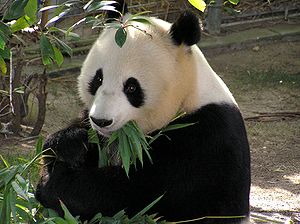 phone: +1 619-231-1515
address: 2920 Zoo Dr
An absolutely
enormous
and world-renowned zoological institution, the San Diego Zoo showcases more than 4,000 rare and endangered animals, including many exotic animals from all over the world, such as apes, hippos, polar bears, tigers, bears, lions, elephants, koalas, kangaroos, zebras, reptiles, hundreds of species of birds, and a whole lot of species of animals that are less well-known. The San Diego Zoo also has one of the largest populations of giant pandas outside of Asia.
The many expansive and well-designed exhibits throughout the park provide a natural setting for the zoo's animals, with the exhibits generally divided up by continent; the major areas are Discovery Outpost (where you'll find most of the reptiles and a children's petting zoo), Lost Forest (with several large bird aviaries, most of the apes, Tiger Trail, Hippo Trail, and African rain forest animals), Northern Frontier (arctic animals, including polar bears), Panda Canyon, Asian Passage, Outback (Australian animals), and Urban Jungle and Elephant Odyssey (which together hold animals of the African savanna). The terrain of the park, with plateaus, steep canyons, and wide flat areas, creates an expansive setting with many hidden corners and less-beaten paths.
The zoo is so large that you really need to devote several hours—if not a whole day—to seeing it all. Visiting in the winter will mean fewer crowds and cooler weather, but visiting in the summer has the benefit of extended hours.
Buses
provide a way to get around the zoo. A special guided bus tour using double-decker buses takes you around much of the zoo without stopping, while the Kangaroo Buses (both double and single-decker) allow you to get on and off in different parts of the zoo. In addition, the
Skyfari aerial tram
provides a quick shortcut to get from one side of the zoo clear out to the other, providing magnificent views of the zoo. If you decide to walk around, moving walkways make traversing some of the steeper sections easier.
Do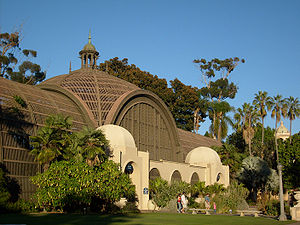 Balboa Park's many gardens provide a scenic and quiet escape from the bustle of the city or a relaxing break between museum visits. Many of the gardens follow specific themes, with desert species, flowers, native species, a Moorish garden, a rose garden, and a Japanese garden. The highlight of Balboa's botanical collection is the , a historic structure which contains an adjacent lily pond and numerous species of ferns, orchids, palms, and other tropical plants.
Near the entrance of the San Diego Zoo, the and the provide an entertaining diversion for kids. Each charges $2 per ride per person. The Spanish Village Art Center, a historic landmark built for an exposition in the 1930s, is a community home to many artists and art studios.
There are many hiking and biking trails through Balboa Park. One of the most popular running/walking trails is a 5.5-mile route that's compatible with all fitness levels and starts and ends at C Street and 6th Avenue in Downtown and heads north, running past bridges, canyons, creeks, flower-covered hillsides, and gardens. There is also a 0.41-mile Balboa Park bike path which begins at Upas Street and Seventh Avenue, near the northwest corner of Balboa Park. The level of difficulty is well above average here as there are several steep descends, sharp turns, and a bridge that crosses highway 163. In several areas, bicyclists must dismount and walk, for safety.

address: 3965 5th Ave

Part of the Landmark Theaters chain, this theater showcases many independent and foreign films.
Performing arts
Events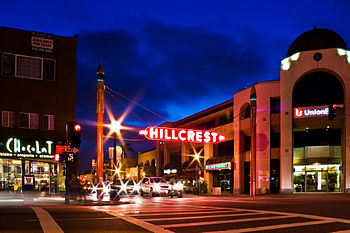 San Diego's St. Patrick's Day Parade takes place each March in Hillcrest, with the parade running along 6th Avenue on the west side of Balboa Park, followed up by an Irish festival with traditional music, food, and a Celtic village.
The San Diego LGBT Pride Parade and festival takes place during Pride Weekend each July in Hillcrest, with a music festival, a block party, a rally, and a major parade running down University and 6th Avenues.
Cityfest is a huge street festival that takes place every August in Hillcrest, with lots of arts, crafts, food and entertainment.
December Nights takes places in Balboa Park the first weekend of each December and is a celebration of the holiday season, with plenty of food, crafts, and entertainment at the park's various museums, which are free of charge during the event. The park is decked out in spectacular light displays, which remain up for the remainder of the holiday season.
Buy
Most of the museums in Balboa Park contain gift shops specializing in merchandise and items specific to that museum, like art shops at the art museums, science toys at the science museums, zoo stuff at the zoo, etc. There's also a general gift shop at the Balboa Park Visitors Center in the House of Hospitality, where you can purchase postcards and the like. In addition, the Spanish Village Art Center contains a number of art studios where you can purchase arts and crafts directly from the artist.
The
Thursday Club
, in Balboa Park, is one of the largest antique markets in the city and is held annually, usually sometime in March. Crowds start lining up for this event early in the morning, and bargains galore can always be found at this very well attended event.
phone: +1 619-296-1424

address: 3817 5th Ave

An excellent independent bookstore specializing in rare and out-of-print books.

phone: +1 619-291-4660

address: 3838 5th Ave

The largest bookstore in Hillcrest, with lots of used and out-of-print titles.

Footnote Books

phone: +1 619-294-8455

address: 1627 University Ave

Premium out-of-print books and ephemera.
Eat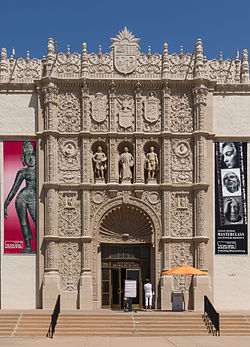 Expect food to be overpriced(or very expensive) in Balboa Park. Most food options in the park revolve around museum cafes, as there aren't many stand-alone restaurants in the park. You can find a cafe in the Casa de Balboa building, the House of Hospitality, the Natural History Museum, the Science Center, the Old Globe Theater, the Sports Museum, and the Museum of Art. There is a tea pavilion at the Japanese Friendship garden, just south of the House of Hospitality. There are also snack carts around Balboa Park. The San Diego Zoo also provides a number of eating options.
Balboa Park
phone: +1 619-557-9441

address: 1549 El Prado

Just about the only full-service restaurant in Balboa Park (save for a couple of places in the zoo), The Prado has a diverse menu with appetizers, salads, soups, seafood, pastas, and sandwiches.
Hillcrest
Hillcrest, on the other hand, has numerous fine restaurants:
Drink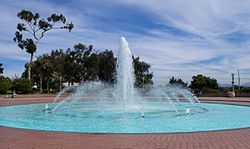 phone: +1 619-295-2878

address: 3537 5th Avenue

Neo-hip dive bar.

phone: +1 619-294-9200

address: 3968 5th Ave

A lovely wine bar with a wide selection of wines and some light meals.
Sleep
phone: +1 619-291-0999

address: 525 Spruce St

Formerly known as Park Manor Suites, this hotel is on the western edge of Balboa Park. Rooms feature nice beds, duvets, kitchenettes and free Wi-Fi. Two on-site restaurants, Inn at the Park and Top of the Park and live entertainment.

phone: +1 619-955-7723

address: 3751 6th ave

A unique and friendly hostel with tons of character. Free food daily as well as free guided adventure activities all around San Diego.
Connect