San Diego/Downtown
Downtown San Diego
(also referred to as "Centre City" in some cases) is the thriving central business district of
San Diego
. A heavily gentrified area with plenty of tourist amenities, Downtown serves as a hub of business and entertainment, with plenty of restaurants, shops, and nightlife to take in, as well as a few attractions, including several museums and the home of the San Diego Padres baseball team.
Understand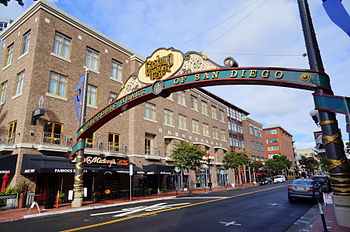 History
Downtown San Diego began in 1867, when Alonzo Erastus Horton bought 960 acres of land by the San Diego Bay after he decided that this should be the center of the city rather than
Old Town
, the site chosen by the Spanish for security reasons. Soon Horton found himself in the midst of an economic boom, resulting in the development of the southern Downtown neighborhoods, site of the present-day Gaslamp Quarter. However, in the late 1880s Horton's fortunes ran out and the Gaslamp Quarter began to deteriorate. At the same time, John D. Spreckels, a wealthy entrepreneur who had created a transportation and real estate empire in San Diego, began to develop land north of present-day Broadway, further contributing to the Gaslamp Quarter's decline.
Over the decades, Downtown fell into a state of disrepair as investment in the suburbs took its toll on the central city. In the 1970s, redevelopment efforts began taking off, and in the 1980s the area began to rebound with the completion of Horton Plaza, the San Diego Convention Center, and the start of revitalization efforts in the Gaslamp Quarter.
Neighborhoods
Downtown is divided into a number of individual neighborhoods, each with its own attractions and personality.
At the heart is
Columbia
, which runs along Broadway as it approaches the harbor. Columbia is mostly a commercial district and contains most of the city's tallest buildings, the train depot, and a sizable chunk of the waterfront which includes the USS Midway Museum, the Maritime Museum, the cruise ship terminal and the ferry landing. To the east of this lies the commercial and governmental center of
Core
as well as the shopping district of
Horton Plaza
, with its splendid namesake mall.
To the north of the main business district are a couple of quieter neighborhoods -
Cortez Hill
, on the hill at the north side of downtown, is a mostly residential neighborhood bumping up against Interstate 5, named for the historic El Cortez Hotel, the tallest building on the hill. Closer to the waterfront at the northwest end of downtown is
Little Italy
, originally a home to Italian fishermen, now a very active district of shops, restaurants, and parks, with an Italian theme, and is one of the hippest bar and restaurant areas in the city, with a large young professional crowd.
On the southern side of Downtown,
Marina
is a highly gentrified waterfront district, containing marinas, highrise condos, hotels, the Convention Center, and the Seaport Village shopping mall. To the north of this is
Gaslamp Quarter
, a historic district which was not only the birthplace of downtown but also the focal point of the first revitalization efforts in downtown during the 1970s. Today the neighborhood is the center of Downtown's nightlife scene; a thriving district of historic buildings, shops, theaters and restaurants. Capitalizing on Gaslamp's success, the
East Village
on the southeastern side of Downtown is undergoing a construction and redevelopment boom, spurred in part by the ballpark of the San Diego Padres in the neighborhood.
Visitor information
Get in
If you're arriving in San Diego by bus, train, or cruise ship you're likely to be getting off in Downtown. Even arriving by plane basically puts you in Downtown, given how close the airport is to the city center. Detailed info on arriving via those modes can be found in the
Get in
section of the San Diego article.
By car
Downtown is served by three freeways. Be warned though,
Southern California
is notorious for its confusing interchanges and freeway systems. You may exit off the freeway thinking you're going one direction, when it fact you'll find yourself heading in a completely different direction. So careful examination of a street map is recommended.
Interstate 5 wraps around downtown to the north and west, providing access from the north and the south. From the north, the Ketner Blvd. exit will provide you with the most direct access into Little Italy, while the Front St. exit will be your best bet for getting right into the thick of downtown. From the south, exiting onto 19th St., which acts as a frontage road to I-5, will get you to a number of east-west streets, including Market St., that upon turning left onto will take you right into downtown.
SR-163 enters downtown from the north, turning into 10th Avenue/11th Avenue in downtown. SR-163 connects downtown to the northcentral and northeastern areas of San Diego.
SR-94 connects to areas east, and turns into F Street/G Street upon entering downtown.
Downtown is easily accessible and traversed by automobile, but it is one of the very few areas of San Diego where it makes sense to get around by other means. Parking is expensive and can be very hard to find during special events (like Padres games at Petco Park). You can park at the garage at Westfield Horton Plaza for free for up to 3 hours as long as you validate the ticket at the small validation machines inside of the mall.
By public transit
The hub for rail services in San Diego is the at Broadway and Kettner, which serves as the southern terminus of the
COASTER
commuter rail service, which runs north along the coast of San Diego County to
Oceanside
, and the
Amtrak
Pacific Surfliner
to
Los Angeles
. The Mission-style Santa Fe depot is an architectural gem and worth having a look at even if you don't need to catch a train. The name "Santa Fe" is a reference to the Atchison, Topeka, & Santa Fe Railroad, now part of BNSF corp., which built the station.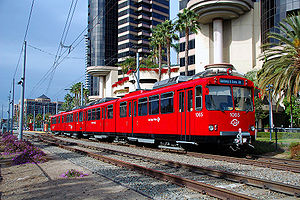 Downtown is served by all three lines of the
San Diego Trolley
light rail system, operated by the
Metropolitan Transit System (MTS)
. The
Blue Line comes up from the US-Mexico border at San Ysidro to the south and travels up Park Blvd. in the East Village neighborhood before turning west onto C Street, where it runs through the Core to America Plaza, across from Santa Fe Depot. The Orange Line connects the eastern cities of El Cajon and La Mesa with Downtown and follows the same route as the Blue Line (Park Blvd and C Street). The Green Line comes south from Mission Valley and Old Town, passing through Little Italy and stopping at Santa Fe Depot; then it runs along Harbor Drive, stopping at the convention center and Petco Park.
The MTS also operates bus service throughout the city and in southern portions of the county, and downtown is the hub of the system, so bus service is pretty good in these parts. Nearly all bus routes that serve Downtown intersect with Broadway Street at some point. You can purchase passes, find schedules, and get information about the bus system at the in southeast Downtown, which also serves as the Greyhound station and is served by all three trolley lines.

Get around
Downtown is dense enough that it can usually be easily walked. Certain intersections (basically anything along Harbor Drive) can feel a little risky with the high volume of cars, but for the most part walking is quite safe, even at night. Downtown is fairly large: it's a long walk from Little Italy to Petco Park.
Taxis are readily available just about anywhere in downtown at night until very late; just flag one down. A slightly more novel ride is the
Water Taxi
, +1 619-235-8294, an on-call service that can pick up from most waterfront hotels, shopping centers, and restaurants along the bay in Downtown and
Coronado
. They run Fridays through Sundays from noon-10PM and cost $8 each way.
A vintage trolley service, the
Silver Line
runs in a clockwise direction around the San Diego Trolley loop within Downtown every half-hour from 10AM-2PM on Tuesdays and Thursdays and 11AM-3:30PM on Saturdays and Sundays. The fare is $2.50 ($1.25 seniors/disabled; MTS/trolley passes accepted). This is really only worthwhile if you're interested in riding the old streetcar; otherwise just use the regular San Diego Trolley service.
Avoid the pedicabs (bike taxis) as a form of regular transportation, as they are one of the most expensive options available. Each of the 250 licensed pedicabs in the city can set its own prices, so you won't know the price unless you ask the driver (who may be reluctant to tell you until it's too late) or can spot the small sign on the cab (which some drivers have claimed don't apply, if they think they can trick you into paying more at the end of the ride). If you decide to take a tour this way, expect to pay a minimum of $20 per person for even a one-minute trip, and at least $1 per minute per person for a longer trip. All pedicabs must have a permit from the San Diego police department, so complaints about price gouging, fraud, unsafe driving, an aggressive insistence upon a tip in addition to the agreed-upon price, and other problems should be reported to the city's police department compliance team at +1 619-615-1539 as soon as possible.
See
phone: +1 619-233-4692

Home to a number of historic Victorian-era buildings, such as the Louis Bank of Commerce, the Backesto Building, the Old City Hall, the Yuma Building, and a whole bunch of other beautiful old structures.
Gaslamp Museum at the Davis Horton House

phone: +1 619-233-4692

address: 410 Island Ave

Previously called the William Heath Davis House, this museum is the headquarters of the Gaslamp Quarter Historical Foundation. The visitor center here offers information for self-guided tours of the district as well as a guided walking tour of the district that leaves every Saturday at 11AM, and Thursday at 1PM. Hosts a festival every St. Patrick's Day.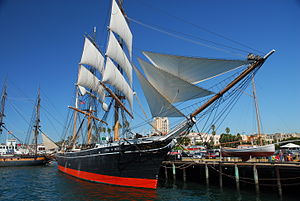 Do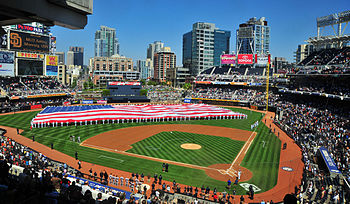 address: Petco Park

See the Major League Baseball Padres play at Petco Park. The stadium, modeled after other "retro" ballparks, has many unique elements, such as the Western Metal Supply Co. building, a historic warehouse which is incorporated into the left-field seats. Price range for tickets varies widely, from $15-20 for a spot on the grassy lawn beyond the outfield wall (the "Park at the Park") to over $50 for a seat behind home plate. Ballpark tours are available off-season daily at 10:30AM and 12:30PM, with an extra 3PM tour on Saturdays; tours are also available during the season, but times vary depending on whether there's a game that day or not.

phone: +1 619-544-1000

address: 79 Horton Plaza

phone: +1 619-235-0804

address: 750 B St

Somewhat in the shadow of the mighty Los Angeles Philharmonic, but still a top notch symphony orchestra. See website for the current season.
Parks
Amici Park

address: at corner of Date and State Streets

A small park in Little Italy, notable for its bocce (a popular sport in Italy) courts. You can also find Italian recipes engraved onto the sidewalk plaques and tables around the park.

Children's Park

address: south of Island Avenue between Front St. and First Avenue

An unusual park with lots of grassy hills, shade trees, and a large water feature. Unfortunately, this park is usually occupied by homeless, so it wouldn't be a safe destination for children.

Embarcadero Park

address: south of Seaport Village behind the convention center

Also known as the Marina Park, Embarcadero Park is split into two parts, north and south, which shelter the marina. Very pleasant, with lots of trees, grass, and good views of the harbor. You can access the north park by walking through the Seaport Village shopping center, and you can reach the south park by going around the back side of the convention center.

Gaslamp Quarter Park

address: at Fifth Avenue and L Street

A small square next to the Gaslamp Quarter trolley station with a small water fountain. Good views of the convention center.

Horton Plaza Park

address: south of Broadway between Fourth and Third Avenue

A historic square just north of the shopping center of the same name. A large fountain marks the center of the park.

Martin Luther King Jr. Promenade

address: along the north side of Harbor Drive between First Avenue and Fifth Avenue

A linear park honoring the late civil rights activist.

Pantoja ParkA small park surrounded by a residential area.

Park at the Park

address: south of J Street between Seventh and Tenth Avenue

For the 81 Padres home game days, this grassy berm overlooking Petco Park is closed to the general public, open as a place to view the game for the price of a ticket. But for the other 284 days of the year, the park is open to the public. The park has a small baseball diamond, a playground, and there are various monuments to the achievements of the Padres, such as a statue of star player Tony Gwynn nearby.
Events
Mardi Gras is celebrated in San Diego with a huge party in Gaslamp Quarter on Fat Tuesday (by some claims the largest Mardi Gras event on the West Coast) that features a parade, live music, and (of course) plenty of drinking and revelry at the neighborhood's many bars. This is a ticketed event open only to those 21 and older; see the event website for details.
ArtWalk takes place every April in Little Italy and has grown into the largest art event in the city, with numerous artists set up along India Street to showcase and sell their work. Music, dance, and interactive art exhibits are also on show for visitors to enjoy.
Fourth of July brings huge crowds to the waterfront to witness the city's biggest pyrotechnics display, with fireworks launched from several points in the bay all at once, making for a spectacular show.

San Diego Comic-Con International

address: San Diego Convention Center

For four days every July, one of the world's largest fan conventions descends on Downtown San Diego, flooding the convention center with over 100,000 attendees. Since its comic book origins, the convention has expanded into virtually every genre of pop culture, drawing Hollywood celebrities, major television producers, toy manufacturers, video game designers, and top-name anime and manga creators, offering sneak peeks at their future works. Expect massive crowds and all manner of celebration of geek culture. It takes some planning to attend Comic-con; tickets sell out almost as soon as they go on sale, and lodging in San Diego becomes expensive and scarce. For this reason, if you're not interested in Comic-con, it's probably best to avoid visiting San Diego during this period.
Labor Day Weekend brings the Festival of Sail to the Downtown waterfront. Hosted by the Maritime Museum, this event draws tall ships from around the world to take part in parades, mock cannon battles, and open their vessels for tours. Plenty of vendors, entertainers, and food are also on hand; if you have kids, this is a pretty exciting one to bring them to.
Little Italy Festa is a huge celebration of Italian culture that takes place in Little Italy every October. Visitors can expect to find plenty of delicious food, cooking demonstrations, traditional art and music, Gesso Italiano (Italian chalk art) painting, and stickball and bocce ball games.
Each December, the Parade of Lights sails past Downtown to celebrate the holiday season, with dozens of boats decked out in elaborate light displays.
Buy
phone: +1 619-235-4014

address: 849 West Harbor Dr

A shopping and dining complex overlooking the bay, with a recreated historic "seaside village" look. Nearly 70 shops and restaurants and an antique carousel.
phone: +1 619-239-3100

address: 859 West Harbor Dr

Gorgeous shop with very well priced and excellent chocolates. All candies are made fresh daily on premises.
Eat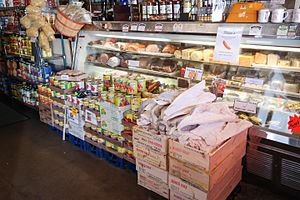 phone: +1 619-234-6323

address: 945 Broadway

Local favorite with great burgers, milkshakes, and not a lot else. Lively little spot with funky decor. There is also a location in Ocean Beach.

phone: +1 619-232-0436

address: 702 Ash St

Neighborhood trattoria. Excellent lasagna, lots of vegetarian options. Various daily specials and discounts for ticket holders on symphony nights.
Drink
Downtown San Diego offers a tremendous amount of drinking locations in a rather small area, making it an excellent nightlife area. Nearly any type of bar can be found in or near downtown, with dive bars, live music, wine bars, craft beer bars, and even several high-end multi-level dance clubs offering bottle service. Unfortunately, much of downtown San Diego is also among the most expensive nightlife in the city.
Sleep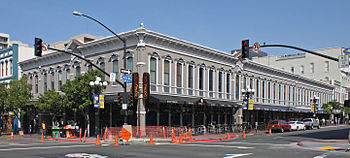 Budget
Mid-range
Splurge
Connect
phone: +1 619-236-5800

address: 330 Park Blvd

San Diego's impressive central library offers free WiFi to the public; just connect to the network 'sdpl'. Desktop computers are available only to library card holders. Library cards are free only to California residents; non-residents have to pay $32 for an annual card.
Go next