San Diego/La Jolla
La Jolla
(pronounced: La HOY-yah) is an upscale beach neighborhood in
San Diego
that, while part of the city, is often viewed as its own distinct community. La Jolla is home to the University of California, San Diego campus, beautiful beaches, and gorgeous scenery. Fans of brutalist architecture will not want to miss two of the world's most significant works in that style, the Geisel Library at UCSD and the Salk Institute.
Understand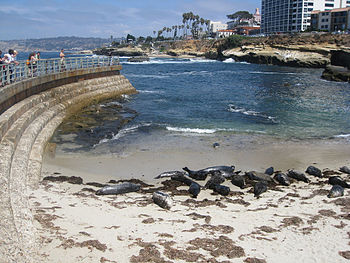 Visitor information
Get in
By car
La Jolla is off the I-5 freeway, north of downtown
San Diego
and
Pacific Beach
. There are several ways to get there:
La Jolla Parkway to Torrey Pines Road from I-5 North (there is no exit to La Jolla Parkway from southbound I-5) or westbound State Route 52
Northbound Mission Boulevard and La Jolla Boulevard from Pacific Beach
Southbound Torrey Pines Road from Del Mar
Westbound La Jolla Village Drive to southbound Torrey Pines Road from southbound or northbound I-5. La Jolla Village Drive from I-5 can also get you to University City (east), or UCSD (west).
By public transit
San Diego's public transit outfit, the
Metropolitan Transit System (MTS)
, operates a small hub of bus routes at the UTC shopping mall in University City. Route 30 serves the La Jolla village, connecting to Pacific Beach and
Old Town
to the south (as well as
Downtown
on weekdays) and UCSD and UTC to the east, stopping within walking distance of many of La Jolla's attractions, such as the Cove and the Birch Aquarium.
North County Transit District's
Route 101 serves UTC and UCSD and runs north on Torrey Pines Road and up the coast of Northern San Diego County, connecting to Torrey Pines State Park and other destinations around there.
Get around

When you're in the La Jolla "village" area (near the Cove), the best way to get around is not to drive. This area is dense enough that you can easily walk, bike, or roller skate around the neighborhood. Plus, parking can get a little difficult to find, so once you get a spot you might not want to risk losing it.
For the areas of La Jolla outside the "village", such as around UCSD or Torrey Pines, a car will be the easiest way to get around due to the distances and hilly terrain of the surrounding area.

See
Athenaeum Music & Arts Library

phone: +1 858-454-5872

address: 1008 Wall St

A nonprofit, membership library which sponsors art exhibitions, concerts, lectures, and art classes.

phone: +1 858-534-3474

address: 2300 Expedition Way

The public center for the renowned Scripps Institution of Oceanography (of University of California, San Diego), this award-winning aquarium has many fantastic exhibits, with oceanic species from all over the Pacific Ocean displayed, as well as sharks, a tide pool, a large kelp tank, and a coral reef (with actual living coral). The museum also has some spectacular views of the ocean and La Jolla as well as some nifty tide pools where you can touch tide-pool animals.

phone: +1 858-459-0746

address: 1325 Coast Blvd

Built on top of a sea cave, this gift shop offers tours of a small cavern open to the ocean.

address: 850 Coast Blvd

This beach is a favorite breeding spot for harbor seals. The beach is closed Dec 15-May 15 during breeding season, but you can still observe the seals from a safe distance. This beach used to be the children's beach, and there is an ongoing dispute between animal rights supporters and others who disagree about who should own the beach. Depending on the current turn of events, swimming may or may not be permitted. Occasionally, the seals vanish, but move a few hundred feet to the right, close to the cove itself.

Mount SoledadA prominent landmark just to the east of La Jolla, overlooking much of San Diego. The top of the mountain is adorned by the Mount Soledad Easter Cross and Veterans Memorial. It is home to many rabbits and couples. Sunrise and sunset are the two favorite times to go here. The twisty roads leading to the hill are full of plant life and give access to multimillion dollar hobbit homes which look much smaller from the street than from down below, as they are on a sloping hill. There are a few hairpin turns and tight bridges that are worth finding.

Museum of Contemporary Art San Diego La Jolla

phone: +1 858-454-3541

address: 700 Prospect St

Permanent and changing contemporary art exhibits.

Salk Institute of Biological Studies

phone: +1 858-453-4100

address: 10010 N Torrey Pines Rd

Near UCSD is this architectural monolith; the structure for this noted institution is built out of unfinished concrete and perched atop the cliffs overlooking the ocean. It is one of famed modernist Louis Kahn's most important works. Two symmetrical buildings stare at each other across a courtyard, the length of which runs a wide river which reverses into a pool and, through a small waterfall, down towards the dining hall seating area. The building is surrounded by a moat, and sports orange trees in the courtyard. In addition, many doors are deliberately unlabeled to encourage scientific exploration. The Salk gives tours, but you must schedule them (they are early in the morning).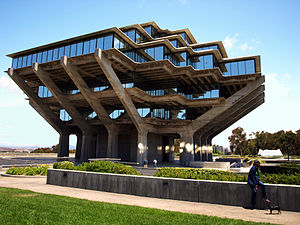 University of California, San Diego

phone: +1 858-534-2230

address: 9500 Gilman Dr

A combination of a small liberal arts college and a large research university, UCSD has a good reputation locally and offers some interesting sights. You can take a walk around the campus and observe a number of famous artworks and architectural structures.
Be sure to see the , named for the noted author Theodore Geisel (you may know him as Dr. Seuss!). This library is truly outstanding and looks a bit like a giant UFO. Seeing it at dusk is preferable, when the lights are on and the spaceship look is complete. On one side of the library, a sidewalk paved to look like a giant snake brings you down to a sculpture of a book. The floors in the library are quieter as you go higher up, with almost zero tolerance for noise on the eighth floor. The building's design was used for the snow fortress set at the end of "Inception".
Also look for some of the campus artwork, such as , which is a realistic sculpture of stonehenge, and the , which is bright, flamboyant and huge, but somehow camouflaged in a dark lawn.
There's also a Che Cafe and Porter's Pub, which should entertain some amount of counterculture. Next to Porter's Pub there's an outside glass blowing facility attached to a coffee shop, so you can sip coffee while watching people blowing glass. Adjacent to that is a blacksmith and pottery workshop.
UCSD also has many food joints, dining halls and restaurants that are open to the public. Be sure to hop into the Price Center, which is very close to the Geisel Library and Gilman Drive. There you will find a Burger King, a Subway, Round Table Pizza, Bombay Coast, Rubio's and more.
UCSD offers tours for prospective students Monday thru Saturday, as well as visitor tours most Sundays.
Torrey Pines State Natural Reserve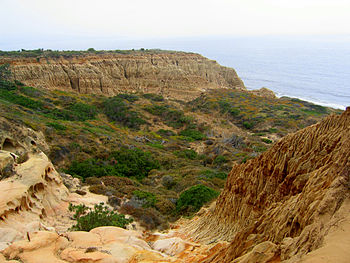 Torrey Pines State Natural Reserve
phone: +1 858-755-2063
address: 12600 North Torrey Pines Rd
No bikes, dogs, food and beverages allowed.
A 2000-acre reserve consisting of a plateau with steep cliffs overlooking small canyons and the beautiful Torrey Pines State Beach. There are a number of hiking and beach-access trails, and a variety of wild flora and fauna, including the rare Torrey Pine tree, for which the park is named. There's also a wide variety of animals. Rabbits, foxes, raccoons, coyotes, hawks, hummingbirds, and owls are all a part of the landscape, so sightings are common especially as sunset approaches. From agave and freesia, to sage and strand, visitors will also see plenty of wildflowers and plant life along the way.
There is a visitors center with a small museum on top of the plateau. Here you can pick up a map, check out a few exhibits, and gather any information that you may need before preparing for a hike down to the beach. The hike down from the visitor center offers excellent views of the ocean, but there are several other trails, such as the Broken Hill Trail, leading to the beach also with great views of the ocean - if you're lucky, you may spot Gray Whales in the winter or bottlenose dolphins. The beach itself is at the base of scenic cliffs and is excellent for swimming. It is also one of the least crowded beaches in the area, and is also great for picnics, walking, and relaxing.
Do
phone: +1 858-452-9858

address: 2800 Torrey Pines Scenic Dr

Learn to hang glide.
Beaches
address: 1100 Coast Blvd

A very popular beach for swimming, scuba diving and snorkeling, set against beautiful sea cliffs. The bluffs above the beach are grassy, making a great spot for picnics. Keep in mind that La Jolla Cove is part of the San Diego-La Jolla Underwater Park Ecological Reserve, so fishing, scavenging, or "swimming devices" (surfboards, boogie boards, inflatable mattresses, etc.) are not allowed. You may also find a very large number of sea-birds and animals flying, walking and lazing around the area in the daytime.

address: in south La Jolla

This beach has no facilities, but is notable for playing host to a great number of talented and famous surfers. The simple "Surf Shack" structure there has been designated a historic landmark. There are huge, smoothly sculpted rocks on this beach that are fun to climb on and look at.

Marine Street Beach

address: in south La Jolla

A local beach with some rough and dangerous surf. This is a great spot for body surfing and body boarding. No facilities are available here.

La Jolla ShoresIn north La Jolla, this beach has some of the gentlest waves of any beach in San Diego. The beach is notable for being near the Scripps Institution of Oceanography campus and it contains the Scripps Pier. This is one of the only beach boat launching areas in La Jolla, so it's a popular spot for kayaking and surfing.

address: in north La Jolla just below Torrey Pines State Park

Set against high cliffs, Black's Beach is the largest nude beach in the country. Technically, there are two parts of the beach. There is the southern part located within the City of San Diego, where nudity is not allowed (although this rule is rarely enforced) and the northern part located within Torrey Pines State Park, where clothing is purely optional. Black's Beach has one of the most powerful beach breaks in Southern California, making it a popular, but dangerous, surfing spot. To get down to the beach, you have three options. First, you can walk from La Jolla Shores, which is a long stretch. Second, you can go to the Gliderport and take a breathtaking path on the side of the cliff that goes straight down. Don't come in high heels, although it's a safe enough path for surfers to run by you with their surfboards. The top is a great spot to watch the sunset! Third, you can drive along the cliffs north from the Gliderport. Park in the last allowable spot, and take another breathtaking path down. The second path is less beautiful but takes you farther towards the unexplored parts of the beach. The second path forks at the very bottom of the cliff. If you take the fork, which goes into the canyon, you will arrive via a twisty path at the bottom of a hidden waterfall which is home to hummingbirds. It's a few hundred feet in and well worth the walk. The full moon drum circle goes on here each month. Look for it on a rainbowgathering website. It starts at dawn and goes till dusk. People bring tents and sleeping bags, though most go back up the cliffs. This is a no alcohol event, but feel free to bring wood, a drum, juice and a trashbag to clean up. For latest details, visit this site.

Torrey Pines State Beach

address: north of La Jolla

Stretched along Torrey Pines State Park and set against gorgeous cliffs, this beach is one of the most beautiful around. A salt marsh at the north end of the beach empties into the ocean. The beach is also a popular one for surfing and body boarding.
Golf
phone: +1 858-452-3226

address: 11480 North Torrey Pines Rd

A stunning seaside public golf course noted for hosting the PGA Tour Farmers Insurance Open every January or February.

phone: +1 858-454-9601

address: 7301 High Ave
Buy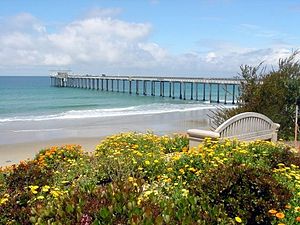 There are high-end shops and art galleries along Prospect Place and Girard Streets in downtown La Jolla.
phone: +1 858 546-8858

address: 4545 La Jolla Village Dr

An outdoor shopping mall just outside of La Jolla, in the University City area. Basically anything you'd find in your average suburban shopping mall with the addition of an ice skating rink, called Ice Town.
Eat
Sleep
Connect
Go next
Pacific Beach lies just to the south, on the coast.
Del Mar is to the north, past Torrey Pines State Park.