San Diego/Mission Beach-Pacific Beach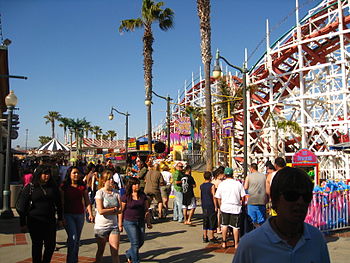 Mission Beach
and
Pacific Beach
are the two most popular beach neighborhoods in
San Diego
. Nestled between the ocean and the man-made Mission Bay, this area is packed with tourists in the summer months who come to visit Sea World, the seaside amusements of Belmont Park, or just to hang out at the beach.
Understand
Mission Beach
is on a narrow strip of land between the ocean and Mission Bay, only a few blocks wide. It leads from more upscale Pacific Beach to the north to
Belmont Park
with the famous "Giant Dipper" roller coaster at its south end. It gets funkier the further south you go on the ocean-side boardwalk, though gentrification is slowly creeping through the area. It is a (somewhat) tamer version of the
Los Angeles
' famous
Venice Beach
. It's population soars in the summer with out-of-town surfer dudes, dudettes, wanna-bes, and "Zonies" (
Arizona
residents trying to beat the heat), packed like sardines into expensive, often beaten-up (but who cares?) summer rentals.
Pacific Beach
(PB for short) is one of San Diego's many beach towns, bordered on the south by Mission Beach and Mission Bay, to the north by
La Jolla
, to the east by I-5, and best of all, to the west by the Pacific Ocean. Dotted with restaurants, bars and cafes, as well as clothing stores, beachwear stores, surfboard, bike and rollerblade rental places, it is a great place to spend a sunny afternoon, of which there are plenty. Many PB residents are in their 20s and 30s, as a result of the booming nightlife. PB is dominated by Garnet Avenue, a large commercial street that runs from the 5 freeway west to the Pacific Ocean.
Get in
By car
From Downtown
and areas south get on
Interstate 5
, referred to as "the 5," exit onto westbound I-8 and exit at West Mission Bay Drive. Stay on West Mission Bay Drive to get to Mission Beach, or you can access Mission Bay by taking Ingraham Street or Sea World Drive. If you want to get to Pacific Beach, take I-5 to Mission Bay Drive and hang a left on either Grand Avenue or Garnet Avenue and follow them into the heart of Pacific Beach. Be prepared to sit in traffic during rush hour and busy weekends, this is the one of the few entrances to Pacific Beach and it creates an absurd bottleneck.
From La Jolla
and areas north you can take the 5, exit at Garnet Avenue and make a right. From coastal La Jolla, it might be faster and definitely more scenic to take the surface streets. Follow La Jolla Blvd. south until it intersects Mission Blvd. and you're in North Pacific Beach. Make a right on Mission Blvd. and you'll be driving south, parallel to the beach with the ocean on your right.
From Ocean Beach
, take Sunset Cliffs Blvd. to West Mission Bay Drive which will take you through Mission Beach to the west part of Pacific Beach, or to Ingraham Street which will lead you into the central part of Pacific Beach. All the overpasses and underpasses can get confusing. After you go over the dry San Diego River, loop around once for Ingraham or stay right and loop around again for West Mission Bay Drive.
By public transit
The
Metropolitan Transit System (MTS)
, San Diego's public transit service, has a few frequent bus routes serving the area: Routes 8 and 9 connect Pacific Beach to the Trolley station in
Old Town
, with the 8 traveling along Mission Blvd through Mission Beach and the 9 crossing Mission Bay and stopping at Sea World. Additionally there's Route 30, which runs along Grand Avenue in Pacific Beach and connects to La Jolla to the north and Old Town to the south, as well as Downtown on weekdays. Lastly, there's the less frequent Route 27, which travels up Garnet Avenue through PB to the suburban neighborhoods of Clairemont and Kearny Mesa to the east.
Get around
Once you're in PB, the best way to get around is by any means other than a car. Beach cruisers are the vehicle of choice in PB. Rent a beach-cruiser or roller skates or buy a skateboard. It's more fun and you don't have to worry about parking. There are many facilities that rent all of these and more by the hour, day and even week. One of them is
Cheap Rentals
which has a Mission Beach and Pacific Beach location. Another option is to rent a Segway transporter from
Segway of Pacific Beach
, located approximately one block north of Mission Beach.
At night, taxis are readily available all along Garnet ave or Mission blvd near the bar areas. If you are outside of those areas, and need to go down to the bar areas, the best way is to call a taxi for pickup. Generally taxis will arrive in under 30 minutes to residential or hotel properties. Most locals walk or take taxis at night.
See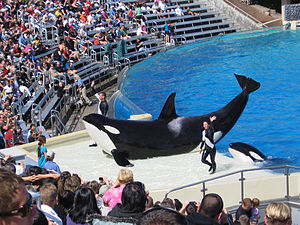 address: 500 SeaWorld Dr

Hours vary by season and day of week; typically 10AM-5PM in winter, 9AM-11PM in summer. A massive (200 acres) marine animal theme park with rides, lots of sea animals (dolphins, sea otters, arctic creatures, sharks, penguins, rays, manatees, etc.) and of course, shows of killer whales like Shamu.
Take a walk along the Boardwalk or walk out onto the Crystal Pier in Pacific Beach and experience the ocean.
Do
phone: +1 858 228-9283

address: 3146 Mission Blvd

A seaside amusement park located near the southern end of Mission Beach, Belmont Park is a landmark with a number of shops, restaurants, an arcade, and a bunch of rides. The big attraction is the Giant Dipper, a historic roller coaster that is one of the only two remaining oceanfront roller coasters still operating on the west coast. Also popular is The Plunge, a historic indoor heated swimming pool that continues to be the city's largest indoor pool. Among the other rides is a FlowRider (a simulated wave attraction which you can bodyboard on), an antique carousel, bumper cars, slides, pendulum rides, tilt-a-whirl, and a trampoline.

phone: +1 858-488-1000

address: 1001 Santa Clara Pl

The aquatic center rents catamarans and other watercraft, as do several other franchises around the bay. Instructional lessons are available. The western half of the bay is "sail only" (powerboats 5 mph no wake) during the daytime.

Mission Bay ParkEncompassing the entirety of Mission Bay, offering opportunities for sailing, boating, swimming, jet ski, and other water sports. You can also take advantage of the park space surrounding the bay for walking, bicycling, picnicking, etc. There are many miles of hiking, biking, and running trails that have a moderate level of difficulty for runners and an easy level of difficulty for bicyclists. There are marvelous views of the ocean and the bay along with numerous side trips. Starting at the Mission Bay Visitor Information Center (on East Mission Bay Drive near the Clairemont Drive exit from Interstate 5 Freeway) is a good idea, as there is parking (it can be scarce at times and is limited to one hour), and runners can can choose a trail to match their fitness level.
Mission Bay Playground

address: East Mission Bay Drive on Mission Bay, south of Clairemont Drive

There are many playgrounds in the city, but this one is easily one of the best. For starters, it's a huge playground, with several elaborate play structures (one is built to resemble a pirate ship) and lots of elements for kids to explore. It's on the edge of Mission Bay and surrounded by expansive lawns perfect for kite-flying and playing sports.

Fiesta IslandThis island in the middle of Mission Bay hosts the Fiesta Island Time Trial Series, hosted by the San Diego Bicycle Club. Competitors meet up to see who can ride the quickest 20k or improve the most. Single riders, tandems and teams are all welcome, and the event also hosts triathletes and world class road race athletes. There is always a waiting list for these trials, so early registration is vital if you want to take part in this very exciting aspect of cycling in Mission Bay Park.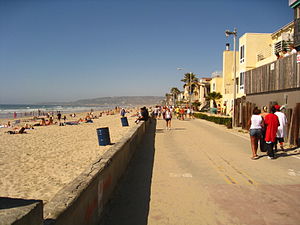 Mission BeachThis beach is one of the calmest, easiest places to ocean swim in San Diego area. You can also go scuba diving (off the shore are several dive wrecks). Or you can bicycle or rollerblade along the boardwalk (several stores nearby rent equipment).

Tourmaline Surfing Park

address: at the foot of Tourmaline Street in North Pacific Beach

A popular surfing spot for locals.
Events
The San Diego Crew Classic draws rowers from around the world for a huge regatta on Mission Bay on the first weekend of April.
The yearly Over The Line Tournament takes place each July and is over-the-line in more ways than one. OTL is a locally-invented sport with three-player teams using softballs, known for its rowdyness.
The area's annual fireworks show on the 4th of July is well-known, with the waters of the bay reflecting the fireworks in the air.
Every September, the San Diego Bayfair draws huge crowds to Mission Bay, with powerboat races and a beach festival with vendors, concerts, and a kid's zone.
The Mission Bay Boat Parade of Lights takes place in mid-December and involves a parade of boats decked out in holiday lights making their way through Mission Bay, coinciding with the lighting of holiday lights on the Sea World tower, which are visible from all around Mission Bay for the remainder of the holiday season.
Buy
Garnet Ave, Mission Blvd, and the beach boardwalk are lined with all types of shops, from small clothing stores to large grocery stores.
phone: +1 619-294-4544

address: 4125 Mission Blvd

A specialist lingerie and swimwear store with a wide range of sizes, colors and styles in stock, including strapless bras, nursing bra and Basques. Offers professional bra fitting.
Eat
Most of the restaurants take advantage of San Diego's signature weather by offering outdoor and sidewalk seating.
There's practically a Mexican joint on every corner in PB, most of them could be considered holes-in-the-wall but at least they don't have wheels. None of them are bad, most of them are good and a handful of them are great. Every San Diegan has a place in their heart for their favorite Mexican restaurant. Ask a local and she'll definitely share with you her opinion.
phone: +1 858 274-7117

address: 4640 Mission Blvd

Enjoy burgers made with organic New Zealand beef.

phone: +1 858-270-9655

address: 1851 Garnet Ave

As you can guess, the Broken Yoke specializes in eggs and omelettes but they also serve the regular breakfast fare of pancakes and French toast. It's great for sitting down and recapping the previous night's events. If you're hungry enough, you can try their 12-egg omelette, loaded with all sorts of goodies to make it hard to finish. If you do, it'll only cost you $2 and your name will be forever engraved on the wall.

phone: +1 858-272-0976

address: 976 Felspar St

A café and restaurant with a large selection of coffee drinks, breakfast pastries and whole entrees one block away from busy Garnet Ave. This Café 976 offers peace and quiet within the confines of its garden patio. Guests sitting outside are surrounded in all three dimensions by plants and trees. Free Wi-Fi internet access for customers.

Cotija's

phone: +1 858-273-1241

address: 1092 Garnet Ave

No frills or gimmicks, just delicious Mexican food. Located in a strip mall next to a barber shop, the painted windows lure you in off the street with 99-cent fish tacos and bean and rice burritos. For a little more you can order a quesadilla (but don't let the name fool you, quesadillas at Cotija's are like burritos with cheese). Also tasty are the multiple breakfast burritos, one of which has hash browns — and they're not limited to breakfast. For true San Diego flavor, try the Shrimp Burrito (also available in the fiery but amazing "Diablo" version). The line to order crowds the dining area as the bars close but there's nothing like a gut brick to put you to sleep after a long night on the town. And be sure to bring cash because they don't take plastic.

phone: +1 858-272-9985

address: 5040 Cass St

The retailer Pacific Shellfish Seafood Company was founded in 1979 but their attached restaurant debuted in 1998. With many different species of seasonal fresh fish in their cooler, you'll be able to find something to tickle your taste buds from a simple tuna melt to a wild-caught Alaskan salmon. Since it's a market too, you can verify that all the fish are fresh. And just in case you didn't know what your particular entree looked like before it was caught, there are taxidermied models on the wall, displaying the fish in their full glory.

phone: +1 858-488-1725

address: 960 Turquoise St

Has been serving delicious pastries and desserts to San Diego since 1979. You can stop in and try one of their many desserts or you can sit down for a whole meal. Their main entrées are just as tantalizing as the desserts. The breakfast menu includes omelettes, crepes and French toast and is served on weekends from 8AM-2:45PM and on weekdays 10AM-2:45PM. Lunch is served until 3PM and dinner is served everyday except Sunday and Monday. They are also a full service catering and wedding cake company.

Kono's

phone: +1 858-483-1669

address: 704 Garnet Ave

This eatery has the best budget breakfast in town, across from the entrance to Crystal Pier. A sign on the wall boasts how many days have passed since they last raised their prices; a figure which is easily over 365. On weekends the line outside gets so long you'd think it was nightclub, but the food is well worth the wait. They specialize in big breakfasts and breakfast burritos.

phone: +1 858-274-9977

address: 1470 Garnet Ave

A Pacific Beach institution, Mr. Frostie's has been selling soft serve ice cream since 1949. The simple, no frills menu also includes sandwiches and hot dogs, but it's the dipped ice cream cones, milkshakes, sundaes, and banana splits that will make this place outlast any trendy yogurt shop.

phone: +1 858-272-2801

address: 4504 East Mission Bay Dr

Now a minor fast food restaurant chain in the western United States, but what's significant about the one in PB is that it was the first. In 1983, founder Ralph Rubio capitalized on the unique flavor of Baja California taco stands by replicating one in San Diego (accommodating, of course, for local health codes). The beer-battered fish tacos, the carnitas and carne asada tacos were an immediate hit.

phone: +1 858-274-1733

address: 1420 Garnet Ave

A newcomer to Pacific Beach, Sugar and Scribe Bakery is quickly making its home here, with sweets so good that dentists recommend them. They carry a varied selection of cakes, pies, and breads, including Irish soda bread. The pies are made with Irish-style pie crust and are most definitely worth a try. The proprietor uses traditional recipes passed down through her family, and if she's not too busy you may get some family history with your cake. The coffee is pretty good too. They update Twitter and Facebook regularly with daily specials.

address: 1433 Garnet Ave

Great variety of world curries and great happy hour beverage deals.
Drink
Entertainment is the business in Pacific Beach. Youngsters all over San Diego who aren't fortunate enough to live in Pacific Beach come here day and night to enjoy themselves. The nightlife is the second biggest attraction next to the beach. The weekend nights are always busier than weeknights but the most loyal patrons will begin their weekend celebrations on Thursday. Early week drink and food specials are offered at most bars, especially along Garnet. As such, almost every night attracts a good-sized crowd in PB. Most of the bars are located on the west end of Garnet Avenue which gets the most foot traffic at night. For a more laid-back environment, try one of the bars that isn't on Garnet, like Froggy's or the Australian Pub.
The crowd is typically young and single and consists of college students and working professionals. Most bars don't have dress codes and sandals are seen on men as frequently as they are seen on women. Men usually wear designer (sometimes ripped) jeans and either a t-shirt or an untucked button-down dress shirt. Women usually wear tank tops with jeans or miniskirts. A general rule of thumb is that if you'd wear it to the beach, then you'd most likely get away with wearing it at a bar in PB. Most bars in PB are notoriously strict on identification for locals and visitors alike. For international visitors, most bars do not accept international drivers licenses as a form of ID even if you are considerably over 21. Even though it is a pain, make sure you bring your passport along.
Cass Street Bar and Grill

phone: +1 858-270-1320

address: 4612 Cass St

This comfortable, laid-back bar with deep sea fishing themed decor has a good crowd at practically any time of the day, night or week. It's a beer and wine bar, so cocktails drinks use an weak Asian vodka called Han Vodka, but the twelve or so beers on tap and various other bottled beers are enough to keep most customers happy. The profusion of TV screens make it a popular daytime sports bar, the pool tables and shuffle board table keep it popular at night. The menu has some great seafood and burgers, served until about 10PM, and has great breakfast options too. This bar has a much more neighborly feel compared to the meat-market atmosphere of some of the more popular Garnet Street bars.
Sleep
Rooms can get pricey in the area during the summer months of June–September and they're always cheaper during the winter months. They also have a tendency to fill up, so make sure you call ahead of time to make reservations. A general rule of thumb is that the closer to the beach your room is, the more expensive it's going to be. Mission Bay is home to several luxurious full-service resorts which are spread over acres of reclaimed land, while accommodations in Pacific Beach are motels and a couple of hostels. A few vacation rental places are based along the beach. For cheaper options, look outside of the area, like Hotel Circle in
Mission Valley
.
Connect
Stay safe
There are
lifeguard towers
all along the beach that are manned from 9AM till dusk during the summer months. The main lifeguard tower is staffed year round and is on the beach at the foot of Grand Avenue. They can administer first aid and contact the police and fire department if need be.
The west end of Garnet Avenue can be a rowdy place in the wee hours, generally populated by the 21 to 30 age group. Alcohol-fueled behavior can lead to rude and occasionally aggressive activities.
PB and Mission Beach are, like most of San Diego, considered very safe areas, even at night when the large rowdy bar crowds are out.
Go next
La Jolla is just to the north.
Ocean Beach is south of Mission Beach, across the dry San Diego River.