San Diego/North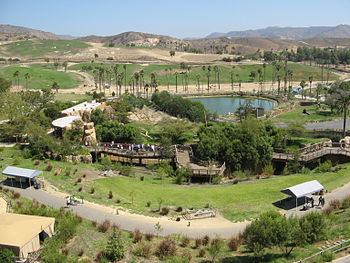 North San Diego
is the northern region of
San Diego
, consisting mostly of hilly terrain and suburbs. For the purposes of this travel guide, "North San Diego" contains just about everything north of
Mission Valley
and east of I-5.
North San Diego contains the communities of:
Carmel Mountain (Ranch), a northeastern neighborhood, with Poway to the east, Rancho Bernardo to the north, and Sabre Springs to the south.
Clairemont, a large suburban area east of Pacific Beach, west of Kearny Mesa, and south of SR-52.
Kearny Mesa, on a wide, flat mid-city plain, this neighborhood just south of Miramar is one center of San Diego's Asian population.
Miramar, home to the Miramar Marine Corps Air Station.
Mira Mesa, an inland suburb just north of Miramar.
Poway, a separate municipality from San Diego, is a large suburb off of I-15. Also north of Scripps Ranch.
Rancho Bernardo, a master-planned community in the northern part of the region, near Escondido.
Rancho Penasquitos, a large suburban community west of Poway.
Rancho Santa Fe, a bedroom community in the hills north of SR-56.
San Pasqual Valley, the northernmost neighborhood of San Diego, home to the San Diego Zoo Safari Park.
Sabre Springs, an upscale, northeastern neighborhood, with Poway to the east, I-15 to the west, and Scripps Ranch to the south.
Scripps Ranch, a northeastern neighborhood, east of I-15 and south of Poway.
Sorrento Valley is closer to the coast, near the I-5/I-805 intersection.
Get in
By car
Interstate 5
and Interstate 15 are the main north-south interstates through the area, with I-5 marking the western boundary of the area and I-15 running through the central and eastern parts of the area. Additionally, SR-163 and I-805 connect the area to the south, with SR-163 continuing through Mission Valley to
Downtown
and I-805 heading through Mission Valley and the
Mid-City
area down to I-5 near the
US
-
Mexico
border. SR-52 is a main east-west highway, running from near
La Jolla
past Clairemont and Kearny Mesa out to Santee. Further north, SR-56 runs between I-5 near
Del Mar
and I-15 near
Poway
.
By bus
The
Metropolitan Transit System (MTS)
runs buses throughout San Diego, but bus service in these parts is often infrequent. The
North County Transit District (NCTD)
operates bus routes through northern San Diego County and a couple of those routes serve parts of North San Diego, including
Flex
Routes 371 and 372 which connect the San Pasqual Valley and the Safari Park to the transit center in Escondido, where you can transfer to the Sprinter rail service to
Oceanside
or express bus service to Downtown San Diego, although Flex service is infrequent.
By train
Sorrento Valley is a stop on the
Coaster
, a regional rail line that runs along the coast between Downtown San Diego and Oceanside, as well as limited
Amtrak
Pacific Surfliner
service (3 trains northbound, 3 trains southbound daily). From there, a number of shuttle routes connect the station to the immediate area.
By plane
Montgomery-Gibbs Executive AirportGeneral aviation
See
phone: +1 760-747-8702

address: 15500 San Pasqual Valley Rd

Sister park to the San Diego Zoo in Balboa Park, the Safari Park is a massive (1,800 acres) zoo with large, naturalistic free-range enclosures containing animals from all over the world. Highlights include the huge Africa area, the California Condor exhibit, and a tram ride which takes you past some of the large free-range areas (extra admission required).

San Pasqual Battlefield State Historic Park

phone: +1 760-737-2201

address: 15808 San Pasqual Valley Rd

On December 6, 1846, one of the bloodiest battles of the Mexican-American war took place here. The visitor center on-site has displays on the history of the site.
Do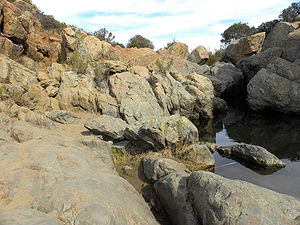 Los Peñasquitos Canyon Preserve

phone: +1 858-484-7504

address: Visitor Center, 12020 Black Mountain Rd

A large park stretching several miles between the I-5/I-805 intersection and I-15, just south and roughly parallel to SR-56. There is much beautiful scenery which can be explored via the system of hiking, biking and equestrian trails. The park also contains a few historical landmarks, including the Rancho de los Penasquitos, one of the oldest surviving homes in the region, dating back to 1823. Tours of the house are available every Saturday at 11AM.

phone: +1 619-525-8213

address: 5544 Regents Rd

It's in the San Clemente Canyon along SR-52 from I-5 to I-805. This large park contains some very scenic trails.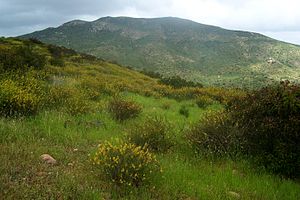 Eat
phone: +1 858-565-7799

address: 7330 Clairemont Mesa Blvd

A mostly California chain of Asian supermarkets. Here you can come face to face with your dinner - live! The entire back wall of this full-size supermarket is the fish department - and many of them are still swimming. This is such a special and unique market that a local cooking school offers group tours.

phone: +1 858-587-2739

address: 9675 Scranton Rd

Hidden behind the trees in the San Diego Tech Center, Karl Strauss Brewery Gardens feels more like a high-end sushi place than a brewery/restaurant complete with a koi pond. Lots of outdoor seating. Gets very crowded during the week for lunch & dinner. They serve their own beers on tap and have an extensive menu.

Chorus Karaoke Bar and Cafe

phone: +1 858-576-0700

address: 4428 Convoy St. Ste. 290

Korean food and a great place for karaoke.

phone: +1 858-278-8961

address: 7604 Linda Vista Rd

A local favorite, with incredibly good, cheap, and authentic banh mi (Vietnamese sandwiches).

phone: +1 858-487-3388

address: 11666 Avena Pl

Good Cantonese (Chinese) dim sum with a good view of Webb Park.

phone: +1 858-278-1222

address: 3860 Convoy St.

Large pizza with cheese & 1-topping (special) $9.99. $1 internet delivery special.
A surprise find is
Convoy Street
in Kearny Mesa, home to dozens of excellent Asian restaurants that cater primarily to the lunch crowd from the surrounding commercial areas. Having a job in the Kearny Mesa area can be a joy just for the ability to eat oneself from one end of Convoy to the other, and not hit the same spot twice in a month.
Drink
phone: +1 858-622-0085

address: 6550 Mira Mesa Blvd

One of San Diego's many microbreweries that has a tasting room that lets you sample their beers. Food isn't sold here, but there are usually food trucks.

O'Brien's

phone: +1 858-715-1745

address: 4646 Convoy St

This place has a great low-key friendly atmosphere. There is outdoor seating and a wonderful selection of Belgian local microbrews, with an extra emphasis on hoppy brews. They have a surprisingly good bar food as well.

phone: +1 858-450-9557

address: 9550 Waples St
Sleep
Connect

Most people in this area of San Diego use the area code 858, with some using 760 and 619. The area code must be dialed with the phone number in all areas.
AT&T and Verizon are the two main providers, but some use Sprint and Cricket.
Many Wi-Fi hotspots are available in coffeeshops.