San Diego/Old Town-Mission Valley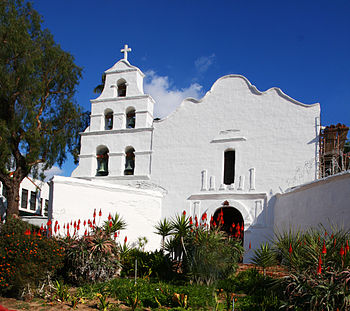 The birthplace of
San Diego
,
Old Town
is a popular tourist district of historic buildings and Mexican-themed shops and restaurants sitting at the foot of
Mission Valley
, a major commercial center lining the San Diego River that is home to several shopping centers, Qualcomm Stadium, and the Mission San Diego de Alcalá, the oldest of the
California missions
.
Get in
By car
Mission Valley is strung along Interstate 8 and several interstates intersect with I-8 through the valley, making access by car relatively easy. Old Town is just off the intersection of
Interstate 5
and I-8 at the western end of the valley, SR-163 intersects I-8 near the Fashion Valley shopping center, and I-805, and I-15 cross I-8 in the eastern part of the valley near Qualcomm Stadium.
Getting through Mission Valley in a car is quite painless, given the large boulevards and numerous parking lots. However, finding a place to park in Old Town can be a real drag. Even Mission Valley's large roads can get clogged with traffic during rush hours, sports events, and the holiday shopping season when shoppers flock to Mission Valley's many retail outlets.
By public transit
The (at 4005 Taylor St, near the intersection of Taylor Street and Pacific Highway at the northwest corner of Old Town) and the Fashion Valley shopping center in Mission Valley are hubs for many local
Metropolitan Transit System (MTS)
bus routes. In addition, the Old Town Transit Center serves the
Coaster
, a commuter rail service which runs north along the coast of
San Diego County
to
Oceanside
, and certain
Amtrak
Pacific Surfliner
trains (check the schedule, as not all trains stop in Old Town).
The
San Diego Trolley
, a light rail service operated by the MTS, runs through Old Town and Mission Valley. The
Green Line
comes up from
Downtown
and stops at the Old Town Transit Center before turning east and heading through Mission Valley (making stops at all the shopping centers, Qualcomm Stadium, and the Mission San Diego), then continuing east past SDSU out to El Cajon and Santee.
See
phone: +1 619-281-8449

address: 10818 San Diego Mission Rd

The first of the Spanish California missions, founded in 1769 by Junipero Serra for the purposes of converting the native peoples who lived in the area at the time. In its long history, the mission has been the site of the first Christian burial and the first execution in California, saw bloodshed between the Spanish settlers and native peoples, and served as an armory in the years following U.S. annexation of California before being restored to an active church in 1941. Today, Mission San Diego is an active Catholic parish and a museum dedicated to the history of the mission. Tour the site, with its gardens, museum, and the original chapel.

Adobe Chapel Museum

phone: +1 619-297-7511

address: 3950 Conde St

Heritage ParkA park in Old Town ringed with historic Victorian houses.

Immaculate Conception ChurchA historic Mission-style church in Old Town dating back to 1919.

Mormon Battalion Visitors' Center of San Diego

phone: +1 619-298-3317

address: 2510 Juan St

A monument to the hundreds of Mormons who fought in the US-Mexican War.

Presidio ParkPerched on the hill above Old Town, this large park is the site of the old presidio (fort) that once protected the Spanish settlement of San Diego. The park contains canyons, tall trees, flowering plants, and grassy hillsides as well several memorials and historic landmarks, including the Junipero Serra Museum (see below) and the partially excavated presidio. The grassy lawns and hilltop views make it a great place to bring a picnic.
phone: +1 619-297-3258

address: 2727 Presidio Dr

Take the time to visit the historic site of what used to be the first ever California Mission, located in Presidio Park on the hill above Old Town. The museum includes exhibits on the life of Old Town and a tower which offers magnificent views of the area.
phone: +1 619-260-1850

address: 2384 San Diego Ave

Learn the history of the San Diego Sheriff's Department.
phone: +1 619-297-7511

address: 2482 San Diego Ave

The oldest brick building and most famous haunted house in San Diego. Built in 1856, the north room of the museum served as the County Courthouse in 1869. The structure includes period furnishings and other antique displays. Come during the Halloween season for special night tours.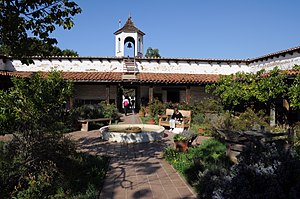 Old Town San Diego State Historic Park
A historic district which encompasses most of Old Town and many of the area's original Spanish structures from when the settlement was founded in the 18th century. The park is around nine square blocks, or almost 30 acres, and can be toured with or without a guide.
Robinson-Rose House Visitor Center

phone: +1 619-220-5422

address: 4002 Wallace St

To begin touring, the best place to start is the visitor's center, which includes a model of what the area looked like in 1872, maps, information about touring, and information about the area's history. Free guided walking tours of Old Town depart daily at 11AM and 2PM.

Altamirano-Pedrorena House

address: on San Diego Ave

Built in 1869, as a family residence, but is now the site of a rock, gem, and jewelry shop.

Black Hawk Smithy & StableEstablished in 1860. At the site, visitors can watch blacksmithing and other demonstrations.

Casa de Estudillo

address: 4001 Mason St

A beautiful historic adobe house that has been lovingly restored to its original appearance.

Light-Freeman House

address: 2767 San Diego Ave

Built in 1830, the house was an adobe saloon and provision stores until it became the American Hotel around 1856.

Mason Street Schoolhouse

phone: +1 619-297-1183

address: 3966 Mason St

Established around 1865, this was the first public school house in San Diego. The school offers daily tours, and visitors can sit at the desk and examine the books on display.

San Diego Courthouse

address: 2731 San Diego Ave

The original courthouse, which dates back to 1847.

San Diego Union MuseumThe first office of the San Diego Union newspaper.

Seeley Stable MuseumA reconstructed stage coach stop with a collection of vintage carriages inside.

phone: +1 619-238-3929

address: 2733 San Diego Ave

A historically furnished bank office.
Do
phone: +1 619-280-2121

address: 9449 Friars Rd

Home to the college SDSU Aztecs football team.

University of San Diego Toreros

address: Jenny Craig Pavilion, 5998 Alcala Park

The Torero college basketball team plays their home games at the Jenny Craig Pavilion on the USD campus. The Torero college baseball team plays at Cunningham Stadium and their college football team play at Torero Stadium (both also on the USD campus). USD competes in the West Coast Conference in most sports; since the WCC doesn't sponsor football, the Toreros play that sport in the Pioneer Football League.

phone: +1 619-688-2494

address: 4040 Twiggs St

Live performances held regularly.
Buy
Mission Valley is a major shopping hub for the entire region, with several large shopping centers and many big-box stores and retail outlets.
phone: +1 619-688-9113

address: 7007 Friars Rd

Nearly 200 stores and restaurants, including several department stores and a movie theater.

phone: +1 619-296-6375

address: 1640 Camino del Rio North

Over 150 stores and restaurants, including a movie theater and the large Seau's sports restaurant.

address: 7510 Hazard Center Dr

Much smaller than the big centers in the valley, but with a nice assortment of shops nevertheless.
Old Town offers many different places to shop. There are over 100 stores in Old Town State Historic Park.
phone: +1 619-297-2000

address: 2711 San Diego Ave

Taffy made on the premises.

phone: +1 619-297-3100

address: Juan & Calhoun St

A group of shops and restaurants operated by Delaware North, which runs concessions in other National Parks. Strolling musicians and beautiful flowers greet guests and there are often special (free) activities for children.

Johnson House

phone: +1 619-291-5170

address: 2706 Calhoun St

Victorian hats, related books, and jewelry in a 1869 style house.

phone: +1 619-297-3473

address: 3985 Harney St

Hand blown glass art made on premises.

phone: +1 619-574-1891

address: 1891 San Diego Ave

Sells genuine ships' salvage items such as wheels, brass portholes, furniture of all kinds including some amazing captain's desks, compasses, navigational equipment, lamps, lanterns and ropes.

phone: +1 619-291-7833

address: 2737 San Diego Ave

Gorgeous reconstruction of San Diego's first tobacco store. Offers a variety of historically related gifts, gentlemen's accessories, marbles and harmonicas for children, historic photos, knives, and of course tobacco, pipes, and cigars.
Eat
Old Town not only offers great Mexican delicacies it also offers many other types of food like Italian or even some Irish Pubs. If you are planning on going during the weekend leave plenty of time because it will get crowded. Or, try to make reservations if the restaurant will take them.
Old Town
Mission Valley
phone: +1 619-640-1072

address: 2245 Fenton Pkwy

Part of a local pizza chain in San Diego, they have a very extensive menu and also brew their own beer as well, with a stocked bar. Also has plenty of TVs to watch sports as well.
Drink
Mission Valley
phone: +1 619-282-9797

address: 10475 San Diego Mission Rd

A grill and ale house, great place to watch sports at, has pool tables, darts and shuffleboard.

phone: +1 619-291-1184

address: 5373 Mission Center Rd

A two-story country bar and dance saloon has a lot of pool tables and they hold line dancing classes and contests.
Sleep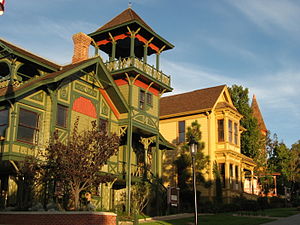 Most of the hotels in this area are of the chain variety, along Interstates 5 or 8, and loudly proclaiming their proximity to Old Town and to Sea World in nearby
Mission Bay
. Hotel Circle, along I-8 in the western part of Mission Valley, is home to a lot of basic chain hotels.
Connect