San Francisco/Fisherman's Wharf
San Francisco
's most popular destination among travelers,
Fisherman's Wharf
is the tourist center of the city. Its historic waterfront, once the hub of the city's fishing fleet, is still famous for the depth and variety of its harvest and for having some of the best seafood restaurants in the city, with scenic vistas over San Francisco Bay and Alcatraz Island. Here you will also find numerous tourist attractions such as museums, souvenir stores, historical buildings and piers, all competing for attention with the many restaurants, tour operators, peddlers and street entertainers along the docks between Pier 39 and the Municipal Pier of Aquatic Park. The Wharf is located at the northeastern tip of San Francisco, with the main Wharf district bordered roughly by the bay to the north, Van Ness Ave to the east, and Bay St to the south, although this guide also includes attractions along the Embarcadero stretching south.
Understand
Three generations of fishermen have worked on the Wharf since the 19th century and the days of the Gold Rush. Once boasting an impressive flotilla of nearly 500 fishing vessels, the fleet's numbers have dwindled over time. Today, the boats moored at the Wharf are only equipped to supply San Francisco's restaurants with a small portion of their seafood appetites. Most of the remaining vessels are moored at Fish Alley, close to Pier 47.
Every year the Wharf attracts millions of visitors to its numerous and eclectic attractions including; the sea lions at Pier 39, the Maritime Museum, the chocolate factory at Ghirardelli Square, Hyde St Pier, and of course the infamous Alcatraz. There are also some great vistas overlooking the Bay, and a plethora of restaurants to enjoy them from. Additionally, many people visit the Wharf to either take a ferry or a cruise around the Bay. The Wharf is also home to many events such as the Fourth of July celebrations, Crab Season, and Fleet Week. Being a tourist haven, expect to see large crowds, an abundance of t-shirt stores, novelty museums, and street performers all vying for your attention. Many locals are put off by the crowds on the Wharf, and the seemingly "tacky" nature of many of the tourist stores and attractions. However, all things considered, there is probably enough here to keep everyone happy.

Get in
Getting here on foot or via public transportation are certainly the best options if you are already in or near San Francisco.
By car
Driving here is easiest (but often slow) by going north on Van Ness Ave (which is part of U.S. Highway 101) up to North Point St (a block beyond Bay), turning right, and then locating a parking space after a few blocks. There are a number of smallish lots, and two major garages near Pier 39, at Stockton and Beach. If you plan to spend much time, you may want to park on a street farther away (but watch the posted limits) and take public transportation to the Wharf.
If you are so inclined and have good brakes, you can go from Van Ness Ave onto Lombard St east, up
Russian Hill
and down the "crookedest street" in San Francisco. Turn north on any of the streets (except Taylor, because of the cable cars) into Fisherman's Wharf. Stockton St, 2⅓ blocks past Columbus Ave, gets you to the garages. Note that pedestrians and cable cars have the right of way.
From the Bay Bridge it is best to get off soon, head north and east towards the Embarcadero, and then go west into the Fisherman's Wharf area. These exits are still being reconfigured to cope with future earthquakes. You'll see the garages across the way near Pier 39.
San Francisco is small, so consider taking a taxi, at a cost of around $10 from downtown, and double the price from outlying areas.
By cable car
The Powell/Mason cable car line brings you a few blocks south of the center of the district, at Taylor and Bay Sts.
The Powell/Hyde cable car line brings you to Fisherman's Wharf western end, at the intersection of Hyde and Beach Sts.
Both cable car lines start at Market and Powell, near the BART and Muni station there, pass
Union Square
, and traverse the charming hills and houses of San Francisco before reaching Fisherman's Wharf.
By streetcar
MUNI's historic F streetcar line comes up on Market from Castro Street, turns west at the Embarcadero in front of the Ferry Building, and traverses much of Fisherman's Wharf. You can exit at any of the Market St BART or MUNI Metro stations to catch the streetcar to Fisherman's Wharf.
By bus
MUNI offers several bus routes to Fisherman's Wharf. The frequent 30-Stockton trolley bus and the 47-Van Ness bus go from the Caltrain station to Fisherman's Wharf, using very different routes. The 30 bus goes through Downtown, passes Chinatown and North Beach, and then travels west via North Point St up to Van Ness. The 47 bus takes longer; it goes first through the grubby parts of the SoMa area, then via the Civic Center up Van Ness, and finally east on North Point St. Additionally, the 19-Polk and 49-Mission/Van Ness also serve the area, both terminating near the Aquatic Park on the western edge of the Wharf. The 39-Coit heads up to Coit Tower in North Beach.
By ferry
A couple of companies offer ferries serving the piers of Fisherman's Wharf:
phone: +1-415-705-8200

address: Pier 41

Offers ferries from Sausalito, Tiburon, Angel Island, and Alameda/Oakland to Pier 41.

phone: +1-415-705-8291

address: Pier 41

Offering ferry service to/from Alameda/Oakland and Vallejo.
On foot
Due to its proximity to the Downtown area, one of the best ways to get to the Wharf is simply to walk! Eastbound through Fort Mason from
the Marina
(15 min), northbound along Columbus Ave from
North Beach and Chinatown
(25 min), or from either the Ferry Building or the
Financial District
, walk northbound along the Embarcadero promenades (25 min).
Get around
Fisherman's Wharf is best seen on foot, but there are also
pedicabs
, horse-drawn carriages, and of course the
F-Line streetcar
, all of which will take you up and down the Wharf. There are also several companies in the district that rent bikes out to tourists by the hour or for the day, including
Wheel Fun Rentals
,
Bay City Bike
,
Bike and Roll
, and
Blazing Saddles Bike Rentals
. Any of these bike services is highly recommended as you get the opportunity to see a lot of the city in a relatively short-amount of time. One of Blazing Saddle's stations is located near the Ben and Jerry's stand and the trail leads you over the Golden Gate Bridge and to
Sausalito
where you can catch a ferry back to the piers or continue to the redwoods on an "extended" ride. Regardless of what company you choose, just prepare for leg soreness the following day. The
California Welcome Center
is located on the second level of Pier 39, and they offer visitor maps and information on Fisherman's Wharf which will help you navigate your way around.
See
The Wharf is a very compact area and attractions are centered mainly along the half-mile stretch of Jefferson Street. So, ambling from east to west you'll discover:
phone: +1-415-528-4444

address: Pier 15, 698 The Embarcadero

Along the Embarcadero on the way to the Wharf, this is a great kid-friendly place with lots of interactive exhibits teaching about science, with intriguing displays about the mind, natural systems, sound, and sight . If you're lucky, they'll conduct one of their most famous (and fascinating to most children) demonstrations: the dissection of a cow eyeball.

phone: +1-415-705-5500

address: the Embarcadero at Beach St

A 45-acre pier-complex featuring 100 specialty stores, 12 full-service restaurants, theater, cruises, live entertainment, and more.
phone: +1-415-623-5300

address: Pier 39

A nice place and the right size for kids, with an underwater tunnel, where the fish swim above you as you gaze at them, and ponds where you can touch various live marine animals. It's a perfectly decent aquarium, but many locals would recommend you save your money for the fantastic California Academy of Sciences in Golden Gate Park.

address: West and East Marinas

Don't get lost among all the tourist stores, and forget that Pier 39 is a pier after all — so why not check out the impressive flotilla of vessels moored at its 11 docks on either side of the pier.

Sea lions

address: Pier 39's West Marina

A short time after the 1989 Loma Prieta earthquake struck, these sea lions moved bag-and-baggage into the west marina at Pier 39. There can be as many as 900 sea lions there during the winter months. In the summertime many of them migrate but there is always a steady population at Pier 39's K-Dock all year round.
:*
phone: +1-415-262-4734
address: Second Level, West Marina, Pier 39
A small free center with limited information and sea lion merchandise. Naturalists from the Aquarium of the Bay are on hand at the center as well as on the dock overlooking the sea lions to answer questions and give presentations about the sea lions.
address: the Crystal Geyser Alpine Spring Water Center Stage

Colorful jugglers, magicians, clowns, mimes, and comedians of all descriptions entertain Pier 39 visitors throughout the day.
phone: +1-415-775-1943

address: Pier 45

This is a National Historic Landmark — an authentic World War II submarine with many original artifacts on display. Up to 80 personnel ran this submarine and it could be at sea for up to several weeks at a time.
phone: +1-415-544-0100

address: Pier 45

Located behind the Pampanito submarine is this World War II Liberty Ship open for tours. The SS Jeremiah O'Brien is the sole survivor of the armada of Allied ships which was involved in D-Day, and one of only two remaining World War II Liberty Ships surviving today (the other being the SS Lane Victory in San Pedro).
Amusing America Exhibit

address: Pier 45

An fun exhibit that traces the history of amusement attractions in American cities, with a focus on San Francisco.
phone: +1-415-346-2000

address: Pier 45, Shed A

Has quite an interesting collection of about 300 coin-operated musical instruments and antique arcade machines, that date from the turn of the century.
Fishermen's and Seamen's Chapel

address: Pier 45

This tiny chapel is a memorial to the "Lost Fishermen"... those that have lost their lives on the seas. Every year they hold a special service to commemorate these fishermen. The annual "Blessing of the Fleet" also starts from here every October.
phone: +1-855-753-9999

address: 145 Jefferson St

The San Francisco location of the popular wax figure museum. Photograph and pose with your favourite A-listers, sports legends, and pop icons.
Ripley's Believe It Or Not! Museum

phone: +1-415-202-9850

address: 175 Jefferson St

Set over 2 floors it has over 10,000 square feet of galleries, exhibits, illusions, and interactive displays.
Fish AlleyDon't forget to go and see the real fishing boats at what's known as Fish Alley — after all it is "Fisherman's Wharf". If you want to see them actually hauling in their catch, you'll have to be there around 6AM to 7AM.
The Cannery

phone: +1-415-771-3112

address: Del Monte Square

Built in 1907 with its award-winning architecture, the Cannery overlooks San Francisco Bay and once upon a time was the largest peach cannery in the world. Today it's a bustling marketplace featuring three levels of restaurants, shops, offices, and live entertainment. In the middle it has a secluded courtyard with outdoor bars and cafes.
San Francisco Maritime National Historical Park

phone: +1-415-447-5000

The park consists of a visitor center, Hyde St Pier and the fleet of historic ships moored there, the Maritime Museum, Aquatic Park, and the Municipal Pier.
Visitor Center

phone: +1-415-447-5000

address: The Cannery, Del Monte Square

The Visitor Center has an information desk and a bunch of small craft and hands-on exhibits that depict San Francisco's rich maritime heritage. It provides some information about the boats that line Hyde St Pier.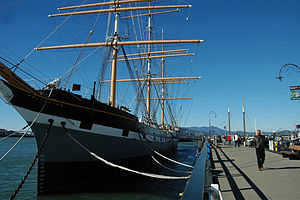 Hyde Street PierPrior to the construction of the Golden Gate Bridge and the Bay Bridge, this historic ferry-pier was the primary automobile ferry terminal that connected San Francisco with both Marin County and the East Bay. A fleet of six historic vessels are on display on the pier. Some are available for a self-guided tour, others by docent-led tours. On payment of the $5 National Park Service fee several can be boarded, depending on tides; kids can join for free. Among the ships you can see are the Balclutha, an 1886 steel-hulled square rigged sailing ship, the Eureka, an 1890 steam ferryboat (which also has an exhibit of antique cars on board), the C.A. Thayer, an 1895 lumber schooner, and the Hercules, a 1907 steam tug.

Maritime Museum

phone: +1-415-561-7100

Shaped like a ship, this historic building was built by the WPA as a bathhouse and served as the Maritime Museum for many years before a renovation. Inside you'll find maritime exhibits and beautiful underwater-themed murals.

Aquatic Park and Municipal PierThis area was once part of Fort Mason but is now a complex for museums and artisans, and a great place to take a break from the bustle of Fisherman's Wharf. There is a small beach at the foot of the park where you'll see kayakers, kite fliers, swimmers from the nearby Polar Bear Club, and even rock sculptors at work. At the end of the park is Municipal Pier — the closest you can get to Alcatraz on foot or bike. After dark it can be a bit desolate.
phone: +1-415-775-5500

address: 900 North Point St

It was declared a city landmark in 1965, and today it's still possible to view the remnants of the old chocolate-making machinery there. Be sure to pop into the chocolate shop; they often hand out free samples at the front door. The square is packed with boutiques, restaurants, specialty stores, and galleries. It also has great views over the Bay.
Do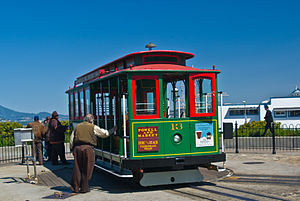 Bay cruises and ferries
From Fisherman's Wharf, one has a wide variety of options to explore the city and the Bay by water.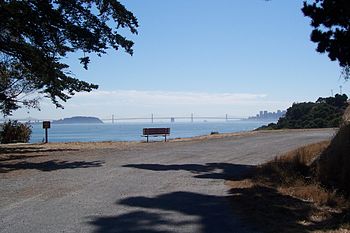 Angel IslandTake a ferry to this historic California State Park and wildlife preserve — the "Jewel of San Francisco Bay". Spend a whole day on the largest island in San Francisco Bay, which was once known as the "Ellis Island of the West". There are lots of activities once you get there — picnicking, hiking, biking, boating, camping, and baseball, or just spend a day lounging on one of the many beaches there.

Bay CruisesBay cruises are very popular 60- to 90-minute boat tours that usually take you underneath the shadows of the Golden Gate Bridge, around Alcatraz, and along San Francisco's historic 150-year-old waterfront. They also offer great views of the city's skyline. Some of them come with lively guides, others with headphone audio equipment. Some cruise providers have extended routes that take you past Angel Island and close to the shores of Tiburon and Sausalito. Others provide alternate routes that sail under the Bay Bridge as far as AT&T Park, along the San Francisco skyline, around Treasure Island, and along Alcatraz Island. Several operators provide specialist cruises of all descriptions including 'Sunset Cruises' and 'Dining Cruises' among others.

FerriesYou can also take a ferry across the bay to Sausalito, Tiburon, Vallejo, or Alameda/Oakland, and explore on from there.
The following companies provide cruises or ferry service from Fisherman's Wharf.
Alcatraz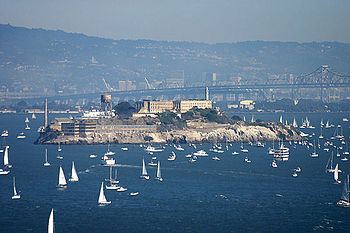 phone: +1 415-981-7625
address: Pier 33, Alcatraz Landing
Information on the island can be found on the
National Park Service's website
.
Alcatraz is a decommissioned island federal penitentiary nestled beautifully in the bay. Before it was a prison it served first as a lighthouse (the West Coast's first lighthouse), then a military outpost, and then a military prison. After this, it served as a federal prison for 29 years between 1934 and 1963. Its location was near perfect due to its isolation and the frigid waters and hazardous currents of the bay, which made escape attempts difficult to say the least. Known by its nickname "The Rock", this prison was once home to some of the most notorious inmates in U.S. history. Famous inmates included Al Capone, who served four and a half years here, and Robert Stroud — "The Birdman of Alcatraz," — who spent 17 years here. The notorious gangster and bootlegger, George "Machine Gun" Kelly, also served time at the Rock. It was claimed (by the penitentiary) that no one ever escaped from the prison alive.
Take a tour and listen to an audio tape in English, Japanese, Chinese, or other languages. The most interesting aspect of the tour is that you can go into the prison and see what it was like to be imprisoned. The tour takes you all around the interior of the prison, including into some of the tiny cells, the segregated cells, the old barber shop and mess hall, and then out into the parade grounds and exercise yard. It might be more interesting if you've watched the movie
Escape from Alcatraz
and seen what happened in Alcatraz when it was operating as a prison. Tickets for the Ferry to Alcatraz are available at the Alcatraz Cruises website, but they sell out fast so buy in advance. Only one company is allowed exclusive access to dock at Alcatraz.
Events and festivals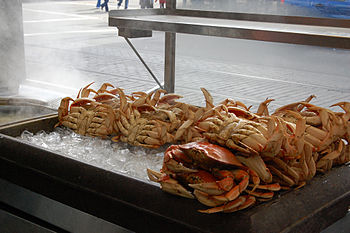 Annual Tree Lighting Ceremony at Ghirardelli Square

phone: +1-415-775-5500

address: Ghirardelli Square

Why not ring in the holiday season by attending the festivities at Ghirardelli Square. There's theater, live music, and then at the end they decorate the 45-foot Christmas tree with ornaments, lights, and chocolate bars... yum!

Crab SeasonThe festivities and excitement of Crab Season begin in November after a priest has blessed the fleet, sending eager crabbers out to land their catch. Local vendors fire up their blackened pots in preparation for the arrival of the delicious, and much sought-after Dungeness Crab. Approximately 1 million pounds of Dungeness crab are caught every year, ensuring that the feast lasts for several months.

phone: +1-650-599-5057

Usually held in the first week of October, it's a tribute to the men and women in the armed forces. A flotilla of Navy ships dock on the Wharf in parade fashion, and there are many free deck tours available from crew members. There are also several air displays by the Navy's Blue Angels, Team Oracle, and the Air Force's F-16 Demonstration Team.

Fourth of JulySan Francisco's main Independence Day celebrations take place on Fisherman's Wharf. There is lots of free entertainment during the day, particularly around Aquatic Park and all down Jefferson St. The festivities culminate with an impressive fireworks display from the foot of Municipal Pier, and at the other end of the Wharf from barges moored off the north of Pier 39.

Ghirardelli Square Chocolate Festival

phone: +1-415-775-5500

address: Ghirardelli Square

Chocoholics — indulge your decadent side at this annual chocolate fest. Activities include chocolate tasting, chocolate sculpting, chocolate cooking demonstrations, and a chocolate-eating competition.

Holiday Festival of LightsThe Holiday Festival of Lights is the official start of the holiday season in the city. Stores hang out decorations and lights and the piers are adorned with shimmering lights.

Opening Day on the Bay

phone: +1-415-331-0702

address: Fisherman's Wharf Waterfront

An annual boat parade, held on the last Sunday in April, that signals the start of the Northern Californian sailing season. Up to 200 vessels, decked out in full regalia, participate each year and sail from the Golden Gate Bridge to Pier 39. Impartial judges are on hand to award prizes in several esteemed categories. The event is organized by the Pacific Inter-Club Yacht Association.
Buy
There are five principal shopping centers in Fisherman's Wharf. However, all along the Wharf and its side streets you will find an abundance of souvenir stores, T-shirt stores ("I'm with stupid" and "Alcatraz Outpatient"), electronic stores (digital cameras, etc.), candy and sweet stores, jewelry stores, craft stores, and various other specialty stores of all descriptions.
Three of the major shopping centers of Fisherman's Wharf are also attractions in their own right:
Pier 39
,
The Cannery
, and
Ghirardelli Square,
which are listed under the
See section above
. Each one has multiple shops to explore.
phone: +1-415-775-6000 ext 203

address: Anchorage Square

Covering just one square block in Fisherman's Wharf, there are over 30 specialty shops and restaurants here.

North Point Shopping Center

address: 900 North Point St

Less touristy, and set back a few blocks from the actual Wharf, this shopping center contains 15 shops, including a Safeway supermarket, Walgreens drug store, GNC, and Radio Shack, as well as services such as ATMs and a 24-hour fitness center.
Eat
Many of the restaurants here are seafood restaurants, so if you're not into seafood at all, it's best to go to any other section of town.
North Beach
(Italian) and even
Chinatown
are within healthy walking distances. Many of the older established restaurants have Italian names like "Castagnola's" and "Alioto's" — a reflection on the fact that many of the Wharf's first fishermen were immigrant Italians. Alas, much of the fare available is overpriced, but not all, there are still plenty of places on the Wharf where you can fill up on the cheap. Most of the old-line high-end Italian restaurants on the wharf, while maybe disparaged by locals as hopelessly uncool, do in fact maintain a high standard of food and service. If you're tired of the manic crowds, get take out and bring it up to Aquatic Park where there is lots of room to sit and enjoy your food in peace.
Budget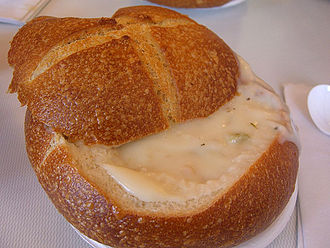 phone: +1-415-928-1849

address: 160 Jefferson St

Home of the sourdough bread with a recipe they've nurtured since 1849, where you can get (among other things) their popular clam chowder in a bread bowl. This is the flagship location of Boudin, where you can shop for gifts here or stroll around their museum to learn about Boudin's history.

phone: +1-415-421-0185

address: Pier 39

A cafe where you can get Boudin food on Pier 39.

Chowder and crab sidewalk stands

address: 200 Jefferson St

Get clam chowder in a bread bowl, Dungeness crab (in season November through June), fish and chips, shrimp cocktails, calamari salad, etc. from this busy outdoor marketplace. If you're getting a crab, ask for a fresh one and they'll cook it up for you on the spot.

phone: +1-415-391-4737

address: Pier 39, Building A, Level 1

Serving fresh seafood cocktails, clam chowder in a bread bowl, fish and chips, sandwiches, and salads. They also have a small "Not so Fishy... " menu for those who don't like seafood.

Darren's Cafe

phone: +1-415-673-3345

address: 2731 Taylor St

Reasonably priced "mom and pop" Vietnamese/breakfast place on the Wharf. They serve Vietnamese dishes, soup, and sandwiches as well as more traditional breakfast options like country potatoes and omelettes. Small but friendly!

address: 333 Jefferson St

Standard In-N-Out Burger, but it has the distinction of being the only one in the city, one of the few In-N-Out Burger locations without a drive-through, and one of only two fast-food chain restaurants allowed at the wharf (the other being a McDonald's). They serve "fresh burgers" and fries cut straight from the potato in front of you... it's still fast food, but it's definitely better than the usual fare. This place gets seriously packed but the line does tend to move quickly.
Mid-range
phone: +1-415-561-1111

address: 2455 Mason St

A mid-range Italian trattoria that focuses on the staples of Italian food like pasta, pizza, and risottos. It being Fisherman's Wharf, they do have a particular focus on seafood however.

phone: +1-415-775-9311

address: 400 Jefferson St

Family dining with indoor and outdoor seating. Cioppino is a flavorful San Franciscan seafood soup.

phone: +1-415-433-3689

address: Pier 39

One of the more reasonably priced places to eat on the Wharf. Traditional fare served. Pancakes are a favorite.

Joanie's Happy Days Diner

phone: +1-415-928-4343

address: 1329 Columbus Ave

Good and fresh breakfast and lunch service at a reasonable price. Fast service and big variation result in a full diner every morning.

McCormick and Kuleto's Seafood Restaurant

phone: +1-415-929-1730

address: Ghirardelli Square, 900 North Point St

A good seafood restaurant that also serves other fare such as pastas and steaks. The restaurant is perched atop Ghirardelli Square and has magnificent views of the bay, as well as a spacious and airy feel inside.

phone: +1-415-989-7437

address: Pier 39

Pier Market is a real market and restaurant at Pier 39. It's definitely one of the better seafood options on the Wharf; the fish always seems to be fresh, the service is fast and friendly, and the prices are pretty low given the quality.

phone: +1-415-776-9265

address: 340 Jefferson St

Much quieter, less expensive, and less touristy than the big name Fisherman's Wharf restaurants; excellent food, with an emphasis on seafood and Italian specialties, served by nice people. Still owned and managed by the Pompei family, who started the restaurant in 1946. For those not interested in seafood, they offer two steaks and four chicken dishes, as well as three meatless pasta dishes and a meatless risotto.
Splurge
Drink
Bars
The Wharf is not particularly well known for its nightlife scene. Most of what is there is of the "smart casual" variety, in restaurant bars and hotel bars. As the Wharf is primarily commercial, and not residential, the clientele consist mostly of either tourists, or workers from the local businesses. There are still some interesting watering holes however, including: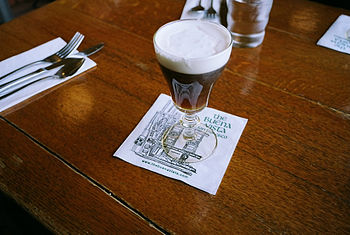 phone: +1-415-474-5044

address: 2765 Hyde St

Famous for its Irish Coffee, supposedly the first to serve it in America, and great views over the bay.

phone: +1-415-441-9758

address: 1333 Columbus Ave

Irish bar and restaurant featuring live music and DJs.

Jacks Cannery Bar

phone: +1-415-931-6400

address: 2801 Leavenworth St

Opened in 1932. The bar has a 90 foot oak-paneled hall. 110 Beers on tap!

Las Margaritas

phone: +1-415-776-6996

address: Del Monte Square, 2nd Level, South Bldg

A Fruit Margarita in the Cannery anyone?

phone: +1-415-771-LOUS

address: 300 Jefferson St

Lou's has live Blues music 7 days a week.

phone: +1-415-362-5125

address: Pier 23, The Embarcadero

Lively and colorful, you can't miss this place on your way down the piers of the Embarcadero. It's part bar, part restaurant, and part cafe — ever popular with locals, it has an outdoor drinking deck.
Coffee
Ghirardelli Choclaterie and Cafe

phone: +1-415-474-3938

address: Ghirardelli Square

Serving premium espresso drinks, pastries, and desserts.
Sleep
Many of the nation-wide chains have hotels in the area but the prices can be very high, so expect to pay a premium. There are very few budget options here, so if you're traveling on a shoestring and need somewhere for under $100, you'll have to either go south a bit towards
North Beach
, or west towards the
Marina
. Either way you'll be a 10-minute or so walk from the action. If you are insistent on staying within the Wharf area, do check for the actual location if you want to be right in Fisherman's Wharf — the names of the accommodations can be confusing.
Budget
phone: +1-415-673-7411

address: 2601 Mason St

Small, friendly, and in the heart of Fisherman's Wharf. It has free parking.
Mid-range
Splurge
Connect
The Fisherman's Wharf Deli and Taqueria, listed under the
Eat section above
, has internet facilities. Other options include:
phone: +1-415-981-1280

address: Pier 39, B Building-2nd Level

In addition to maps and info, the welcome center also offers a computer with internet access.
Stay safe
Fisherman's Wharf sometimes attracts an unsavory element; with questionable charitable organizations, timeshare marketers, and 'Three Cup Shuffle' scam artists. It's wise to steer clear of these traps, and be mindful of how you spend your money.
Beware of pickpocketing: it is a common occurrence at Fisherman's Wharf. Follow the usual steps for avoiding being pickpocketed, such as keeping your wallet inside your front pocket or an inside jacket pocket.
While not necessarily a danger, the Wharf (being the major tourist destination it is) is home to a huge number of buskers, and some of them get pretty creative in order to coax you out of a few bucks. Particularly well-known is the infamous "Bushman," who sits behind a pair of eucalyptus branches and harmlessly scares passing pedestrians. It's always best to take such antics with a sense of humor — and hey, if you enjoy it, why not drop a few bucks and stick around to see the next unknowing person get scared/entertained?

Go next
The Marina
— If you are interested in boats in general, why not take a 15-minute walk over through Fort Mason and into the Marina District. There you will find some impressive yacht clubs with sail and power boats.