San Francisco/Haight
The
Haight
(pronounced like "hate") is a district of
San Francisco
running along Haight Street and the famous center of San Francisco's hippie community, with a multitude of eclectic stores, coffee shops, and art that reflects this fact. The district is bounded roughly by the Panhandle and Fell/Oak Streets on the north, Market Street on the east, Duboce Avenue and Buena Vista Park on the south, and Stanyan Street (and
Golden Gate Park
) on the west, with a small extension west to include the University of California, San Francisco Parnassus campus just to the west.
Understand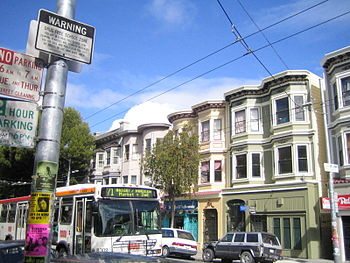 The Haight is made up of two neighborhoods:
Haight-Fillmore
, usually called the
Lower Haight
, and
Haight-Ashbury,
also known as the
Upper Haight
. The two neighborhoods are separated by a large hill and are bisected by Divisadero Street. The neighborhoods have somewhat separate histories. The Haight-Ashbury gained international fame in the 1960s as young white Hippies moved into the area and made contact with poor, young black residents in the neighborhood and surrounding areas like the Lower Haight and the
Western Addition
. Together, these outcasts forged the counter-culture movement for which the Haight is most well known.
Today, both the Upper and Lower Haight are residential neighborhoods served by businesses and transport along Haight Street. However, the Upper Haight is the busier tourist destination, because of the stronger identification with the Hippie era. Into the 1990s, the Lower Haight had lower rents and a larger African-American community, but that difference has eroded with the rise of rents in both areas and the steady dwindling of San Francisco's black population. The most obvious difference to a visitor today is that the Upper Haight has many more head shops and stores catering to Hippie-nostalgia foot traffic.
In the 1960s large portions of the predominantly African American Fillmore District were involuntarily relocated to the Haight-Ashbury due to the disruptive urban renewal movements of the time. At the same time, middle class whites began moving to the growing suburbs of the Bay Area, causing home values in the area to plunge. The neighborhood, with its then-surplus of affordable Victorian homes, was ripe for housing an influx of African American families as well as Beats attracted by the growing intellectual, anti-establishment community surrounding the local universities, as well as an emerging (pre-Castro District) gay and lesbian community.
With the onset of the Vietnam War, many white middle class college kids derailed by the draft now began to move into the Haight, identifying with the counterculture trends already taking place in the neighborhood and adopting Hippie ideologies and alternative lifestyles. Many thrived while other lives were ruined by destructive drugs such as speed, heroin and cocaine, and some remain committed to the Hippie dream to this day. While gentrification has turned the Upper Haight into something of a counterculture theme park (although it is also home to many young, homeless drug addicts, though no longer of the peaceful, Hippie variety), there are still plenty of eclectic finds to uncover here and one can still can get a sense of the once-bohemian nature of this area.
Get in
By car
Fell and Oak Streets, parallel one-way streets running east-west across the northern edge of the district, offer a relatively easy way to get into the district via car from Downtown to the east. A few major north-south streets which pass through Haight are Fillmore Street, Divisadero Street (which merges into
Castro Street
to the south) and Masonic Avenue. Parking in the area can be very limited, however, and it's far preferable to use alternate transportation for the Upper Haight area.
By public transit
MUNI
operates the 7-Haight/Noriega bus route (plus the 6-Haight/Parnassus east of Masonic) running the length of Haight Street, connecting the area to Downtown. Nearby streets parallel to Haight also serve the area, for example the 5-Fulton and 21-Hayes north of the Haight district. Additionally, a few lines run north-south through the district: 22-Fillmore, 24-Divisadero, 33-Ashbury/18th and 43-Masonic.
The -
Judah
Muni Metro line (partially underground) also runs parallel to Haight Street several blocks to the south. An easy way to access the western portion of the Haight district (near Cole Valley) from Downtown is to take the N-Judah outbound to Cole Street, then get off and walk north. It runs under the hill topped by Buena Vista Park. The N-Judah continues westward, stopping at University of California, San Francisco before heading into the
Sunset
neighborhood.
Get around
If you are walking really quickly, it will take about 20 minutes to walk from the Lower Haight to the Upper Haight - and it will be good exercise going up a large hill.

See
Buena Vista ParkSteep paths to the top of its 575' elevation lead to some nice views through the trees, but are easily circumnavigated by non-enthusiasts.

Famous homes(Please note- These are all PAST addresses, none of the people listed still live there and these are peoples' homes and though they are used to and pretty tolerant of tourists taking pictures, their privacy should be respected and one should NOT go knocking on doors.)
The Grateful Dead house

address: 710 Ashbury St

The Hell's Angels house

address: 719 Ashbury St

Janis Joplin house

address: 635 Ashbury St

Country Joe McDonald house

address: 612 Ashbury St

Big Brother and the Holding Company house

address: 1018 Page St

"Hippie Temptation" house

address: 1550 Page St

Site of the CBS documentary.

Ron Donovan house

address: 1828 Page St

Former home of the psychedelic concert poster artist.

Flipper house

address: 879 Haight St

Former home of the famous punk band.

Charles Manson house

address: 635 Cole St

731 Buena Vista WestFormer home of Graham Nash (and several owners later) Bobby McFerrin.

1235 Masonic AvePatty Hearst hid in a Symbionese Liberation Army safe-house here.

Sid Vicious house

address: 32 Delmar St

Site of Sid's non-fatal overdose after his last Sex Pistols show.
Duboce ParkThe N Judah streetcar travels along the perimeter of the park and stops at the intersection of Noe Street and Duboce Street. The park is attractive and split into a dog-friendly and a children-friendly section. There is a well maintained children's playground that attracts children from the neighborhood.
phone: +1-415-865-5555

address: 1800 Market St

The Center houses the offices of various community organizations, and has space for public events and meetings. The ground floor features a cafe space, and on the third floor there is a cyber center which offers an hour of free computer time.
Monastery of Perpetual Adoration

phone: +1 415-566-2743

address: 771 Ashbury St

Monastery of cloistered nuns from the order of the Sisters of Perpetual Adoration that holds daily services as well as special masses and novenas for holidays.
Do
While there are a number of fun walking tours, this is also a good place to simply
sit in a cafe
, have a few cups of coffee, and watch
other
people walk the streets.
Haight Ashbury Flower Power Walking TourBy guides who experienced the 60s and can actually still remember it! 40% architecture/general neighborhood history and 60% counter-culture hippy history comprise this fun and informative 2.5 hour flashback through the neighborhood; includes a trip to the Psychedelic History Museum in a restored Victorian, open only in conjunction with the tour. Tour starts at the McDonalds parking lot at the corner of Stanyan and Waller every Tuesday and Saturday at 9:30AM, every Thursday at 2PM and every Friday at 11AM.

The Haunted Haight Walking Tour

phone: +1-415-863-1416

Shows the spooky and macabre history of the neighborhood in an evening walking tour. Tour starts in front of Coffee to the People at 7PM on Fridays, Saturdays, Sundays and Mondays.

Haight Ashbury Street FairOn the second Sunday of June, people pack the Upper Haight for this event featuring local bands, food stalls and plenty of shopping.
Buy
Haight-Ashbury has more shopping and variety of shops than Lower Haight, with great record stores, book stores, fabric stores, shoe stores, cafes with music and poetry, a free clinic, and head shops from the 1960s.
There are several places worth checking out, including: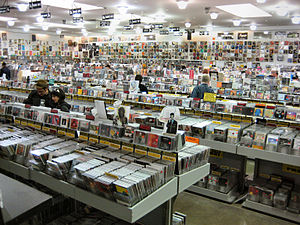 Eat
Budget
Mid-range
Splurge
Markets
Drink
Bars
phone: +1-415-666-0822

address: 1725 Haight St

Styling itself a 'Whiskey Bar', the Alembic is a place to have classic cocktails as well as original creations. The house Manhattan, made with Rye Whiskey, is phenomenal.

Aub Zam-Zam

phone: +1-415-861-2545

address: 1633 Haight St

A 1930s vintage cocktail bar with a beautifully restored arabesque art-deco decor. Written up in 'W' and 'Newsweek' magazines for the best martinis in the US back in the 80s. Drinks are moderately expensive but of exceptional quality, even from the well. An intimate and classy setting for a romantic evening with a juke box that leans toward swing and big band music. Named for the Well of Zamzam, one of the holiest places in Islam, a source of blessed beverages.

phone: +1-415-558-8375

address: 668 Haight St

Irish pub where the Guinness is served with a smile, and if you're lucky, an Irish accent to match.

phone: +1-415-552-6949

address: 1511 Haight St

This small, stylish bar has been around for a long time. It's all about Giovanni's Neapolitan Pizza and freshly squeezed cocktails. Deluxe hosts free comedy on Monday nights and jazz every other night, always by local acts. The bartenders are friendly and the crowd is arty and hip.

Gold Cane

phone: +1-415-626-1112

address: 1569 Haight St

A great place for cheap, strong drinks, and friendly bar-tenders. Divey atmosphere, local crowd. Has a pool table and small outdoor patio for smokers of all types.

phone: +1-415-621-5859

address: 1601 Haight St

Offering a selection of well over 100 rums, this "Victorian punch house" themed bar is best known for it's original alcoholic punches that you can order by the glass or by the bowl. (watch out, they're stronger than you think!) The corner location and large windows make it a perfect spot to grab a drink and people-watch. Go on Sundays when they offer a lavish make-your-own Bloody Mary bar with plenty of fixin's. (don't worry, they'll mix it for you if you're not so inclined) A friendly staff and great jukebox brings the locals in early, more of a younger crowd late night and on weekends.

Kezar Pub & Restaurant

phone: +1-415-386-9292

address: 770 Stanyan St

A popular English-themed pub where you can watch soccer.

Mad Dog in the Fog

phone: +1-415-626-7279

address: 530 Haight St

This is an English pub where you can come to watch soccer on TV or go out back where you can smoke. Occasionally live music at night. The hotline for when matches are being played is +1-415-442-7994. Since they open for live matches from England as early as 6AM, its the best place to get a beer before noon in the area on the weekend.

phone: +1-415-864-7468

address: 1398 Haight St

Serves solid food and microbrews, including some excellent cask conditioned beers.

Molotov's

phone: +1-415-558-8019

address: 582 Haight St

Leans towards rockabilly and mohawk crowd. Dog and food friendly.

phone: +1-415-255-0300

address: 466 Haight St

Dance club and bar - Grateful Dead night every Monday, and popular dub and funk nights during the week as well.

phone: +1-415-861-5811

address: 557 Haight St

A very artsy atmosphere. You can get many Trappist monk beers here. Live DJ nightly. Tarot readings Mondays 6-9PM. Beer, wine and sake (no hard liquor). Alas for smokers: Big Brother finally put down the rebellion and smoking is now relegated to the sidewalk in front.

phone: +1-415-863-2276

address: 547 Haight St

This bar has forty-six beers on tap and a bottled beer menu which covers two whole pages. They serve many microbrews and imports from Germany, Belgium, and Japan. Come through the Dutch door and if there is no room in the front bar, there is a back room with tables. No food is served, but you may bring food in from any of the many restaurants nearby. This is a cash only establishment.

phone: +1-415-864-4213

address: 1437 Haight St

A gay bar for gay men and lesbians that is also very much straight-friendly. Small, divey, and a local's scene. Drinks are cheap, and on Saturday nights it offers ridiculously cheap drink specials ($1 well cocktails before 10PM).

Underground SF

phone: +1-415-864-7386

address: 424 Haight St

Dance club and bar, formerly called The Top, which features different theme nights, some of which are geared towards alternative culture.
Coffee
Cafe du SoleilPopular cafe serving decent coffee and lattes.

phone: +1-415-552-7390

address: 508 Haight St

Offers net access, live music, food, and a variety of beverages from coffee, tea, beer, wine to fresh squeezed juices. Good desserts.

phone: +1-415-626-2435

address: 1206 Masonic Ave

A favorite community gathering spot, Coffee to the People serves giant sandwiches, hearty soups, and organic and fair trade coffee and tea. Their croissant breakfast sandwiches are especially popular with locals. The shop is laptop/work friendly, with free wi-fi and almost a dedicated section to people working around notepads and notebooks. The shop has an overtly political theme and decor and is a good spot for people watching.
Sleep
phone: +1-415-861-5364

address: 319 Divisadero St

A reasonably priced hotel just one block north of Haight Street. The rooms are quite basic, but functional, clean, and quite inexpensive for the central city. There is an excellent French restaurant downstairs, with outdoor dining and weekend brunch. Rooms directly over Divisadero Street can be quite loud on the weekends.

phone: +1-415-864-1978

address: 1665 Haight St

A throwback to the Haight-Ashbury's glory days during the 1960s, this peace and love themed B&B has several eclectically themed rooms and suites, as well as a cafe downstairs.
Connect
Stay safe
The Haight has been a magnet for wandering youth for decades and that continues today and is part of the neighborhood's character. Some of the people can behave poorly - aggressive panhandling and obnoxious behavior sometimes happen, but it's more likely you'll be asked for money or to buy soft drugs. However, these people are almost never violent. Either ignore them or be brave and strike up a conversation - they might have an interesting story.
Both areas of the Haight can be dangerous late at night after the bars close. Travel smart when on foot at night. There are always other people walking up and down Haight Street so you won't be alone.