San Francisco/Nob Hill-Russian Hill
Atop the hills overlooking the bay and bustling downtown
San Francisco
are two adjacent neighborhoods famed for their wealth, panoramic views, and the historic cable cars which still climb the steep streets of the area.
Nob Hill
is an affluent neighborhood dating back to the gold rush, today renowned for its lavish hotels and charming shops and restaurants. Just to the north is
Russian Hill
, a quieter residential area most well known for its pleasant walks and the famous crooked section of Lombard Street. The district is bounded roughly by Van Ness Avenue to the west, Bay Street to the north, Sutter Street to the south, and Powell Street and Columbus Avenue to the east.
Understand
Nob Hill
Nob Hill
is one of the city's most affluent neighborhoods. The advent of the Cable Car made this hilltop accessible, and the city's early railroad and Gold Rush millionaires rushed to settle here, far away from the unruliness of the Waterfront and Barbary Coast. In fact the hill derived its name from a slang term used to describe men of wealth and prominence -'Nabobs'. Today, it is most renowned for its famous hotels and for city landmarks such as the impressive Grace Cathedral. At its peak is Huntington Park, with the Roman "Fountain of Tortoises" located at its center. The area was almost completely destroyed in the 1906 Earthquake and Fire, but ensuring its survival were a host of luxury hotels that were built over their charred ruins. Given its lofty elevation, the hill has great select views over the city and bay.
Russian Hill
Russian Hill
is a hilly residential neighborhood located west of
North Beach
(and Telegraph Hill) and north of Nob Hill. These three hills have largely given San Francisco its "hilly" charm. The boundaries of Russian Hill are generally considered to be Van Ness Avenue on the west, Pacific Avenue on the south, Columbus Avenue on the east (northeast), and Bay Street on the north. In spite of the hilly terrain, the streets of Russian Hill are laid out mainly in a grid pattern, resulting in some of the steepest grades in the city, e.g., Filbert between Jones and Leavenworth. Because of the steepness of the hill, several streets, e.g., portions of Vallejo, Green, Greenwich and Larkin are blocked to motor vehicles and replaced by staircases. There are also beautifully landscaped pedestrian-only lanes such as Macondray Lane and Fallon Place. The most touristy block in Russian Hill is the winding Lombard Street, between Hyde and Leavenworth, with eight switchbacks, beautiful landscaping, and an arresting view of Telegraph Hill, Alcatraz Island and the East Bay. The hill's name goes back to the Gold Rush-era when settlers discovered a small cemetery at the top of the hill which contained Russian colonists who had created a settlement here during the 18th century. The cemetery was removed, but the hill's name remains to this day. There is no significant Russian presence here as the city's Russian community is located primarily in the
Richmond
District.
Get in
By car
Driving into this district is not recommended due to the steep hills, narrow and dead-end streets, lack of parking, and sometimes confusing traffic diversions. Avoid any street that is also a cable car line (Hyde between Washington and Fisherman's Wharf, Mason between Columbus and Washington, and Jackson/Washington between Powell and Hyde), as the cable cars stop at every intersection, and they usually stop
in
the intersection.
If you must drive in, the best streets to take are Van Ness Avenue (running north-south along the western edge of the district), Columbus Avenue (running northwest-southeast through the northeastern corner of the area) and the east-west Broadway Street, which becomes a tunnel between Powell and Larkin Streets. When parking in this hilly district, remember to
always
apply that parking brake and turn your wheels so that the tires are against the curb.
By cable car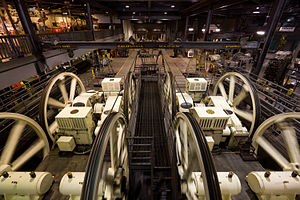 All three
Cable Car
lines cross at Powell and California. The Powell-Hyde and Powell-Mason cable car lines run between
Union Square
and
Fisherman's Wharf
. The Powell-Hyde line runs on Powell Street, Jackson/Washington Streets, and Hyde Street, running up and down Nob and Russian Hills and stopping at the top of the crooked section of Lombard Street. The Powell-Mason line runs on Powell and Mason Streets on the east edge of the district. The California cable car line runs east-west on California Street between Market Street in the
Financial District
and Van Ness Avenue.
By bus
MUNI
bus routes #1-California, #10-Townsend, #12-Folsom/Pacific, #19-Polk, #27-Bryant, #30-Stockton, #41-Union, #45-Union/Stockton, #47-Van Ness and #49-Mission/Van Ness pass through the district. The #1, #10, #12, #41 and #45 run east-west through the district, the #19, #47 and #49 runs along the western edge of the district, the #30 runs on Columbus through the northeastern corner of the district, while #27 crosses across the southwestern part of the district.
Get around
This district is small enough for walking, but being very hilly, it can be somewhat strenuous.

See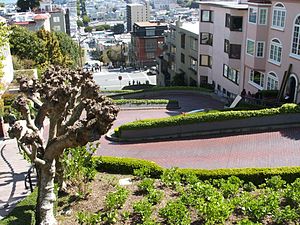 phone: +1-415-474-1887

address: 1201 Mason St

Here you can see the mechanisms that drive San Francisco's famed cable cars, as well as plenty of cable car memorabilia and information on the history of the cable cars.

Lombard StreetDo see the "crookedest street in the world", a one-block portion of Lombard Street that contains eight hairpin turns, created to reduce the hill's natural steep slope. The best time to see and photograph the winding street from the bottom (from Leavenworth St) is in the morning because Lombard Street runs east-west and slopes eastward. The best time to see and photograph the view from the top (from Hyde St) is in the afternoon. At night there are great views of Telegraph Hill and Coit Tower. The wild parrots of Telegraph Hill frequently fly over head in the morning.

Famous hotelsPretend you are a guest and not just a visitor, and have a look around the lobbies of some swanky San Francisco hotels. The Fairmont and Mark Hopkins have impressive lobbies that will leave you counting your pennies to see if you can afford a room. See below under the Sleep section for further info.

Filbert StreetAt a 31.5% grade, this is one of the very steepest streets in the entire Western Hemisphere. Like many of the steeper streets in the city, it has steps along the sidewalk and its own special set of parking rules, so that people and cars don't all come tumbling down!

Francisco StreetThis block contains twelve spectacular mansions in a variety of styles. It is very close to the crooked section of Lombard Street and is worth the minor detour on the way.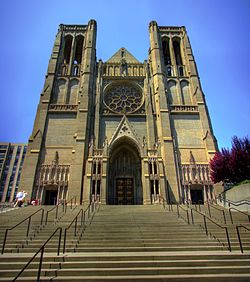 phone: +1-415-749-6300

address: 1100 California St

The main Episcopalian church of the city, based on the Notre Dame Cathedral in Paris. They request a donation and the tour is an hour long. You learn a lot but at times it is way too detailed.

Macondray LaneA thoroughly charming pedestrian way tucked onto the southeast side of Russian Hill, paved with brick and cobblestone and lined with gardens and Victorian houses that have been home to many writers—indeed, Macondray was recast as Barbary Lane in Armistead Maupin's Tales of the City.

phone: +1-415-776-7000

address: 1111 California St

In addition to the lodge room and corporate offices, this place also has a museum of Freemasonry.

Polk StreetThese five blocks form the heart of the Russian Hill neighborhood district. There are over 20 restaurants, 10 bars and cafes, and 20 shops. Dinner at many of the restaurants typically require reservations.

Woh Hei Yuen ParkSmall park and recreation center that has some interesting public art like the Five Carved Stones by Marcia Donahue and Tectonic Melange by Lampo Leong. Its name translates to "Garden of Peace and Joy".
Do
address: 1751 Sacramento St

The Old First Church has concerts F 8PM & Su 4PM, and some other evenings, throughout the year.

phone: +1-415-776-4702

address: 1111 California St

Hosts many concerts and other special events.
Buy
phone: +1-415-474-9067

address: 786 Sutter St

The bookshelves here are any war buff's haven, with a treasure trove of books on the history of California and the American West. It also has good collections on the American Civil War, American railroads, regional Americana, antiques and maritime books.

phone: +1-415-775-0545

address: 1903 Hyde St

Bridal gowns and jewelry.

Cris

phone: +1-415-474-1191

address: 2056 Polk St

A consignment shop with high-end goods.

phone: +1-415-771-0600

address: 1600 Jackson St

A massive sporting goods store, with two floors of merchandise.

Molte Cose

phone: +1-415-921-5374

address: 2044 Polk St

"Molte Cose", or "many things" in Italian, fits the name of this shop. Tons of cool adornments, clothes and accessories.

phone: +1-415-441-0109

address: 2015 Polk St

Established in 1991, the gallery shows contemporary jewelry by international artists and craft-based sculpture. Housed in an old furniture factory the gallery has 10 exhibitions a year and is a must see for fans of cutting-edge jewelry.

phone: +1-415-921-2828

address: 1526 California St

English food store that will appease the expats.
Eat
There are many great options in these two neighborhoods lots of smallish, cozy eateries. Frequently the nicer restaurants require reservations.
phone: +1-415-771-1140

address: 1075 California St

In the Huntington Hotel.

Crustacean Restaurant

phone: +1-415-776-2722

address: 1475 Polk St

Mixed reviews about this Vietnamese restaurant, so make your own decision. However, the roast crab has consistently garnered good reviews.

phone: +1-415-928-1406

address: 1901 Hyde St

A pan-European that is somewhat fancy but still relaxed and features local food.

phone: +1-415-673-1888

address: 2100 Van Ness Ave

Excellent steak house; luxurious dining (plush seats, table cloths, brass chandeliers, etc.).

phone: +1-415-567-1515

address: 1515 Polk St

Popular with locals that rave about the freshness of the sushi here. Solid sushi at good prices, and large quantities too.

phone: +1-415-776-6500

address: 1152 Taylor St

A north Italian bistro that serves lunch, dinner and a Sunday brunch.

Okoze Sushi

phone: +1-415-567-3397

address: 1207 Union St

A good sushi restaurant very near the cable car lines on Hyde Street. There is typically no need for a reservation.

phone: +1-415-673-2961

address: 1448 Pacific Ave

Pleasant Italian restaurant.

Zarzuela

phone: +1-415-346-0800

address: 2000 Hyde St

Spanish tapas, hors d'oeuvres and appetizers.

phone: +1-415-771-3100

address: 1919 Hyde St

A good, cheap pizza-by-the-slice restaurant that is open relatively late.

phone: +1-415-296-9907

address: 759 Columbus Ave

Excellent and varied selection of burgers at a reasonable price. Inside it has typical retro American-diner decor and the service is fast and friendly. This place is very popular and was voted "Best Burger 2007" in San Francisco by the readers of SF Weekly.
Drink
phone: +1-415-928-2633

address: 1954 Hyde St

Small intimate twenty-seat bar that is a good place to go to get a nice glass of wine or a sake cocktail.

address: 1423 Polk St

A new venture by veterans of the Tenderloin bar scene. Nice, craft cocktails, signature house creations, and an impressive beer menu are set in a swanky new/old interior that intentionally has no TV.

phone: +1-415-928-0677

address: 1319 California St

A step up from the Nob Hill Tavern.

phone: +1-415-474-0365

address: 1025 Columbus Ave

Bimbo's is a glamorous upscale event venue and nightclub that holds up to 700 people. It has three bars, a dance floor and stage. Robin Williams did his act here quite regularly.

phone: +1-415-440-8727

address: 800 Greenwich St

A great beer bar and restaurtant hidden in the lower part of North Beach. Out of the way of most tourists because of its low profile. Huge Belgian Beer selection, and other craft brews from around the world. Restaurant offers mussels and frites - classic Belgian combo. Be prepared to splurge if you go, you can easily drink your way to a hefty bill.

R Bar

phone: +1-415-567-7441

address: 1176 Sutter St

A rumbly, simple dive-esque bar in the upper Tenderloin neighborhood. Popular with the bar crawl crowds that make their way around the corner from Polk Street.
Sleep
Budget
phone: +1-415-441-9297

address: 972 Sutter St

Established in 1920, this is a relatively clean hotel and reasonably priced.
Mid-range
Splurge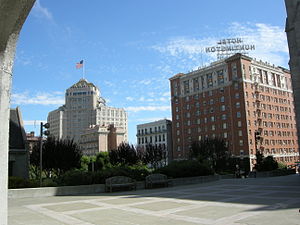 Connect
There are many cafes in Nob Hill which provide internet service.
Cup-A-Joe

phone: +1-415-563-7745

address: 896 Sutter St

A basic, local coffee shop with a decent tea selection with a good amount of street seating for when the weather is nice. Free wireless plus a few machines to work on.

Quetzal Internet Cafe

phone: +1-415-673-4181

address: 1234 Polk St

Basic internet cafe. Free wireless, desktop workstations (16 cents/minute), printing available (15 cents/page).

San Francisco Public Library — Chinatown Branch

phone: +1-415-355-2888

address: 1135 Powell St

Free internet facilities.