San Francisco/Twin Peaks-Lake Merced
Southwestern
San Francisco
is made up of several hilly neighborhoods that include some of the city's highest peaks, beautiful parkland, and tranquil neighborhoods tucked in the hillsides, where you'll find spectacular views and quiet parks. Running from the
Twin Peaks
to
Lake Merced
at the very southwestern corner of the city, the area includes the Twin Peaks neighborhoods, West Portal, and Miraloma Park before stretching southwest to Ingleside, SFSU and Lake Merced. It is bordered by the
Sunset
neighborhood on the northwest, the
Castro-Noe Valley
district to the northeast, and I-280 to the southeast.
Understand


The name Twin Peaks stems from the fact that it consists of two almost identical peaks. It is practically at the geographical center of the city, and at an elevation of over 900 feet it offers spectacular 360 degree panoramic views of the city and the bay. Although the peaks remain undeveloped, the foot of the hillside is peppered with residential houses, taking advantage of the spectacular vistas.
The weather in Twin Peaks is always markedly windier and chillier than in neighborhoods at lower altitudes, so bring along appropriate cool-weather dress and err on the side of excess.
Miraloma Park is a quiet, pleasant residential district of single-family homes on the east side of Mt. Davidson. Homes were first built in the neighborhood in the late 1920s and construction continued in waves through the 1950s. The neighborhood therefore offers a variety of architectural styles: from 1920s classic to mid-century modern.
West Portal is a small business district on the western side of San Francisco's largest hills. The name refers to the western end of the Twin Peaks Tunnel, a subway tunnel which runs under the Twin Peaks and connects to the Market Street subway tunnel to Downtown.
Forest Hill is an often overlooked neighborhood atop the Twin Peaks Tunnel, with a subway station on the way out to West Portal. One of the first neighborhood developments on the west side of the city, Forest Hill's first houses were built in the 1910s with the opening of the Twin Peaks Tunnel. The neighborhood is beautifully landscaped, with wide, curving streets, terraces, parks, and elegant stairways with ornamental touches.
Lake Merced is a freshwater lake which now serves mainly as a recreational spot, surrounded by much parkland. It was the last area of San Francisco to develop, making it the best place to put the large San Francisco Zoo and the campus for San Francisco State University, which is the heart of another small business district.
Ingleside is a mostly residential neighborhood tucked between San Francisco State University on the west and City College of San Francisco on the east. Ocean Avenue is the main commercial corridor of this neighborhood. A new shopping district on Alemany Boulevard in the southern section of this neighborhood promises several restaurants as well as shopping.

Get in
MUNI Metro , and lines serve the area. From Downtown, all three lines travel underground through the Twin Peaks Tunnel, stopping at the Forest Hill station before emerging aboveground at West Portal station. After West Portal, the lines run on the surface. The line runs west through the Sunset neighborhood to the San Francisco Zoo. The and lines split up as they head through Ingelside, with the -line stopping at the San Francisco State University, before meeting up again at the Balboa Park BART station near the City College. The and lines overlap in the Twin Peaks tunnel, so "K" trains inbound to Downtown will be redesignated "T" as they pass through West Portal station.
Muni bus lines which serve the area include the 36-Teresita, 37-Corbett, 43-Masonic, 44-O'Shaughnessy and the 48-Quintara/24th Street lines in the Twin Peaks area, and the 18-46th Avenue, 23-Monterey, 28-19th Avenue, 29-Sunset and 57-Parkmerced lines in the Lake Merced and SFSU area.

See
phone: +1-415-239-3000

See the murals by Diego Rivera at the City College Campus on Ocean Avenue.

Fort FunstonThis scenic section of the Golden Gate National Recreation Area is a favorite for hikers, bikers and beach-goers, with rugged coastal highlands and deep sand dunes. Hang gliding is quite popular here, with several shops for hang gliders in the area. Nearby is the remnants of Battery Davis, a WWII-era military defense mechanism.

Glen Canyon ParkA quiet city park great for hiking, dogwalking and nature viewing, containing a steep canyon situated amidst some residential neighborhoods. The park offers a rare glimpse into what the hilly landscape of San Francisco looked like before development. A small creek, Islais Creek, runs through the canyon and is one of the last free-flowing streams in the city.

Mt. Davidson ParkIn the middle of a residential neighborhood, Mt. Davidson Park (which boasts the highest point in San Francisco) offers great hiking trails. Mt. Davidson's most distinguishing feature is a 6-story cross nestled among the many eucalyptus trees, which can be seen from various spots in the city depending on which angle you´re looking from. It was constructed as part of the WPA program of the 1930s, and is the site of a sunrise mass every Easter. At the peak, you're rewarded with great views of downtown and the bay.

Mount Sutro Open Space ReserveA large chunk of undeveloped green space atop Mount Sutro owned and maintained by the University of California San Francisco, lying directly south of the UCSF Parnassus campus. Mount Sutro is covered in eucalyptus trees with a network of hiking trails winding up the steep slopes to a native-plant meadow at the summit. Numerous trailheads connect the park to the surrounding neighborhoods.

San Francisco State University

phone: +1-415-338-1111
phone: +1-415-338-6535

address: SF State, Fine Arts Building, Room 238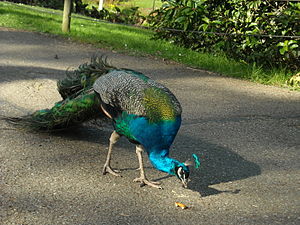 phone: +1-415-753-7080

address: Sloat Boulevard

A large zoo with all the animals you'd expect, and then some. Some of the highlight exhibits are the African area (where you'll see many African animals living together in the same exhibit), a primate center, a children's zoo, and a family farm (a large petting zoo), but there's plenty more, along with events like wildlife shows.

address: 1 La Avanzada St

Though not a typical architectural attraction, this tower is nevertheless a well-known landmark among locals. Built in the 1970s to provide television reception to the city's hilly neighborhoods, this three-pronged antenna tower reaches 977 feet into the air atop one of San Francisco's tallest hills and is visible from just about anywhere in the city when it's not shrouded in fog. While the tower itself is off-limits to the public, there are walking trails that get very close to the base of the tower and offer great views of the surrounding neighborhoods.

Twin Peaks

address: accessible by car or on foot via Twin Peaks Boulevard

The small parking area at the northern tip of Twin Peaks Boulevard (875' above sea level) is near the physical center of the city, and one of its highest points, providing spectacular views in all directions. Tour buses can get backed up here during the day, but it's a great place to really appreciate the city from above, especially at and after sunset. Temperatures up there can be quite a bit lower than in the rest of the city, so bring a jacket. Muni bus #37, a scenic ride from the Haight-Ashbury or Castro and Market streets, gets you close, so you only have to climb the last 120' up.
Do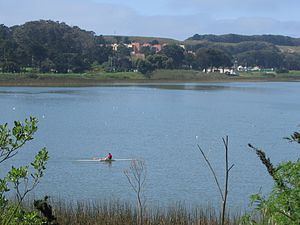 Lake MercedA freshwater lake in the very southwestern corner of San Francisco. It's a scenic place to hike and a popular fishing spot.

San Francisco State University Gators

address: SF State campus

Various college sports including baseball, basketball and soccer.
Buy
Miraloma Market

phone: +1-415-681-2474

address: 755 Portola Dr

Neighborhood convenience store that also sells lottery tickets; its also home to the Miraloma Tacqueria.

phone: +1-415-664-1600

address: 635 Portola Dr

Boutique market with butcher and deli departments

Stonestown Galleria Shopping Center

phone: +1-415-759-2626

address: 3251 20th Ave

Shopping mall next to SFSU. Anchor stores are Nordstrom, Macy's, Williams-Sonoma, Borders, J. Crew, Ann Taylor, Banana Republic, and an Apple Computer store.
Eat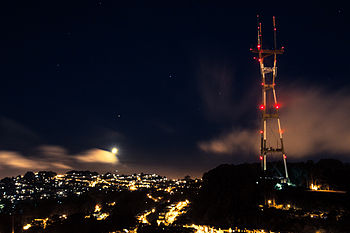 Bullshead Restaurant

phone: +1-415-665-4350

address: 840 Ulloa St

A steakhouse well known for their excellent buffalo burgers.

Bursa

phone: +1-415-564-4006

address: 60 W Portal Ave

A glossy Mediterranean and Turkish restaurant with a large menu.

Creightons

phone: +1-415-753-0750

address: 673 Portola Dr

Local coffee shop and bakery.

phone: +1-415-759-8087

address: 24 W Portal Ave

A small but popular and great Peruvian restaurant.

Java on Ocean Cafe

phone: +1-415-333-6075

address: 1700 Ocean Ave

A locally owned coffee shop with sandwiches and Middle Eastern fare. Get a quick bite to eat or stay and have a cappuccino while surfing the internet. They provide paid terminals or paid wireless access through the ZRNet subscription service. The owners have outfitted this joint with Salvation Army sofas and chairs and play eclectic music on the stereo.

phone: +1-415-566-9559

address: 811 Ulloa St

A superb Chinese restaurant with large portions and good take-out service.

phone: +1-415-665-9900

address: 1 W Portal Ave

Part of a San Francisco chain, this is a pleasant breakfast place with some excellent crepes. Good place to take the kids.

phone: +1-415-753-3338

address: 2666 Ocean Ave

Very delicious Chinese restaurant, with healthy ingredients and no MSG; although it is more expensive than the standard Chinese fare.

Taqueria Miraloma

phone: +1-415-681-2471

address: 755 Portola Dr

A hidden gem of a taco stand (and truly a "stand", it's take-out only) in the Miraloma neighborhood, with excellent burritos.

Tower Burger

phone: +1-415-504-6340

address: 729 Portola Dr

Burgers made from Niman Ranch beef are a specialty here.

S&E Cafe

phone: +1-415-665-7868

address: 2406 19th Ave

Midwestern American food as seen through Hong Kong eyes: complete meals include soup, roll, coffee or HK milk tea, entree, rice or spaghetti, Jello or Chinese bean soup dessert. Extensive list of unusual beverages from Ovaltine to Ginger Coke to green tea milk shakes; Chinese food available after 10PM only. Coffee shop ambiance with TVs at low volume usually tuned to a Chinese station.

Safeway

phone: +1-415-665-4136

address: 730 Taraval St

A large chain grocery store with a decent selection.
Drink
phone: +1-415-566-9444

address: 328 W Portal Ave

Nice Irish pub. Lots of events, like trivia nights, bingo nights, and $3 drinks from 8-10PM on Su, Th and Sa.

Miraloma Club

phone: +1-415-564-1131

address: 749 Portola Dr

Neighborhood watering hole with a pool table.

Philosopher's Club

phone: +1-415-753-0599

address: 824 Ulloa St

A friendly neighborhood bar with a pool table, jukebox and a couple of TVs.

phone: +1-415-731-1208

address: 179 W Portal Ave

An informal local bar with friendly bartenders.
Connect