San Francisco/Union Square-Financial District
Union Square-Financial District
is an area of Downtown
San Francisco
, made up of two neighborhoods: the bustling shopping and theater district surrounding Union Square, and the central business district where Market Street meets the bay. This is where you will find many of the city's office buildings, luxury hotels, and department stores, where tourists riding in on cable cars and streetcars cross paths with the weekday commuters who come in through the Market Street Subway. The area is bounded roughly by Market Street to the south, the San Francisco Bay to the east,
Chinatown
and Taylor Street to the west, and Bush Street (between Taylor and Kearny) and Washington Street (between Kearny and the bay) to the north.
Understand
Union Square
Surrounded by upscale hotels, Union Square is one of the largest shopping areas in the U.S. and is home to some of the nation's finest department stores, malls and specialty stores. As if that wasn't enough, it also boasts many fine art galleries, some of the best restaurants in the city, and it also serves as San Francisco's main theater district, featuring many Broadway and off-Broadway shows. The city earmarked the area as a park in 1850, and its name was derived from the many lively, pro-Union Civil War demonstrations that were held there. The square itself, a public plaza, which is bordered by Post, Stockton, Geary, and Powell streets, got a major refurbishment in 2002 when most of its grass was paved over with granite stone. Built in 1903, the monument dedicated to the Goddess Victory still remains at the heart of the square. Today, people use the square mostly as a space to relax and soak up a bit of sun, and to wallow in the atmosphere created by the surrounding cable cars, hotels and shoppers.

Financial District
The Financial District is among the top financial centers in the United States and its many skyscrapers add a very impressive skyline to the city. It is home to the headquarters of the 12th District of the United States Federal Reserve, as well as the iconic Transamerica Pyramid building. It also houses the corporate headquarters of many financial giants such as Visa, Wells Fargo Bank, Mckeeson Corporation and Charles Schwab Corporation. Despite the fact that the area was almost completely destroyed by the 1906 earthquake and fire, many of its original skyscrapers have survived. Today the architecture reflects a mix of both contemporary as well as more historic buildings such as the Merchant and Exchange building, the Bank of America building and the Russ building. There are also plenty of shopping opportunities in the area with centers such as the Embarcadero Center and the Ferry Building. It begins at Montgomery, which was once known as the "Wall Street of the West," and ends at the Embarcadero.

Get in
By car
On-street parking is all but non-existent. Parking garages, while plentiful, can be expensive. Major parking garages for the Union Square area can be found at the NE corner of Sutter and Stockton, between Ellis and O'Farrell between Stockton and Powell, on Sutter between Kearny and Grant, and under Union Square.
By ferry
Several ferry companies operate service from around the bay to the Ferry Building on the waterfront.
phone: 511 (inside the Bay Area) or +1-415-455-2000

Service to and from Larkspur and Sausalito.

phone: +1-415-705-5555

Offering services between the Ferry Building and Oakland/Alameda and Tiburon.

phone: +1-415-705-8291

Service to and from Alameda, Oakland, and Vallejo.
By public transit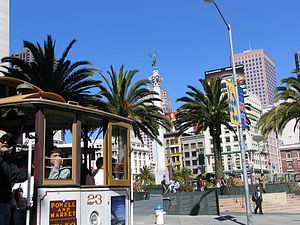 Extensive public transit is offered through the neighborhood, provided either by the regional
BART
system or the city-wide
MUNI
system, which encompasses the MUNI Metro, buses, cable cars, and the F-Line streetcar.
BART and all of the MUNI Metro lines () run under Market Street with three stations serving this part of downtown: the Embarcadero, Montgomery Street and Powell Street. The Powell Street stop is just a few blocks down Powell from Union Square. The Powell-Hyde and Powell-Mason cable car lines run from Powell and Market past Union Square to Fisherman's Wharf. From the Embarcadero station you can catch the California cable car line.
The F Streetcar Line runs along Market Street and up the Embarcadero to
Fisherman's Wharf
. There are several streetcar stops along Market Street. Numerous MUNI bus lines run through the area as well, such as the 38-Geary (which runs past Union Square) and the 1-California (which runs through the Financial District past the Embarcadero Center). The 10-Townsend, 30-Stockton and 45-Union/Stockton lines run north-south through the district, connecting to Chinatown, North Beach, and Fisherman's Wharf to the north.
On foot
From Fisherman's Wharf, take a 25-minute walk down the Emabarcadero, which will take you all the way down to the Ferry Building, at the edge of the Financial District.
From west of the area, it is also easily accessible by getting first to Market Street and then walking eastbound.
Get around
To help you navigate around there is a
Visitor Information Center
run by the San Francisco Convention & Visitors Bureau, located at 900 Market St on the lower level of Hallidie Plaza, next door to the cable car turntable at Powell and Market streets. The V.I.C. is open M-F 9AM-5PM; Sa, Su, and holidays 9AM-3PM, PST. Telephone inquiries may be made M-F from 8:30AM to 5PM PST, by calling +1-415-391-2000 or +1-415-392-0328.
See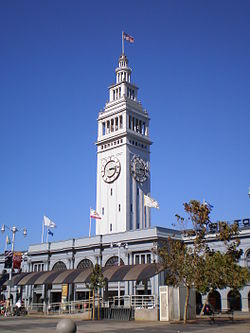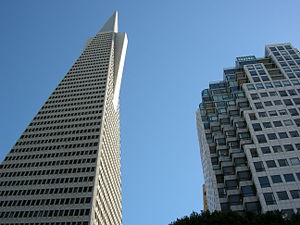 ArchitectureUnion Square is the bustling name-brand shopping area for the city, where high-end chains put their West Coast flagship stores, or at least a major retail outlet. The neighborhood's visual extravaganzas tend to be stores, including the beautifully restored glass dome and rotunda salvaged from the former City of Paris department store (at the Neiman Marcus store that replaced it 1981, at Geary and Stockton), the interior lavishness of the flagship Williams Sonoma, and Niketown on Post. This area of downtown is also a hotbed of Art Deco and Beaux Arts architecture. For a splendid view of all this architecture, take a ride up the exterior glass elevators of the Westin St. Francis Hotel, on the west side of Union Square.
Water fountains. A quick overview of San Francisco geography is provided by the on the steps of the Grand Hyatt on Stockton just north of Post. This massive wall of sculpture was created by Ruth Asawa, using schoolchildren's bread dough models as a basis for the casting. Another famous water feature is , at the intersection of Geary, Kearney, and Market. Donated by singer Lotta Crabtree in 1875, it is the city's oldest piece of public art. You can also see the controversial at Justin Herman Plaza at the foot of Market Street, believed by many to be a parody of the former (and much loathed) Embarcadero Freeway.
phone: +1-415-396-2619

address: 420 Montgomery St

This interesting museum has many artifacts associated with the bank company, such as old stagecoaches.
Privately-owned public spaces, various locations downtown. Local building codes have, for many years, required developers to include public spaces in their buildings. Some of them offer great views of downtown, such as the terrace on the 15th floor of . Others are just a nice place to take a break and sit, like the Redwood Forest at the bottom of the Transamerica Pyramid. A complete guide, entitled "Secrets of San Francisco", has detailed descriptions on each one.
Do
phone: +1-415-312-1119

Offering two gourmet tours of the neighborhood - the Gourmet Chocolate Tour and the Gourmet Chocolate and Wine Tour. Both tours will take you to some of the local businesses where you can sample their delicious fare.

phone: +1-415-291-3276

address: outside the Ferry Building

A large, very popular year-round organic farmers market.
Performing arts
Most of the theaters and performance spaces are located just to the west in the
Civic Center-Tenderloin
area, but there's still a few theaters surrounding Union Square:
Buy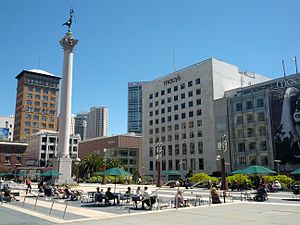 The purpose of Union Square is shopping. Most upscale national chains can be found in the neighborhood, including western flagship store on the south side of the square, on the southeast corner, on the north side, and two blocks south, on Market opposite the cable car turnaround. Other chains include Victoria's Secret, Borders, Harry & David, Sur La Table, a four-level Ross, a four-level Loehmann's, one of the rare H&M stores in the U.S., Forever 21 in a restored bank, Armani, Crate and Barrel, and numerous upscale stores at San Francisco Shopping Center.
More interesting are the stores that can't be found in every suburban mall. There are numerous art galleries and a fascinating selection of local or unusual businesses. The Financial District also has some decent shopping centers to choose from.
Eat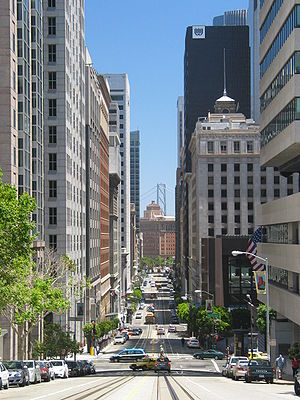 Though Union Square appears to be awash in cafes, it's one of the more difficult neighborhoods for good eating. Dining selections are crowded and geared toward the tourist market, though there are a few iconic restaurants that have must-see status just from their fame and age. It's also a center of high-end hotel dining. However, a short side trip west on O'Farrell or Geary to the
Tenderloin
for bargain Indian or Vietnamese food, a quick walk up Grant to
Chinatown
or (further) to
North Beach
may be worthwhile alternatives to fast food, long waits, or $200 a plate meals. In the Financial District there are various restaurants catering to those who work in the surrounding buildings although many close at the end of the business day and offer few dinner choices.
Bangkok Noodles

phone: +1-415-397-2199

address: 110 Powell St

Cash only "hole in the wall" restaurant serving delicious and nicely presented Thai dishes ranging from noodles, stir fried, to BBQ. Attracts a large local following from young Asian Americans. Lunch hour gets crowded in this small popular eatery; alternative is to take out and eat in Union Square. It's great for a good and cheap early or late-night dinner.

phone: +1-415-981-9376

address: 245 Kearny St

Healthy and delicious option for the working crowd. The line goes out the door around lunchtime so phone in or order early in order to beat the lunch time rush. The ingredients are fresh and wholesome. The Boxed Chicken Salad comes highly recommended.

phone: +1 415 616-5002

address: 347 Geary Street

Upscale American pub food restaurant chain with well-stocked bar and American diner breakfast selections.

phone: +1-415-343-0130

address: 665 Bush St

Serving seasonal, organic cuisine with wines from around the world.

phone: +1-415-982-7874

address: 101 Cyril Magnin St

If you like romantic restaurants and have also fallen in love with California, this is the place for you. Popular with couples, this restaurant serves up modern Californian and American cuisine and they've got a HUGE selection of Cal wines to wash it down with.

phone: +1-415-986-3274

address: 63 Ellis St

Seafood and steak joint.

phone: +1-415-398-3173

address: 83 Eddy St

This is a very good Indian restaurant at very reasonable prices. Decor and ambiance is average, but high on taste and cleanliness.

phone: +1-415-397-3333

address: 170 O'Farrell St

Around the corner from the swanky appliances on Macy's basement level is basically a food court, but better than the usual with Wolfgang Puck, Boudin, a sushi bar, Ben & Jerry's, Tom's Cookies and more. Beware though, it's usually a madhouse.

phone: +1-415-777-5577

address: 1 Market St

Organic food dishes.

phone: +1 415 885-6407

address: 401 Geary Street

Traditional diner fare in a traditional diner setting. If you're looking for a good diner breakfast in the Union Square area, this is the place.

phone: +1-415-392-5500

address: 129 Ellis St

Popular Italian restaurant.

phone: +1-415-421-4778

address: 240 Front St

A traditional German beer hall with schnitzel, sausages and other delights (and, of course, a good selection of German beers).

Tadich Grill

phone: +1-415-391-1849

address: 240 California St

The longest operating restaurant in California, dating back to the Gold Rush. You'll find delicious seafood and a classic atmosphere where groups can sit in their own wood-paneled quarters. Price range is high with most entrees over $20.

phone: +1-415-983-0102

address: 568 Sacramento St

Gourmet BBQ: try the New Orleans-style Flounder Po' Boy, BBQ Brisket Banh Mi, and the Bowl O' Red beanless chili made from smoked short ribs, shallots, and creme fraiche.
Drink
phone: +1 415 654-5061

address: 398 Geary Street

Small, nondescript bar inside the Hotel G. Walk past the check-in desk, go up the flight of stairs and make a left. Open the door straight in front of you and you're there. Cozy atmosphere, good selection of drinks, and a good deal on raw oysters, which is the only food they have available.

phone: +1-415-398-0195

address: 580 Sutter St

Part of the new wave of "mixologists" that have been sweeping over San Francisco. Classic cocktails are well-made, although more exotic choices can leave something to be desired, and it doesn't present the most affordable of options. Unfortunately, most of the bartenders think far too highly of themselves and expect tips accordingly. Weekend nights are quite busy as well as the after work crowd on weekdays.

phone: +1-415-693-0303

address: 314 Sutter St

Decked out in an upscale but not trying decor, EO Trading has the kind of cocktail list that impresses but doesn't overwhelm. The menu of small plates and appetizers of Asian fusion cuisine, satay platters and a selection of naan bread is the perfect partner for their lychee martinis and Anchor Steam beers. Happy hour is from 3 to 6PM.

phone: +1-415-392-7595

address: 245 Front St

An Irish pub open since 1935.

phone: +1-415-788-7152

address: 10 Mark Ln

An old-style Irish pub, walls adorned with antiques, with a great selection of whiskey, imports, and microbrewed beer, and good pub food. The Bank has plenty of outdoor sitting, ideal for a warm day.

phone: +1-415-982-8900

address: 333 Geary St

Less than a block from Union Square, just up Geary, this is considered to be a "dive bar" in the area, although for true dives, one needs to continue further up Geary and in to the Tenderloin. Well known for their Bloody Mary and history, it's a decent place to stop in for a drink, although the crowd will most definitely not be locals.

phone: +1-415-956-1710

address: 301 Sacramento St

A good selection of microbrews and imports on tap in a typical sports bar.

phone: +1-415-693-0777

address: 420 Mason St

Ruby Skye is one of the premiere clubs in the area and has become a "place to be seen." Some of the top DJs in the world have played here including Paul van Dyke, Pete Tong, and Sasha. It's 15,000 square feet of Hip-Hop, House, and Techno over multiple floors; one of the floors at the top has a private smoking lounge and cigar bar.

phone: +1-415-395-8595

address: 450 Powell St

Not for a visitor that's light in the wallet, but the view and setting from this lounge are undeniably hard to beat. Opulent is probably the best description. Dress well if going as the crowd that attends is there to be seen.

Tunnel Top

phone: +1-415-722-6620

address: 601 Bush St

This two-floor, cash-only bar is a neighborhood staple, where you'll find an eclectic mix of locals downing the very excellent mojitos, shots of Fernet-Branca (the unofficial drink of San Francisco), or egging on the bartenders to make up a new drink.
Sleep
Without a doubt, this is the primary hotel district for San Francisco. While some of the main hotels are in the neighboring Tenderloin district (although they'll vehemently deny it) their proximity to Union Square and public transportation is hard to beat. The range varies greatly from large, international chains to smaller boutiques. With any of these hotels, you are always advised to book far in advance for better prices and selection due to their overall desirability for anyone visiting the city.
Budget
Hostelling International-Downtown

phone: +1-415-788-5604

address: 312 Mason St

Clean, cheap, safe and fun.

Pacific Tradewinds Backpackers

phone: +1-415-433-7970

address: 680 Sacramento St

The highest rated and smallest hostel in San Francisco. On the edge of Chinatown and the Financial District. Friendly, clean, modern and safe. Free internet.

San Francisco International Hostel

phone: +1-415-982-5010

address: 140 Mason St

Can't beat the convenience right in the main hotel district, a block from Powell Station and Union Square.
Mid-range
Splurge