San Francisco International Airport
San Francisco International Airport
(
SFO
) is the main international airport of the San Francisco Bay Area in California, the United States.

Understand
San Francisco International Airport, or commonly called by its IATA identifier,
SFO
, sits between
San Francisco
and
San Jose
, roughly 15 miles south of downtown San Francisco, and 35 miles northwest of San Jose, at the western side of San Francisco Bay. Within California, its passenger traffic is second only to
Los Angeles
. SFO is the 7th-busiest airport in the USA and 22nd-busiest in the world, with nearly 45 million people arriving and departing from the airport annually. The airport was built in 1927, and adopted what is now the centralized terminal design 30 years later.
San Francisco is a major hub for both domestic and international flights to the United States, and United Airlines and Alaska Airlines (formerly Virgin America) use San Francisco as a primary hub.
Flights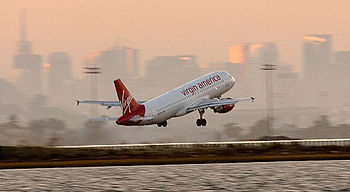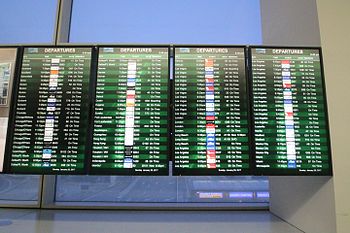 The airport adopts the
centralized terminal
concept, with 4 terminals (3 domestic, 1 international) with 7 concourses in a circle surrounding parking and transportation facilities. Some domestic flights depart from the international terminal, and conversely, some international flights to Canada depart from the domestic terminals. Alaska Airlines operates from both Terminal 2 and the International Terminal, with flights allocated to either terminal at random; check the flight information before you head to the airport for the correct terminal.
Boarding Area C (Gates 40-48)
Delta
Arrival procedures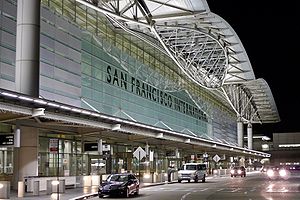 The two sets of parallel runways at SFO are spaced too closely together for simultaneous arrivals during periods of low visibility. While in clear weather, both runways in a particular direction can be used, low clouds (a not uncommon weather pattern in the Bay Area) will require that arrivals use only one of the two. Should this happen, air traffic control will delay inbound traffic either in the air or at your departure airport. If you are making connections at SFO or have time-sensitive business there, allow for extra time should your incoming flight be delayed.
International arrivals:
All passengers arriving on international flights (except origins with US preclearance) will be processed through immigration. Passengers will then collect their baggage and pass customs. Those with onward flights, international and domestic, will proceed to check-in and security. Be prepared for a 30-40 minute wait. There is no international transit zone. Travellers terminating in San Francisco should follow signs for their desired ground transportation.
Domestic arrivals:
Passengers arriving on domestic flights will arrive on the departure level inside security. Those in transit will not need to clear security again unless their next departure leaves from a different terminal that does not have a walkway between them. Travelers terminating in San Francisco exit and may proceed downstairs to baggage claim or ground transportation. The AirTrain and BART is available upstairs.
Departure procedures
Passengers must check in with their airline at their respective terminal. Once you pass the security checkpoint, you generally
cannot
go to other concourses (some exceptions under
#Get around
). This limits your choice of food, drinks, and shopping.
International travelers will not pass exit controls; however, airline staff will verify passport and applicable destination visa validity.
Ground transportation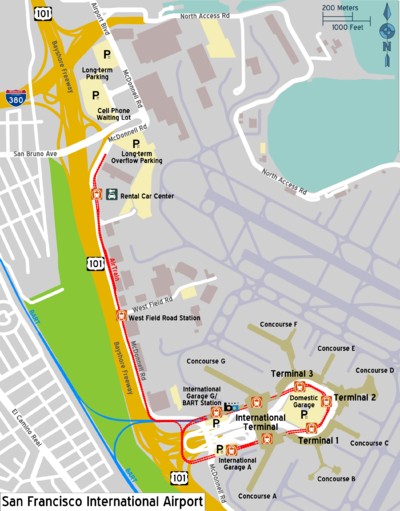 By train
If you are staying in
San Francisco
or the East Bay, your most convenient option will likely be
BART
. The platform is at Parking Garage G. You can get there from any of the terminals using the AirTrain.
If you are going south to
San Jose
, you can take the
Caltrain
commuter rail line, but you first need to take the BART to
Millbrae
, where you can transfer to Caltrain. You can take BART directly to Millbrae from the airport after 8PM on weekdays, and all day on weekends. During other times, you need to take BART to
San Bruno
, then backtrack on another BART line to Millbrae.
There are no trains from the airport to
Marin County
, across the Golden Gate Bridge from
San Francisco
. To get there you'll need to take the Airporter bus (see below), or transfer to a ferry or bus in San Francisco.
By bus
SamTrans provides bus service throughout
San Mateo County
and limited service to and from San Francisco. There are bus stops at the International Terminal, Terminal 2, and Terminal 3. Routes KX, 292, 397 and 398 stop directly at the Airport terminals. Routes 140, 292 and 397 stop at the Rental Car Center.
SamTrans bus tokens (valid for local fares) are available for purchase at a discount in bags of ten at several Airport Information Kiosks:
International Terminal Arrival Level (Outside Exit A & Exit G)
International Terminal -- Departure Level (Near Ticket Aisle#1 outside BART station entrance)
Domestic Terminals 1 and 3 (Baggage Claim Area)
The
Marin Airporter
offers service every half hour to and from
Marin County
, operating from 5AM to midnight. The
Airport Express
offers service every hour to and from
Sonoma County
, with similar hours of operation.
By car
The airport is accessible via Highway 101 and the surface street McDonnell Road. Freeway traffic is often congested, plan accordingly.
The Rental Car Center is connected to the airport terminals via the AirTrain.
Get around
Pre-security all terminals are reachable on foot. The Rental Car Center however is not, and requires the AirTrain.
The
AirTrain
rail system can get you around the airport. The AirTrain runs 24 hours a day and is free.
The Red Line circulates the terminals plus the International Garages near Concourses A & G, and the BART train station at the garage near Concourse G.
The Blue Line stops at all of the Red Line stations, plus West Field Road and the Rental Car Center. You can also walk between terminals.
If you're parking at the Long-term Parking Lot, you need to use a shuttle to get to the terminals. The shuttle picks up from the departure level of each terminal, runs 24 hours a day (every 5 minutes from 4AM to midnight, 15 minutes all other times), and is free.
After security (airside), Terminal 3 and International Terminal G are connected by a walkway to facilitate Star Alliance connections, and Terminal 1 and Terminal 2 are similarly connected (but be careful you don't accidentally walk out of security!). Otherwise you cannot move between terminals after security. In some cases you can't even move between concourses within the same terminal while inside security.
Wait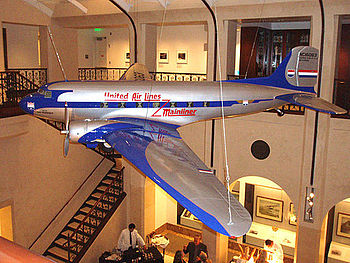 SFO has a wide variety of activities, installations and public art in the airport.
phone: +1 650-821-9900

address: International Terminal Level 3, adjacent to Concourse A, before security

Set up in what the airport looked like in the 1930s, this museum focuses on the development of aviation on the West Coast of the US and around the world, including aircraft mockups, pins, posters, even safety cards and luggage labels reflecting the old glory of the airline industry.

SFO MuseumThe SFO museum maintains a series of changing art exhibitions throughout the airport. Check the website to see what is up for view.

Public artSFO has a large collection of public art installed throughout the airport, some of it quite impressive and worth looking at on your way out of the airport as well as to pass the time while waiting for a flight. The linked map shows the locations of art in the airport.

address: Terminal 3, Level 1, pre-security

A collection of extraordinary wooden model airplanes, including models of rare and unusual makes, made by Edward Chavez of the Nut Tree Restaurant.

address: Terminal 3, Concourse E

An installation of touchscreen kiosks with information about the airport and local attractions.

Yoga room

Throughout the airport, there are three different Kids' Spots, interactive play areas for children with science-based exhibits that are open 24 hours a day. One is in Terminal 2, Concourse D, near Gates 54A and 58B; the second is in Terminal 3, Concourse E, near Gate 62; the third is in Terminal 3, Concourse F, near Gate 87A.
Lounges
address: International Terminal, Concourse A

American Express - The Centurion Lounge

British Airways Terraces Lounge

Philippine Airlines Mabuhay Lounge

United Lounges
Eat and drink
There are 2 food courts right before security adjacent to concourses A & G at the International Terminal. Do not expect the food to be cheap compared to off-airport establishments, though. But the food is better than what you can find in many other airports, as it features a lot of choices for a main course menu.
In the north food court, choices include:
EbisuQuite decent Japanese, including udon, soba, tempura, and sushi.

Fung LumChinese food and noodles

Lori's DinerAmerican

Willow StreetBreakfast, sandwiches, pasta, burgers, pizza, ice cream and smoothies.
In the other terminals:
Andale Mexican Restaurant

address: Terminal 2 Concourse D & Terminal 3 Concourse F (kiosk only), International Terminal Concourse G (seating option available)

Fresh made to order Mexican entrees, beer, and wine. The seating option at International Terminal features a full-sized bar.

Buena Vista Coffee

address: Terminal 3 Concourse F

A pretty big restaurant. American cuisine and Irish coffee.

Gordon Biersch

address: Terminal 3 Concourse F

American cuisine with beers and a full set bar.

Lark Creek Grill

address: Terminal 2 Concourse D

Table service restaurant with full bar, seafood, steak and breakfast

Mission Bar & Grill

address: Terminal 1 Concourse B

Sandwiches, burgers, soups, salads and breakfast; full bar and seating area.

Three Twins Ice Cream

address: Terminal 1 Concourse C

Organic ice cream flavors and toppings, sweet & savory made-to-order crepes, waffles.

Wakaba

address: Terminal 2 Concourse D

Japanese sushi and noodles, teriyaki and bento boxes. Beer and sake is also provided. No seating area.
Buy
There are very few shops at Terminal 1, plenty in other terminals.
Bay Area Club House

address: Terminal 3 Concourse F

Pro sports apparel, headwear and souvenirs. Last minute jersey idea if you are a Niner!

City by the Bay

address: Terminal 1 Concourse B

Souvenirs, postcards, and gifts from the City by the Bay for its namesake.

Collector

address: Terminal 3 Concourse E

Artworks from the Bay's artists.

Cool_tees@SFO.fun

address: International Terminal Concourse G

Chic designer apparels & accessories.

Destination Green

address: Terminal 3 Concourse F

Earth-friendly gifts from companies committed to sustainable design.

Embarcadero Treats

address: International Terminal Concourse G

Local candy products and foods from the United States.

Ghirardelli

address: Terminal 3 Concourse F

San Francisco's own chocolate brand.

Greetings from SF

address: Terminal 2 Concourse D, Terminal 3 Concourse F

Souvenirs, gifts, apparels, and accessories from the "City by the Bay".

Pacific Outfitters

address: International Terminal Concourse A & G, Terminal 2 Concourse D, Terminal 3 Concourse F

Travel gear, electronics, bags, apparel and travel publications

Simply Gourmet

address: Terminal 1 pre security

Californian candies and food.

Compass Books

address: Terminal 2 Concourse D

A good selection of books and a few souvenirs. The display shelves out front are definitely worth a browse.
Connect
There are work stations at concourses in the International Terminal that you can use to work with your laptop or to charge your device. On the domestic terminals, there are spotty numbers of power sockets throughout the walls. There is also a machine that can charge your device twice as fast for a fee, with the exception of the International terminals.
Free Wi-FiFree Wi-Fi connectivity is available on all terminals & concourses, with service that is reliable. Use the #SFO FREE WIFI access point, open your browser and agree to the terms & conditions, and you're good to surf!

TTY for the hearing impairedCan be found in all terminals.

phone: +1-415-474-3330

address: International Terminal A pre-security

Cell phone rentals, Internet, fax and copying services. Advanced reservations are recommended for cell phone rentals.

Mailboxes

address: 6 Mailboxes are located curbside on the Departures/Ticketing Level at the end of all terminals.

phone: +1-415-822-7157

address: 660 West Field Road

Full service post office. Last pick up is 8PM weekdays, 6:30PM Saturday. Lobby is always open for PO box access.
Cope
XPress Spa

address: Terminal 2 Concourse D, Terminal 3 Concourses E & F, International Terminal Concourse G

A spa to rejuvenate yourself. The location at Terminal 3 also offers barber service.

phone: +1 650 877-0798

address: International Terminal adjacent to Concourse G, before security

Should you feel not fresh, come here for a shower. Or buy toiletries & undergarments.

phone: +1 650 877-0422

address: International Terminal adjacent to Concourse G, before security

Luggage storage, sundries, Western Union, notary, shipping, bag wrapping, tickets, reservations, passport photos, etc.
Sleep
There sole hotel on the airport grounds is the
Grant Hyatt at SFO
, which is accessible from the terminals using the AirTrain.
The surrounding communities also have plenty of accommodations.
San Bruno
directly to the west,
Millbrae
and
Burlingame
to the south along US 101, or
South San Francisco
and
Brisbane
to the north along US 101 have plenty of chain hotels to choose from. Most of these hotels run shuttles to the airport, which stop at the designated area on the Departures level in front of each terminal.
Nearby