San Ignacio (Belize)
San Ignacio
is a small town in the
Cayo
region of
Belize
. San Ignacio, or Cayo as it is called, is located on the Macal river, and makes a good and affordable base for exploration of the stunning regions around it, with plenty of day trips to be taken and several decent tour guides willing to take you. It's also an important transit town en route to or from
Guatemala
.
Understand
San Ignacio is renowned for its close proximity to Belize's famous Maya ruins, and is a hub for outdoor activities such as caving, hiking, kayaking, horseback riding. It is one of the last towns in Belize before entering Guatemala, where many visitors go to visit the Tikal Maya ruins.

Get in
By car
San Ignacio is easily reachable by car. The Western Highway is the best road in the country and is fully paved and free of pot-holes. There are several gas stations along the route so you have no worries there. Once you reach the sister-city of San Ignacio - Santa Elena - be aware that there are two bridges and each is a one way bridge. You have to make a right turn, if you are heading west, and run downhill to cross the bridge into San Ignacio. Locals apparently know tourists will miss this turn and are quite aware to signal you that you have made a mistake if you try to go the wrong way.
You leave San Ignacio across the Hawksworth Bridge which is the only suspension bridge in Belize. This is also a one-way bridge to leave town, unless the low lying bridge is closed.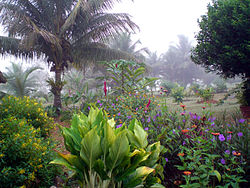 By bus
2nd Class buses (no air conditioning or "trunk" for suitcases) run frequently from
Belize City
; the trip is usually less than 2½ hours, in spite of numerous stops. As of 2019, a bus from Belize City to San Ignacio costs BZ$9 (
Belizean dollars
). Buses run to Dangriga on the coast in about 3 hours. In the other direction, buses run to the Guatemalan border quite close by, with connections to Flores and
Tikal
. Bus services are either "regular", which means they stop anywhere along the road to pick up and let off passengers, or "express", with only scheduled stops in major towns.
By shuttle
Belize Ground Shuttle
offers daily shared shuttle service to and from San Ignacio and the International Airport, Belize City, Placencia, Hopkins, and Dangriga. They have a fleet of brand new vans for safety and comfort. Great for groups.
Ron's Belize Shuttle
specializes in private shuttle service offering door to door service between any destination in Belize.
BZ Shuttle Services
has an outstanding recorder of transporting you to and from your destination on-time. Your Belize Shuttle Driver is Denfield Gomez, known locally as Denny, maintain an impeccable driving recorder when it comes to shuttling you to or from your destination.
BZ Belize Shuttle
Teddy Bear shuttle
and taxi service is safe and reliable, you can find him just behind the Belize Bank in the centre of San Ignacio Town.
Teddy Bear Shuttle Service
Offers private shuttle transfers from San Ignacio, Belize western border to Flores or Tikal in Peten, Guatemala. The company even have the ability to transfer you to just about any where from San Ignacio Town.
Belize Tikal Shuttle
Shuttles can pick you up at the airport, or most any other spot, and transfer you much quicker and with much more ease since they are door to door.
William's Belize Shuttle
has the best reputation.
See
Belize City#By shuttle
for a list which includes addresses and phone numbers of the shuttle companies as many of them are based in San Ignacio.
By plane
Tropic Air
offers flights to San Ignacio from several other locations in Belize, including
Belize City
,
Ambergris Caye
,
Caye Caulker
, and Goldson International Airport in Ladyville.
Get around
The roads in town are quite walkable, and traffic is light. Most everything is within a 5-minute walk from downtown. There is really no reason to drive. The town is foot-scaled so walking is your best bet for getting about and really experiencing the town.
If you do need a ride, taxis are available near the bus drop-off and along Savannah Street. Shared taxis ("collectivos") to the nearby village of Bullet Tree Falls are available on Wyatt Street off Burns Avenue.
There are public buses with service to nearby resorts for only BZ$1 per person. This offers a great way to get into town, but if you expect to stay late remember you may have to take a taxi back, and they can get increasingly more expensive later into the night.
One can also rent a car locally. There are a few car rental agencies in town.
See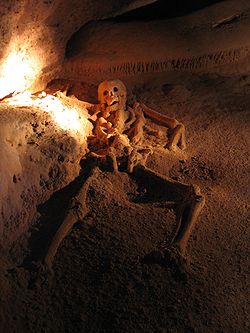 Many tour companies in San Ignacio,
Pacz Tours
and
KaWiil Tours
being the best for safety and quality per outside evaluators, run tours to a wide variety of interesting caves, ruins, rivers, and jungle trails.
K'in Winik
is known for providing amazing tours and overnight jungle camping throughout Mountain Pine Ridge, including Caracol.
It's a good idea to read reviews for other tour companies before booking because some of them have treated guests poorly.
Most of these are day trips, leaving early in the morning and returning the same afternoon. Not all tours are available on any given day. Most tour companies require a certain minimum number of registrations before they'll make the run. Checking in the night before for which tours are available the next day is often the best option.
Actun Tunichil MuknalA Mayan sacrificial burial site near San Ignacio. The site is contained entirely within a cave system, and access to the relics is gained via some of climbing over rocks, wading and swimming through water that is at times over deep. The cave was a sacred site for the Mayans and it contains many examples of pottery, ceramics, and stoneware, as well as several sets of human sacrificial remains, one of which (known as the "Crystal Maiden") has been almost entirely covered in limestone crystals by the water in the cave. The site is a 45-minute drive from San Ignacio, and, due to the caving aspect, it may only be visited when accompanied by an official guide (who will provide appropriate safety equipment) and you can't take photos inside. Most tour companies in San Ignacio are able to offer officially guided tours.

Cahal PechThe main attraction in the town. Cahal Pech is a smallish set of Mayan ruins that were abandoned around 800-900 AD. There is an indoor museum displaying artifacts, a site plan, and information on the ruins in a regional context. There are, allegedly, guided tours, but these are unneeded, as the site is easy to traverse. The entire site should take 1-2 hours at most for a thorough exploration. Once at the ruins, the site is fairly flat, but Cahal Pech is at the top of the hill overlooking San Ignacio. The walk uphill to it from the main town is quite exhausting and is difficult even from the San Ignacio Resort Hotel on the hill. If you have any disability, or are in poor physical condition, you will want to drive.

CaracolBiggest ruin in Belize, yet partially unexcavated, so you really feel like you are in a national park on a ruin. Ca'ana, place of the sky, is one of the biggest and most massive temples in the Mayan world. Definitely a must see ruin, and it comes with stops at Rio On Pools and Rio Frio Cave too.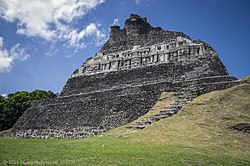 XunantunichWear good shoes, bring water and plan to spend about 3-4 hours. There is a free ferry in Succutz over the Mopan River. From there you can easily walk the to the site.

Iguana HatcheryVisit the Iguana Conservation Project and the interpretive Medicinal Jungle Trail at the San Ignacio Hotel. Ranked as one of the best family excursions in San Ignacio.

Green Hills Butterfly Ranch

Tropical Wings Nature CenterLocated on the outskirts of San Jose Succotz, a 10-minute bus ride from San Ignacio going towards Benque. Includes a butterfly farm & small educational museum, 9-hole disc golf course (the first in Belize & Central America) and a restaurant located on site.
Do
Canoe or kayak on the Macal River.
Rent bicycles.
Buy
Belize GiftsThey have a huge selection of great gifts and souvenirs.

Back to My Roots

address: Burns Avenue

Indita Maya

Tropicool Gift Shop

address: Burns Avenue

A B C Supermarket

address: Bullet Tree Road

a large supermarket.

New Flags Supermarket

phone: +501-824-0451

address: Western Highway

a large supermarket with lower prices.

The Belize Bank & Scotia Bank & Atlantic BankAll three banks' ATMs take Mastercard.
Eat
San Ignacio is one of the more tourist-friendly towns in Belize, with a variety of restaurants keeping longer hours than in many other towns. There are a wide variety of restaurants, and many have both vegetarian and non-vegetarian options.
Ko Ox Han-Nah

address: 5 Burns Avenue

From the lamb quesadillas to the lamb curry to the omelettes, breakfast, lunch, and dinner are all covered here. They raise almost all of their own animals at their farm.

Hodes PlaceGreat for kids of all ages. Includes video games, air hockey, pool tables, playground (in a small orchard), jukebox, and a small casino. Try the burritos: they are big and cheap.

South Indian RestaurantTry their ginger lime juice, which is delicious. Worth seeking out for very tasty dishes including fish or chicken curries and several vegetarian options - their samosas are what they are known for, and must be tried.

Mr Greedy's Pizzeria

address: Burns Ave

Best pizza in town, and a great burger too. Greedy's has been completely redesigned; they've added a great bar, giving the place a much more open look and feel. They have an excellent menu, with plenty of great appetizers - try the onion rings; they are the best in the country. They offer free high-speed Wi-Fi for customers.

Maxim's Chinese Restaurant

address: Bullet Tree road

One of the best Chinese restaurants in San Ignacio. Menu including: Delicious Fried Chicken (what they are known for) ranging from $5 and above, fried rice, chao-mein, chop-suey, kun-pao, and etc.

Vivian's

address: Joseph Andrews Drive

Vivian's Coffee and Ice Cream shop is great. Their coffee smoothies are always great to cool one off. Good ice cream too. All the local students go there, which is a good sign.

Mincho's

address: Burns Ave

Mincho's is the fast food place of San Ignacio. They are only open for breakfast and lunch. They have all the Belizean fast food: tacos, burritos, salbutes, panades, and garnaches. They have the best fresh juice in San Ignacio, and it's only $1 per glass.
Guava Limb
The Great Mayan Prince
Running W Steakhouse
Drink
Cappello's Up the Hill Bar and GrillCappello's easily has 100 different drinks, and some of the best appetizers around. You can hang out under the steel palapas, enjoy the great view, and listen to mellow music like reggae, or hang out inside for more local music. Their happy hour goes from opening until 7PM every day.

Club RehabGreat club to start off at or end up at since they are usually open from 4PM until after 2AM. They usually play great music, and you can request songs most of the time too. Great happy hour from 4 to 7PM when they offer half-priced drinks. Thirsty Thursdays at Rehab is happy hour all day.

Remo's RoadhouseMany of the ex-pats start at Remo's because of the great conversation and stories provided by the owner – he can tell you stories that even locals don't know. It's in Bullet Tree Falls, 3 miles from downtown – the first building on the right as you enter Bullet Tree Falls.

Bamboo Bar

phone: +501 669-3684

Cozy dive bar with sand floors and bamboo bar stools, in the heart of town. Quite Americanized, but plays more classic rock as opposed to pop music you'll hear from other tourist bars.

Fuego Bar and Grill

phone: +501 824-3663

Popular among tourists. Its atmosphere and cuisine may offer a pleasant break from those uncomfortable with the less developed locations in town, at the consequence of a less authentic Belizean experience.
Sleep

Since San Ignacio is the biggest town close to Guatemala, from where many tourists enter and exit Belize, the city, therefore, has quite a few accommodations relative to its size and attractions.

Hostels
Mid-range
Splurge
Nearby lodges & resorts
Go next
Belmopan - the capital of Belize is a good jumping-off point for other destinations. from San Ignacio to Belmopan is 42 km, and takes one hour in a bus.
Hopkins it is 140 km from San Ignacio to Hopkins. A bus via Belmopan takes three hours.
Guatemala
Tikal - across the border is the world heritage site of Tikal with ruins dating back to 6th century BC.