San Isidro de El General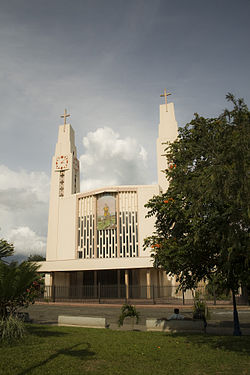 San Isidro de El General
(sometimes referred to as Pérez Zeledón) is the capital and biggest city in the canton of Pérez Zeledon in
South Pacific Costa Rica
.
Understand
There is active commerce, lots of stores, schools, mechanics, hospitals, postal offices, etc. San Isidro de El General has a small but significant American retiree population.
International Park La Amistad is near this city.

Get in
San Isidro d El General is located 2 hours from
Chirripo National Park
and 45 minutes from
Dominical
Beach. Buses are available from
San José
and also from
Quepos
via Dominical. The "Musoc" bus line is dependable, comfortable, and very affordable, having both its terminals (in San José and San Isidro) in central and convenient locations.
Get around
San Isidro d El General is small enough and far more secure than San Jose to explore on foot without much complication. Taxis line up on the streets around the central park and throughout the city.
There is also a very reliable and efficient local bus transportation system that not only connects the various key locations of the city to each other, but the city itself to other localities of the
Pérez Zeledón
canton. The main bus terminal is in front of
Coopeagri
store in the central market complex. A short walking distance from the central park.
See
The market complex in downtown is worth exploring. The city is small and pleasant to walk around and shop around for toiletries and other such things that one may need, although prices are considerably higher for many things (clothes, etc.) than in San José.

Do
Autentico AdventuresGo rafting down one of the three rivers that surround this area, the Rio General, Rio Savegre, and Rio Guabo. Also offers homestays into the rainforest.
Buy

There is a commercial center downtown, one mall in the southern end of town, and a new one about to open in december in the center of town. Not a big place for shopping, but visit the local market to see the culture, eat, and buy some fruits. Maxi-Bodega has many American food products. You can find several shoe stores with a selection of American brands. Some bargains can be found.

Eat
The central market is the place to eat like the locals do. There are lots of
"soda"
restaurants around and many of them are quite good and reasonably priced. Dishes with chicken and rice are usually done well. Many places serve fresh fruit juices that are delicious.
But if you want something more international, here are a few places:
Chirripo Hotel, across the street from the main church in Centro. Hang out for many visitors and locals.
Reginas Argentinian Parrillada... on the way to Dominical in El Hoyón.
Pizza Primavera, by PALI supermarket in the city center on the street behind CoopeAgri.
Delicias Cafe, great people watching and meeting your friends, a good coffee place with great food
Mexico Lindo on the south part of the park, great mexican food
Kukis fast food, next to Mexico Lindo
Bazookas a mix of Costa Rican and American food, on the way to San Jose next to the Solis Gas Station
Coffee Stop Authentic Costa Rican food and coffee, free Wi-Fi Internet, clean bathrooms just north of San Isidro
Drink
There are several popular bars in San Isidro de El General. Although the city is quite small, some of the best bars are a little off the beaten track. It is recommended to hire a taxi for bar-hopping. Below is a list and description of the best bars.
La Cascada upstairs restaurant, local music, popular for locals and ex-pats alike.
Bar de Brasilia karaoke and loud music, popular among the working class.
Reyes several billiards tables and an open bar area.
El Camaron very popular among younger Costa Ricans.
Babalu a hip bar with a small cover charge at door.
Basha-Pz popular dancing area and large bar. Plays American and local music. Very pleasant atmosphere.
Sleep
There are some small hotels where you can rent a room. The city is small, just look around.
Los CrestonesOn the road from Dominical, south from the SE corner of Plaza Central, opposite the football ground. Attentive and flexible staff; good value at US$50 (cash) for an upstairs room (November 2009.)

The ChirripoThe most popular hotel for foreign travelers.