San Joaquín (Bolivia)
San Joaquín
is a cute little town in
Beni
department, Bolivia.
Understand
Possibly founded as a mission town, as other nearby towns. San Joaquín not very accessible, because there's no big road there, but still more accessible than other towns nearby, because it is on the (seasonal) road from Trinidad to Guayaramerin. Some 5,000 people live there as of 2018.
The terrain is plain and the climate is dry in San Joaquín.

Get in
Take a shared taxi from
Trinidad
(taxis leave from a specific place, ask where to go), Bs. 100, 4 hr. You can as well visit the town quickly and then continue by other shared taxi to
Guayaramerín
or
Riberalta
.
Get around
San Joaquin is a small town, walkable on foot. Occasional moto taxi may happen.
Motorbike is a popular means for locals, being driven not only by men, but by women (some being very nice!) as well.

See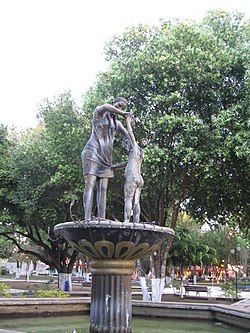 Main plaza and the church.
Do
Take a part in town fiesta (google out the time). There are fiestas in other nearby towns (i.e. Magdalena) in close days, so you can go town to town and party around if you like.
Visit kids at school. Sometimes they prepare for celebration (i.e. 6 of August - Bolivia Independence Day), so kids are out, and drums can be heard from the street. Kids will be very happy to see you there.
Buy
Buy food around the main plaza.

Eat
Try an ice cream (a local flavor is more like a cocktail) in heladeria Doña Camenca in the main plaza. Fernando, who works there, may tell you well about the town and life there.

Sleep
There is a hotel or alojamiento in main plaza.

Go next
Nearby towns of San Ramon, Magdalena, etc. You are close (otherwise these towns wouldn't be very accessible), and these towns may appear to be "hiddden gems". A more adventuruous person may want to check the big lakes nearby.
Guayaramerín or Riberalta – Towns up North, at the big rivers. Guayaramerin connects to Brasil. Riberalta has a special feeling because of its red soil, and has interesting surroundings (i.e. indian community). Change in Guayaramerin for Riberalta.
Trinidad – A relaxed town and the capital of Beni depeartment. Not so interesting in itself, but a gateway to pretty everywhere else in this part.