San Juan (city, Argentina)
San Juan
is the capital city of
San Juan province
, in the central-west
Cuyo
region of
Argentina
, about 150 km north of
Mendoza
.
Understand
San Juan is in a fertile valley surrounded by rocky mountains. Sixty-five percent of agricultural production is related to wine production. Winter is mild, generally between 1° C and 18° C, while summers are hot and dry, between 25° C and 40° C. After the earthquake of 1944, San Juan completely changed, with new, wide, tree-lined avenues irrigated by small channels. The San Juan River has been dammed upstream to provide a regular source of water for irrigation and electrical power to the region at the Quebrada de Ullum Dam. It's the birthplace in 1811 of Domingo Faustino Sarmiento, former President and writer, famous for his struggle for public education.
The province has a large Triassic period fossil record, believed to be one of the largest in the world. See the Dinosaur Museum near Parque de Mayo.

Get in
San Juan lies on National Route 40 with Mendoza 168 km to the south and La Rioja 449 km to the north. National Route 20 leads to
San Luis
323 km.
Córdoba
585 km,
Catamarca
623 km and
Buenos Aires
1110 km.
By bus
Intercity bus terminalThe modern bus terminal is clean, efficient and feels safe. Shops, restaurant, ticketing, toilets, an information office, police and first-aid points.
By plane
Domingo Faustino Sarmiento Airport
Get around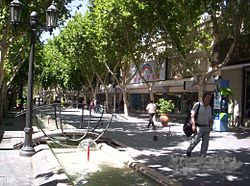 The city centre is green and walkable, supplemented by an urban transport system of buses, a taxi service and remises.
Plaza 25 de Mayo is the centre and the two blocks north and east of it on Tucumán and Rivadavia towards Plaza Aberastain are somewhat pedestrianised, pleasant, with trees. Some other streets around that are also fairly quiet, but Libertador San Martín Avenue (RP7/RP14 running east and west two blocks north of Plaza 25 de Mayo) and Santa Fe (running west one block south of Plaza 25 de Mayo) are both more busy with multiple bus lines. A ring road had reduced traffic through the centre.
See
Plaza 25 de MayoThe centre of the city, dating from 1871 is green and relatively quiet. Coffee shops. Statues of Domingo Faustino Sarmiento and Fray Santa Maria de Oro by Miguel Sugo Angel. See cathedral.

Catedral Arquidiocesana San Juan Bautista

phone: +54 264 422-7050

address: cnr of Rivadavia Oeste and Mendoza Sur

Built in 1979 after the 1944 earthquake seriously damaged the previous Jesuit church that had been erected as the Cathedral of San Juan. A work of prestigious architect Daniel Ramos Correas. The bell tower is 51 meters high, covered with red ceramic brick and topped with an ornamental pyramid. An elevator goes up to a viewpoint at the top. It has a Big-Ben clock and a German carillon that rings every 15 minutes. The main nave is accessed through a bronze vestibule built in Faenza, Italy with bas-relief of Santa Rosa de Lima, San Luis, the Santiago apostle, Santa Ana and several other shields and emblems. In the basement of the church is a crypt, tombs of former bishops and a chapel of famous argentine bishop and San Juan-born Justo de Santa María de Oro.

Plaza AberastainThis square is clean, well-kept and in the center is a statue of Aberastain, a lawyer and governor of the province.

Parque de MayoThis green space was inaugurated in May 1910 to commemorate the centenary of the May Revolution. It has games for children, an artificial lake with an island, fish and aquatic birds, a cycling circuit, karting facilities, lots of statues and a dinosaur museum next door.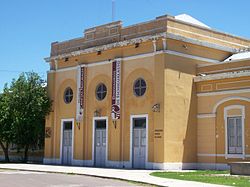 Dinosaur museumIn the old railway station Ferrocarril General Belgrano , it is the largest dinosaur museum in the region. Well presented. Although called a natural science museum it is more a natural history museum, mostly, but not exclusively, focused on dinosaurs. The descriptions are only in Spanish, but it is surprising how much can be understood: many technical words are quite similar in English. Significant fossil finds in the north and east of San Juan province. Can see cleaning of fossils being done at the museum.

Plaza LapridaAnother leafy square with a couple of OK cafes and a statue in the middle. This one has a small children's play-park.

Museum of Fine arts Franklin Rawson - Historical Provincial Museum Agustín GneccoThe Gnecco Museum has items related to XVIIIth and XIXth century fashion, creole silver-work, coins and stamps.

Museum Amid Read - House of the Tango Carlos GardelDisplays and videos about tango and its evolution in the 20th century. Conferences, discussions, classes of violin and bandoneón (tango accordion).

Museo Santiago Graffigna

phone: +54 264 4214227

address: Colón 1342 norte

Visit the 140-year-old Graffigna winery with a tasting at the end of the tour.

Juan Victoria Auditorium Center
El Leoncito National Park. An internationally recognized Observatory
San Guillermo National Park and Provincial Reserve. Habitat of vicuñas and guanacos
San José de Jáchal – Iglesianos Valley
Cuesta del viento Dam
Alcázar Hill
Do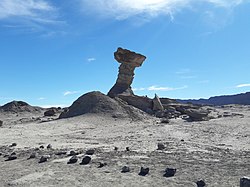 Tourism here is centered around wine production and dégustation as well as the extraordinary rock formations in places like the
Ischigualasto Provincial Park
, also called the Valle de la Luna, 330 km from the city, and the Quebrada de Ullum Dam.
The province has a large Triassic period fossil record, believed to be one of the largest in the world. See museum in centre near Parque de Mayo.
There is also the celebrated Mariano Gambier Archeology museum at La Laja, Albardón county, some 25 km from the center of the city. It concerns itself with the many cultures that inhabited San Juan from Pre-History till the arrival of the Spaniards in 1560. It has a priceless collection of Indian artifacts, cave paintings and other elements of agriculture and life in the Tulum valley from the last 8500 years.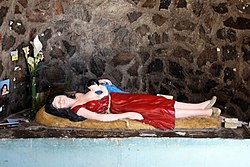 A curiosity is the Difunta Correa sanctuary. An unofficial popular saint, not recognised by the Catholic Church, for which some people in Argentina and Chile feel a great devotion. Sometimes crowds of 200,000 have been claimed. 64 km away from San Juan, on route 141.
Buy
Tabletas Sanjuaninas are the local version of alfajor (a national candy in Argentina). They can be purchased in local panaderias (bakeries) and some souvenir shops. They usually come in two varieties: with Dulce de Leche (milk caramel) or Dulce de Alcayote (a jam made of a local fruit).

Eat
La Madeleine

address: Mitre Oeste 202

French cafe-restaurant at Alliance Française. Fair, fixed lunch of salad, main, dessert and drink at AR$330 (
Drink
address: Laprida 83e

Although there are several other pleasant, more modern cafés in the area including Bonafide, Cereza Light and Tres Cumbres, this one, being rather older, and attached to the Franklin library ( Biblioteca Franklin ), around since 1866, has a distinct atmosphere:Pleasant to sit there in the evening. Reputedly the oldest public library in South America. Recommend the Napolitan (tomato) pizza (AR$180 ~US$4 May 2019). Three draught, artesanal beers on the menu, although they only had one available when I went, (you can try before you buy), the rubia, (dorada) which was nothing special. Wifi.

Cafe Tres CumbresCoffee-shop. Modern, bright, with wifi and long hours. There are a few quieter, more local cafes, just round the corner you might want to check out first, some also with wifi, but that might close for siesta.

Cervecería AncestralSomewhat out of the centre, but a brewery with many good artesanal ales, good atmosphere, seating indoors and out (AR$70-120 ~US$2 per pint, May 2019), with seating outdoors and indoors. Food from food carts just outside a little pricey, but OK (e.g. small choripan AR$170, ~US$4). With table-tennis room and Wifi.
Sleep
address: Gral. Mariano Acha Sur 180

Clean, modern, central, budget hotel. Surprisingly quiet. Small windows. Included breakfast of medialunas and coffee/tea is served in Café Ristretto on Plaza 25 de Mayo.
Go next