San Juan Bautista
San Juan Bautista
is a city in
San Benito County
,
California
. The city is named for the Franciscan Mission of San Juan Bautista, which in turn is named for St. John the Baptist. Despite having a population of less than 2,000, San Juan Bautista has a number of historic landmarks dating from when it was one of the more prominent towns in the Central Coast region of what was then the Mexican Republic.
Get in
San Juan Bautista is a few miles off US Highway 101. To get there, go east on California State Route 156 (exit 345) or south on the San Juan Highway (exit 347)

See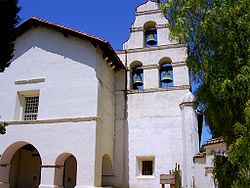 phone: +1 831 623-2127

address: 406 2nd St

The 15th California mission, founded in 1797 by Fermin Lasuen. One of the more successful missions in the 18th century. The resting place of Father Estevan Tapis, who led the mission system from 1803 to 1812, and later served as the mission's choir director, solidifying Bautista's reputation as the "Mission of Music". During secularization, the mission housed survivors of the Donner Party, and contains some of their artifacts to this day. Major restorations took place in 1884, 1949, and 2010. It was featured in the film Vertigo.

San Juan Bautista State Historic Park

phone: +1 831 623-4881

address: 200 Washington St

An historic district consisting of Mission San Juan Bautista and other structures dating from before the Republic of California. The four main historic building are the Plaza Hotel, the Zanetta House/Plaza Hall, the Plaza Stables, and the Castro-Breen Adobe. The park also features a blacksmith shop, the historic jail, and an early American settler's cabin.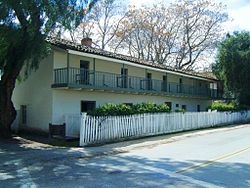 José Castro HouseBuilt in 1840, by the eponymous Commandante General who commanded the Mexican army in Alta California during the Mexican-American War of 1846-1848, this is now a National Historic Landmark.
Go next
Salinas - Located twenty miles south of San Juan Bautista, fans of Nobel Prize winning author John Steinbeck will want to visit the National Steinbeck Center and soak in the sights that were the inspiration for much of the author's work. The historic downtown dates back to the town's founding in the mid-1800s, while the surrounding countryside is filled with vineyards and both floral and vegetable cultivation. Events include the California Rodeo, which is held during the third week of July.