San Juan Islands
The
San Juan Islands
are a scattering of forested islands in the serene waters to the north of
Puget Sound
in
Washington state
, adjacent to Canada's
Vancouver Island
. Ferries, private boats, kayaks, and Orca (whales) criss-cross the waters, while float planes and bald eagles soar overhead. The islands are largely rural, with a few small towns on some of the islands. The year-round population is small, but swarms of summer visitors come to for the scenery and outdoor life, and a lucky and wealthy few have vacation homes tucked into the islands.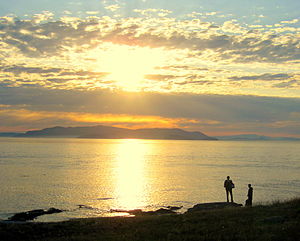 Regions

There are 176 islands that are large enough to be named. The four largest — Orcas, San Juan, Lopez, and Shaw Islands — are served by ferry from the Washington mainland and Vancouver Island BC, and are the most heavily visited by tourists.

Cities
is the largest populated area on Orcas Island.
, the main city on San Juan Island, the most populous of the San Juan Islands, and the county seat of San Juan County.
town built around the ferry terminal on Orcas Island.
, on the northwest corner of San Juan Island, is the number two town and a bustling yachting harbor. It has floatplane service to Seattle.
Other destinations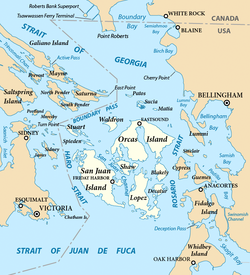 Understand
There are about 700 islands and reefs between
Vancouver Island
to the west and the mainland to the east. The sea border in the Haro Strait divides them into the
Southern Gulf Islands
of
Canada
to the west, and the San Juan Islands of the
United States
to the east. To the south lies the Strait of San Juan de Fuca, and to north is the Strait of Georgia and the US-Canada boundary on the 49th parallel.
Hugely popular during the summer months with long days and even longer ferry lines. Travelers in the know also visit the islands in their off seasons when crowds are at their least and prices at hotels are frequently cheaper.
For our purposes, this article covers the US islands only, which exactly consist of
San Juan County
,
Washington
.
Fidalgo Island
to the east is treated as part of the mainland. It and the Puget Sound islands to the south are covered in the
Puget Sound
region's article.
Climate
Like the rest of western Washington, San Juan Islands are best visited during the summer. While the sun shines up to 18 hours a day with barely any rain, expect cooler weather compared to the mainland as the surrounding seas cools the warm air. Average summertime temperatures are around 60 degrees Fahrenheit (less than 20 degrees Celsius).
The seas however are what makes the island a touch milder in winter than the mainland. The islands can sometimes get lucky enough not to get much rain while the mainland is soaked, thanks to the Olympic Mountains way in the south that blocks the precipitation. The issue that the island faces however, is more with the winds than the rain, where it can sometimes howl and cause problems, especially in the areas exposed to the waters and no surrounding high terrain. These can typically come after a rainstorm or ahead of a dry and chilly weather.
Talk
Almost all Americans speak English. Most people in Washington speak English with a Pacific Northwest accent. This accent is considered very similar to general American standard accent (native to the Midwest), popularized in the 20th century by radio, TV and movies. Washingtonians generally have little to no problem understanding different accents of the English language. Americans often admire foreign accents and most will approximate the standard accent to help you understand them, or try to speak your language if they can. The San Juan Islands attract tourists from around the world and it is common to hear many foreign languages being spoken in public in major tourist areas.
Even so, visitors are generally expected to speak and understand English. While many Americans study a foreign language in school (usually Spanish, French or German), few achieve or retain fluency into adulthood. The end result is that many Americans know only a few words at best of a foreign language, even if they studied that language in school. A growing number of popular tourist sites have signs in other languages, but only English is certain to be available at any given location.
Many of the Islands names come from early Spanish explorers or in the case of
Lummi Island
's name which comes from the Native American Tribe in that area.
Get in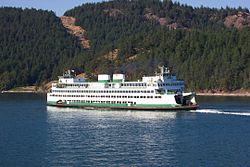 By ferry
For security and immigration processing when traveling between the US and Canada, a 60-minute advance arrival is strongly suggested for vehicle traffic. Walk on passengers need to arrive 30 minutes in advance. Vehicle reservations are recommended. Please speak with Washington State Dept of Transportation Information Agents in Seattle at +1-888-808-7977 or reserve online. Passports are required to enter either country. Reservations are accepted on the
Sidney–Friday Harbor–Anacortes and Anacortes–San Juan Islands routes
. Once on board a departing ferry you may not get back off the ferry without permission from the captain. The ferries only serve Lopez, San Juan, Shaw and Orcas Islands. For the other islands a private boat or seaplane is required.
From Anacortes
Washington State Ferries offers ferries to Shaw, Orcas, Lopez and San Juan Islands from Anacortes, which is about 1.5 hours north of Seattle. If traveling on weekends, be prepared for long waits for the ferries. A 60-minute advance arrival is recommended for vehicle traffic. A 1-hour advance arrival is advised for the 8:30AM International sailing. For the afternoon sailings, a 90-minute advance arrival is advised. Passengers should arrive at least 30 minutes prior to sailing.
Equally distanced between Seattle to the south and Vancouver, B.C. to the north (approximately 85 miles from each), Anacortes rests on the waters of the Pacific Ocean on beautiful
Fidalgo Island
:
2100 Ferry Terminal Road Suite A, Anacortes, WA 98221
From the North, Take I-5 South, Take exit 230, Merge right onto Goldenrod Rd., At first light, turn left onto Highway 20 W, Follow Highway 20W to Anacortes, Once you reach Anacortes merge right onto Commercial Avenue to reach the central business district. Take a left at 12th St and follow signs to the ferry terminal.
From the South, Take I-5 North, Take exit 230, At first light take a left onto Highway 20 W, Follow Highway 20 W to Anacortes, Once you reach Anacortes merge right onto Commercial Avenue to reach the central business district. Take a left at 12th St and follow signs to the ferry terminal.
From Sidney BC
2499 Ocean Avenue (Physical), Sidney, BC V8L1T3
Sidney/Anacortes ferry Terminal from Victoria. The Sidney/Anacortes Terminal is located 18 miles north of downtown Victoria. There are two exits off Highway 17 Northbound to the Sidney/Anacortes Ferry Terminal: Amity Drive and Beacon Avenue. When taking the Amity Drive exit, turn left at Lochside Drive. After 2 miles turn right at Ocean Avenue. The ferry terminal entrance will be on the right. For the Beacon exit, take a right off the highway on to Beacon Ave and then turn right at Fifth Street. Turn left at Ocean Avenue, and the ferry terminal entrance is located on the right.
Southbound on Highway 17 from Swartz Bay. Turn left at Beacon Avenue. Turn right at Fifth Street and then turn left at Ocean Avenue. The Sidney/Anacortes Terminal will be located on the right.
Sidney/Anacortes Ferry Terminal from north/mid-Vancouver Island. Travel southbound towards Victoria on Island Highway 1 (Trans Canada Hwy). Follow the (Ferries/Airport/Sidney) exit signs. Turn left at McKenzie Avenue. Follow McKenzie Avenue 1.4 miles, and then take the (Sidney/Ferries/Airport) exit right onto Pat Bay Highway 17 North. Travel 11 miles towards Sidney. Follow the Anacortes/San Juan Island highway signs.
Victoria Clipper
Victoria Clipper FerryThis private ferry runs during the summer months (Seattle & San Juan). It leaves from Seattle's pier 69, near the Sculpture Park, at 7:45AM, and gets into Friday Harbor on San Juan Island at 11:15AM. They recommend checking in in Seattle one hour early. The ferry leaves Friday Harbor at 4:30 p.m. and gets back to Seattle at 7:15 p.m. The ferry is comfortable and offers very scenic views and optional whale watching packages. It is a convenient way for the car-less to get to the San Juans from Seattle.
San Juan Cruises
phone: +1 360 738-8099

address: 355 Harris Ave #104

Summer daily sailing between Bellingham, WA and Victoria, BC, timed to be a plausible day trip or mini-cruise through the San Juans. Dinner included in the Victoria-Bellingham leg in the evening. Bellingham Terminal is the Alaska Ferry Terminal / Bellingham Cruise Terminal at 355 Harris Avenue #104, Bellingham, WA 98225. The Victoria Terminal is Belleville Terminal at 254 Belleville Street (Inner Harbour).
By seaplane
Kenmore AirKenmore Air seaplanes make several flights daily from downtown Seattle's Lake Union to six locations in the San Juan Islands with two on San Juan Island, three on Orcas Island, and one destination on Lopez Island. Kenmore Air Express also offers daily land plane service between Seattle's Boeing Field/King County International Airport () and Friday Harbor Airport (). Complimentary shuttle transfers are available to/from Seattle-Tacoma International Airport () for passengers on either Kenmore Air service. A quick and spectacular, though not cheap, way to arrive.

address: 860 W. Perimeter Road – Renton, WA 98057

provides scheduled and charter seaplane flights to destinations from South Lake Washington, in the heart of Seattle to the San Juan Islands, Vancouver Island, and British Columbia's Inside Passage. They operate 4 planes each offering six seats.
By boat
The San Juan Islands are one of the most popular areas for
cruising on small craft
in the North America. Most towns are built around their harbors and offer a wide variety of supplies, restaurants, hotels and various services geared towards boaters and usually within walking distance of marinas. Even the less populated islands will oftentimes have a public dock or a variety of public buoys for visiting boaters. Check individual island and city listings for more specifics. If interested in cruising to the islands, there are charter companies in both Anacortes and Bellingham. The
Waggoner Cruising Guide
is a great resource for these waters.
When arriving from Canada or other foreign countries there are only a handful of ports including
Roche Harbor
,
Friday Harbor
,
Anacortes
and
Bellingham
that are official U.S. ports-of-entry and can process boaters through customs. The Cardinal Rule is
touch land at customs dock before any other stops
, fines for not doing so can be up to $5000. Besides a passport for everyone on board, you will need your boat's license number and User Fee Decal number.
Customs enforces USDA guidelines for what foods are acceptable to bring into the country and these guidelines are constantly changing so it is best to check in with them before arriving. Boaters are responsible for knowing the prohibited foods and can be fined for not declaring them.
Get around
By car
Bringing a car on the ferry is a popular option for exploring the remote areas of the main islands, but car rentals are also available in such areas as Eastsound. Other smaller islands may have unimproved county roads, but due to their remote locations and lack of ferry service these roads often serve as foot trails, and you are more likely to see someone traveling by horse than car. The lines for loading cars onto Washington State Ferries can be notoriously brutal during peak season and weekends. It is not unusual to wait in line for many hours and missing the last ferry can mean a desperate search for unplanned accommodations to spend an unplanned night on the islands so plan accordingly.
By ferry
The four largest Islands— Orcas, San Juan, Lopez, and Shaw are connected by Washington State Ferries. Water Taxi services can transport to the small islands such as Blakely, Decatur and Henry Islands.
By boat
The San Juan Islands are the most popular sailing charter area in the Pacific Northwest and one of the most popular destinations for
cruising on small craft
in the United States. Small towns and harbors are geared towards visiting boaters and many of the areas most scenic and remote areas can only be reached by boat. The area waters are reasonably protected even in storms off the Pacific, but due to the many underwater hazards some boating experience is helpful. Many charter companies include a day of training in the charter package. See
Waggoner Cruising Guide
for more detailed navigational and recreational information.
By bike
The winding paved roads of the main islands are ideal for exploring by bike and bike rentals are available near many areas in the San Juan Islands; however, the smaller more remote islands often do not have paved roads, making traveling by bike more of a challenge. Bicyclists have priority boarding on Washington State Ferries, so bikes can bypass the sometimes ridiculously long car lines and walk right onto the ferries.
By sea kayak
Sea kayaking can be a rewarding way to explore the San Juan Islands miles of coastline allowing the paddler a closer and slower look at their surroundings and excellent opportunities to view wildlife, making the San Juan Islands one of the most popular areas to kayak in Puget Sound. Thick forests of majestic pine and deciduous trees and hundreds of creeks and estuaries dot the coastline. Some camping areas in the various state parks in the area are only open to people powered vessels.
By foot
Exploring on foot is perhaps the most rewarding way to view the islands. Many trails dot the various islands and state parks giving travelers an insightful view of their surroundings. Outside of the four main islands cars are more of an impractical luxury item rather than a means of transport. Many of the dirt roads see far more foot traffic than car traffic and basically serve as wide foot trails.
See
Orcas Island has an amazing view atop Mt. Constitution of the Cascade Mountain Range and the Olympic Mountain Range. There is a near 360 degree view from a stone tower built by the public works of the Roosevelt era (a cell phone tower makes it less than 360 degrees, but still worth it). Gene Hackman, Miller of the skiing films fame, Oakley Sunglass owner all have vacation homes here. It is a paradise and home to some 3500 people. In the spring the J Pod Orca whales are in the area.
San Juan Island National Historical Park - here in 1859 the United States and Great Britain nearly went to war over a dead pig
Eat
Fresh Seafood including fish (especially salmon), Dungeness crab, shrimp, mussels and clams are readily available. If you're foraging for yourself, make sure there's no red tide.
Drink
Few, if any, American regions can challenge the Pacific North West's love of coffee. According to a group of industry market researchers, there were an amazing 1,640 coffee shops in the Puget Sound region in 2011, ranking it the most popular coffee region in the country and the San Juan Islands are no exception to the rule. Coffee shops are frequent and popular and even small harbors with perhaps one store will still be expected to have some espresso options.
Microbreweries and beer in general are a Northwest specialty, and the area has many to offer for beer enthusiasts. The larger brewers, like Redhook and Pyramid, distribute their products regionally or nationally like their coffee cousins, while other brews can only be found in local stores or bars (some notable brewers don't bottle their product). Ask your servers for local beer recommendations and search out regional microbrews in stores.

Stay safe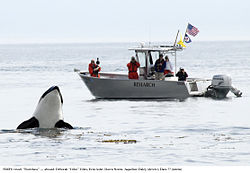 Animal safety
Though many of the animals in the Puget Sound area are used to seeing humans, the wildlife is nonetheless wild and should not be fed or disturbed. Be aware of rules for keeping a distance from Orca whales and other marine animals while boating: regulations for killer whales require that boaters stay 200 yards away & keep path of the whales clear. These new U.S. regulations apply to all vessels (with some exceptions) in inland waters of Washington.
Don't disturb resting seal pups, keep children and dogs away and report to the local stranding hotline. Report harassment or sightings of injured/stranded marine mammals by calling the NOAA Fisheries hotline at (800) 853-1964. Seal pups 'haul out' to get much needed rest when they are young and are often alone for many hours. They are extremely vulnerable at this time and should be left alone. Only about 50% of Puget Sound seal pups make it through their first year so please help to protect their health. NOAA recommends at least a 100-yard buffer around seals.
Cell phones
Many visitors are surprised by their monthly phone bills after returning from the San Juan Islands. Due to their close proximity to Canada it is possible to get a better signal from a Canadian cell phone provider and depending on your phone's settings could add foreign roaming charges to your bill. Roche Harbor and north San Juan Island are notorious for having better Canadian service. Check your phone's settings before using and be wary of your cell phone provider's roaming charges. Many of the islands are remote enough that cell phones simply won't work, so don't plan on being dependent on them, especially in the outer islands.
Petty crime
With so many people visiting the San Juan Islands each year petty crimes are something to be vigilant against. Lock your car doors and exercise sensible precautions with valuables, especially when parking your car at a trail head, marina or ferry terminal when you may be away from your car for a while. It would also be advisable to carry anything of value out of sight.
Go next