San Luis Obispo
San Luis Obispo
is a city in
San Luis Obispo County
in the
Central Coast
region of
California
.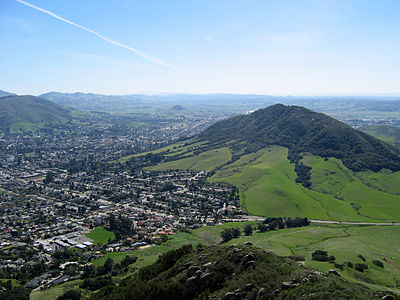 Understand
About half way between Los Angeles (200 miles to the south) and San Francisco (230 miles to the north), nine small but impressive volcanic peaks march down a valley of the Santa Lucia range to the Pacific Ocean. Nestled around two of these peaks is San Luis Obispo ("SLO", "slow", or "San Luis" to locals), a small college town that also is one of California's oldest communities. San Luis and its neighboring communities boast extraordinary resources for hiking, mountain biking, sea kayaking, swimming and surfing; outstanding natural beauty; a carefully preserved and thriving 19th-century downtown centered around a meticulously restored 18th century mission; a small but thriving art gallery scene; and a large and growing collection of top-quality wineries.
Getting Oriented
San Luis Obispo is bounded by the imposing line of Cuesta Ridge to the northeast, the Irish Hills to the southwest, dramatic Bishop Peak to the northwest and Islay Hill to the southeast. The town clusters around the feet of the 1,000-foot Cerro San Luis, notably marked with a big white "M" (for Mission High School). Both locals and visitors frequently refer to Cerro San Luis as "Madonna Mountain" and a common misconception is that the "M" represents the surname "Madonna;" the famous Madonna Inn sits at the foot of the mountain and the city of San Luis Obispo negotiated public access to the peak with the Madonna family. Cal Poly sits hard against Cuesta Ridge (with its big white "P") and the downtown area runs from Cerro San Luis roughly toward campus around two parallel streets, Higuera and Monterey. Most restaurants, bars and shops are located on Higuera Street, nearer the Mission and Cerro San Luis; hotels are mostly located on Monterey Street, nearer the university but still within a mile of the central downtown. A few restaurants are located in the charming Railroad District, about 5 blocks east of Higuera via Santa Rosa Street, near the train station and youth hostel.
San Luis Obispo Visitors Center

phone: +1 805 781-2777

address: 895 Monterey St.

The Visitor Center offers San Luis Obispo city maps, visitor guides, books about San Luis Obispo, and San Luis Obispo souvenirs. Welcoming Information Specialists are at the ready to answer questions and provide recommendations on what to do, see, eat and explore during your visit.
Get in
By plane
San Luis Obispo has a one-terminal airport,
San Luis Obispo County Regional AirportScheduled flights are available from Denver Airport, San Francisco International Airport, Seattle Tacoma Airport, LAX, and Phoenix Sky Harbor on United (operated by SkyWest as United Express) and American Airlines (operated by Mesa as American Eagle). Prices start around $200 for a ticket purchased separately, but are much less expensive when combined with flights going through San Francisco or Los Angeles.
Air Charter or air taxi is another alternative, where you can catch flights to
San Diego
for the weekend, or to any large or small airport. Air charters and air taxis fly point-to-point, at the departure time, departure airport, and arrival airport of the passengers' choosing. Prices start around $150 for a seat on flights that might already be going to your destination, or go from $1,000 to $10,000 or more for a custom-chartered flight where you hire the aircraft to fly you directly to your destination, any time you want to go. On-demand flights, and seats on flights already chartered to/from San Luis Obispo are offered by
Pacific Air Taxi
. Air taxi flights have a much shorter check-in time (typically just 15 minutes) than larger airlines, so you can just arrive and go. Travel time for an air taxi flight is usually 80 minutes from SLO to Sacramento.
By train
Amtrak
serves the town with its
Coast Starlight
service between
Los Angeles
and
Seattle
via
Oakland
, the northbound and southbound trains meet in San Luis Obispo at about 3:30PM each day. Additionally, the
Pacific Surfliner
also serves San Luis Obispo from
San Diego
via Los Angeles twice daily, with three more trips terminating in
Santa Barbara
, with connecting buses going up to San Luis Obispo, continuing to
San Jose
. Northbound trains arrive at 2:30pm and 8:36pm; southbound trains depart at 6:55am and 4:15pm. Northbound buses arrive at 9:10am (12:45pm on weekends), 4:35pm, and 12:20am; southbound buses depart at 4:00am, 9:20am, and 1:35pm. Amtrak also offers its Thruway bus service to San Luis Obispo from areas statewide including the Bay Area, Los Angeles, and the Central Valley.
Both Coast Starlight and Pacific Surfliner have been known to suffer spectacular delays in the past, but with agreements with freight rail carriers during the 2000s and 2010s delays have been significantly reduced. The Coast Starlight offers particular treats to travellers from both north and south. Those coming from San Francisco will penetrate the Santa Lucia range through the eight tunnels of the Cuesta Grade, the longest railroad grade west of the Rockies, just before disembarking at SLO. From Los Angeles, the route traverses the wild coastline of Vandenburg Air Force Base, which is otherwise inaccessible to civilians. Winter Coast Starlight travelers should enjoy great sunset views after departing SLO southbound.
The fully staffed
San Luis Obispo station
is located at 1011 Railroad Ave, local buses connect with downtown.
By bus
Greyhound
also offers bus routes into SLO. Once again set aside time because the trips can be long but Greyhound is one of the cheapest ways to go.
In addition to Greyhound service,
San Luis Obispo County's Regional Transit Authority
provides bus transportation from as far south as
Santa Maria
up to
San Simeon
and
San Miguel
in the north.
By car
Since San Luis Obispo is home to the first ever motel (The Milestone Mo-Tel) it is definitely a car town. Both Highway 101 and Highway 1 run through town, with the two overlapping from San Luis Obispo until they split again further south in
Pismo Beach
. San Luis Obispo is the south end of dramatic
Big Sur
stretch of the
Pacific Coast Highway
(California Highway 1), inasmuch as the PCH rejoins Highway 101 in town. Highway 101 turns inland from San Luis, traversing the historic Cuesta Grade over the Santa Lucia Range to
Atascadero
and
Paso Robles
, then onward through the Salinas Valley to the San Francisco Bay Area. Travellers opting for the very worthwhile scenery of Big Sur via the PCH should be aware that driving times are much longer than by the 101.
Get around
Car is the easiest way to get around town and the larger region, but many locals opt to travel by bike or to walk within the city. Taxi service is available from 234 Taxi (805-234-TAXI) but you certainly won't be able to hail a cab from a street corner; call for pick-up.
By bus
SLO has a city and regional transit system
SLO Transit
Services are reliable and cover most points of interest, but end at 10PM on weekdays and 8PM on the weekends. A trolley links some of the hotels on Monterey Street to the downtown area. Click
here
for more information
Regional Transit Authority
See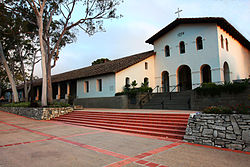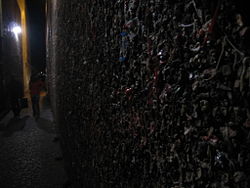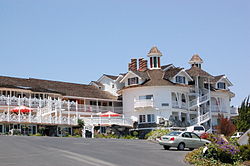 Mission San Luis Obispo de Tolosa

phone: +1 805 543-6850

address: 728 Monterey St

Founded in 1772 by Junipero Serra, Mission San Luis Obispo was the fifth Catholic mission in California. Still an active parish, it is in the middle of downtown on Chorro St and Monterey St, with its main courtyard interrupting Monterey St for a full city block. In addition to the church, there is a small museum; both are definitely worth visiting. The Mission is part of the Mission Plaza development, which incorporates San Luis Creek and a number of stores and restaurants. Walk from the Mission to the creek and up to one of the restaurants for a bite to eat.

History Center of San Luis Obispo County

phone: +1 805-543-0638

address: 696 Monterey St

Housed in a beautiful library donated by Andrew Carnegie. There are three separate exhibit areas (two medium-sized rooms and a set of two much smaller rooms). There is a friendly attendant, and there is a good chance that you will find the exhibits interesting and worth looking at. For example, in October 2014, there were exhibits of impressive baskets by Native American tribes from the region and historic photographs of people and buildings in San Luis in the 19th and early 20th centuries.

phone: +1 805-543-8562

address: 1010 Broad St

Really just a relatively large art gallery (or a couple of galleries), with art for sale. You might or might not find it interesting, but admission is free.
Take some time to walk around the downtown area. It's changed rapidly over the past decade with the introduction of new developments and larger chain restaurants/stores, but still maintains a wonderful small town feel with the addition of pedestrian corridors between streets where you'll find locals hanging out.
Take a look at Bubble Gum Alley and leave some of your own chewed gum behind. Located on the south side of Higuera Street between Broad St. and Garden St.
Depending on the season, college basketball, baseball, volleyball, soccer, and football games can be seen at the California Polytechnic State University (Cal Poly), in the hills on the northern end of town. Games are generally $5 for non-Cal Poly students.
Check out the eclectic Madonna Inn to see the Pink Room and the famous men's bathroom's waterfall (the women's bathroom next door in the hotel's basement is equally flamboyant and at least as pink as the Pink Room). Located just south of downtown, it can be reached either by the Madonna Rd. exit off the 101 or by taking Higuera Rd south and turning right onto Madonna Rd.
Do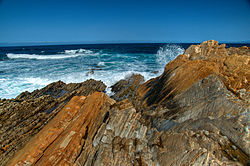 On Thursday evenings head downtown on Higuera St. for the weekly farmers' market where bands, college students, and local farmers pack the streets for several blocks to create one of the best known farmers' markets in California. On the first Thursday of every month, hundreds of spirited bicycle enthusiasts congregate near the intersection of Chorro Street and Monterey Street to celebrate a themed, downtown bicycle parade, which starts promptly at 9:30PM.
There are many places to hike and mountain bike in San Luis Obispo. The Santa Lucia mountains and the "Nine Sisters" offer many beautiful views of the city and the countryside. The two most popular hikes are Bishop Peak (no bikes allowed) and Cerro San Luis (multiple biking trails). If you're interested in other mountain biking trails around the county check out the list at CCCMB, a volunteer organization that creates and maintains trails countywide.
Visit Montana de Oro State Park. Take Los Osos Valley Road 10 miles west of town to a park named one of the state's best-kept secrets by the L.A. Times a few years back, and with good reason; it's filled with an abundance of hiking, mountain biking, and equestrian trails both along the ocean along the bluffs and inland into the coastal peaks; a dramatic cove with caves that kids and adults love; and miles of sandy beach and tidal pools. Trails range from casual ambles along the bluffs to the steep climbs up Valencia and Oats Peaks. Oats is the longer hike (about 5.5 miles) but more rewarding, as it offers views of Valencia against the Pacific, as well as northward and eastward to the Nine Sisters and Cuesta Ridge; the trail also is less steep. A terrific nine-mile loop can be made by continuing over the summit to the Coon Creek trail, then crossing back in front of the range along Rattlesnake Flats Trail. Take water! The "Mountain of Gold" also reigns as a popular out-and-back destination for the many road cyclists in the county, but cyclists ride westward early as strong winds pick up through Los Osos Valley in the early afternoon.
Walk or bike to Poly Canyon. Located on the north east side of the Cal Poly campus. Poly Canyon is a hilly, open, grassy area where many Cal Poly engineering and architecture students have constructed senior projects. The road up can be reached by taking the main road towards the Poly Canyon Village housing complex and taking a right before the road dips down the hill on a smaller road with a gate that quickly turns to dirt/gravel. Public vehicles are not allowed to drive on it, though be alert for university vehicles travelling up and down on occasion and student runners/cyclists.
Kayaks and other outdoor gear can be rented at reasonable prices by students and the public from Poly Escapes on the Cal Poly campus. Kayaking is possible in many places in the county, but the most exciting place to kayak is between Shell Beach and Pismo Beach where there are sea caves you can explore. There are guided tours of the so-called "Dinosaur Caves" available from several kayak rental shops in Pismo Beach.

San Luis Obispo Children's MuseumNipomo and Monterey. The Children's Museum is an interactive, family experience, inspiring learning through play. Great for families with young children.

See a movie downtown at the Fremont Theatre or The Palm Theater. The Fremont is located downtown on Monterey St and has become an instantly recognizable landmark with its vivid neon signage. The beautiful classic main theatre room is used primarily for the largest movie being screened while the rest are shown in smaller modern theaters built in a hidden addition. The Palm Theatre is a local movie theatre that instead showcases the very best of independent, foreign, art house, and mainstream cinema. Located downtown on the corner of Palm and Broad, it is an easy walk and located next to two of the main parking garage facilities. The theater also boasts being one of the first fully solar-powered and plays host the annual San Luis Obispo International Film Festival.

Go wine tasting in Edna ValleyFollow Broad street out of town and vineyards will begin to appear on the left; in addition to the large namesake establishment, over a dozen smaller, high quality wineries are open for tasting. Explore the region between Edna Valley Road and Orcutt Road to the east.
Buy
San Luis Obispo has a wide range of both local and chain stores at which to shop. In general the majority of local stores can be found downtown mixed in with smaller chains, while the larger box stores can be found in the two sprawling developments near the corner of Madonna Rd and Los Osos Valley Rd.
Downtown San Luis Obispo has many chain stores located along the main Higuera St and the pedestrian developments that branch off including The Gap, Pottery Barn, Victoria's Secret, The Apple Store, Sephora, Urban Outfitters, Abercrombie & Fitch, Banana Republic, etc.

Tom's ToysA locally owned toy store that resembles something out of a movie. Filled to the brim with toys that you'll likely recognize for your childhood, it's a fun place to visit both for small children and nostalgic adults.

Cheap Thrills & Recycled RecordsIs best described as nerd heaven. They have a large selection of new & used music, videogames (ranging from current systems back to the Atari), table-top games, comics, model supplies, and more.

Boo Boo RecordsIs a long-time local music store that features a large selection of both CDs and vinyl records. They also frequently sell tickets to a few local venues and occasionally host small indie shows within the store. The store is located near the corner of Osos St and Monterey St.

Dr. Cain's ComicsA nice small shop specializing in comics, and Cain the owner is almost always there if you have any questions or want a recommendation. Some of the best customer service in town. Located near Marsh and Chorro.
Eat
Due in large part to the dearth of affordable ethnic eateries (SLO is a very white town), dining in town will set you back a few dollars. None of the local restaurants stands out with a consistently good menu (with the possible exception of the pricey Koberl) although several have some great dishes. Consequently, a fun and satisfying way to explore downtown is to have an itinerant dinner, sampling appetizers, salads, and a main course or two at a variety of eateries.
Budget
phone: +1 805 547-0108

address: 778 Higuera St

Offers a "yogi style, karma free" vegan menu to provide healthy options for those seeking a conscious and compassionate life style.

Jaffa Cafe

phone: +1 805 543-2449

address: 1212 Higuera St

Adnan serves great gyros, schwarma, and kifta sandwiches and platters; the kifta is particularly tasty. A good range of salads and sides are also available, and the grape leaves are Mediterranean heaven. Be sure to help yourself to the savory sauces at the counter. Phone in your order and take it to Mission Plaza for a great picnic. Can be very busy at lunchtime with the courthouse set.

Kreuzberg, CA

phone: +1 805 439-2060

address: 685 Higuera St

This cavernous coffee shop/nightclub/restaurant/used bookstore/study spot offers a range of relatively affordable, tasty sandwiches for lunch; prices go up a little in the evening. It has a slightly edgy, intellectual vibe (photos of famous authors adorn the walls) and can be a pleasant place to spend an hour or two, sipping a coffee and sampling the games and books on offer. Kreuzberg (named for a hip neighborhood in Berlin) is a favorite study spot for Cal Poly students, and can become crowded around exam times. Live music is presented a few evenings a week.

Linnaea's CafeA long-standing downtown institution, Linnaea's has a wide variety of teas along with the usual cafe fare. The large patio and garden out back is an excellent place to relax, and the back room often hosts musicians and poetry readings. Delicious dinner is served five nights a week. Wi-Fi is available for free.

Lotus Asia's Best

phone: +1 805 439-1188

address: 1819 Osos St

Lotus offers Mongolian barbecue and fairly good Vietnamese food. The phở (beef noodle soup) is sometimes excellent, with plenty of fresh herbs and vegetables provided, and the bún thịt nướng (rice noodles and fresh vegetables with grilled pork) also is good. For a cheap tasty meal, get the chicken bánh mì sandwich, which is better than the pork bánh mì. The house egg rolls seem more Chinese-style than Vietnamese.

Nona's Italian DeliLocated within Sidewalk Liquor Store on the corner of Osos and Pismo Street, Nona's Deli serves a delicious meatball sandwich called the Godfather. Eat your sandwich across the street, in the shady, green grass of Mitchell Park.

phone: +1 805 773-4653

address: 1491 Monterey St

A hip bakery that serves breakfast/lunch. Excellent baked goods and seafood lunches. Award-winning clam chowder. Be sure to check out the upstairs chocolaterie after your meal.

Thai Classic

phone: +1 805-541-2025

address: 1011 Higuera St

One of the most authentic and tastiest Thai restaurants on the Central Coast. Meals are very moderately priced, ranging from $6 to $12. Any dish can be ordered spicy, on a scale from 1 to 5, 5 being the spiciest and not for the faint of heart. Dine in or take out.
Mid-range
phone: +1 805-545-5401

address: 1121 Broad St

This used to be one of the best places to eat in San Luis Obispo but in recent years it has slipped from its former glory. The food is often disappointing and the service is bearable at best. While they used to lock up the "Best of SLO County" readers poll for many years they're no longer up to that standard and at best are coming in as a runner-up. The Yelp reviews also show that there's been a dramatic increase in the number of poor experiences.

phone: +1 805-903-1141

address: 1141 Chorro St

This SLO outlet of a small California chain (6 or 7 stores statewide) serves some creative, tasty burgers made with grass-fed beef, and some very good salads. Vegetarian burgers and other sandwiches also are available. However, the excellent selection of craft beers and bourbons is the place's greatest strength. Can be crowded at mealtimes and nights when Cal Poly is in session.

phone: +1 805-783-1001

address: 1001 Higuera St

Corner of Higuera and Osos. Known locally as the best Tri-tip sandwich in the State of California. A must have for anyone who wants to understand West Coast BBQ. Can be noisy- try for a table outside.

F.McLintock Saloon & Dining

phone: +1 805-541-0686

address: 686 Higuera St

Sunday through Thursday 7AM-9PM, Friday and Saturday 7AM-9:30PM. Popular saloon serves a range of quality California ranch food in huge portions. The pulled pork sandwich and "steak bites" are excellent.

phone: +1 805-540-5340

address: 1127 Broad St

Monday-Friday 11AM-11PM, Weekends 10AM-11PM. This hip offering by the folks from Kreuzberg, CA (see budget listing) serves an adventurous seasonal menu using fresh local "farm-to-table" ingredients; Sidecar may be the best value in town. Enjoy an excellent bloody mary along with brunch on the weekends.
Splurge
phone: +1 805 783-1135

address: 998 Monterey St

This elegant downtown restaurant features "wine country dining" on the ground floor of an attractive Victorian-era office building near the courthouse. A great meal can be made from appetizers at the bar, which is one of the few watering holes in town not overrun by students. $23–50 for entrees.

phone: +1 805-540-5243

address: 1023 Chorro St

Novo's sister restaurant offers an exciting "global tapas" menu, serving such delights as duck confit crepes, spiced lamb kebabs, roasted beets with fennel, and stuffed piquillo peppers, all in small portions intended for sharing. Like Novo, it has a lovely patio, this one with a nice view of Mission San Luis Obispo across Mission Plaza; patio dining can be marred sometimes, though, by loud music from the restaurant next door.

phone: +1 805 543-3986

address: 726 Higuera St

Open until midnight on Saturdays, with last reservation time 9:30PM. This eatery is beloved by locals, although the expense of a visit is justified more by the truly lovely atmosphere than by the middling quality of the menu, which features "international" foods prepared with fresh local ingredients. Novo is most noted for its beautiful creekside patio; often overlooked is the romantic dining in the basement.
Drink
Bars The downtown area has numerous bars along Higuera street south of Santa Rosa ave, owing to the large student population. They are all an easy walk (or stumble) from one another. These start to become active around 10PM and on weekends will generally be quite busy up until 2AM. Options range from Martini lounge to Irish pub to wannabe LA nightclub.
Wine Tasting There are several award-winning wineries in SLO county, many of which offer free wine tasting. Brochures to guide you through the area are available all over town, but they are actually unnecessary. Simply drive on 101 into Paso Robles and turn on Highway 46 (either direction). There will be wineries on either side of the road. There are also a number of wine tasting bars in downtown SLO.

phone: +1 805 543-1843

address: 1119 Garden

2 story old brewery, has at least 10 homebrews from Ipa, honeyblonde, blueberry.. best brews in town.. Happy Hour m-f 3:30 - 6:30 half price and good late night specials during the week too!Also has lots of live music, from rock to reggae.
Sleep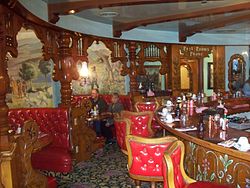 Hotels along the entire California coast get booked up every weekend during the summer. Be sure to make reservations if you intend to stay in San Luis Obispo on a weekend in the summer.
Camping
CampingNearby at San Luis at El Chorro Regional Park, Morro Bay State Park, Morro Strand State Beach, Pismo State Beach, Montana de Oro State Park, and Cerro Alto Campground (U.S. Forest Service).
Hotels and motels
phone: +1 805 544-2040

address: 2015 Monterey St

An upscale country style hotel with small but charming rooms and a wonderful restaurant that serves large, hearty breakfasts.

Best Western Royal Oak Motor Hotel

phone: +1 805 544-4410

address: 214 Madonna Rd

An average motel with simple, clean, comfortable rooms in a convenient location.

Best Western Somerset Inn - San Luis Obispo

phone: +1 805-544-0973

address: 1895 Monterey St

Recently-renovated hotel, featuring stylish, comfortable accommodations, meeting space and California vacation packages.

phone: +1 805-786-4200

address: 1605 Calle Joaquin Rd

One of the Marriott hotel chains; clean, spacious rooms and pleasant staff, as expected from a large mid-range company.

phone: +1 805-549-0800

address: 333 Madonna Rd

Accommodations come with a complimentary cooked-to-order buffet breakfast, nightly manager's reception, parking, business center, fitness facility, and heated indoor pool and spa.

phone: +1 805 545-9802

address: 1212 Garden St

A bed and breakfast with 9 rooms and 4 suites. A little expensive for the level of luxury, but it is the only lodging in the heart of old-fashioned downtown San Luis Obispo.

phone: +1 805 544-860

address: 1800 Monterey St

A reliable chain hotel with clean, comfortable rooms and a warm, friendly, helpful staff.

phone: +1 805 544-4678

address: 1617 Santa Rosa St

A Hosteling International youth hostel with a homey feel, located within easy walking distance of downtown. For those who enjoy the communal vibe of a traditional hostel, this is by far the best option on a budget due to its combination of centrality, comfort, amenities and moderate cost. Family rooms are available.

phone: +1 805-543-2777

address: 2074 Monterey St

The hotel provides each guest with a large clean room with 2 closets, two sinks, king bed, balcony, DVD player, coffee maker, mini-fridge, free continental breakfast with waffle maker, and free DVD rental from the lobby.

address: 100 Madonna Rd

A fun and crazy theme-room hotel on the side of the road. Don't miss the cafe, if only for an overpriced breakfast, or the pool/hot tub. Have a wander around the grounds and peek in at the rooms.

phone: +1 805 549-9595

address: 1433 Calle Joaquin

A 1-star, no-frills motel with decent-sized, clean rooms.

phone: +1 805 541-6992

address: 1625 Calle Joaquin

Very much a budget hotel. Don't expect luxury, or even function, necessarily, but the price is right.

phone: +1 805 543-3170

address: 2001 Monterey St

Petit Soleil Bed & Breakfast

phone: +1 805 549-0321

address: 1473 Monterey St

Claims to provide a touch of European charm and says that their 16-room inn offers an "amazing gourmet breakfast" as well as complimentary wine tasting and appetizers in the evening.

phone: +1 805 541-5001

address: 1631 Monterey St

A very nice 3-star hotel.

phone: +1 805-543-8141

address: 1656 Monterey St

A comfortable 15-unit motel close to the Monterey St. exit from the 101 Freeway and about a 15-minute walk from downtown. You may find your bed just a tad lumpy, but the rooms are big and everything is quite acceptable, especially for the price. Very nice, helpful managers, and you may be allowed to leave your car in the lot for the afternoon after you check out, if you ask nicely.

phone: +1 805 544-4710

address: 210 Madonna Rd
Go next