San Luis Obispo County
San Luis Obispo County
is in the
Central Coast
of
California
in the
United States of America
. The county seat is
San Luis Obispo
(population 46,000), home to California Polytechnic State University (Cal Poly) with 20,000 students. The county is the third largest wine producer in California, behind Sonoma and Napa counties. It has a number of coastal towns. A major attraction is Hearst Castle at
San Simeon
.
Cities
- Lying exactly half way between Los Angeles and San Francisco, this small college town and its neighboring communities boast extraordinary resources for hiking, mountain biking, sea kayaking, swimming and surfing, outstanding natural beauty, a carefully preserved and thriving 19th-century downtown centered around a meticulously restored 18th-century mission, a small but thriving art gallery scene, and a large and growing collection of top-quality wineries.
Five Cities Metro Area
(including Shell Beach) - This tourism-focused coastal town has more than 65 restaurants and 30 lodging options, and draws visitors with its beautiful coastline, annual clam festival, and the thousands of monarch butterflies that gather to spend the winter in a grove at the edge of town.
- Atascadero was founded in 1913 to be a utopian colony, complete with an Italian Renaissance-style town hall surrounded by an expansive Sunken Gardens. The town hall and gardens remain today, and have been joined by the tiny Charles Paddock Zoo, home to 45 species including a pair of red pandas, Malayan tiger, and lemurs.
- Avila Beach is a small coastal community that offers a number of quaint inns, spas and resorts. Point San Luis, accessible via a scenic docent-led hike or by trolley, is home to a lighthouse that dates back to 1890 and is the only surviving Prairie Victorian on the West Coast. Visitors looking for relaxation can soak in nearby mineral hot springs or lounge on the sandy beach that gives the town its name.
- Cambria offers an abundance of inns and hotels for those seeking a quiet weekend away, and is an excellent place to stay for visitors planning to see Hearst Castle in neighboring San Simeon. Within Cambria travelers will find a scenic shoreline that includes Moonstone Beach, home to tide pools and the semi-precious stones that give the beach its name. The town is also home to Nitt Witt Ridge, a historic residence built over many years out of rocks, abalone shells, wood, beer cans, tile, car parts and other assorted junk.
- This coastal town is best known for the massive 581-foot (177 m) volcanic rock that dominates its harbor, but is also a great spot to see marine mammals. It is home to one of California's oldest fine art and craft shows as well as a small aquarium and a natural history museum focused on the ecology of Morro Bay.
- Paso Robles is a historical resort town known for its hot springs. This city's major industry is wine production, with vineyards throughout the surrounding area.
- Home to Hearst Castle, the impressive residence of the former media tycoon William Randolph Hearst, now managed as a state park and open for guided tours. A massive colony of more than 20,000 elephant seals can be viewed onshore just north of town every winter.
Other destinations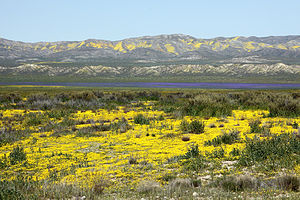 - This remote national monument is home to the largest remaining native grassland in California. During wet years it boasts spectacular wildflowers in the spring, and Soda Lake is an important wintering area for waterfowl when precipitation is sufficient to flood the seasonal lakebed. The park is also home to Painted Rock, a Native American site that has been adorned with pictographs over thousands of years. Services are extremely limited, with just a small visitor center, two primitive campgrounds, and a handful of marked trails available.
Understand
San Luis Obispo County is located in central, coastal California, halfway between the metropolitan hubs of San Franciso and Los Angeles. The county has in recent years become known for its fast-growing wine scene, centered around Paso Robles, and, to a lesser extent, its food. With a generally mild climate and a host of outdoor activities, San Luis County makes for a year-round, family-friendly destination. Its central location makes it a popular extended weekend getaway for people from the San Francisco Bay Area and greater Los Angeles area.
San Luis Obispo County's largest city is
San Luis Obispo
, home to California Polytechnic State University ("Cal Poly"). To the south of San Luis Obispo is the unincorporated community of
Avila Beach
and the towns of
Arroyo Grande
and Pismo Beach. To the north of San Luis Obispo is
Morro Bay
and
Los Osos
,
Paso Robles
and its fast-growing wine country.
Get in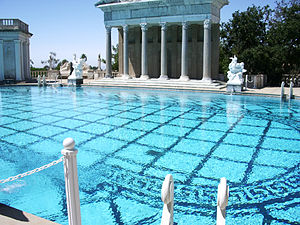 Highway 101 is the main north-south highway through the county, traversing the inland portions of the county and providing the fastest route for travelers. Travelers looking for a more scenic route will enjoy the
Pacific Coast Highway
(Highway 1), which runs at a slower pace along the coast and offers scenic views out onto the ocean.
El Camino Real
(The Royal Road), a historic route connecting all of California's 21 Spanish missions, passes through the county, roughly following Highway 101.
San Luis Obispo County Regional Airport (SBP

)
Get around
Go next