San Luis Potosi
San Luis Potosí
is state capital of the
San Luis Potosí
state in the
Bajío
in
Mexico
.
Talk
A conversational understanding of Spanish will aid you greatly during your visit, as few SLP citizens will fluently speak English. Indeed, it is a very chic city for learning the Spanish language without being distracted by the English of tourists.

Get in
If you don't have a budget, you can fly directly to San Luis Potosí, but unless you connect from Houston, it is recommended to fly to Mexico City and take a bus to SLP, if you prefer to save.
By plane
Aeropuerto de San Luis PotosíA small, compact airport with just two gates: they have a limited range of commercial scheduled flights. From the U.S., direct flights are available on American from Dallas and United from Houston. Non-stop flights are also available to Mexico City, Monterrey, and Guadalajara.
By bus
San Luis Potosí has a fairly large bus station with frequent service to major destinations, including
Mexico City
to the south and
Monterrey
to the north, both about 5 hours away.
Primera Plus
is a luxury bus line that operates services to SLP from Aeropuerto Mexico,
Celaya
, Cuautitlan,
Guadalajara
,
Irapuato
, La Penita, La Piedad, Lagos De Moerno,
León
,
Mexico City
(terminal norte), Mexico Observatorio,
Morelia
,
Moroleon
,
Puerto Vallarta
,
Queretaro
, San Juan De Los Lagos, Silao, Tapotzoltan,
Toluca
,
Uruapan
,
Zamora de Hidalgo
and Zapopan (western
Guadalajara
).
The overnight buses leave
Austin
,
San Antonio
or
Laredo
each night. They arrive in SLP around lunch time the next day. Most popular international line would be
Grupo Senda
/ Turimex a 5 minute cab ride from Austin Airport.
The bus station (Central Camionera) is from the centre, so you will need to catch a taxi or city bus to the centre - any 'Centro' bus will take you there. If you take a taxi buy a ticket from the booth inside the bus station.
Get around

In addition to buses, the city has trollies at very inexpensive prices to get around. Taxis are also cheap, yet you can get around a great portion of the city on foot.

See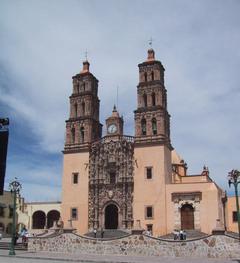 Catedral de San Luis Potosí

phone: +52 444 812-2848

address: Álvaro Obregón 80

Open M-F, 10-6, Sundays 10-4, closed Tuesday. Admission: M$30 (pesos).

address: Juan De Villerias 2

Teatro de la Paz
Templo del Carmen
Templo de San Francisco
Do
Stroll through the Centro Histórico while the sun is fading and you will be able to take amazing photos of the beautiful architecture. During holiday periods (Christmas and Easter) there are twilight light shows in Plaza de Armas and Plaza de los Fundadores. It is a festival atmosphere with lots of people mingling in the plazas and surrounding streets. Stall holders sell colourful balloons and Mexican street snacks like corn-on-the-cob with cheese, butter, salt and lime.

Buy
Centro Histórico SLP has many shops and markets where you can buy Mexican handicrafts, fresh produce and pretty much anything else.
Start at Plaza de Las Armas and walk north along Miguel Hidalgo. There is pedestrian mall followed by the Mercado Hidalgo.

Eat
San Luis Potosí has many good restaurants in the downtown area. Walk up Venustiano Carranza and you will find many of the city's top culinary gems.
La Corriente, V. Carranza 700: Eclectic atmosphere and a lively happy hour are reason enough to seek out this traditional Mexican restaurant, but the excellent comida corrida for M$45 is a lunch-time bargain.
La Virreina, V. Carranza 830: Elegant traditional dining room with suave white-glove service at every turn. The menu is innovative with many nouveau Mexican dishes colored with the splash of old style tradition. Their tortilla soup is spectacular, sprinkled with diced dry cascabel chile, and their truta en cilantro puts a unique spin on an already spectacularly prepared and presented broiled fish dinner.
La Gran Via, V. Carranza 560: Sophisticated elegance with live piano music at lunch and dinner. The menu is heavy on Spanish classic dishes (including an outstanding paella, loaded with seafood and redolent with saffron). They also have a smattering of exciting nouveau Mexican fusions, equally well prepared, and their cream of artichoke soup is a culinary delight.
El Angel, V. Carranza 1625. About a mile out from downtown is this bright star of innovative nouveau Mexican cuisine. Even the vegetables are worth raving about here: the smoky depth of the grilled nopales with chipotle was nothing short of an orgasm for the tongue.
La Fragua Steak Taco, About a mile out from downtown past Hotel Real Plaza on a side street from Carranza. The ultimate taco and beer joint. Lunch, dinner or to soak up the alcohol this place is always great. Phone number:(444) 8175425
Gorditas de Morales, Camino a la presa de San Jose (22.150978,-101.02029) , (behind Juan H Sanchez Park). This street is packed with about 20 different small restaurants, all with their own version of gorditas, some offer soups and other typical dishes. A rule of thumb is to walk around, take a look and get in the one with more customers. But since the competition is tight, the quality is generally good and you will hardly go wrong making a choice.
Gorditas de Horno, Calle del Arbol (about number 11, one block away from Gorditas de Morales). Open only on weekends. Arrive early as the queue can be very long at times. These gorditas are thick and cooked in an oven. Different from the ones sold in bicycle stands. This are not served in a bag full of salsa, but they are way softer and richer in flavor (not necessarily spicy).
Eating in the street
San Luis Potosí is packed with mobile eateries, either bicycles, small carts, or even trucks. Some of them get a fixed position once on a while, but it is very normal to find them on the go. Here is a list of some of the typically available foods on offer:
Corn. Either on the cob or loose this is all different from the yellow corn you are used to. Mexican corn is white is not sweet, but has a delicious flavor of its own. You can get it with a combination of the following ingredients: butter, cream, cheese, mayonnaise, lime, powder chili and salt. You can just ask for a recommendation to the seller.
Tamales. Imagine corn meal with a savory or sweet filling, wrapped corn husks and steamed. As they are thoroughly cooked and covered, tamales would be a safer choice among meals since no hand would be touching them until the husks are peeled off by the diner and the content consumed.
Tacos sudados. Tacos prepared very early in the morning are put in big thermal containers to keep them warm and sold for breakfast or lunch. You will see a cloud of people moving around the good places: Tacos Oscar, Av Himno Nacional 4005 (Outside Plaza Fiesta). Benigno Arriaga and Av. Himnno Nacional (22.139038,-100.989697).
Gorditas de Horno. Baked version of tamales. These are stuffed with tasty savory fillings and soaked in a hot salsa. Look for the yellow tricycles with a fish tank full of gorditas in the front.
Drink
Be sure to find La Calle San Francisco (near the church by the same name) in the city's downtown sector. There are some outstanding cafes and clubs in this area. Look for those with the rooftop locations. They have the charm of brick-covered alleys and spectacular starlit views in the evening. Some also feature live music.
Cafe Luna
Callejon San Francisco, Universidad 169
Sleep
Chain hotels and moderate hotels are mostly located in the "Zona Hotelera", just outside the city, on the highway near the bus station. Inexpensive independent hotels are mostly downtown. The only luxury hotel in town is the Westin. For true budget travellers the area between the railway station and the cathedral has many cheap hotels. If you are looking for a spartan room and share bathroom for 80 pesos a night try the hotels along Calle Jiménez- beside Plaza del Mariachi.
Hotel Filher
Hotel del Rio - M$320 for 2-person room (July 2010) with internet and cable
Fiesta Inn
Country Inn
CityExpress
Budget
Hotel Real de Minas

phone: +52 444 499 8400

address: Carretera a México Km. 426.6

address: Av. Venustiano Carranza 890
Mid-range
phone: +52 444 822 1882

address: Av. Benito Juarez S/N

address: Av. Venustiano Carranza 315
Splurge
phone: +52 444 144 1900

address: Galeana No. 240
Go next
To get to the bus station catch a 'Central TTP' city bus running east along Universidad or south along Av Constitución.