San Marino
San Marino
(known as the
Most Serene Republic of San Marino
,
Italian
:
Serenissima Repubblica di San Marino
) completely surrounded by
Italy
, is one of the world's smallest countries, and claims to be the world's oldest republic. The country bears the name of Saint Marinus, a Christian stonemason who is said to have founded the country in 301 AD.
Most cultural attractions are in the capital city, which is also named San Marino. At the top of a mountain, the City of San Marino is full of old buildings, restaurants, and stores catering to tourists, as well as several small museums, and has beautiful views of the nearby towns and surrounding countryside.
Understand
San Marino is the world's oldest republic and Europe's third smallest state. It is the sole survivor of the patchwork of independent states that used to make up the Italian peninsula before the unification of Italy. It lies above sea level with spectacular views of the surrounding countryside and Adriatic coast, and is situated only from
Rimini
. Legend has it that the founder of San Marino, a stonemason, arrived from the island of Rab in Dalmatia, and climbed Mount Titano to found a small community of Christians, persecuted for their faith by the Emperor Diocletian. San Marino gave itself a constitution in 1600, the oldest written constitution still in effect and the only republican constitution written in Latin that still has the force of law. During the tumultuous period starting with the French Revolution, San Marino managed to preserve its independence through several strokes of luck. First, a Sanmarinese politician befriended Corsican general Napoleon Bonaparte during his Italian campaign, but wisely declined his offers for more territory. Later, the small republic gave refuge to other Republicans throughout Italy, including Garibaldi, which made him disposed to respect Sanmarinese wishes to stay independent. San Marino also gave honorary citizenship to Abraham Lincoln, which inspired the Great Emancipator to laud San Marino's old and stable republican institutions and point to them as an example for the US and the world to follow.
San Marino is made up of a few towns dotted around the mountain sides. The capital of San Marino, the City of San Marino (
Città di San Marino
), is situated high up on a mountain top. The capital is surrounded by a wall and three distinct towers overlook the rest of the country. The site "San Marino: Historic Centre and Mount Titano" has become part of the
UNESCO World Heritage List
in 2008.
The towns surrounding the capital are more industrial and generally not as attractive as the main city. San Marino is 20 times bigger than Monaco and half the size of
Liechtenstein
.
San Marino's foreign policy is aligned with that of
Italy
, which surrounds it. Social and political trends in the republic also track closely with those of its larger neighbour. To give just one example, San Marino was governed by a local fascist party from 1923 and just three days after Mussolini's fall in 1943, the Sanmarinese fascists also lost power. Nonetheless, San Marino stayed officially neutral in both World Wars, but there were Sanmarinese volunteers in World War I on the Italian side and the government of San Marino had to explicitly clarify that it had
not
declared war on Britain in 1940. Later on, Sanmarinese neutrality was ignored by the British, who bombed suspected German military installations, and the Germans, who briefly occupied the country before being defeated by the British.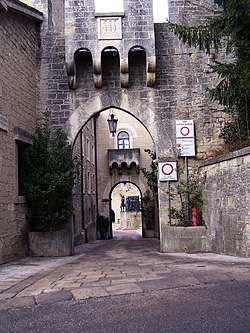 Get in
Although San Marino is not officially part of the
Schengen area
, there are no
border control
when travelling between Italy and San Marino, so it can for all practical purposes be considered part of the Schengen area. However, foreigners staying for more than 20 days in San Marino must have a permit from the government.
By plane
San Marino has no airports. The nearest major airport is the
Federico Fellini International Airport
(
RMI
) at Rimini. There are other airports at Ancona, Bologna and Forlì.

By train
San Marino has no railway stations. The nearest major railway station is at Rimini. San Marino is one of only two mainland European countries without rail service or lines, but unlike Andorra it did have a line in the past. Unfortunately, said line did not survive World War II and there are no plans of rebuilding it or building a line along a different route.

By car
You should have no problems driving into San Marino. Border controls do not exist.
The City of San Marino has limited parking, so why not leave your car in nearby Borgo Maggiore and take the cable car up to the city? There is plenty of parking near the cable car station.

By bus
A bus runs from Rimini to San Marino daily at regular intervals, with stops along the way in Dogana, Serravalle, Domagnano, and Borgo Maggiore. A return ticket costs around €10. This bus can be found just outside the Rimini train station. Note that if you show up just a few minutes before departure it may be full and you may be told to wait until the next bus, one hour later. It is perhaps then advisable to show up a little bit earlier to ensure enough seats remain on the bus. Tickets can be bought on the bus or at the Tourist Information Center.

Get around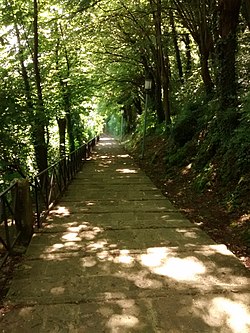 Once you're inside the walled city, it's small enough to simply walk around. There are only a few streets on which cars are able to drive (and only if they are small cars).
There is a
cable railway
(
funivia
) connecting the city of San Marino to Borgo Maggiore. €2.80 for a one-way ticket, €4.50 round-trip.
Outside of the capital, walking is not so easy. San Marino is the only country in the world with more vehicles than people, and it shows—sidewalks are inconsistent at best, especially when going between towns. However, there is a shaded stone path, Costa dell'Arnella, between the City of San Marino and Borgo Maggiore. It starts at the western end of Contrada Omerelli and ends a short distance from the Borgo Maggiore cable car station. Because the City of San Marino is so high up, the path is quite steep.
The bus from Rimini is somewhat useful for travel between towns, and San Marino also has its own bus system.
Talk
The people in San Marino speak a very clear
Italian
.
English is learned at school in San Marino and
Russian
is spoken in many shops due to the many Russian tourists.
The Akademio Internacia de la Sciencoj San Marino (AIS) (English: International Academy of Sciences San Marino) has its conferences in San Marino and actually uses the Esperanto language.
See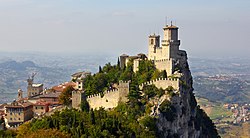 San Marino's main attractions are the three towers, which feature on the national flag. Only the
Guaita Tower
and the
Cesta Tower
are open to visitors; they are small castles at the top of Mount Titano, offering excellent views over San Marino and Italy as well as the Adriatic Sea.
Cesta is the larger of the two and has a small museum of armour and weapons. You can purchase the "Yellow Card" for €3 which lets you enter one castle, or the "Red Card" which lets you enter both and is €4.50. Between the two towers is a path which follows the city walls along the side of a cliff. The towers offer good photo opportunities.
Other attractions include:
Otherwise,
walk around
! The narrow cobbled streets are full of surprises and you can go up and down the city to explore. There are virtually no cars and the streets have a very medieval feel. You can climb the city walls and walk along it at places. Some sights you may see include
Basilica di San Marino
, a Roman styled church.
Outside of the capital, nearby Borgo Maggiore has a historic centre. You can also see the
San Marino lake
in Faetano where fish can be caught.
Do
Get your passports stamped at the tourist information centre. This is an excellent souvenir as they stick a visa tax stamp and then an official ink stamp over the top, €5.
Tourist Office

address: Contrada Omagnano, 20,
The
Parco naturale del Monte Titano
has several hiking trails. To find them, go to the Cesta tower and walk through the gateway to the right of the museum entrance.
Biking is also popular.
phone: +39 3357344140

address: Parco di Montecerreto

Activities including suspended trails, rock climbing, and ziplines.
Buy
Money

Like other states which have the euro as their currency, San Marino has its own patterns on the back of the euro coins. You can try to obtain these coins by going around buying things and collecting the coins that way, but a quicker solution is to buy the set in a souvenir shop. Pay attention, because some of these sets lack the €1 and €2 coins.
Souvenir and clothing shops are everywhere in the City of San Marino. A lot of the souvenir shops sell weapons, from swords to B-B guns.
Prices for items such as disposable cameras and batteries are cheaper in San Marino than they are in Italy. This is partly because in San Marino you don't have to pay the 20% IVA (VAT) that you have to pay in Italy.

Eat
Italian dishes, like pasta, pizza, gelato (Italian ice-cream), and whatever you eat in Italy. Restaurants are easy to find, and some offer tables with great views.
Supermarkets in San Marino are few and far-between, although the following can help in this area:
Conad

address: Azzurro Shopping Center, V M Moretti 23, Serravalle

Sma SupermercatiVia del Passetto 113, Fiorentino

Ristorante Terrazza TitanoContrada del Collegio 31

address: Via Salita alla Rocca, 14
Drink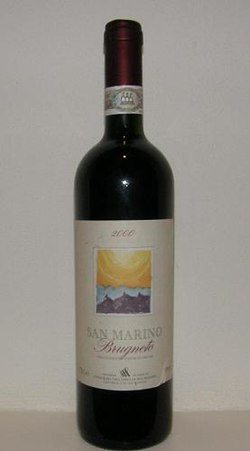 The local beers, mostly by Titanbräu and Birrificio, are very tasty.
Spirits are also very commonly found, especially limoncello, a lemon liquor.
Try the locally produced wine.
The coffee, like in its Italian neighbour, is superb.
Sleep
Although San Marino has a few hotels, the seaside resort of
Rimini
has a lot more and is probably a cheaper option.
Budget
phone: +39 0549 922515

address: Via 28 Luglio, 224, Borgo Maggiore

Located in Borgo Maggiore, very close to a grocery store, a restaurant, and a bus stop. A short €1.50 bus ride from the city.
Mid-range
phone: +378 0549 992400

address: Viale Antonio Onofri, 31

The Grand Hotel San Marino rises on the peak of Monte Titano, close to the Rocche and the Old Town Center.

phone: +378 0549 991007

address: Contrada del Collegio, 31

Located right in the centre of the town. The rooms are small but comfortably furnished and it is connected to a very nice restaurant. The downside is that unless you are an early riser, the nearby church bells will ring every 15 minutes to remind you of the time starting from early in the morning.
Learn
Stay safe
San Marino is a safe country. Like in any other place that attracts many tourists, you should watch out for
pickpockets
.
Stay healthy
This is a very healthy place. If you become ill, procedures are the same as the European Union, although serious conditions will likely see you transferred to
Rimini
.
Tap water
is drinkable.
Respect
San Marino is a proud country and it should be viewed in this respect. Be respectful when having photos taken with the guards. A smile will do but hand gestures/funny faces are not received well.
It would be considered offensive to call them "Italians" - not that they don't like Italians, but they are just proud of their independence.

Connect

Free WiFi is available in parts of the city.

Cope
Diplomatic missions
Holy See (The)

phone: +378 0549 992448

address: P.le Domus Plebis

Italy

phone: +378 0549 991271

address: Avenue A. Onofri 117

Portugal

address: Battisti St, nº 3

Romania, Via Valle di Marco 4, phone: +378 0549 995400, Fax: +378 0549 995 576 email: adolfo.morganti@libero.it Honorary Consulate General of Romania in San Marino
Other countries may not have embassies or consulates in San Marino, but in Rome to represent both Italy and San Marino. Look at the Embassies section of the Rome guide if you can't see your country listed above, as you may wish to contact your embassy there.
Go next
Italy is the way in, Italy is the way out. You can further explore the
Montefeltro
region in the south, or visit the sunny coast of
Rimini
in the north.