San Pedro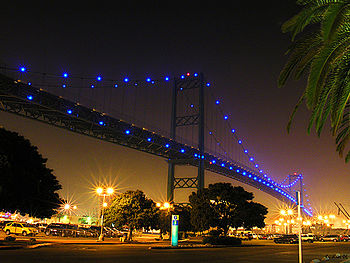 San Pedro
is a district of
Los Angeles
, located on the harbor in the
South Bay
immediately east of the
Palos Verdes
Peninsula.
Get in
San Pedro is located at the southern end of the Harbor Freeway (CA-110), which you can take directly from
Downtown L.A.
, or you can take the Vincent Thomas Bridge (CA-47) west from
Long Beach
.
Metro
provides transit service, although public transit to San Pedro is somewhat limited. The fastest service to Downtown L.A. is the
Silver Line
express bus service, although it requires an extra fare and not all buses travel all the way to San Pedro; check the schedule in advance. Regular fare $1.75; Silver Line fare $2.50. You can also take the 232 from LAX and transfer to the 550 at Western Ave.
Get around
San Pedro Vintage Red Car Line

phone: +1 310 732-3473

A 1.5 mile long trolley line serviced by restored and recreated Red Cars, the historic trolley line that covered the Los Angeles region prior to the advent of freeways. Free parking is available at the Downtown Station at 6th Street, Ports O' Call Station at Sampson Way and Marina Station at 22nd Street.
Metro operates a bike share system, with several stations scattered along the harborfront in San Pedro and neighboring Wilmington. Single trips are $3.50 for 30 minutes of use (credit or debit card required), or you can load a monthly pass onto a TAP card for $20 which gives you free rides shorter than 30 minutes and $1.75 for every thirty minutes after that.
See
American Merchant Marine Veterans Memorial

address: South Harbor Blvd At West 6th Street

An impressive monument to the unsung heroes of WWII, the men of United States Merchant Marine Service. These men took the same risk as U.S. Navy vessels without the benefit of being in an armed and armored ship to provide needed supplies to Allied forces in the Europe and Pacific War theatres.

Angel's Gate Lighthouse

address: End of the Los Angeles Harbor breakwater

A historic lighthouse that has stood watch over the Port of Los Angeles since 1913.

phone: +1-877-446-9261

address: 250 S. Harbor Blvd

A WWII-era battleship, the USS Iowa, which is open for tours.

phone: +1 310 548-7562

address: 3720 Stephen White Dr

A small, but complete aqauarium. Learn about the natural history of the area through live exhibits, beach tours and classes.

phone: +1 310 548-2631

address: 3601 S. Gaffey St

Korean Bell of Friendship and Bell Pavilion

address: Gaffey and 37th Street

This bell was presented to the people of Los Angeles by the people of the Republic of Korea in 1976. The bell is rung four times each year: the Fourth of July, August 15 (Korean Independence Day), New Year's Eve, and every September to coincide with bell ringings around the country to celebrate Constitutuon week.

Los Angeles City Fire Department San Pedro Museum 36

phone: +1 323 464-2727

address: 639 S. Harbor Blvd

This museum is located in the old Los Angeles City Fire Department Station 36. It features historical fire apparatus and account of some of the most historical fires in the Harbor area of Los Angeles with a section dedicated to marine firefighting.

phone: +1 310 548-7618

address: 600 Sampson Way

This museum of maritime history, housed in the former San Pedro Ferry Terminal building, includes 700 ship models and other nautical paraphernalia.

phone: +1 310 548-5677

address: 3601 S. Gaffey St

Watch while volunteers tend to recuperating seals, sea lions and other animals.

address: 1542 South Beacon St.

A beautifully restored historic home, the Muller House has tours of the interior of the house three times a month. The Colonial Revival house, built in 1899, is furnished with examples of Arts and Crafts furnishings and hosts rotating exhibits. Tours are also available by appointment. There is an onsite gift shop.

Point Fermin Lighthouse and Park

phone: +1 310 241-0684

address: 807 Paseo Del Mar

This lighthouse, built in 1874, can be seen seven days a week from the park surrounding it. Tours of the interior are given every hour during operating hours. No longer in active use, the lighthouse has a fascinating history, including usage as a military lookout post during WWII. The highlight of the tour is a climb to the lighthouse tower. Children under the age of 18 must be accompanied by an adult and children less than 40 inches in height may not be admitted to the tower.

phone: +1 310 519-9545

address: Berth 46

The S.S Lane Victory is a WWII era Merchant Marine vessel that carried cargo for the war effort. The ship is open to explore and contains two museums, one in each of its cargo holds. During the summer, the ship takes cruises around Catalina Island. Actors perform during the cruise, which often includes an "attack" by enemy aircraft.
Do
phone: +1 310 519-0936

address: 3601 South Gaffey St

The Cultural Center offers a year-round schedule of gallery exhibitions, cultural events, and classes. It also provides work-studio space for 52 artists and musicians.

phone: +1 310 831-1906

address: 1200 Nagoya Way

Boat tours of the Port of Los Angeles. Highlights of the tour include the Angels Gate Lighthouse, the Vincent Thomas Bridge, the L.A. Harbor Clock Tower, and the S.S. Lane Victory, a WWII era Merchant Marine vessel.

phone: +1 310 548-7562

address: 3720 Stephen White Dr

In the months of March-June, a small, silvery fish called a grunion comes up on the shore to spawn in the late night hours. In March and June, grunion may be taken by hand (a California fishing license, which must be displayed, is required unless you are under 16 years of age). The Cabrillo Marine Aquarium offers a series of "Meet the Grunion" presentations. Warm clothing and a flashlight are recommended.

address: Under the 110 freeway at Channel Street

What started out as a renegade skate park is now an officially sanctioned, 501(c)3 organzation run skatepark with a round bowl, square bowl, and a vertical wall known as the "gnarwhal".

Knoll Hill Dog Park

phone: +1 310 514-0338

address: 200-349 Knoll Dr

Travelling with Rover? Let him run free in this off-leash park overlooking the Harbor.
Buy
phone: +1 562 449-9299

address: Old Town near the intersection of Mesa & 7th

Farm fresh produce, baked goods, lunches, crafts, and plants.

address: 1100 Nagoya Way

Built in the style of a New England seaside village. Located on the harbor, its cobblestone streets are lined with specialty gift shops and restaurants.
Eat
phone: +1 310 547-0655

address: 1432 S. Gaffey St

Italian/Catering

Busy Bee Market

phone: +1 310 832-8660

address: 2413 S Walker Ave

This has got to be the best sandwich deli in L.A. The sandwiches are relatively inexpensive (±$7.25 a sandwich) with generous portions of meat, served fast but really long lines during the lunch hour. A little out of the way, but if you find yourself down south...

Pacific Diner

phone: +1 310 831-5334

address: 3821 S Pacific Ave

phone: +1 310 548-1186

address: 301 W 6th St

Fine Greek dining

Rex's Cafe

phone: +1 310 519-7190

address: 2136 S. Pacific Ave

American.

Slavko's Harbor Poultry

phone: +1 310 832-5723

address: 1224 S Pacific Ave

Chicken/Take-Out. Friendly service from third generation San Pedrans. Try the deep fried nuggets and a bottle of Croatian beer.

Think Bistro

phone: +1 310 519-7190

address: 1420 W 25th St

Pasta/Seafood

The Corner Store

phone: +1 310 832-2424

address: 1118 W 37th St

Charming coffee shop, market and community hang out.

The Lighthouse

phone: +1 310 548-3354

address: 508 W. 39th St

American

Neil's Pasta and Seafood Grill

phone: +1 310-548-3495

address: 383 W. 5th St

Neopolitan and Southern Italian. A cozy, romantic atmosphere with excellent service and some of the best Italian food in the South Bay.
Drink
phone: +1 310 831-5663

address: 331 W. 6th St.

Has their own locally-brewed beers on tap as well as a rotating selection of microbrews from around the country. A menu of sandwiches and other pub-style food is also available.
Sleep
Best Western Sunrise Hotel - Ports O'Call

phone: +1 310 548-1080

address: 525 S Harbor Blvd

phone: +1 310 514-3344

address: 2800 Via Cabrillo Marina

Sheraton - Los Angeles Harbor

phone: +1 310 519-8200

address: 601 S. Palos Verdes St

phone: +1 310 831-8109

address: 3601 South Gaffey St

phone: +1 310 831-8911

address: 215 S. Gaffey St.
Go next