San Pedro Sula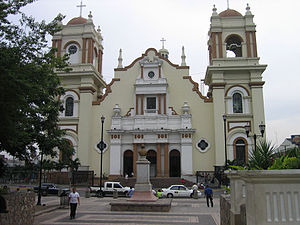 San Pedro Sula
is in northern
Honduras
. It is the second largest city in Honduras after the capital
Tegucigalpa
. The focus of industry in Honduras, it is mostly a modern city (unlike more picturesque
Comayagua
, Tegucigalpa, etc.) It is a good base for entering the country and visiting other parts, and offers modern amenites.
Get in
Get around
The center is fairly compact and can be gotten around by foot; cars, taxis, and buses run around the city and the surrounding area. The airport is about 8-16 km (5-10 miles) from the city center, yet taxis are plentiful at the airport.

See
Museum of Anthropology & History - This museum has a selection of pre-Columbian pottery, grinders and other items up through colonial times. Some Spanish would be helpful since few items have English labels.
People-watch at Parque Central, the main square.
Do
Throughout San Pedro Sula and neighboring cities, you can find amazing markets. You can buy artisanal items like leather work, textiles, silver and jewelry.
Bargaining
and shopping are a cultural experience all their own.
There are many day trips available at San Pedro Sula. You can hike through Cusuco National Park. Visit Taulabe caves and Pulapanzak Waterfalls. Have a boat ride and bird watching at Lake Yohoa. Swim at Punta Sal National Park exotic beaches. Walk through Copan's archaeological site and horse back ride in a coffee tour.
The Mall Multi Plaza, Mega Plaza and Metro Plaza all have
cinema
complexes. Closer to downtown you will find 2 or 3 cinemas. Movie releases are a few months behind the USA or Western Countries. Most movies are shown in English with Spanish subtitles. Ticket prices range from US$1.20 to $2.50 depending on the cinema and to extent the quality of their facilities. So if you enjoy the movies and like nice chairs and good sound try one of the more up market places. Movies are usually shown at 3, 5, 7 and 9 PM. Tuesday is a popular day, with 2 tickets for the price of one, but be prepared to go early to get a seat, as sometimes tickets do sell out. All local papers have a daily cinema schedule.
Buy
There is an artisan market very close to the park that contains a vast array of touristy Honduran products. For more quality pieces, try Casa del Sol across the street.
phone: +504 2552-0656

address: Col. Trejo, 18 AVE S.O., 8 y 9 Calle, San Pedro Sula
Eat
A few restaurants have sprung up recently: for meat try La Estancia and El Portal de La Carne. You can eat Mexican food in Cebollines and Fogoncito and for authentic Italian food try Tre Fratelli, Bel Paese and Dai Santi. All popular American fast food chains are available in the city, however, try Pollo Campero, a Guatemalan fried chicken chain and Pollos el Hondureño, autentic Honduran fast food chain. The Skandia cafe at the Grand Hotel Sula is open 24 hours with a good selection. Most selections are good but the rotissery chicken is great. Skip the scrambled eggs or omlets.
For a wide selection, go to City Mall food court with lots of choices, both US fast food and Honduran versions. Another great option only found in San Pedro Sula is Power Chicken, the most popular location right in front of the City Mall. Here you can try familiar food with a Honduran twist. Very good and very cheap
Don Udos. Don Udos is located on Boulevard Morazon a few blocks up from the Circunvalacion. A favorite amongst foreigners it has a good variety of international dishes and a good variety of wine. Meal prices: US$8 to US$15
Arnie's Diner and Grill, is located on 7 st, 19 Ave SO in Barrio Rio de Pierdas. The Restaurant has an international menu, friendly staff and good service and is one of the best value for money restaurants in San Pedro Sula. Meal Prices: US$6 to US$12. Web Page:
Chef Marianos, Chef Marianos is located in Zona Viva and offers a range of Honduran and Garifuna dishes, seafood dishes being a specialty. Meal prices: US$6 to US$12
Las Carnitas, Las Carnitas is located in Zona Viva and is a local favorite, for its open-air atmosphere, occasional live music and Honduran style beef and chicken dishes. Meal prices: US$5 to US$10
Pamplona, Pamplona is located in Central Park and is a local icon. The place gets very busy during lunch times and breakfasts. It offers a range of national and international dishes at very good prices, such as chicken soup for only $1.50. The restaurant is AC and offers a nice place to escape with a cool drink and coffee from the downtown heat. Meal prices: US$1.50 to US$6
The Antojitos Mexicanos
, Antojitos Mexicanos has 2 popular locations, one downtown in Central Park the other on the Circunvalacion near Zona Viva. Antojitos is one of the cheapest places to eat in the city, with Mexican style tacos, enchiladas, tortas and so on. The Circunvalacion branch has its own groups of Mariachis who strum and blow their stuff in the evenings for the patrons, nice place to eat cheap, drink a beer or two and to soak up some local atmosphere. Meal prices: US$2 to US$5
San Pedro Sula is home to a lot of additional eating options, which have a wide range of prices from budget to upper class. There is far to many to list here the above places are just some recommended places to start. Other notable Restaurants are Ruby Tuesdays, TGI Fridays and Applebee's. Also if you missing Pizza Hut, McDonalds, Burger King, Subway, Church's Chicken, Popeye's, and so forth, San Pedro Sula has no shortages of fast food places. Or better still try some of the local fast food places such as Pollo Campero, Bicos, Power Chicken (great name), or 2 x 1 Pizza.
Drink
San Pedro Sula is home to a lot of bars. A fun night can be had in Zona Viva going from bar to bar. A local favorite and fun place to hang out is La Cava in Barrio Los Andes 2 and 3 Calle, 16 Ave NO. Great Karaoke nights and occasional live music on the weekends packs the people in. Jerry the owner mixes a range or cocktails. Watch out for the Barcardi 121 or ask if he has some Guaro for a fire packed drink. There is a good selection of music and the patrons are always happy to have a chat.
Karaoke Club in Zona Viva is a popular place with the locals and even if you are not a Karaoke fan it can be a good place to catch some quality music. The quality of the singers is at times surprising and at other times not so surprising. Big Daddies, Caribbean and Gators Sports Bar are also all popular spots in Zona Viva. Bars do come and go regularly in San Pedro Sula, so just look for a place with some people and some music.
TGI Fridays, Applebee's, Ruby Tuesdays and Fogancito's are all popular places to eat and drink on the weekends. All places are well located near the Circunvalcion.
For a bit more local color and atmosphere, consider visiting a local disco. Thursday, Friday and Saturday nights are the most popular. But most discos are open every night except Monday. Check the local papers for promotion nights such as ladies night, live music, beer promotions or open bar (cover charge, then all you care to drink).
The pick of the discos is Kawamas Bay, which is located on the Circunvalcion. The disco plays a lot of Latin music and has a friendly staff. It can get very busy on the weekends usually around 11 PM. The disco stays open to 5 AM or 6 PM and it is a place to dance. You will find more people on the dance floor than at the bar or tables and chairs for most of the night. So put on your dancing shoes and be ready for some Salsa, Merengue and Punta. No need to worry, since you will still get a bit of house, rock and techno music. Cover charges vary from US$2.50 to $6, depending on the night.
Millenium Disco is located in the Social Club Arabe at the end of Barrio Rio Pierdas the disco is the classiest place in town. Friday and Saturday nights are busy and cover charges vary from US$3.50 to $6.
The Sampedrano Cultural Center holds regularly events such as concerts, performances and art shows. Call (504) 553-3911 or 553-3768 for event schedules.
For safety reasons, be sure to take a taxi when traveling even just a few blocks after dark. Walking around Zona Viva is OK but only within a block or two radius of the area. Otherwise just get a taxi, most fares cost US$2 to $3, but prices do go up the later the night gets.
phone: +504 2553-5353

address: Barrio Suyapa Esquina Zona Viva

Traditional Honduran food served fast-good style. A staple of Honduran cuisine with 4 locations within the city.
Sleep
Hilton Princess San Pedro SulaLocated near the new City Mall, this hotel features 120 rooms, great amenities and a superb swimming pool. This hotel is really comfortable and in a fairly safe area. It has an amazing view from their glass windowed hotel.

Real InterContinental San Pedro Sula

phone: +504 25452500

address: Colonia Hernández y Boulevard del Sur. San Pedro Sula, 3818. Honduras

The Real InterContinental San Pedro Sula has 149 rooms with internet access, 7 suites, executive floors, restaurant, gym, spa, pool, mail service, copier, among others
Best Western Hotel Gran Sula. Located right on the Parque, accessible to all parts of the city, and good prices. Also, try the Oro Verde bar near the entrance.
Hotel Copantl. Located 10 minutes from the San Pedro Sula airport and close to the Circunvalcion, Multi Plaza Mall and Zona Viva. The hotel has 190 rooms, business center, conference rooms, 2 restaurants, cafeteria, swimming pool, tennis court, gym, Jacuzzi, a lobby and piano bar and a casino.
Metrotel Inn and Suites, (504) 25590300 The hotel has 60 rooms, and offers cable TV, free breakfast, business center, swimming pool and children's area. The hotel also organizes day trips to the surrounding attractions of Tela, Lake Yojoa and Copan.

phone: +504 25524289

address: 2nd street, 10 avenue, Barrio El Benque

40 rooms, 10 different and delicious options for breakfast, free access to Internet, gym, restaurant, medical service in case of emergency and more.
Hotel Terraza. Close to Central Park and popular with national visitors and travelers. The hotel offers a range of room types with varies prices. The hotel also has a restaurant, which serves up good value meals.

phone: +504 550-7003

address: 2 calle, 11 avenida, N.O.

Private parking at the hotel.

phone: +504 2556-8406

address: Col. Los Arcos, 19 y 21 ave 16 cll

9 room Bed & Breakfast hotel with triple, double and single rooms. Ideally located near two major malls, business centers and other shopping. Offers very comfortable rooms from US$45.00 to US$70. Includes a/c, hot water, free wi-fi, cable tv, covered private parking, and personal safe in room. Transportation available to/from airport shuttle and tours.

phone: +504 9762 6620

address: Colonia Trejo, 19 avenida, 12 calle

The real hostel experience in San Pedro Sula. Excellent location 3 blocks from the City Mall. Facilities include restaurant, dorms, private rooms, movie and bbq nights, free wifi, breakfast for private rooms, pool table, 24 hour security and tours. Airport and bus terminal transfer available. There is also a Honduran restaurant also on premises, which is open 24 hours. It serves breakfast, lunch and dinner, using ingredients like coconut, beans, corn, plantains and fresh seafood, with a vegetarian option available for every meal. If you like it spicy, they can serve you house salsas that will make you roll your ¨r´s¨, and they also serve cold beer to help you get through it.
Stay safe
The area around San Pedro Sula has had a reputation of being dangerous for both locals and tourists alike, and gang violence has earned the city the dubious distinction of "murder capital of the world" in recent years, beating out
Ciudad Juárez
.
Just like everywhere in Honduras, common sense should be used.
The Parque Central should be avoided at night.
There are certain areas of the city, including neighborhoods in the outer parts of the city, which should be avoided even during the day, but these areas are off the tourists' trail.
Go next
San Pedro Sula is a good base for getting out to the beaches at
Tela
,
Puerto Cortes
and
Omoa
, the
Bay Islands
in the Caribbean Sea, the amazing Maya ruins of
Copán
, or south towards
Lake Yojoa
,
Comayagua
, and
Tegucigalpa
.
Tela is only about an hour drive from San Pedro, which has nice Caribbean beaches. TelaMar is the place to stay.
Leaving from San Pedro Sula you can visit
Cusuco National Park
. The diversity of activities at this park is huge. Hiking, Mountain biking, Rappelling, Camping, Bird watching, Waterfall swimming, Caving, Night tours.