San Rafael
San Rafael
is the largest city in
Marin County
, in the
San Francisco Bay Area
. Historically home to one of the original Spanish missions, San Rafael is now a mid-sized commuter town with beautiful hills, peaceful nature, interesting architecture, and a bustling downtown area centered around 4th Street. San Rafael is the cultural and political center of Marin, and offers its own set of attractions as well as easy access to other parts of the county.
Get in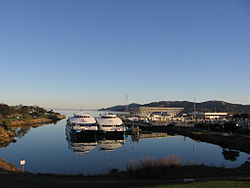 By car
San Rafael is on the
101 Freeway
, north of
San Francisco
over the Golden Gate Bridge. 101 crosses
Highway 580
in San Rafael, making the city a major influx point for drivers from the
East Bay
.
By ferry
Ferries run from the ferry terminal in
Union Square-Financial District
, downtown
San Francisco
. With hourly departures, every 30 minutes during rush hours, ferries are a convenient way of reaching San Rafael. is about two kilometers from downtown, but is served by buses.
By bus
The is a hub for local buses, with service to other parts of Marin provided by
Marin Transit
and service to
Sonoma County
,
San Francisco
, and
Richmond
provided by
Golden Gate Transit
. The Marin and Oakland airporters (with service to
San Francisco International Airport
and
Oakland
International Airport) and Greyhound buses also stop at the transit center.
By train
Sonoma-Marin Area Rail Transit
, or
SMART
, has two stations in San Rafael, connecting it with
Novato
and places in
Sonoma County
:
Petaluma
,
Rohnert Park
,
Santa Rosa
, and Sonoma County Airport. Extensions are planned to
Cloverdale
and
Larkspur
. One railroad station is located downtown next to the Transit Center, and the other is near the Civic Center.
By plane
The nearest major airports are
San Francisco International Airport
(SFO) and
Oakland
International Airport (OAK). To get to San Rafael from SFO, you can take the
Marin Airporter
, which departs SFO every half hour, early morning to late evening, and drops passengers at Anderson Drive and at the Transit Center. Fare is $23 to be paid in cash when you get off.
The
Airport Express
, better known as the Oakland Airporter, goes to San Rafael from Oakland Airport, departing once an hour.
Get around
Downtown San Rafael is based on a grid network, with numbered streets running east-west and lettered streets running north-south. The downtown area is walkable, but to visit other places like the Civic Center or China Camp, you're better off driving or biking. Marin Transit's bus service, mentioned above, is also a feasible option for getting to different areas.
Taxis are available in San Rafael, and they can also take you to other towns in Marin. You won't usually be able to hail one off the street, but you can call one, and they also line up at the transit center. You can call a taxi from
North Bay Cooperative Taxi
at +1-415-258-2800.
See
Fourth Street, the main street in central San Rafael, is full of shops and restaurants and has a vibrant downtown feel.
phone: +1-415-456-3016

address: 1104 Fifth Ave

The 20th of the 21 California missions, San Rafael was founded as an asistencia or adjunct to Mission Dolores in San Francisco in 1817, but was promoted to full mission status in 1822. San Rafael was a hospital mission, tending the sick from Spanish settlements and natives. The first mission secularized, it was used by General John C. Fremont during the Mexican-American War, and during statehood as the Marin County Courthouse. The original church was torn down in 1861, and a series of Catholic churches were erected at that site. The mission chapel has been restored in 1949, and tours of the site as well as a museum containing three original mission bells are open to the public.

Marin County Civic CenterThe Civic Center is the only example of a Frank Lloyd Wright-designed government building in the world, and was considered to be well ahead of its time, making it a creative choice as the backdrop of the film Gattaca. Ninety-minute tours of the building leave every Wednesday and Friday at 10:30AM from the café on the second floor (room 233) and cost $10 ($5 for seniors and students). A branch of the county's public library, where you can see a model of the Civic Center, is located on the fourth floor. Next to the building is the large Duck Pond, officially the Civic Center Lagoon, a nice, shady area to take a walk or feed ducks.
Do
Christopher B. Smith Rafael Film Center

phone: +1-415-454-5813

address: 1118 Fourth St

The Christopher B. Smith Rafael Film Center is a beautifully restored Art Deco theater that was seen in the film American Graffiti. It plays independent films, popular foreign films, and documentaries daily and is located at the heart of 4th street.

phone: +1 415 456-0766

China Camp was established as a village by Chinese immigrants. Now it's a state park with hiking trails, a beach, a museum, and natural scenery. If you keep your eyes open, you may still stumble across shards of Chinese pottery during your visit.

McNears BeachFeaturing a swimming pool, fishing pier, snack bar, picnic areas, and volleyball and tennis.

phone: +1 415-499-4488

address: 890 Belle Ave

Shakespeare and other classic plays performed every summer in an outdoor theater. Sit near the front to make sure you can hear clearly, and consider bringing or renting cushions for the wooden bench seats. Bring a jacket or a blanket for evening performances—San Rafael cools down quickly when the sun sets.

Italian Street Painting FestivalAn annual street painting festival held in central San Rafael every summer.

Marin County FairFood, rides, art and performances at a large fair held every summer near the Civic Center. Don't miss the firework shows every night of the fair, culminating on the Fourth of July.

HikingThe hills north of San Rafael have some hiking trails, as does China Camp, though for really great views you have to go a little further afield to other parts of Marin.
Buy
This region of California is full of fertile farmland, so fresh produce is plentiful. There are several weekly farmers' markets which feature music, crafts, and activities for kids as well as a variety of local food.
Eat
Like most Bay Area towns, San Rafael has a number of pubs and taco joints as well as cafes and bars. Many restaurants are located on Fourth Street
phone: +1 415 485-1027

address: 2 Bayview St

Vegan and cornmeal muffins, among others. Grateful dead atmosphere. Delicious sandwiches. Excellent coffee.

Sushi To Dai For

phone: +1-415-721-0392

address: 816 4th St

Taqueria San Jose

phone: +1-415-455-0999

address: 615 4th St

Just under highway 101.

Lotus Indian Cuisine

phone: +1-415-456-5808

address: 4704 4th St

Simply the best Indian food in Marin, relaxed and quiet atmosphere, excellent service, and a retractable ceiling to let in the sun on a warm day.

phone: +1-415-451-4765

address: 901 Lincoln Ave

Puerto Rican cuisine and tropical ambiance make this restaurant very popular with the locals.

phone: +1-415-721-7992

address: 243 3rd St

Mom & pop taqueria in Montecito plaza.

phone: +1-415-459-4340

address: 1122 4th Street

Coffee shop vibe, but the menu has a variety of food, including wraps and pita. Grab a bite to eat or just chat over coffee.

phone: +1-415-456-4093

address: 1002 4th Street

Worker-owned bakery and pizzeria with delicious cookies. Lots of vegan and gluten-free options.

phone: +1-415-457-0803

address: 860 4th Street

It calls itself a café, and yes, there are drinks and sandwiches, but the real draw here is the ice cream. Double Rainbow just has good old-fashioned ice cream—nothing fancy, not too expensive. There's usually a vegan/dairy-free option or two.
Drink
phone: +1-415-456-1011

address: 1533 Fourth Street

Authentic British pub & grill, same location since 1971. Serves lunch & dinner. Great salads, burgers, fish & chips, bangers & mash, sausage rolls, and other standards.

phone: +1-415-456-7044

address: 927 Tamalpais Avenue

phone: +1-415-906-6277

address: 169 Paul Drive

Unpretentious coffee place with a unique approach to coffee.
Sleep
Stay safe
San Rafael's crime rate is higher than most of Marin County, but it is still much safer than larger nearby cities like San Francisco or Oakland.
If you decide to venture into the Canal District, stay alert, even in the daytime, as parts of it are quite dangerous. However, it is home to some of the best Latin food in the Bay Area. Try not to wear too much red- or blue-colored clothing—you may be confused as a rival to another gang and approached. It is best not to walk around the Canal District at night. West of Kerner is more dangerous than East of Kerner, which has nice town homes along the water.
Parts of Downtown, Terra Linda, and near Woodland Avenue have some crime as well so just be aware of your surroundings and don't dress all in red or blue.

Go next