San Salvador
San Salvador
is the capital city of
El Salvador
, approximately in the center of the country in a valley near the base of the San Salvador volcano. The city has a long history, with origins dating back to the Spanish conquest of the Pipil tribes.
Background
San Salvador lies in the "Valle de las Hamacas" (literally "Valley of the hammocks", as it was called by the Pipil, due to its intense earthquake activity) at the foot of the San Salvador volcano. It covers an area of 600 square km and is home to nearly 2 million people. It is home to one-third of El Salvador's population and one-half of the country's wealth. The downtown area is filled with shops and modern buildings, but unfortunately earthquakes have damaged or destroyed many of the city's historic buildings.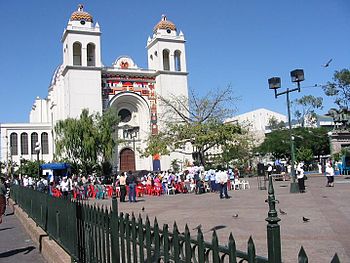 The people of San Salvador are generally friendly, though as in any large city, less inclined to engage in conversations with strangers on the street as opposed to other parts of the country. The wealthy live in exclusive suburbs behind tall security walls or luxury condominium buildings. Wealthier areas such as San Benito, Colonia Escalon, Colonia San Francisco, Colonia Maquilishuat, Santa Elena (where the US embassy is located) and Ciudad Merliot have tree-lined avenues, the biggest malls in Central America, bars, clubs, gyms, restaurants, luxury hotels, modern high-rise buildings, plazas, boutiques, cafes, luxury salons, jewelry stores, etc. Some of these neighborhoods are located in the hills surrounding the city and have breathtaking views. A number of new gated housing communities complete with parks, swimming pools, fitness facilities and tight security are popular with middle class families. Most of the city's hotels can be found in these suburbs.
There are middle class neighborhoods and residential areas close to the wealthy neighborhoods. Poorer areas are located in the northern and eastern districts, along with an abundance of shanty towns sprawling along the city's fringes.
San Salvador's climate is tropical, although the weather can vary; the nights may be cool (especially in December), however, most of the time it is sunny and warm. Wearing t-shirts, jeans, and possibly a light rain jacket is usually sufficient.
Whilst not on most tourists' "to do" list in El Salvador, the capital provides a good base for exploring the rest of the country as it's a transportation hub, with most major roads running through it due to its central location. Spending a few days exploring this cosmopolitan and internationally-conscious city can be a rewarding experience. Whilst parts can seem like a maze of confusion, rich vs poor, modern vs dilapitaded, cars vs pedestrians, the city has played a major role in defining and shaping the rest of this small yet intruiging country, once at the forefront of the Cold War. To understand this polarized country, it is essential to understand its political, cultural and social headquarters.
Get in
By plane
Avianca Holdings (formerly Grupo Taca, Aviateca & Lacsa) is the national airline of El Salvador, Costa Rica, Guatemala & Colombia. Grupo Taca had formally completed their merger into Avianca Holdings as of May 2013 using the Avianca brand for the whole operation, thus expanding services to more places in South America and to Spain. Avianca inherited a fleet of new A319s, A320s, and A321s and the Embraer 190 series from Taca which are still in use throughout the Americas. However, they maintain a greater monopoly with the highest ticket prices, especially for travel within Central America and savvy buyers would do well to compare options using online aggregating services.
Veca Airlines was a relative newcomer to the Central American airline industry owned by Sociedad Hasgar S.A. de C.V. as of 2014 as an answer to Avianca's monopoly in international flight within Central America. As of 2017 their services are suspended due to financial problems.
A US$32 departure tax must be paid upon departure. Depending on the airline, the full amount or part of the tax may already be included in the price of your ticket and the amount you must pay will vary from US$0 - US$32.
Other airlines that fly into San Salvador include:
From the airport
phone: +503 2271 4937, +503 2222 1202
offers limited colectivo services up into several major hotels in San Salvador. At other times they offer a private taxi to a destination of the passenger's request.
There are no regular bus service to the airport per se. The closest thing is the #138 bus between Comalapa and San Salvador's Terminal Sur bus station just south of San Salvador. To get to the stop, for this bus, go across the parking lot in front of the airport terminal to the other building on the other side. Go through the building's breezeway (or open corridor) to the stop located on the other side of the building. Bus makes multiple stops en-route along Hwy 5 and gets crowded.
By bus
The following are international first or deluxe class (pullman) buses that go into San Salvador and Guatemala City. There are other lines that also go to Mexico, Honduras, Nicaragua and/or Costa Rica as well. TicaBus is the only company serving Panama City. They offer direct service to the said destination, without stopping and depart during the early morning hours to arrive in the afternoon hours thus making for safer travel. Their service usually include reserved seating, movies, on board restrooms and air conditioning. On more deluxe classes they can offer more space to allow the seats to recline further down and stewardess service for drinks and snacks. Most of these companies have their own terminal or an office or desk within a hotel in Colonia San Benito and/or El Centro.
By car
If you drive to San Salvador from Comalapa, please exercise extreme caution. There are many residents who walk this highway as well as cross it. There are many accidents with vehicles speeding as well as people who are hit.
Get around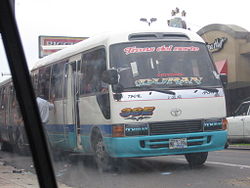 If driving, rental car agencies include Budget , Alamo , and Hertz . Buses and taxis also provide good ways of getting around. Negotiating the cost of your taxi, Before you step in, is common practice and expected. Carry small denominations of money and have exact change for your taxi fare. If you do not have exact change, taxi drivers will try to convince you to make the change a tip instead. Distances between sights make walking an unpopular option, as does the street layout in the city; San Salvador is not a square city but has long avenues that are straight and streets that are not. That said, in some areas walking is a great option, such as from Zona Rosa to Las Terrazas (Sheraton hotel) which are close together and within sight of one another.
See
Boulevards
San Salvador has wide avenues and boulevards, including the two widest boulevards in Central America:
Boulevard de los Proceres
and
Boulevard de los Heroes
. Other important boulevards include
Alameda Roosevelt
,
Paseo General Escalon
,
Av. Jerusalem
,
Boulevard Constitucion
and
Av. Juan Pablo Segundo
.
Monuments
San Salvador has many beautiful monuments, some of them dating back to the early 20th century, while others are more modern. Some of the most important monuments include the National Palace, Plaza Gerardo Barrios, Plaza Morazan, Water Clock, Monument to the Sea, Atlacatl Monument and the Proceres Monuments (it has 10 monuments). One of the most recognizable monuments in El Salvador is the Monumento al Divino Salvador del Mundo, or "Monument to the Saviour of The World".
Business
Feria Internacional de El Salvador is the largest convention center in Central America. El Salvador is rated the third best place for investment in Latin America by Moody's. Some of the very wealthy business families in San Salvador and throughout El Salvador are Siman (owners of the largest department store chain in Central America), Poma (owners of Grupo Roble and Grupo Poma), Quiros (owners of Grupo Q in Central America), Kriete (owners of TACA Airlines), Dueñas (owners of La Gran Via), the family that owns Biggest, Pops, Nash and Mister Donut, and a lot of other important families. In addition, San Salvador is one of the only two cities in Central America that have a World Trade Center.
Parks
San Salvador has a large urban park, the "Parque de los Pericos". There is another park called
Parque Cuscatlan
(close to downtown), which is very elegant, with lights, trees and paths. Popular with locals, the beautiful botanical gardens of
La Laguna
(close to the U.S. embassy) showcase much native fauna.
Zoologico Nacional
(The National Zoo), and
Parque Saburo Hirao
(with a collection of native plants) are in the SE part of the city by the old Presidential House.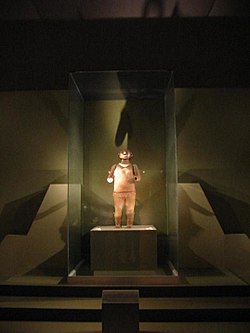 If you don't get a chance to visit smaller towns and villages outside the capital, a must see destination is
Los Planes De Renderos
. 1000 Meters above sea level, and it offers a spectacular view of San Salvador. This is a popular oasis for locals from the hectic city life. Check out the restaurants, and near-by parque Balboa, (Balboa Park) with lots of trees and green lawns, ideal for picnics. Indulge yourself eating the tasty salvadorean treat known as pupusas! Visit the nearby colonial town of Panchimalco, one of the few towns in the country with a large indigenous population. Another interesting spot not to be missed is the spectacular natural formation and viewing area known as Puerta del Diablo (devil's gate).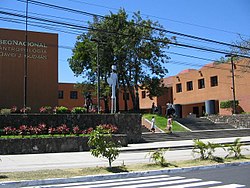 Museums
San - Salvador has many museums, the two most important are "Museo David J Guzman" and "Museo de Arte MARTE".
David J Guzman National Museum of Anthropology
contains a variety of Mayan and Pipil artifacts, while
Museo de Arte MARTE
displays an extensive collection of international art. Both are located in the Zona Rosa district. There is also a children's museum, the
Tin-Marin
museum, where kids can experience the world in a fun way. The old national palace is being restored to house the "National Archives," and the "National Museum." Also a new display of early mammal fossils, including a giant sloth, mastodon and more than twenty other species is being set up in the "Museo de Historia Natural," or "Natural History Museum" situated in the SE section of Saburo Hirao park by the National Zoo. Close to the zoo is the
"Museo Militar," or Military Museum which is housed in the old castle-like "El Zapote" barracks built in 1895. In the military museum you can find weapons and army uniforms from the 17th, 18th, and early 20th centuries, which were historically used by the Salvadoran army. Other highlights of this museum include the original copies of the 1992 peace accords and the Pope Mobile used when Pope John Paul II visited the country. Entrance is free and a guide service is provided at no charge.
Theaters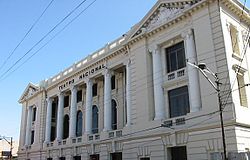 San Salvador has numerous theatres, including the beautiful Teatro Presidente (located near Zona Rosa), where the symphony regularly performs expensive and inexpensive concerts, and the Teatro Nacional (downtown), which was recently restored to its full splendor. Here you can step back and experience the grandeur once reserved for the city's elite in the early 1900s.
Entertainment
San Salvador has several entertainment venues. You can go to restaurants, bars, clubs, casinos, or if you are traveling with kids you can go to the cinemas, bowling, bingo, arcades etc. Cinemas in San Salvador include
Families may also want to visit Central America's largest toy store:
The trendiest night spot to visit is called Zona Rosa. Some of the best hotels are located there, including the Sheraton Presidente as well as one of the most luxurious hotels in Central America, the Hilton Princess.
Although Zona Rosa doesn't cover a large area (around 1sq mi), it's home to many exclusive, upscale bars and nightclubs (Los Alambiques, Code), and the best restaurants in town (Paradise, 503, A lo Nuestro).
If you want to visit a nightclub without the probable inconvenience of not being let in, you should visit Las Terrazas (Stanza, Envy) at Multiplaza Mall.
Learn
There are many private schools and universities, including numerous language schools.
Some of the best private schools are
Colegio Externado San Jose (Externado San Jose), 33 Av. Norte, Final Pasaje San José, Residencial Decapolis. Ph:+503 2261-4000.
Liceo Salvadoreño Col. Flor Blanca, ph:+503 2260 9888- +503 2260 7459.
The American School (Escuela Americana), San Benito, ph:+503 2257-8336.
Colegio Champagnat Santa Tecla, ph: +503 2228-1160
The British Academy (Academia Britanica Cuscatleca) in front of CA1, Santa Tecla. Ph:+503 2241 4400.
The Panamerican School (Escuela Panamericana), Colonia Escalón, ph:+503 2209-6000.
The German School (Deutsche Schule) Jardines de Guadalupe. Ph: +503 22438120.
The French School (Lycée Français St Exupéry) Next to the British Academy, Santa Tecla.
The International School of San Salvador Calle La Reforma. Ph: +503 224-1330.
Colegio Fatima Santa Tecla. Ph: +503 2228-1070
Instituto Bethania Santa Tecla. Ph: +503 2228-0075
Colegio La Floresta Ph: +503 2249-3600
Buy
La Casita. Locations in both Centro comercial multiplaza, San Benito and Centro comercial Plaza San Benito.
Bookmarks , Centro Comercial Basilea , Zona Rosa (Next to the Hilton).
La Ceiba, Galerias, Col.Escalon Av. Paseo Gral.Escalon. There are Many other la ceiba stores in the city.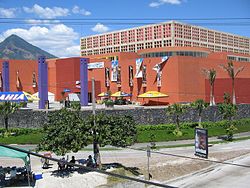 Malls
Some of the shopping malls include: Loma Linda,
Multiplaza
, Las Fuentes,
Galerias
(elegant), Metrocentro (said to be the largest in Central America), El Paseo (expensive),
Plazamundo
,
Plaza Merliot
,
La Gran Via
(a lifestyle center / "city walk"), Las Cascadas,
Basilea
(unique), Plaza San Benito, Villas Españolas and many more. These malls have luxury boutiques, the latest in international fashion, specialty stores, large foodcourts (some even have 3 food courts) and many other amenities.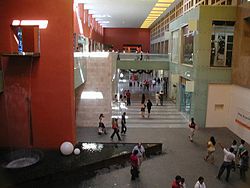 Local Crafts
For local arts and crafts, visit the Ilopango markets east of the city. Test your bargaining skills and take home some unique, handmade goods.
For cheap souvenirs such as hammocks and other local crafts try the Mercado Cuartel. A good hammock can be yours for under $15 US, depending on bargaining skills.
Fuel
There are many gas stations, including Texaco, Shell, Puma, Petrotec, Esso and others all over the city. Many offer full-service.
Department stores
San Salvador and some Mexican cities are the only cities in Latin America with Sanborns (restaurant and store chain) and Dorians (or Sears). Other department stores include
Siman
, Carrion and Almacenes Europa.
Supermarkets and Other Retail Stores
Super Selectos. Everywhere in the city.
Hiperpaiz, Blvd. Los heroes and Las cascadas hipermall Antiguo cuscatlan. A Wal-Mart company.
DeTodo. Everywhere in the city.
La despensa de Don Juan. Everywhere in the city.
Pricesmart (Costco in the U.S.A.), Blvd. De los Heroes and Santa Elena.
Eat
The restaurant scene in San Salvador is influenced by many different cultures. Food options include Italian, Korean, Japanese, Thai, French, Chilean, American, Peruvian, Mexican, Spanish, Middle Eastern, German, Chinese, Argentinian and others. Local food options include Tipicos Margot where one can purchase the famous Salvadoran
Pupusas
. Perhaps the biggest indictment against the quality of the San Salvador restaurant scene however is the sheer number of chain restaurants referenced in this article.
Budget
Mr. Donut
Burger King
McDonald's
Wendy's
Biggest
Pollo Campero
Pollo Campestre
Pollo Tip-Top
KFC
Subway
Quiznos
Pollo Tropical
Pizza Hut
Domino's
Little Caesar's
NASH
Típicos Margoth
When you are in El Salvador you won't have to worry about finding a place to eat, there is food everywhere you go.
Mid-range
phone: +503 2-298-5050

Blvd. el Hipódromo, Col. San Benito, Zona Rosa. American casual. There are 3 more Tony roma's in the city.

phone: +503 2-263-8792

San Benito, Zona Rosa. There are many other La Panetière in all San Salvador.
Punto Literario. In El Museo de Arte Marte col. San Benito. Zona Rosa.

Sal y pimienta

phone: +503 2-298-1766

Tercera calle poniente #3877 entre 73 y 75 av. Norte Col. Escalon.

Restaurante Chileno Hey

phone: +503 22637281

97 av Nte. calle Pte. #4509, Col. Escalon.

Restaurante Basilea

phone: +503 22236818

Blvd. El Hipódromo 2-502, col. San Benito, Zona Rosa

Pasquale

phone: +503 2263-1693

Paseo Gral. Escalón, Col. Escalón frente a Galerías shopping center. Italian food.

Tre fratelli

phone: +503 2224-2951

address: Blvd. El Hipódromo #307, Zona Rosa

Italian Food.

phone: +503 2514-4455 or +503 2257-2545

address: Paseo Gral. Escalón #3952

Italian food.

Diva

phone: +503 22790814

Blv. El Hipódromo, centro comercial San Benito, Zona Rosa

Dynasty

phone: +503 22639955

Frente a Blv. el Hipódromo y Av. Las mangolias Col. San Benito, Zona Rosa. Chinese food.

Sushi-Itto

phone: +503 22241900

Zona Rosa

Chili's

phone: +503 2637556

Paseo Gral. Escalón #4220 col. escalon

phone: +503 226-32413

Calle el tanque #13099 av. Norte y 7a calle poniente Bi. Col. Escalon. Peruan food.

Pueblo Viejo

phone: +503 22611256

Blvd. Los Heroes, MetroSur 2 nivel.

Tequila y Botanas

phone: +503 22113333

Hotel Real Intercontinental, Blvd. de Los heroes Mexican food.

Los Balcones

phone: +503 23660000

Km 40.5 autopista al aeropuerto fax:.01

phone: +503 221-13333

Centro Comercial El Paseo, Col. Escalón, Paseo Gral. Escalon. and Tanoshii Hotel Real Intercontinental Blvd. de los Heroes. Japanese food.
Royal, Col. Escalón in front of Pops escalón. Chinese Food.
Sanborns rastaurant and store, Multiplaza, mexican food.
Rj, multiplaza. Peruan food
Inka Grill, Blvd. El Hipódromo, Col. San Benito, Zona Rosa Peruan food.
Voi-la, Av. Masferrer infront of Texaco. French food.

Restaurante Club Campestre

phone: +503 22633555

Av. masferrer, Col Escalón 550 mts arriba de Redondel Masferrer. Buffet and à la carte.
Diva Bistro Multiplaza.
San Martín Multiplaza and El Paseo. Bakery.
El Rincon de mi Tía Multiplaza. Café and restaurant.
Olivos Multiplaza and Hilton princess Hotel at Zona Rosa. Salads and Sandwiches.
Benihana La Gran Via - International Japanese Steak House
Bennigans La Gran Via - International - Irish

Señor Tenedor

phone: +503 2-298-1766

Av.Olimpica #3544 plaza Jardin.
La Media Cancha, Steakhouse Restaurant and Sports Bar with TV's for watching sport - 79 Avenida Sur #48, Zona Rosa

phone: +503 2264-1168, +503 2264-6168

89Av. Nte y 9a calle poniente #4612 Col. Escalon. Chinese food.

phone: +503 2263-4593

Calle Padres Aguilar No. 4, Colonia Escalón. Spanish Fusion and Tapas.
Splurge
503

phone: +503 2223-4770

Blvd. del Hipódromo, Zona Rosa. Upscale, international cuisine and sushi lounge.

A lo Nuestro

phone: +503 22235116

Calle la Reforma #225-A Col. San Benito, Zona Rosa

La Pampa Argentina

phone: +503 2-2786057

In Zona Rosa, in Col. Escalon 1000mts arriba del redondel masferrer, in Santa Elena Boulevard Orden de Malta, and Boulevard. Constitución Col. Escalón.
Los Ranchos, Calle La Mascota #232 Interseccion Pje. A y Pje #3 Col.La Mascota, Zona Rosa.
Angus, La Gran Vía

phone: +503 22431108

Jardines de Guadalupe frente a CA1, La Libertad. Buffet and à la carte.

Finisterre

phone: +503 22637691

Col. La Mascota Pje. A#30

Las Orquideas

phone: +503 22630044

Hotel Terraza 85Av. Sur y calle Padres Aguilar
El Mirador, Hotel Radisson Col. Escalón. Buffet and à la carte.
Hunan, Upmarket Chinese Restaurant specialising in Szechuan and Shanghai in elegant surroundings - Paseo General Escalón y 99 Avenida Norte. Plaza Villavicencio

phone: +503 2223-4832

Blvd. El Hipódromo, Zona Rosa.

Faisca Do Brasil

phone: +503 22113333

Authentic Brazilian 'Rodizio' style dining in luxurious surroundings. Hotel Real intercontinental Blvd. de los Heroes.
http://www.fireofbrazil.com/ Fire Of Brazil], Brazilian Steakhouse - Churrascaria. Modern Restaurant and Bar with indoor and outdoor dining. Plaza Futura, San Salvador

JequesMiddle Eastern Cuisine. Plaza Futura. Calle el Mirador, Colonia Escalón, San Salvador
If you need to buy something, there are a lot of supermarkets in this city. Some are international, which come from Guatemala, the USA and other countries that are interested in bringing supermarkets to San Salvador. The supermarkets contain products such as food, clothing, candies, tools, shampoos, toys, cosmetics, soaps, etc.
Drink
San Salvador is well-known for its nightlife. Clubs and bars can be found in the Zona Rosa, Basilea Mall, La Terraza (Sheraton Hotel), Las Terrazas (Multiplaza Mall), Boulevard de Los Heroes, Temptation Plaza, and the bars and restaurants area in La Gran Via (Mall and night lifestyle center). These places have many bars, discos, restaurants, DJ centers and boutiques.
Visit the laid back bohemian bars (university crowd) around Calle San Antonio Abad to meet interesting locals or head to the Zona Rosa/Multiplaza Mall area to dance the night away with the city's style-conscious upper class youth.
phone: +503 2263-5576

address: Blvd. del Hipodromo #575, San Benito, San Salvador

the place for excellente value wine with the best selection
Bars and Clubs
La Luna Casa Y Arte]' - Art Gallery/Restaurant/Bar, popular with artists, art exhibitions, poetry, live acts, reggae nights, jazz nights etc, check out their website for extensive list of events.
Los Rinconcitos, Zona Rosa.
Code(Mario's), Zona Rosa.

ZanzibarZona Rosa. Great live party music on Saturday afternoons and Acoustic Thursdays quality faves. Centro Comercial Basilea.

La Taberna, Beer House 79 Av. Norte. Col. Escalon
Tabú, Zona Rosa. Next to Code
Stanza, Las terrazas (multiplaza).
Bliss, Las terrazas (multiplaza).
MaiThai, Las Terrazas (multiplaza).
Envy, Las Terrazas (Multiplaza).
Dolce Fiero, Popular with younger Salvadorans
Malibu Santa Elena, Boulevard Orden de malta, Santa Elena.
El Arpa, San Salvador - Popular with expats, Avenida "A" 137, Col. San José
La Ventana, Colonia Escalon. This is not a club, more of a lounge/coffee spot with food available, and a full bar. Owned by a German who now resides in El Salvador.
Scape (Gay),Centro Comercial Juan Pablo Segundo, Local 311A, Prolongacion Juan Pablo Segundo, San Salvador.
Millenium (Gay), 50 meters south of Scape.
For the latest information on
gigs
,
raves
,
dance parties
,
international acts
and
concerts
in San Salvador check here: (Spanish). Larger events and conventions are generally held in the Feria Internacional .
Sleep
Budget
phone: +503 2301-4322 or +503 7737-8879

Surf lessons, laundry service, English spoken. Rooms with A/C and private bath available.

International Guest House

address: 35 Avenida Norte 9

Breakfast, internet, laundry, safety box.
Laguna Verde Guest House The dome shaped house is located at the border of an ancient, deep, secondary crater with vertical walls, the "Cuajusto" extinct crater in Apaneca town (1 hour from San Salvador). From here you can catch some impressive panoramic views and do hikes to the nearby Laguna Verde, Black Forest and other natural beauties. Ph +503 2262-0879, +503 7859-2865, +503 2260-2481. . com, mailto:gpssal@intercom.com.sv. Dormitory rooms from $7 to $10 per night.
Mariscal Hotel & Suites, Paseo Escalón 3658 (comfortable), from $28

Hotel Tazumal HouseThe, 35 Avenida Norte, Casa 3. A/C, cable TV, free internet use. From $10 to $40.

phone: +503 2260-2481, +503 7981-4517 (Cell)

address: Calle San Salvador 202

A small guesthouse open for over 25 years. Located in a quiet residential area in the Blvd. de Los Heros district, it is within walking distance to malls, banks, pharmacies, post offices, coffee shops, bars and restaurants. The building is well-lit with a tranquil, homey atmosphere with a common area with cable TV, as well as a roof-top terrace with sparse vegetation. Services available include book exchange, modest cafe/restaurant, laundry service, safe deposit lockers, luggage storage and free tourist information. Wireless internet is also available, but there is a small one-time charge to obtain the access code. Computers are also available for $2/hr.
Mid-range
The staff of all the hotels speak English and Spanish, but there are also others who speak other languages. All the hotels include room service.
Ramada Inn

phone: +503 2263-0033

85 Ave. Sur y Calle Juan José Cañas, Col. Escalón San Salvador. The hotel includes air conditioning, king size beds, double bed rooms, restaurant, bar and many other amenities. 4-stars.

Quality Real Hotel Aeropuerto San Salvador

phone: +503 2366-0000

KM 40.5 Carretera Al Aeropuerto de El Salvador. Just 3 minutes from the airport and 20 minutes from the sandy beaches of Costa del Sol. In house restaurant. Room service, business center, bar and pool.

Hotel Happy HouseAvenida Los Sisimiles, #2951, Colonia Miramontes, Phone and. Hotel includes air conditioning, double bed rooms and free wireless internet access. 3-stars

phone: +503 2-283-0100

Hotel Siesta Final Boulevard Los Proceres. The hotel includes air conditioning, king size beds,double bed rooms,restaurant, bar and many other amenities. 4-Stars.

phone: +503 2-241-4000

Urbanización y Boulevard Santa Elena a 400 mts. de la Embajada Americana. The hotel includes air conditioning, king size beds,double bed rooms,restaurant, bar and many other amenities. 4-Stars.

phone: +503 2263-0044

85 Ave. Sur y Calle Padres Aguilar Colonia Escalón. The hotel includes air conditioning, king size beds, double bed rooms, restaurant, bar and many other amenities. 4 stars.

phone: +503 2267-0800, +503 2267-0801

43 Ave. Sur y Alameda Roosevelt #2305. The hotel includes air conditioning, king size beds, double bed rooms, restaurant, bar and many other amenities. 3-Stars.
Hotel Alicante, Col La Sultana, calle las rosas y ave los Laureles #1, Ph:+503 2243-0889, +503 2243-5838. The hotel includes air conditioned, king size beds,double bed rooms,restaurant, bar and many other amenities. 3-Stars.

phone: +503 2243-8877

Avenida El Espino Lote No 62-64, Santa Elena, Madreselva, Antiguo Cuscatlán. The hotel includes air conditioning, king size beds,double bed rooms,restaurant, bar and many other amenities. The staff speaks Spanish, English and German. 3-Stars.

phone: +503 2247-7100

Autopista Sur, Boulevard La Sultana y Pasaje Monelca. The hotel includes air conditioning, king size beds, double bed rooms, restaurant, bar and many other amenities.

phone: +503 2260-1666, +503 2260-1655

Avenida Los Sisimiles Pje. #5 casa 2943, Colonia Miramonte. We offer comfortable rooms with air conditioner, Chinese restaurant, private parking, free internet, excellent location, only two block from Metrocentro and many other amenities at very low price.

phone: +503 2261-0555, +503 2261-0566, +503 2261-0577

Avenida Sisimiles 2922, Colonia Miramonte. A 50 metros de Hotel Real Intercontinental, frente a Metrocentro, the hotel includes air conditioning, king size beds, double bed rooms, restaurant, bar and many other amenities. The staff speaks English, Spanish and Greek. 4-Stars.

phone: +503 2263-4592

15 Calle Pte. No. 4319, Col. Escalón. The hotel includes air conditioned, king size beds,double bed rooms,restaurant, bar and many other amenities.

phone: +503 2244-6000

Calle El Mirador y 95 Ave. Norte Col. Escalón. The hotel includes air conditioned, king size beds,double bed rooms,restaurant, bar and many other amenities.

phone: +503 2260-2288

Final 61 Ave. Nte. Col. Escalon. The hotel includes air conditioned, king size beds, double bed rooms, restaurant, bar and many other amenities. 4-Stars.
Hotel Merliot, Col. Jardines de cuscatlan, Polígono G, No. 24, Av. L-A, Ciudad Merliot. +503 2278-4417, www.hotelmerliot.com hotelmerliot@gmail.com. Our comfortable and elegant single, double and triple, with breakfast included (6AM-10AM) have cable TV, telephone, free wireless Internet, private bath with hot water, closet, executive desk, air conditioning.

phone: +503 2249 3000

Esquina Calle 2 y calle 3, Centro de Estilo de Vida La Gran Via.
Splurge
InterContinental San Salvador-Metrocentro Mall

phone: +503 2211 3333

address: Boulevard de Los Héroes

The InterContinental San Salvador Hotel has 228 rooms, 6 suites and 2 Club InterContinental floors. It has 13 conference rooms, 3 restaurants, gym, spa, pool and business center.

phone: +503 2-257-0700

address: 89 Avenida Norte

phone: +503 2-283-4000

address: Avenida De La Revolucion
Stay safe
San Salvador has had a history of violence. San Salvador was considered the most dangerous city in the world in 1992. Today, El Salvador experiences some of the highest homicide rates in the world, and it is considered an epicenter of the gang crisis, along with
Guatemala
and
Honduras
. Crime rates in general have been steadily growing throughout the years. Most tourists will experience few problems in the city as they are not specifically targeted. Most murders are committed by gang members against members of other gangs.
To stay safe:
Don't walk on streets that look abandoned and dark.
Use only licensed taxis or rent a car. If you are adventurous, watch your valuables and put away jewelry when using the public buses. Most major hotels have taxis that they have approved as safe and legitimate. If unsure about a taxi, call your hotel and they can generally have a safe taxi dispatched to your location.
At best, walk in tourist areas.
You are not likely to have a problem in the malls or inside major stores or museums, and most public buildings are full of security guards, alarms, fire extinguishers, etc.
There is much gang violence in
El Salvador
, but in San Salvador the downtown areas, the malls, the
Zona Rosa
, most tourist attractions, and the upmarket neighborhoods are generally safe. Doing your homework and avoiding gangland areas will ensure you have a hassle free and enjoyable experience.
No matter how adventurous you may feel, it is strongly advisable to stay away from the city's poorer districts of Soyapango, Barrio Mejico and Apopa and its surroundings on the east and north sides of the city.
Cope
Health services
San Salvador is a city full of pharmacies. Hospital services are also very good and facilities include Hospital de Diagnostico in Villavicencio Plaza.
Banks
Finding a bank is not a problem within the city. Banks include HSBC, Citibank, Banco Agricola, BanTpym, Banco Centromericano, Scotiabank, Procredit and others.
Embassies
phone: +503 2298-7888

phone: +503 2279-4655

address: Centro Financiero Gigante 63 Av. Sur y Alameda Roosevelt, Local 6, Nivel Lobby II

Greece

phone: +503 263-3402

address: 77 Avenida Norte 335, Colonia Escandon

phone: +503 2501-2999
Go next
You can get out of Comalapa International Airport or rent a plane for a moderate fee in Ilopango Airport to give you a ride to other of the countries important cities. The rent a plane service is available to go to Santa Ana, San Miguel and La Union (on Tamarindo, near the Gulf of Fonseca where you can board a ferry to take you to the other Islands)
If you are looking for an excursion out of the city, check the classified section of the newspaper
Diario de Hoy
("Asesores de Viaje y Excursiones" heading) for any reasonably priced tours that may be departing soon.