Sandwich (England)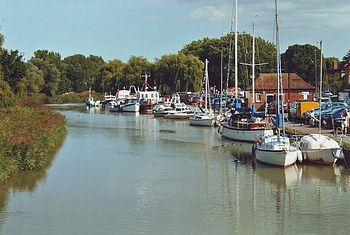 Sandwich
is a village in
Kent
. The Earl of Sandwich is noted for the 'creation' of the sandwich snack.
Sandwich is one of the Cinque Ports, the five most important trading ports between that part of England and France.
Get in
Get around

Walk, although it is designated a town, it is the size of a small village.

See
Guild Hall16th century. Can you see which part is an extension from the 1960s?

toll bridge

Richborough Roman Fort and Amphitheatre

phone: +44 1304 612013

address: Off Richborough Road

Situated to the north of Sandwich, the fort is a collection of many phases of Roman remains that are still visible today and are under the auspices of English Heritage. The fort stands in the middle of an area thought to be the sight of the Claudian Invasion of 43 AD. Described by English Heritage as 'perhaps the most symbolically important of all Roman sites in Britain'.

The Secret Gardens of Sandwich

phone: +44 1304 619919

address: The Salutation, Knightrider St
Do
Walk along the tow path beside the river.
Eat
phone: +44 1304 614387

address: The Little Cottage, The Quay

Fish and chips restaurant and take away.

phone: +44 1304 448560

address: 10 New Street
Sleep
phone: +44 1304 617330

address: 65 Strand St

Very old inn with beer garden, excellent food (best to reserve a table) with very good breakfast, adequate sized and furnished rooms, car parking, friendly and efficient staff.

phone: +44 1304 613388

address: The Quay
Go next