Sandy
Sandy
is a city located just south of
Salt Lake City
in
Utah
's
Wasatch Range
. It is one of the major suburbs of Salt Lake City.
Understand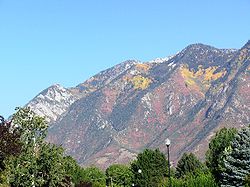 Sandy is the fourth largest city in Utah, with a population of approximately 90,000. It is a bedroom community of
Salt Lake City
. It lies in the south-central portion of Salt Lake Valley, a large valley located between the Oquirrh Mountains to the west and the Wasatch Mountains to the east, where the Great Basin and Rocky Mountain regions meet. The city is largely residential, but commercial areas lie in the west part of the city and along major roads through the city, including South Town Mall and the Jordan Commons shopping center. The eastern residential regions lie along the western slopes (
benches
) of the Wasatch Range, and the residences become more affluent as you climb the bench. Sandy lies along the
Wasatch Range
, the region of nearly continuous urbanization from Brigham City south to Payson, including the cities of
Ogden
,
Salt Lake City
, and
Provo
.
Sandy, in particular, is friendly toward visitors. Some refer to the city as "The Ultimate Base Camp." No where else, worldwide, is there the same proximity to as wide a variety of mountain and outdoor recreation, and metropolitan conveniences.
Get in
Car
Sandy, as well as all of Salt Lake Valley, lies on what is known as a
grid system
. See Salt Lake City for helpful information on the grid system used in Utah. The easiest way to get to Sandy from the international airport is to take I-80 East until it merges with I-15 south west of Downtown Salt Lake City, and keep going south until you reach Sandy. Sandy can be accessed from the 9000 South (Exit #298) and 10600 South (Exit #297) exits. From Downtown Salt Lake City, you can also take State Street, 700 East, or 1300 East straight south.
Rail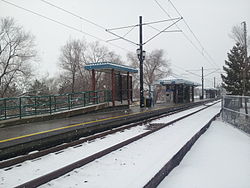 TRAX
is a light rail line administered by the Utah Transit Authority (UTA) located in the Salt Lake Valley. The southern terminus is located in Sandy, which you can board at 10000 South near Jordan High School. It runs north through downtown. Fares and schedules available at:
Ride UTA
. The stop at Sandy is just in the middle of a car park and bus interchange, with no pedestrian signs pointing anywhere, and all the other passengers seeming to be going to their cars or to buses. It is possible to walk to the Civic Center, and to the shopping areas, if you know where you are going.
Bus
UTA also operates an extensive bus system which covers the entire Wasatch Range. Sandy has easy and extensive access to many of these bus lines, many of which also stop at the TRAX stations.
See
Balloon FestivalIf you happen to be in Sandy during the summer (August), you should check out the city's annual Balloon Festival. The sky literally fills with hot air balloons.

Movies in the ParkAlso during the Summer, various parks throughout the city host "Movies in the Park." The city places big screens and projects movies for people to come and see.

Jordan Commons

address: State Street

A great place to go. Plenty of restaurants, a movie theater, an arcade, and office buildings.
Do
Entertainment

Rio Tinto Stadium

address: State Street

Home of two top-level soccer teams—Real Salt Lake in Major League Soccer, and Utah Royals FC, a team owned by Real in the National Women's Soccer League. The stadium recently hosted Paul McCartney and KISS and has a date with Neil Diamond on July 28th. The stadium also hosts a number of other events, including, most recently, the USA Rugby Championships.

address: 1245 East 9400 South

The concert experience at the Amphitheater is truly unique and one you will not find anywhere else in the area. The view is breathtaking as the sun sets in the west and the moon rises over the Wasatch Mountains to the east. Enclosed by an abundance of natural plant life and accented with water features, the amphitheater beautifully blends in with its surroundings. The Sandy Amphitheater holds a capacity of 2,750: 966 theater seats up close to the stage, while the lawn seats about 1,800 with both designated lawn chair and blanket areas. Either way, patrons will enjoy an intimate concert experience with plenty of room to stretch out and enjoy an evening of music under the stars. Past acts the amphitheater include: Glen Campbell, Easton Corbin, Olivia Newton-John,and others.
Educational
Sandy City Museum

address: 8744 S. 150 E

The museum is located at the original Sandy train station in a historic ZCMI building with two levels of displays, a gift shop and an outdoors exhibit. Hours are Tues. Thurs. and Sat. 12:00 to 5:00 and by appointment.

phone: +1 801 355-3474

address: 725 E 10600 S

The Living Planet Aquarium highlights animal habitats in Utah waters, Earth's oceans and South American species. learn about our interdependence with the fragile ecosystems of our planet through entertaining, interactive educational exhibits and programs.
Ski
It is said that Utah is home to the
greatest snow on Earth,
and Sandy is only a short drive to some of Utah's best Ski resorts.
phone: +1 801-933-2222

address: Snowbird Ski and Summer Resort Highway 210, Little Cottonwood Canyon, Snowbird, UT 84092

Snowbird and Alta were named the No.1 Ski Resort in North America by Outside Magazine in 2008. Snowbird offers 882 lodging rooms between four lodging properties. There are also a variety of restaurants and dining options, a relaxing spa, and a helpful staff. Snowbird is also available for Summer, Spring, or Fall activities, such as hiking or the famous Alpine Slide.

phone: +1 801-359-1078

address: Alta Ski Area, PO Box 8007, Alta, UT 84092, U.S.A.

Snowbird and Alta were named the No.1 Ski Resort in North America by Outside Magazine in 2008.
Buy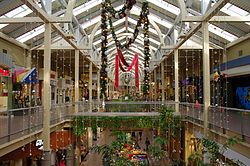 South Town MallA moderate sized mall, with standard offering of shops, and a kids carousel It is pleasant enough, but has no significant features to distinguish it from any other shopping mall. To walk from the Sandy TRAX station, walk out of the station, and to the Sandy Civic Center down Sego Lily Drive. Walk the full length of the grass mall in front of the Town Hall to the shopping mall.
Eat
Asian
Royal IndiaOne of the best Indian Food experiences in town!

Simply ThaiGreat Thai food.
Casual Dining
SconecutterOpen 24 hours.
Grills/Steakhouses
Crown BurgerAcross the street from Jordan High School.
Italian/Pizza
ToscanoGood, fresh pizza.
Southwest/Mexican
Cafe RioGreat fast Mexican.

Los CucosThis is the only one outside of Texas. Great Tex-Mex!

TacoTimeIt really is.
Fine Dining
La Caille

address: 9565 S. Wasatch Blvd

La Caille is the most exquisite, ultra-luxurious restaurant in the state of Utah. The restaurant is located on 22 acres in the mouth of Little Cottonwood Canyon. Expect to pay $50-100. per plate. Also known for banquets and events such as weddings and receptions.

Tiburon Fine DiningDelicious fine dining. On the pricy side.
Fry Sauce
Fry sauce is a Utah specialty. What is it? Fry sauce is a mixture of ketchup and mayonnaise eaten on French fries. Fry sauce was created many years ago by the local fast food restaurant Arctic Circle and has since spread to the rest of Utah, as well as eastern Idaho. Almost any local (and many chain) restaurants will serve this tasty pink concoction. For more on Arctic Circle locations see: Arctic Circle Restaurants. Known elsewhere as "Russian Dressing". Ask for Fry Sauce at any Fast Food place in Sandy, and they will know what you are talking about.
Sleep