Sanford (Florida)
Sanford
is a city in Seminole County in
East Central Florida
, just north of
Orlando
.
Understand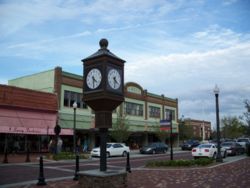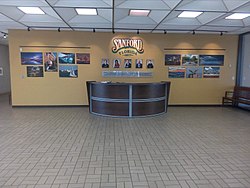 History
Climate
Sanford has a humid subtropical climate, with mild weather during winters and hot weather during summers. High temperatures average 64 to 91 °F (18-33 °C) throughout the year. High heat indices are not uncommon for the summer months in the Sanford area. High temperatures can reach mid to high 90s with heat index ranges of 105-115 °F. The highest recorded temperature in Sanford was 103°F in July 1998. It is common for daily thunderstorms to erupt during a standard summer afternoon. These are caused by the heating of the land and water, combined with extremely high humidity.
During winter, the area can experience hard freezes during the night. Such cold weather is usually short lived, as the city averages only 15 nights below freezing. The coldest temperature recorded in Sanford was 19 °F on January 21, 1985, a day that still holds the record cold for many locations in the eastern half of the US. Even rarer in Sanford than freezing temperatures is snow. When snow does fall, it usually melts before touching the ground, or upon making contact with the ground.
Sanford has suffered less damage from hurricanes than most other east coast cities. Sanford has experienced hurricane or near-hurricane conditions more than a dozen times due to storms passing through the state from the Gulf of Mexico to the Atlantic Ocean, or passing to the north or south in the Atlantic and brushing the area. Rainfall averages around 50 inches a year, with the wettest months being June through September.
Get in
By plane
By train
Sanford is the southern terminus of the
Amtrak Auto Train
which carries passengers and automobiles between Sanford and
Lorton
,
Virginia
, effectively serving as a car-rail link from Florida to the
Washington, D.C.
Metro Area. The Sanford station is not as elaborate as its Lorton counterpart: passengers board the train on two tracks in Sanford. However, Amtrak and the State of Florida are working to replace the older station with a new terminal that can accommodate large numbers of passengers more comfortably.
SunRail commuter railThe Amtrak station is also a stop on the commuter rail system connecting Volusia County and Osceola County through Downtown Orlando.
By bus
Greyhound Bus Lines
, 1300 West Airport Blvd., +1 407-688-9725. Station is open daily 8AM to 10PM, including holidays. Greyhound offers bus connections to
Jacksonville
,
Orlando
, and other cities throughout the U.S.
By car
Sanford is at the intersection of Interstate 4 and Florida State Road 417.
Get around
By bus
Lynx offers public transportation for Sanford.
By car
By taxi
See
Art Galleries
Gallery on First

address: 211 East First Street

Working artist studios.

Jeanine Taylor Folk Art

address: 211 East First Street

Art from the Deep South.

Riverhouse Pottery

address: 118 Palmetto Avenue
Parks
Museums
Museum of Seminole County History

address: 300 Bush Boulevard

The museum highlights Seminole County, the historical gateway to interior Central Florida via the St. John's River. All artifacts housed in the museum have been donated.

Sanford Museum

phone: +1 407-302-1000

address: 520 East First Street

The museum collects and exhibits items dealing with the development of the city of Sanford from the time Florida became a U.S. territory to the present and to perpetuate the memory of Henry S. Sanford, founder of the city.
Zoo
Central Florida Zoo and Botanical Gardens

phone: +1 407-323-4450

address: 3755 NW Highway

The Central Florida Zoo is a resource center for wildlife and conservation education. Experience a living classroom where visitors can explore wildlife.
Do
Boating
Golf
Mayfair Country Club

phone: +1 407-322-2531

address: 3536 Country Club Road

18 holes over 6,400 yards with a par of 72 (public).
Learn
Buy
ATMs can be found throughout Sanford. Usually larger hotels and convenience stores will have a "generic" ATM machine available; however, be forewarned about hidden service fees.

Eat
China Star

phone: +1 407-302-1901

address: 4585 St. Johns Parkway

The menu at China Star features entrees, sides and quick bites. The restaurant is off of I-4 near Rinehart Road and adjacent to the Seminole Town Center.

Colorado's Prime Steak

phone: +1 407-324-1741

address: 3863 South Orlando Drive

Steaks and prime rib are on the menu here. There are also ribs, fish and shrimp on the menu and an array of sandwiches to choose from too.

Corky's Hot Dogs

phone: +1 407-323-8447

address: 4004 Orlando Drive

At this low-key Sanford dog shop, all hot dogs are not the same. With 12 different types of weiners not to mention Italian beef, Corky's has a solid selection of Vienna Beef hot dogs and quality sausages. Add to that nine topping combos that are less than $3 each and this wiener is a winner.

El Potro Mexican Restaurant

phone: +1 407-328-9433

address: 3639 Orlando Drive

Luigino's Pasta & Steak House

phone: +1 407-333-2847

address: 201 West 1st Street
Drink
Jason's Martini Club

phone: +1 407-322-6678

address: 300 Sanford Avenue

address: 309 East First Street

Little Fish Huge Pond is a combination bar, art gallery and live music venue, with local acts ranging from reggae to rock and everything in between. They also host special events like drag and fashion shows.

address: 114 South Park Avenue

Unique biker bar with a cozy 1930s atmosphere and live blues every Friday and Saturday.

Wolfy's Riverdeck Bar n' Grill

phone: +1 407-322-2150

address: 530 North Palmetto Avenue

Key West-style bar and grill located on Lake Monroe and the St. John's River. Enjoy the old-style Florida cooking and live music on the river deck.

phone: +1 407-322-7475

address: 202 S Sanford Ave

Downtown bar with cheap drinks, live music, and a tropical laid-back beachy vibe.
Sleep
Hotels and motels
Budget Inn

phone: +1 407-321-0690

address: 3200 South Orlando Drive

Comfort Inn & Suites

phone: +1 407-585-1580

address: 590 Ava Court

Days Inn

address: 4650 West State Road

46.

Fountain Lodge

address: 2706 South Orlando Drive

Holiday Inn Express

phone: +1 407-320-0845

address: 3401 South Orlando Drive

(US 17-92).

SpringHill Suites Sanford

phone: +1 407-995-1000

address: 201 North Towne Road

Slumberland Motel

phone: +1 407-322-4591

address: 2611 Highway 17-92

SpringHill Suites Seminole Towne Center

phone: +1 407-444-5921

address: 201 North Towne Road

Super 8 Motel Sanford

phone: +1 407-323-3445

address: 4750 West State Road

46.
Bed and Breakfast
Connect

Ten digit dialing is in effect for local calls in Sanford. The local area codes are 407 and 321. For calls within the US or Canada, dial 1+area code+number. There are some public pay phones scattered around the city, but they are becoming increasingly rare with the predominance of cell phones. It is not safe to assume you will be able to find a pay phone at any given time.
All ZIP codes in Sanford begin with 327.

Go next