Sant Antoni de Portmany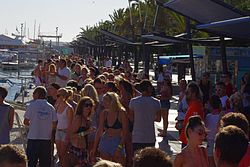 Sant Antoni de Portmany
(aka
San Antonio Abad
or simply
San Antonio
) is the second largest town in
Ibiza
, and is considered by British clubbers to be the clubbing capital of the world. It is on San Antonio Bay, on the west of Ibiza.
For two thousand years, Sant Antoni was a small fishing village, but it began to grow in the late 1950s when many hotels and tourist resorts were built as part of a mass tourism initiative which took place across Spain.
By the 1980s, Sant Antoni had acquired the stigma of being the holiday location of choice for British football hooligans, which lead to a decline in tourism in the area. However, it regained its popularity in the mid 1990s when it gained a reputation in Britain as being the best place to stay whilst having access to all the island's night clubs, often quoted as the best in the world who also host the best DJs in the world.
Young British clubbers make up the vast majority of visitors to the area.
Understand
Most locals speak English quite well. Or to put it another way, most of the British tourists here don't bother trying to speak any Spanish.
phone: +34 971 343 363

address: Passeig de Ses Fonts, 1 bajos
Get in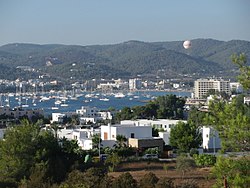 By plane
See
Ibiza Airport
for details.
A taxi from the airport costs approx. €27-30. You can also take the airport bus to Ibiza town and change there or in peak summer season there is a direct bus to Sant Antoni every 30 min. Will cost around €3.
By bus
By boat
In season there are some boats to/from
Barcelona
and
Palma de Mallorca
.
Get around
By taxi
Taxi rank

phone: +34 971 34 00 74

Radio taxi

phone: +34 971 34 37 64
On foot
Walk. Town is small enough.
See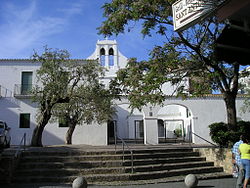 People go to Sant Antoni for clubbing, drinking, beaching, etc., rather than enjoying the beauty of this town. That's not least because of that it is not a particularly attractive place: someone on the Internet has written that the most lovely building there is the building of the Lidl supermarket at the town's outskirts (which is quite an ugly one). Still a curious traveller may find a few places are worth visiting:
Passeig de ses FontsIt is a part of Sant Antoni's harbour-side promenade. This area was developed in the early 1990s to improve the appearance of the town. It features many plants, including palm trees and rubber plants, as well as fountains, which are illuminated by night. The opposite side of the street is lined with pavement cafes and restaurants.

Iglesia de Sant Antoni de Portmany

address: Plaça de l'Església, 1

A fortified parish church of the town.

Huevo de ColónA famous landmark of Sant Antoni, often used as a meeting place. It was erected in 1992 to commemorate the 5th centenary of the discovery of America.

Far de les Coves BlanquesA disused lighthouse that hosts Sant Antoni's Maritime Museum.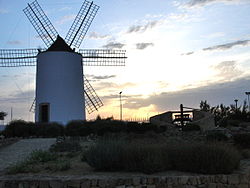 Sa Punta des MolíA headland declared as a Cultural Interest Heritage – a restored piece of the typical old Ibiza with mill, a couple of old houses, a dock, an olive-oil press, plus a bit of a botanical garden, etc.
Do
Clubbing (although the most of the larger famous Ibiza clubs are actually located out of town)
Drink in a West End bar and sit and watch as the crazy world go by
Beaches
Cruises, speedboats
Parasailing
Sunsets
Workers Parties
Party boats
Bungee jumping
Water Sports
Buy
"Genuine Imitation" Sunglasses from the "Looky Looky" men

Eat
The Town is full of pizzerias, Chinese restaurants and bars. It's difficult to find decent restaurant with local food.
Davids Pizzeria. Set menu priced at €12.50 available until 21:00 offers unbeatable value for a 3-course meal and drink. In peak season it becomes very very busy with a waiting list and large queue.
The Curry Club. Over priced and under flavoured Indian food, but still remains popular with a beautiful garden eating area.
Zebra Art&Grill. Soletat 43, 07820 Sant Antoni (near Kanya). This restaurant serves delicious meals prepared with fresh ingredients and an artisan's pride in preparation and presentation - a fact largely wasted on the hoardes of Brits looking for a fry-up or microwave pizza, which is probably why the prices are very reasonable.
The Curry Club, Tucked behind the sunset strip in San Antonio, its beautiful inside, the staff are great and the food - amazing!
Drink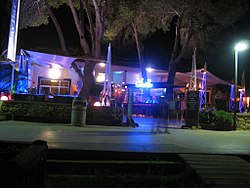 West EndIt's an area in Sant Antoni covering several blocks, filled almost entirely with British bars, each of which has one or more pr's outside, trying to entice customers with offers of cheap drinks. Though most of the bars are disco bars, many are geared towards drinking on the seated terrace. Opening hours are from 14:00 (for bars open early for sports or food) or 9pm till either 04:00 or 06:00 depending on individual opening licenses. Among the popular bars are: Viva, Hush, Koppas, Tropicana, Amsterdam Bar, Soul City, Funky Flares.

Sunset StripSeveral institutions such as Cafe Mambo, Cafe Del Mar and Savannah are the place to go and watch the sun go down. Crowds flock to the bars, the beach and any available spot to watch the sun fall out of sight.

Café del Mar - This is the must spot to catch an amazing sunset set to chillout music. A perfect start to any night.
Viva Ibiza The local bar for all the workers and is busy til 06:00. Ask to buy a Viva wristband (€5) and then all summer (if you are a worker) or all week (if you are a tourist) your drinks will be over 50% cheaper there than in any other bar in town.
Bar Amsterdam - Cheap drinks offers but they don't always use the best quality drinks in your deal.
Sleep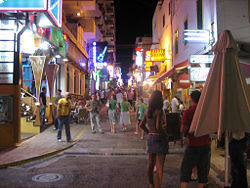 When the sun comes up, it is the best time to sleep. The locals have the town in the day, and singing crowds are likely to keep you awake at night. It's hot all day and night, so you have to be either very tired or have an air-conditioned room.
phone: +34 971 34 11 08

address: Calle Soledad, 49

Voted as one of Ibiza´s best hotels on Trip Advisor, renovated in 2010 and located in a quieter corner of the resort just a short walk away from the town centre and the famous sunset strip

phone: +34 971 34 00 67

address: Carrer de Sant Mateu

It's in the centre of Sant Antoni, in a pedestrian street full of shops and stalls, a couple of blocks away from the West End and a short walk to the Sunset strip and its trendy bars.
Go next
Look for local clubs and bars that have pre-parties and buses to big clubs outside town. You may need to buy tickets in advance (prices range from €12 to €50)