Santa Ana (El Salvador)
Santa Ana
is the second largest city of
El Salvador
and a very important one in terms of agriculture and coffee production (coffee plantations - called fincas - cover much of the land outside town and up the hills). Its historic center offers some of the best preserved architecture in El Salvador, including the Cathedral of Santa Ana, a marvel of neo-gothic architecture, the Teatro de Santa Ana, a beautifully decorated theatre of the early 1900s; and the Palacio Municipal in front of the main plaza with giant palm trees shooting out from its courtyard.
Get in
Santa Ana lies 64 km northwest of the capital
San Salvador
, just off the
Panamerica
(Highway 1), from where several exits lead into town. Being close to the border, it's also a convinient stop if coming from
Guatemala
.
By bus
from Guatemala City's (aka Pezzarossi) at 3 Ave y 1 Calle in Zona 9 (one block south of the infamous Zona 4 terminal), buses leave at 05:30, 07:30, 09:30, 11:30, 13:30, and 15:30 towards San Salvador, passing through Santa Ana after 4-4½ hr, US$16/120 Quetzales (same fare as for San Salvador), Tel +502 2331 0874. Some buses go via the San Cristobal border where immigration procedures are straightforward and hassle-free, while others use the busy border at Valle Nuevo (aka Las Chinamas on the salvadorian side) where aggressive money changers await you. Be very careful here and don't hand out the immigration's paper slip to anyone. First stop is Guatemalan immigration where you get an exit stamp and a paper slip. After crossing the bridge over the Rio Paz you don't need to visit the Salvadorian immigration (the officer boards the bus to check your documents), and no entry stamp is provided as your still in the CA-4 area. When arriving Santa Ana, the only stop will be at the office's new location at . Take a taxi or local bus into downtown (Route R-A will drop you just behind the Teatro).
Buses of the following companies pass by on their way from Guatemala City to San Salvador, but do not enter Santa Ana and might drop you at the intersection of Highway 1 (Panamericana) and Highway 12 a few kilometres south (locally known as La Ceiba). Catch a taxi for US$5 or one of the frequent urbanos (local bus) for $0.20-0.25 into town.

phone: +502 2495-7000
address: 1a Avenida 13-22 Zona 10
phone: +503 2232-3661, +503 2220-6018, +503 2230-5058
address: 7a Avenida 19-44 Zona 1
phone: +502 2501-1000
address: 4 Ave 13-60 Zona 10
phone: +502 2501-1000
address: 4 Ave 13-60 Zona 10
US$23 (one-way)
phone: +502 2473-3737
address: Calzada Aguilar Batres, 22-55 Zona 12
from San Salvador's Terminal de Occidente on Bulevar Venezuela Entre 49a y 59a Ave Sur, two bus companies operate the service to Santa Ana (departure times about every 15 min, see Destinos/Horarios at ):
TUDOBus 201 uses the Panamericana Highway and doesn't stop along the road except in Santa Tecla. Arrival stops are at Metrocento, 31a Calle Poniente y Santa Ana California (INSA), 31a Calle Poniente y Ave Fray Felipe Moraga, roundabout Ave Fray Felipe Moraga y 15a Calle Poniente (Terminal), and finally at the bus depot at Antigua Carretera Panamericana 4km southwest of town.
SeisabusBus 201 goes via the old road (via Santa Tecla, Santa Lucia, Ciudad Arce, and Coatepeque) with frequent stops, and arrives at east side of town at roundabout next to Universidad Catolica (UNICAES), also several stops along 9a Calle towards Parque Colon.
By plane
Transportation from the international airport at Comalapa
SAL
w:El_Salvador_International_Airport costs at least $65 for a minibus (no matter how many persons), 2 hr, organize the day before your flight (ask at your hotel).
The small airstrip know as Pista Singuil about 18 km northwest of town (right off Panamericana Highway 1) is closed and now used for car racing.

By train
All train services were suspended in 1990, but parts of the station (a wooden shack) still exist 17a Ave Sur at the end of 7a Calle Oriente. Be careful here as locals consider this part of town as unsafe. Railway enthusiasts might check the web sites and

Get around
Most places within the historic center can be reached within a few minutes walk, there's no need to take a taxi or board local buses. The
Tourist Office
outside the (just across from the Theater) has city maps and other information.
Most touristic sights are located at the center of town around the . 4 blocks west of it is , and again roughly 6 blocks further south .
From central Parque Libertad
Avenida Independencia
runs north-south, while
Calle Libertad
runs east-west.
Calles
(streets) north of Libertad have even numbers (2-4-6), while Calles south of Libertad have odd numbers (1-3-5). So don't be confused!
Avenidas
west of Independencia have even numbers (2-4-6), the ones east of Independencia have odd numbers (1-3-5).
What's in an address?
25a Calle Poniente Entre 10a y 12a Ave Sur #6
translates into
25th Street West (of Ave Independencia) between 10th and 12th Avenue South (of Libertad Avenue) House Number 6
. (Short version
25C Pte Ere 10 y 12Av Sur #6
)
When asking for directions remember that house numbers are often out of sequence and might repeat in other blocks. Similar, street numbers are not well established (although well signed), and locals - including taxi and bus driver - usually navigate by these
landmarks
:
ParqueParque Libertad.

CentroBuses are not allowed to pass Parque Libertad and usually drop passengers 1 or 2 blocks from the Parque.

MetrocentroShopping mall (roundabout) at south entrance of town. Often shorten to Metro to avoid confusion with Centro (Downtown).

TerminalBus station south of Mercado Colon. Local buses stop at the roundabout at Ave Fray Felipe Moraga y 15a Calle Poniente.

Pollo CamperoFast food restaurant at Ave Independencia y 5a Calle, 3 blocks south of Parque Libertad.

HospitalCalle Libertad Oriente y 17a Ave Sur.

ISSSAve Santa Ana California Sur, next to the stadium.

INSAAve Santa Ana California y 31a Calle.

DUI25a Calle Poniente Entre 18a Ave Sur y Calle Internacional.
By bus
Local buses (called Urbanos) serve almost every part of Santa Ana and its colonias and operate roughly between 5am and 9pm. They can be very crowded especially during rush hour. Routes are complicated, difficulte to follow, and no route map is published. Flat fare is $0.20 for the bigger buses, $0.25 for micro buses, and $0.35 for a/c buses on selected routes; board in front and pay the driver. Some useful lines are...
R-8Metrocentro to downtown, via Bulevar Los 44 (commonly known as bypass), Universidad Catolica, then along 7a Calle and 5a Calle Oriente (get off at Pollo Campero and walk 3 blocks to Parque Libertad).

R-9Metrocentro to downtown, follows Ave Independencia (get off at Pollo Campero and then walk 3 blocks to Parque Libertad).

51-EDowntown (Scotiabank behind the Palacio Municipal) via INSA to UES (Universidad de El Salvador). In opposite direction 51-E goes from UES via INSA to Parque Colon.

51-FDowntown (Scotiabank behind the Palacio Municipal) via INSA to Metrocentro. Don't take 51-F back to downtown unless you're ready for a 45-min ride or want to go to Parque Colon (but if you do, ask the driver if he's going via IVU as two different 51-F routes exist!).
By taxi
Unmetered yellow taxis charge $3 for short distances, but $4 (bargain hard) should bring you pretty much everywere in town. Most drivers have difficultes to find specific streets, better use hotel names, landmarks (see above), or the name of the Colonia (town district) of your destination.
See
Most visitors of course come to see the Cathedral and the Theatre, but Santa Ana has more to offer. According to La Secretaria de Cultura, its historic center (roughly within the limits of 4a Calle, 7a Ave, 9a Calle, Ave Jose Matias Delgado) counts 210 buildings in neoclassical style, 5 Gothic, 64 neocolonial and 102 in traditional style. The most intact ensemble of colonial houses can be found east of Parque Libertad, although most houses are privately owned and therefore inaccessible. For a self guided tour follow Calle Libertad eastbound and discover the north & south leading Avenidas (1a, 3a, 5a, 7a, 9a).
phone: +503 2441-1215

address: Ave Independencia Sur y 1a Calle

Located in the former building of Banco Central de Reserva. Dedicated to the history of El Salvadorian money, exhibition of coins and bills in the former strong room downstairs. Don't miss the art exhibition upstairs.
Santa Ana has a classical colonial town layout with 4 churches forming the Christian cross:
A fairly new addition is...
Parque Ecologico San Lorenzo

phone: +503 2442-4584

address: 11a Ave Norte 2.5 km north of downtown

A small zoological garden which is a bit disappointing but maybe to only chance to see local primates such as Mono Araña (Spider Monkeys). Also has attached picnic area with ponds and swimming pools (not too clean). Popular at weekends but deserted during the week.
Do
Santa Ana makes a excellent base for discovering western El Salvador's archaeological and natural spots. FUNDAR (Fundación Nacional de Arqueología de El Salvador) maintains the excellent and highly recommended website with tons of information, although its participation ended in 2009.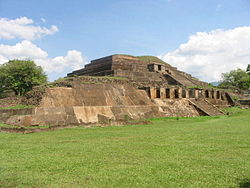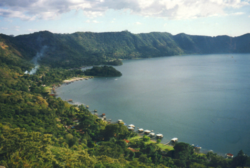 Events
Every year in July the 2-week
Fiestas Julias
(July festival) is celebrated. It's one of the biggest in El Salvador in honor of
Señora Santa Ana
, the city's patron. Activities end on the 26th with a large procession. Don't miss the amusement park 800 m (1/2 mile) south of Metrocentro (towards the Panamericana highway)!
At the end of the year, Christmas (Dec 24) and New Year's Eve (Dec 31) are celebreted with tons of firework and firecrackers, and Parque Colon turns into to a big firework selling spot. Be very careful as firecrackers are powerful and accidents happen frequently.
Learn
phone: +503 2440-2045

address: 23a Calle Poniente y 6a Ave Sur

Branch of its San Salvador operation, offers classes in Spanish, English, French, German, Italian, Portuguese, and even Mandarin. Also has job opportunities for native speakers, part time and full time, salary $3.50-4.50 per hour.
Buy
Smaller shops are usually closed between 12:00 and 14:00 (for lunch break) and after 18:00, and most shops are closed on Sundays (except Supermarkets and Metrocentro).
Commercial areas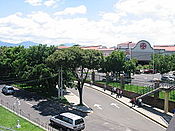 Santa Ana has 3 main commercial areas:
Markets
Supermarkets
Centro
address: 2a Calle Poniente y 2a Ave Norte
Souvenirs
Eat
Budget
Virtually hundreds of
comedores
(cantins) offer salvadorian standard meals (comida tipica) for as little as $2. Mostly self service (comida a la vista). Usually open for lunch between 11:00 and 14:00 (for dinner head out to
pupuserias
). Be early as food is often prepared in advance and may not stay fresh in the tropical heat. Also places sometimes run out of food after 13:00. Virtually all comedores are closed Sundays.
Don Armando

address: 2a Ave Sur Entre 9a y 11a Calle Poniente

Better than the average, but be early as it gets full around noon. And yes, the photo on the wall shows Don Armando, the current owner's father.
Mid-range
Lover's Steak House

phone: +503 2440-5717, +503 2440-0995

address: 21a Calle Oriente Entre Ave Independencia y 3a Ave Sur #6, Colonia San Miguelito

Large portions on huge plates, open from 07:00 for breakfast, free WiFi.
Splurge
Cafes
Drink
phone: +503 2440 9461

address: 4a Ave Sur y 17a Calle Poniente

Bar & restaurant, open until late.
Warning:
Under no circumstances visit the drinking holes along
11a Calle Poniente
Entre 8a Ave Sur y Ave Fray Felipe Moraga Sur (Parque Colon area)!
Sleep
Connect
Correos de El Salvador

address: intersection Ave Independencia Sur Entre y Calle Jose Mariano Mendez

International postal rates are similar to the Unites States Postal Service. Leave parcels open so they can check for prohibited goods.

address: Ave Santa Ana California (10a Ave) Entre 23a y 25a Calle #80

Local & world wide express delivery services for parcels and envelopes (address on all web pages is outdated) .
Internet cafes
a fairly common and charge roughly $0.50 per hour. If you have your own equipment, visiting one of the many cafes and restaurants offering free and unlimited WiFi might be the better option. The public WiFi network
Alcaldia Municipal de Santa Ana
is available around the town hall but usually overloaded, while the mesh network
indiNET
(password: stardust) is more reliable and found at many locations in town.
e-center

address: 4a Calle Oriente y Ave Independenica Norte

RC Servicios

address: 4a Calle Poniente Entre Ave Independencia y 2a Ave Norte

Has air-conditioning.

Ciber Fenix

address: 2a Ave Sur Entre 7a y 9a Calle Poniente

Claims to have fast 7.5 Mbps connection.

Copy@Shop

address: 2a Ave Sur y 7a Calle Poniente
Stay safe
Most parts of the city are completely deserted after 7pm. The Metrocentro area, the Parque Libertad, and the pedestrian street Villa Morena (2a Calle Poniente) are considered safe at night as police and security guards are present. Avoid Parque Colon and surroundings after dark, as many homeless and drunken individuals hang around the area.
Be very careful when walking on sidewalks because many manhole covers are missing (stolen for there value as scrap metal) and openings can be several feet deep. Especially after dark it's recommended to walk on the street (if traffic permits).
Do not climb the hills surrounding the city without local security advice and/or police escort, as robberies have occurred.

Cope
Banks
Most banks have several branches in town, and ATMs are fairly common. Expect your bags checked by security staff when entering the bank. Try to avoid payment days (around 15th and 30th of each month) as long queues occur; the only ATM not affected by this phenomena is at Banco G&T Continental (opposite Banco Cuscatlan) which accepts Visa and Master/Maestro cards.
Scotiabank

address: 2a Ave Entre Ave Libertad y 2a Calle Poniente

Has ATM (which strangly does not accept 6 digit PIN). Other locations are Ave Jose Matias Delgado Entre 1a y 3a Calle Poniente, and in Metrocentro Shopping Mall.

Banco Cuscatlan

address: 3a Calle Oriente Entre Ave Independencia Sur y 1a Ave Sur

Has ATM (accepts all major credit cards, and debit cards such as Maestro). Another branch can be found at Metrocentro roundabout.

Banco Agricola

address: 5a Calle Oriente Entre Ave Independencia Sur y 1a Ave Sur

Has ATM (accepts all major credit cards, and debit cards such as Maestro).

Davivienda

address: 2a Ave Sur y 5a Calle Poniente

Used to be HSBC until 2012, has ATM which accepts Visa only. Another branch is located near Metrocentro roundabout.
If you just arrived from Guatemala and want to get rid of your quetzales, ask around street vendors at 1a Calle Poniente y Ave Independenica Sur (1 block south from Parque Libertad). Current rate (Nov 2014) is $12 for 100 quetzales.
Photo
Entry level digital cameras and memory cards are sold in many shops, but for professional cameras check the following places. Prices for cameras are up to 50% higher than in the US and Europe. Both places also sell and develop photographic films.
Computer
Notebooks and tablets are sold in many electro domestic shops throughout town. For more specific needs check these shops.
Cell phones
Pushy street vendors at the intersection of
Ave Independencia Sur y 1a Calle Poniente
and along
Ave. Jose Matias Delgado
offer SIM cards for $3 including free talk time (sometimes as low as $1), and cell phones. If you don't trust them, better visit one of the many shops, or the carrier's customer center (bring identification document). All carriers have offices in Metrocentro, and at the following downtown locations:
If you buy a 2nd hand cell phone, ask for unlocked (liberado), and the battery's endurance. Replacement parts (keyboards, batteries, memory cards, etc) for cell phones are sold by numerous shops.
Books
Gyms
Super Fitness Gym

address: 2a Ave Norte y 8a Calle Poniente (aka Calle Don Bosco)

Claims to be the biggest gym in town, very loud music.

Golden Gym & Fitness

address: 9a Ave Norte Entre Calle Libertad y 2a Calle Oriente
Laundry
Winner's Dry Clean y Lavanderias

phone: +503 2479-0896

address: 2a Ave Sur Entre 13a y 15a Calle Poniente
Go next
San Salvador2 bus companies provide services to the capital's Terminal del Occidente:
TUDOBus 201 travels via the Panamericana. Regular service $0.85, frequent stops. The more comfortable special service (mostly aircon) does not stop along the highway (first stop is in Santa Tecla) $1.35. Departs every 15 min (first at 04:15) from on Antigua Carretera Panamericana (4km southwest of downtown), at least 1h depending on the traffic situation. Take a taxi or local bus marked Paraiso (9, 15, R-3SA, R-4SA, R55-B, or regional bus 210, 218, 236) to get to the bus depot. More convenient boarding points are 31a Calle Poniente y Ave Fray Felipe Moraga Sur, INSA at 31a Calle Poniente y Ave Santa Ana California, or Metrocentro.
SeisabusBus 201 follows the old Carretera via Coatepeque and Ciudad Arce, frequent stops, up to 2 hr, regular service $1, special service $1.50. Departs every 5 min, first at 03:10 (from at La Ceiba), last at 18:10. Boarding points along 25a Calle and also at Universidad Catolica (UNICAES).
phone: +503 2415-0069

(joint operations of Pezzarossi, Vencedora, Taca) leaves from new office location at La Ceiba (next to Seisabus depot; behind Puma gas station, take a taxi or local bus R-A from downtown to get there). If possible book a day in advance (bring your passport) so they can put you on the immigration list and you can stay aboard the bus, otherwise you have to visit the salvadorian immigration counter when departing the country.
A cheaper but less convenient option is Bus 236 (ordinario) or 236A (especial) from terminal to San Cristobal Frontera, then visit both immigration offices, and catch ongoing bus to Jutiapa and Guatemala City. The shaky Mendez Express bus 402 also departs from terminal at 11:30 (unreliable, check in advance) to Jutiapa and Jalapa, where you can transfer to a Guatemala City bus.
Central North of El SalvadorTake bus 276 from terminal via Coatepeque and Quetzaltepeque to Apopa (2½ hr, $0.80). Get off at final stop (at Puma gas station) and transfer to one of the buses going north along the main highway: Bus 125 for Chalatenago, 141 for Nueva Conception, 119 for San Igancio & Border. For Suchitoto take any bus to Aguilares and change there. Be aware that Apopa has the reputation of being the 'gang capital' of El Salvador, so be careful here.
MetapánBus 235 does not leave from terminal but from the at Calle Aldea San Antonio at the western end of 25a Calle Poniente (across the street from Texaco gas station). A more convenient boarding point along Calle Aldea San Antonio is 1/2 block southwest from Parque Colon, or one of the stops along 6a Calle, $0.90. coming from San Salvador also goes to Metapán, board at Boulevard Los 44 (Metrocentro roundabout).
From Metapán you can also cross into Guatemala at the border of Anguiatú (bus every 30 min, very convenient if going to Rio Dulce, Puerto Barrios, or Copán Ruinas via Chiquimula), and into Honduras at the border of El Poy (take bus 463 from Metapán terminal, at 05:00 and 12:00, 3 hr).
SonsonateBus 209 (directo) every 25 min from bus station at Ave Fray Felipe Moraga Sur y 11a Calle Poniente, via El Congo, travels along the rim high above Lago Coatepeque with occasional views on the lake, 2 hr $0.90. Also bus 216 from terminal via Los Naranjos (1¾ hr $0.70), a very scenic ride over the mountains.