Santa Clara (California)
Santa Clara
is a town in the
South Bay
, part of the
San Francisco Bay Area
, in
California
.
Understand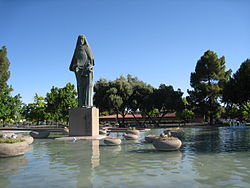 Santa Clara is a small city of big contrasts. If any city can claim to be "the center of
Silicon Valley
," it is this town of just over 100,000. Intel, AMD, WebEx, NVIDIA, and National Semiconductor all have headquarters here. At the same time, Santa Clara is one of the oldest settlements (by Europeans) in Northern California. The Mission Santa Clara de Asís was established in 1777, and the Jesuit-run Santa Clara University, founded in 1851, is the oldest university in California. Dozens of 19th-century homes are well-maintained by their 21st-century owners in the "old quad," the earliest residential area, adjacent to the university.
Yet another contrast is the diversity of the local population, driven by the tech boom of the 1970s-1990s. Visitors from
Asia
and
Europe
frequently overhear strangers speaking their native languages. Specialty markets offer native ingredients from around the world, and the Indian and East Asian restaurants are some of the best in the Bay Area. But many of the best places in Santa Clara are not visible at first glance. You could drive right through this town and see nothing of any interest, or you could take the time to learn where to look, explore, and enjoy.
Get in
By plane
Just west of San Jose, Santa Clara is adjacent to San Jose Mineta Airport (SJC). To reach the airport take the free shuttle from the Santa Clara Caltrain station, route 10.
To the San Francisco International Airport, take Caltrain north (toward San Francisco) to Millbrae. From there, transfer to BART and take BART to San Bruno and then to SFO. Allow about an hour and a half.
The Oakland International airport is accessible by via the Coliseum/Oakland Airport BART station and the AirBART shuttle. From Amtrak, transfer to BART at Jack London Square.
By train
Caltrain
stops at Santa Clara Station, on the east side of Santa Clara University (1001 Railroad Avenue). Though Caltrain doesn't really stop at San Jose Mineta Airport, the free
Airporter
bus (VTA line 10) shuttles passengers between the airport and the Santa Clara Caltrain station.
The
Altamont Commuter Express
(ACE) is an
Amtrak
express train running from the central valley towns of
Stockton
,
Tracy
,
Livermore
and
Pleasanton
to
San Jose
. The train shares the Santa Clara station with Caltrain and also stops at the Great America station at Lafayette and Tasman, near the Santa Clara Convention Center, Levi's Stadium, and California's Great America. Only a few trains run per day. The Great America stop doesn't include a station building, just a platform under an overpass, so plan connecting transportation before you arrive.
When you get off the southbound ACE train at Great America in the morning, there are free shuttle buses waiting to take you to destinations throughout Silicon Valley (as far away as the offices of Google in the west, Cisco in the east, and Nvidia in the south). Similar shuttles run in the reverse direction in the afternoon/evening.
Amtrak
California's
Capitol Corridor
train runs between
Sacramento
and San Jose via East Bay cities such as
Berkeley
and
Emeryville
. The Capitol Corridor shares the same stations as the ACE above, stopping at the University and Great America. The nearby Diridon Station in San Jose includes a building with a ticket counter and may even be closer to parts of Santa Clara. Read schedules carefully, since some trains include a bus connection.
Get around
Light rail and bus
. The
Valley Transportation Authority
(VTA) offers light rail in Santa Clara on the Alum Rock-Santa Teresa and Mountain View-Winchester lines. VTA also offers bus service within and around Santa Clara. Consult the VTA website for schedules, fares, and trip planning.
Rental car
. Numerous national car rental chains serve Santa Clara and surrounding cities. Most people living in the area prefer automobiles as their primary means of transportation, and it is likely to be the fastest, although area freeways do get congested during commute hours. Rental cars are available both at the San Jose Airport and at various locations in the city. Throughout most of Santa Clara, public parking is ample and free.
Bicycle
. Many city streets are wide and bicycle-friendly with painted bicycle lanes; expressways permit bicycles but have high-speed, heavy traffic that may be uncomfortable, especially for inexperienced riders. Stop by City Hall for a copy of the Santa Clara bicycle map showing recommended bicycle routes. Bicycles should ride on the right side of the road, going the same direction as traffic. Take care when crossing expressway exits and right turn lanes in traffic. Caltrain, Amtrak Capital Corridor, and VTA (both light rail and buses) are all equipped with bicycle racks. If you plan to take a bicycle on area public transit, consult the website of the system(s) you will use for information on locating and using the bicycle racks.
See
address: 2200 Mission College Blvd

Learn a bit of local and technological history, and see what it takes to enter a cleanroom. Allow 1–2 hours.

phone: +1 408 554-4023

address: 500 El Camino Real

The eighth Franciscan California mission, founded by Father Serra. It was built nearer to the Guadalupe River, moved to its present location in 1828, and restored in 1929. It is the only mission on a university campus. In front of the church, see the hitching ring and step for dismounting from a carriage; peer through the fence into the rose garden on the north side of the church; measure the life-sized statue of Fr. Serra, stroll along the walkway covered with gnarled wisteria vines, into the Mission Gardens with the giant sago palm, Sacred Heart Statue, adobe wall (with a hole for cooking), grinding stone.

phone: +1 408 554-4000

address: 500 El Camino Real

If driving, be aware of campus parking restrictions.

address: 500 El Camino Real

The museum combines rotating exhibitions with a permanent collection of works by Ernest de Saisset, a 19th-century Santa Clara student who studied painting in Paris. The museum is often closed between exhibitions, so call ahead or check the website for open dates.

Agnews Developmental Center

address: 4030-4070 Lafayette St

The Agnews Historic Park preserves three buildings from the old California Hospital for the Chronic Insane. Founded in 1889, the facility's original buildings collapsed in the "San Francisco Earthquake" of 1906, killing 117 people. The new buildings, including the still-standing auditorium, clock tower and superintendent's residence, are good examples of early twentieth century Mediterranean Revival architecture, heavily influenced by the Arts and Crafts style. The new buildings represented a more modern attitude toward the mentally ill. The smaller buildings with larger windows were designed to comfort and stimulate the mentally ill, rather than imprison them. The state of California moved the last few hundred residents out in the mid 1990s, and sold the campus to Sun Microsystems, who promised to preserve the grounds and buildings, and make the auditorium and executive mansion available for public events. Unfortunately, you cannot get inside to see the very impressive interiors of the buildings, unless you've got a Sun employee badge or are lucky enough to slip in during a meeting or public event. Neither tours nor docents seem to be available. You can visit a small shelter that has public restrooms, as well as historic photographs and information about the hospital.

address: 1505 Warburton

The museum offers a variety of rotating exhibits. Classes and special events may require a fee.

address: 1889 Market St

This 19th-century farmhouse has been restored and converted to a museum of local history, complete with many of the original furnishings. opening hours may be subject to volunteer docent availability.

KoreaTownThough not yet officially recognized, the area of El Camino beginning at Lawrence Expressway and extending east to San Tomas Expressway is home to many Korean-owned businesses, stores, and restaurants.

South Bay Historical Railroad Society

phone: +1 408-243-3969

address: 1005 Railroad Ave

This museum occupies the historical Santa Clara railway depot building near the Santa Clara Caltrain station. It features a variety of historical railroad artifacts and elaborate model railroads at HO and N scales.

Santa Clara City Hall

address: 1500 Warburton Ave

The grounds surrounding City Hall include a statue of Santa Clara, fountains, "Stroll Into the Past" plaques, other public artwork, and a set of flagpoles featuring all the flags that have flown over Santa Clara. Inside City Hall hangs a collection of historical photographs. City Hall is across the street from the Triton Museum and worth a stroll around the grounds if you are visiting the museum.

Old QuadRoughly, this is the area outlined by El Camino Real, Lafayette, Market, and Lincoln streets, and it makes up the old, historical section of the city. Many 19th-century homes are well preserved. If you have time, explore this area by bicycle or on foot, and make time to visit the local historical buildings, such as the Harris-Lass museum and the Women's Club Adobe, that are in and around the Old Quad.

Agnews Historic Cemetery and Museum

phone: +1 408 615-3790

address: 1250 Hope Dr

Opened in 2010, the museum honors people that worked and lived at the Agnews State Hospital and later Agnews Developmental Center from 1888 to 2009 with artifacts and photos and a viewing area for the restored cemetery.
Do
California's Great AmericaNestled among the office buildings is one of the Bay Area's largest amusement parks. Open seasonally. Yes, from their cubicles they can hear you screaming on the roller coasters.

San Francisco 49ersThe National Football League 49ers recently moved to Santa Clara, now playing their home games at the newly built Levi's Stadium, next to California's Great America.

Santa Clara Golf and Tennis Club

phone: +1 408 980-9515

address: 5155 Stars & Stripes

San Tomas Aquino/Saratoga Creek TrailThis relatively new bicycle and pedestrian trail extends as far south as the intersection of Cabrillo and San Tomas Expressway. The trail follows the San Tomas Aquino Creek north, roughly parallel to San Tomas Expressway, all the way to the bay. It connects to other trails and Sunnyvale's Baylands Park.

Santa Clara VanguardDrum and Bugle Corps, cadet corps, and winter color guard. Shows are seasonal, and the group tours across the country during the summer.

Santa Clara AquamaidsSynchronized swimming. The group boasts numerous Olympic team members among its alumni.

address: 1511 Warburton Ave

This local, volunteer drama group stages three to four shows per year. Consult their website for shows, dates, and times.
Learn
Buy
phone: +1-408-248-4450

address: 2855 Stevens Creek Blvd

Probably the largest shopping center in the area and certainly the most successful. Most of it is in San Jose, but that is because of the crazy quilt of San Jose's growth. It began as two shopping areas. One was a Macy's store with other smaller stores in an open air mall. The other was an Emporium store, two or three blocks away. The present shopping center is now one large building with multiple floors, food courts, and Nordstrom. The Emporium is no longer in business, but Macy's occupies the old store with their men's clothing, kitchen and glassware and some other features. It's good exercise to walk from one Macy's to the other. When Westfield took over Valley Fair, they increased the parking substantially.

Santana RowAcross Stevens Creek Blvd in front of Valley Fair is Santana Row, a newer outdoor boutique shopping area with more restaurants, a hotel and other interesting stores (as well as Crate&Barrel, Best Buy.) Consider this the Rodeo Drive of Santa Clara/San Jose. There are 70 stores, including Tiffany's, Gucci, Oakley, Ann Taylor Loft, Ted Baker, Lucy, Urban Outfitter, Diesel and Burberry.

Farmer's MarketLocated in Franklin Square (Jackson Street between Homestead and Benton), the farmer's market runs every Saturday from 9AM to 1PM. Besides fresh California fruits and vegetables, the farmer's market usually features live music and foods such as tamales and samosas. Local artists and craftspeople also offer handcrafted goods for sale.

The Train Shop

phone: +1 408-296-1050

address: 1829 Pruneridge Ave

If you are a railroad or model railroad or model train buff, you will enjoy their selection of model trains and railroad books.

address: 2740 El Camino Real

A small, used book shop specializing in fiction. The selection includes general fiction but emphasizes romance, science fiction, and mysteries.
Eat
Area restaurants feature foods from cultures all over the world, reflecting the area's diversity. There is no need to eat in the same restaurant, or even the same kind of restaurant, twice.
Budget
Rivermark VillageWith a supermarket, cafes and specialty stores located along a pedestrian-friendly main street at the south border of the community. Rivermark Village is a 136,000 sq ft premier neighborhood shopping center. It features a 65,000 sq ft new generation Safeway super market. Restaurants include: Yan Can, Peet's Coffee & Tea, Jamba Juice, Quizno's, Red Robin, Baja Fresh, Prolific Oven, Premier Pizza, and many other shops.
Mid-range
Gaesung Tofu

phone: +1 408 248-8638

address: 2089 El Camino Real

Among the dozen or so Korean restaurants in Santa Clara, Gaesung is one of the best. Their specialty is the tofu based hot-pot stews of Korea. The restaurant is not entirely vegetarian, but does offer vegetarian dishes.

phone: +1 408 248-9144

address: 1827 Pruneridge Ave

A small restaurant with excellent sushi, Yuki Sushi also has specialty rolls with innovative combinations of western and Japanese ingredients. Vegetarian entrees, noodles, donburi and teishoku are also on the menu. The restaurant usually fills up fast. Take-out is available.

phone: +1 408 244-9721

address: 1460 Halford Ave

Daily 10AM-9PM. Good and affordable noodle soups, served in large bowls with different types of meats. Other dishes as well, including iced coffees and teas.

La Paloma

phone: +1 408 247-0990

address: 2280 El Camino Real

Generous portions of Mexican food at a moderate price. A smaller, family-owned restaurant with lively decor. Live entertainment on Friday and Saturday nights may draw crowds. Takeout is available, as is a weekday lunch buffet. Parking may be tight at popular times, but nearby residential neighborhoods have plenty of on-street parking.

Pizz'a Chicago

address: 1576 Halford Ave

Offers thick, rich Chicago-style pizza.

phone: +1 408 567-9144

address: 1505 Space Park Dr

Not open weekends. Delicious, authentic Greek food well worth the trip into what is mainly a business and industrial district. Main dishes come with salads, pita slices, bread, and dips. If you still have room for dessert after their generous portions, try the galaktoboureko, a custard dessert topped with phyllo and syrup.

Stan's Donuts

address: 2628 Homestead Rd

Real donuts, hot and freshly made the old-fashioned way. Founded by local resident Stanford Wittmayer in 1959, Stan's is still family-owned. Stan's is popular with local residents, so it can be crowded in the mornings.

phone: +1 408 510-6480

address: 5101 Great America Parkway

Inspired by the hearty cuisine of Italy's western coastal region the food here blends the essence of Tuscany – natural flavors brought out by a simple preparation of fresh seasonal ingredients– and locally sourced Californian produce, meat and fish.
Splurge
phone: +1 408 970-6104

address: 2700 Mission College Blvd

One of the best restaurants in the South Bay is hidden at the ground floor of the Santa Clara Marriott, just off the Great America Parkway at highway 101. The cuisine is a sophisticated example of California cuisine (light dishes, good fish, flavorful fruits and fresh vegetables), combined with Asian influences such as Japanese ingredients. Excellent wines and desserts too. Prepare to spend and enjoy.
Sleep
Cope
The Santa Clara City Library, 2635 Homestead Road, was rebuilt completely in 2004. The library has a number of Internet terminals and a cafe. If you want to use one of the terminals, arrive when the library opens, or try a weekday when the kids are in school. The library has free Wi-Fi access if you have a library card. Out of town visitors may inquire at the information desk on the first floor near the main entrance for a temporary library card allowing Internet access without checkout privileges. While there, walk around the library to see the artwork in the building, and continue out into Central Park. The smaller Mission branch of the public library (not open weekends) is located at 1098 Lexington Street, near Santa Clara University. It also offers wifi and a limited number of Internet terminals.
Santa Clara Convention Center, 5001 Great America Pkwy. Parking is free and usually ample, depending on the conventions in town.