Santa Cruz (California)
Santa Cruz
is a small coastal city (population about 55,000) in
Santa Cruz County
, at the north end of
Monterey Bay
in
California
, about 40 miles (64 km) south of
San Jose
and 75 miles (120 km) south of
San Francisco
.
Understand

Santa Cruz is best known as a countercultural hub, with a bohemian feel and youthful vibe, and fun weekend tourist attractions like the Santa Cruz Beach Boardwalk and the dubious Mystery Spot. The rather relaxed beach lifestyle is supplemented by some remaining high tech industry and a vibrant university culture. The University of California Santa Cruz (UCSC) is regarded as one of the premier centers of higher learning in the region and was once well known for its strong emphasis on the arts and humanities.
The beaches north and south of Santa Cruz are considered some of the more pristine areas of natural beauty in central California. A variety of conditions prevail, depending on the beach, few are suited for swimming due to temperature and current, several are considered an expert surfer's cold cold paradise. Don't expect a beach culture like Southern California, with bikini babes and children swimming in the surf; for much of the year it's considered perfectly normal to wear a sweater and long pants to the beach. The beautiful beaches and the rather mild climate play a central role in local culture. Most visitors leave Santa Cruz amazed by the city's beauty and ambiance.

Climate
Get in
Highway 17 south from
San Jose
is the most direct route when driving from the more populated parts of the
Bay Area
. It is a winding and very dangerous road over the mountains, arguably the most hazardous in the state shared during the week with heavy gravel trucks, so heed the speed limits take it easy and arrive alive. Accidents are very common, but the road is a bit safer since the addition of concrete barriers some years ago. Beware of fog, as well as "hurried" drivers, and drive with caution, especially when roads are wet.
To merge from Highway 17 to Highway 1 in Santa Cruz to continue south, you must merge three times on the dreaded "fish hook". This causes the beginning of the dreaded commute from "over the hill" to the coast for many. Congestion usually lasts M-F 3PM until 6PM, from just south of 41st Ave. on Highway 1, spilling back onto Highway 17 going south.
Highway 9 is a a slower, longer, and more scenic route over the mountains, but it can get congested, and is often subject to extended periods of closure due to landslide damage during the winter. It's also very popular with both bicyclists and motorcyclists, so if driving a car over it be sure to be vigilant.
A much more beautiful, but slower, approach to Santa Cruz is on
Highway 1
, either from the north,
San Francisco
and
Pacifica
(about 65 miles), or from the south,
Monterey
and
Big Sur
(about 35 miles). During stormy seasons, check for rare, but often long-term road closures, although Devil's Slide, the most notorious location for landslides, was bypassed by a tunnel several years ago.
To take public transportation there is a commuter shuttle, the
Highway 17 Express
(Santa Cruz route 17; VTA route 970; Amtrak Thruway Motorcoach Rt 17), that runs from
Diridon Station
, in San Jose 7 days a week with connections to
Amtrak Capitol Corridor
,
CalTrain
,
Altmont Corridor Express
and other
Amtrak
trains serving San Jose. There are also multiple lines that go south to
Watsonville
7 days a week. Greyhound also runs buses to the city. All these lines go to, or near to, the Santa Cruz Metro Center, which is in the downtown area.
The nearest major airport is in San Jose (
SJC
), but San Francisco International Airport (SFO) and even Oakland (OAK) aren't much farther away, and sometimes have cheaper flights. The small regional airport in Monterey (MRY) has flights to major hubs (Los Angeles, San Francisco, Sacramento), but in most cases San Jose is the best choice because of the greater choice of airlines and destinations. Scheduled airport shuttles provide service every few hours to San Jose, and less often to San Francisco. Caltrain also provides a route to the San Francisco airport, through a transfer with BART in Millbrae. For private aircraft, there'a 2,000 ft. runway about 10 miles northwest of downtown, near Henry Cowell Redwoods State Park.

Get around
The main downtown strip is pedestrian friendly, and it's a 20-minute stroll from there to the beach. Walking to the University of California Santa Cruz from downtown is a little more difficult, with bad or non-existent sidewalks and a very steep climb.
While driving is certainly an option (parking is tight, careful to not get ticketed),
Santa Cruz Metro
provides bus service.
Santa Cruz can be a wonderful town for town for cycling, but be careful because drivers are no better here than in many other places. Around town and along Highway 1 is easy, but roads in the Santa Cruz Mountains are steep, winding and challenging for many cyclists. Be careful. Collisions between bicycles and cars are often reported. A number of pedestrian and car collisions have also happened in the downtown area.
See
phone: +1 831 425-5849

address: 126 High St

The original Mission Santa Cruz was dedicated by Fermin Lasuen in 1791 as the 12th California mission. In its early years, the mission suffered due to violence among the Indians. The original mission buildings (save one) fell down in an 1857 earthquake, and it is place was built a Catholic Church with the anglicized name Holy Cross Church. However, a replica of the old mission was constructed nearby at half-scale in the 1930s by a wealthy benefactor. This exists today as Santa Cruz Mission State Historic Park.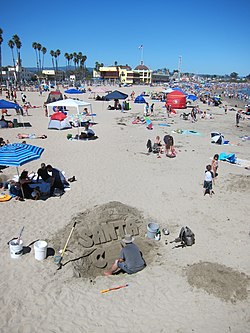 address: 400 Beach St

11AM to 10 or 11PM. Founded in 1907, it is the only original boardwalk amusement park still operating on the West Coast. It features one of the oldest wooden rollercoasters still in use in the US as well as numerous modern attractions. Entrance is free, rides cost between $2–4 each (but less than $1 on selected summer evenings). Day, month, and yearly passes available.

Municipal Wharf

address: 21 Municipal Wharf

Restaurants, gift shops, sea lions and pelicans, and great views.

address: 465 Mystery Spot Rd

The famous ('as seen on TV') tourist trap, complete with anti-gravity cabin and amazing hillside of illusion. $6; $5 at the door.

address: 701 W Cliff Dr

Th-M noon-4PM. Memorabilia from the introduction of surfing to California by Hawaiians in 1885 to the present day. A statue of an early surfer is a few yards from the museum. Free.

Seymour Marine Discovery Center

address: 100 Shaffer Rd

End of Delaware Ave. Tu-Sa 10AM-5PM, Su noon-5PM. Has exhibits focusing on ocean conservation and marine science, big tanks full of native species, a guided tour with a dolphin overlook area, and amazing views of Monterey Bay at sunset. $6.

University of California at Santa CruzThis UC campus has a smaller student population (except for the brand new campus in Merced), with about 15,000 students. The main part of campus is spread over half of 2001 acres (8.1 km²), mostly covered with redwood forests with the occasional stunning view of the bay. There is an UCSC Arboretum specializing in native plants and plants from Australia. Mountain bike and hiking trails criss-cross the upper part of campus, connecting Wilder Ranch State Park to Henry Cowell Redwoods State Park (get a trail map and a parking permit from the kiosk as you enter campus). The Bay Tree Bookstore sells clothes with the UCSC mascot – the banana slug. The critters themselves are fairly common in the surrounding redwood forest - their bright yellow color tells would-be predators that their skin secretes a foul-tasting poison. Keep your eyes open for mountain lions seen (but rarely) in undeveloped parts of the campus.

Downtown Santa CruzLots to see and do here all day and night; "SantaCruz" character mixed with some great restaurants and lots of cool shops. Mostly it's a great people watching center. The nightlife is worth sticking around for. Pacific Ave is the main street downtown.
Do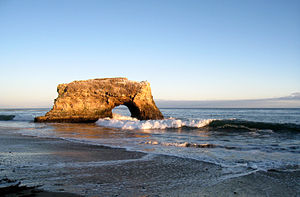 Road Biking - Road cyclists in central Santa Cruz can escape the big city by going out Empire Grade, taking Branciforte to either Glen Canyon or Granite Creek, or even going out Hwy 1. A little to the east, two not so steep roads are Old San Jose Road (bit trafficky / better for descending, reachable from Branciforte via Laurel Glen) or Eureka Canyon (from Corralitos). Good connectors are Bear Creek, Smith Grade, Ice Cream Grade, Hwy 35, or even Mt. Hermon (from Granite Creek to Felton Empire). The worst traffic will be on Graham Hill or most of Hwy 9. To avoid Hwy 9 you'll need to do some climbing, but if that's your thing then try Empire Grade, Mountain Charlie, Zayante, Felton Empire, the wonderful Jamison Creek up from Big Basin Park, or the ridiculous Alba Road. Roads in Santa Cruz can be steep, and expect most to have some extended pitches of over 10%.

Delaveaga Disk Golf CourseThis frisbee golf course is very challenging. Saturdays are busy, especially in the morning. The course is awesome and the hikes in the area are spectacular, even if you don't play. Beware of the Poison Oak. Free.

Kiva Retreat House"Kiva was created as a gathering place for people to come and reclaim their natural self. It was modeled after the Japanese Bath House and our vision of a place where people would come to cleanse and rejuvenate their minds and bodies...." A clothing-optional co-ed family spa near downtown Santa Cruz with hot tubs, sauna, etc.

address: 2531 West Cliff Dr

Open daily, sunrise to sunset. State beach park with nature trails. Yearly monarch butterfly migration. Entrance free. Fee for parking.

phone: +1 831 423-0844

address: 1606 Seabright Ave.

Classic rollerskating experience in this roller arena that is over 65 years old.
Events
Santa Cruz County is home to talented artists, musicians, and writers. Check out some of the locals' favorite art, music, and literary events:
Open Studios Art TourA program of the Cultural Council of Santa Cruz County which was created in 1985 to give the public with an opportunity to collect art and to meet and learn from Santa Cruz County artists. Approximately 275 artists open their studios (which are usually in their homes) to the public. The tour runs for three consecutive weekends each fall.

Santa Cruz American Music FestivalAn annual festival held over Memorial Day weekend.

Santa Cruz County Book FairA family event held each fall. Meet local authors and find some great reads.

Salsa By The SeaSanta Cruz boasts a lively salsa dancing scene, with Salsa By The Sea a key attraction. Every Sunday year round (weather permitting), locals come to the Boardwalk to dance in the open air by the beach. Hours vary by the time of the year, but sometime in the afternoon, and always free. Other regular events are at the Vets Hall every Tuesday and the Palomar every Friday.

Cabrillo Music FestivalThe Cabrillo Music Festival, Marin Alsop at the podium, is an internationally acclaimed celebration of contemporary orchestral music that opens during the end of July. Musicians from key orchestras around the country attend without pay for the experience of playing new works by the leading composers of our time who are usually in attendance. Many rehearsals are open and free to the public, as are workshops for new composers and conductors. The Festival, which began in 1962, lasts two weeks and is perhaps the most exciting and prestigious festival of contemporary music anywhere.
Beaches
Santa Cruz is a beach town, with a beach to match almost any interest.
Main Beach
and
Cowell Beach
attract large crowds to the boardwalk area on sunny summer weekends. Flocks of novice surfers balance on their boards in the quiet waters just north of the municipal wharf, in front of the big hotel that locals still call the
Dream Inn
. Volleyball nets are strung just south of the wharf. The boardwalk amusement area is adjacent to main beach. Heading north,
Steamers Lane
isn't a beach, but the famous surf break in front of the lighthouse. In the summer, its sometimes hard to see what the fuss is about, but the winter can bring big waves and spectators line the rail watching the surfers and the sea lions.
North of the lighthouse are a series of little pocket beaches, some that disappear entirely in the winter. The first one,
It's Beach
, and across the street at Lighthouse Field (see www.folf.org) are two of the few places in town that dogs can be run off leash (
before 10AM and after 4PM only
) you will often dozens of dogs are chasing sticks, balls, and each other.
Mitchell's Cove
, just north, also allows dogs.
Natural Bridges State Beach
, whose famous monarch butterflies are discussed above, is a popular windsurfing beach. Natural Bridges is also known for its tide pools - little pockets in the rocky formation just north of the main beach that are exposed at low tide and house all sorts of small marine creatures. Kids love them but keep a close eye on them as the rocks can be slippery and the ocean unpredictable. The name is misleading: one of the two stone bridges collapsed a few years ago. Just south of Natural Bridges is the tiny clothing-optional
2222 Beach
.
Heading further north along the coast, you leave the city limits and pass through agricultural fields for 11 miles before reaching the small town of Davenport, which has a couple of restaurants, a B&B, and a huge cement plant that dominates the skyline. Each turnout along the road marks a beach, many of which are prime surf spots.
Wilder Ranch State Park
can be reached by a new bike path from just north of Natural Bridges. Its several nice beaches include
Three Mile Beach
and
Four Mile Beach
, named after their distances from town. (The one known as Red, White, and Blue Beach, a private nude beach - is now closed for good by the owner.)
Laguna Creek Beach
(with parking on the east of highway 1),
Panther
and
Hole-in-the-Wall Beach
(connected by a passage that closes at high tide),
Bonny Doon Beach
(another famous clothing optional spot), and
Davenport Beach
. For those who want to tour the beaches, Highway 1 has wide shoulders that are generally safe for cycling.
The beaches north of the Boardwalk, especially those on the open ocean instead of the bay, can have huge waves and strong currents, so care should be taken in the water, even by strong swimmers.
There are lots of beaches south of Main Beach as well, but you'll need another guide for them.
Hiking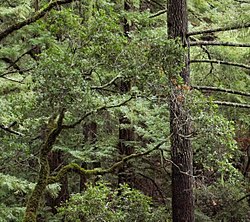 Santa Cruz is also surrounded by a great number of open space parks. There are two types of parks to choose from. There are inland wooded parks, (like Henry Cowell State Park) with redwood groves, and swimming in the river and open space preserves built on the coastal hills.
Wilder Ranch is a state park sitting in the hills adjacent to the coast (just west of town on Hwy 1). It has expansive views of the Monterey Bay as well as sweeping views of the Santa Cruz Mountains. The ranch also includes many old historic building, staffed with docents to demonstrate the workings of the historic ranch.
The Pogonip is within the city boundaries adjacent to the university and accessible from Spring Street and from Highway 9 (via Golf Club). The Pogonip is an old country club which has reverted to a fairly natural state. It sits on the side of a hill and has great views as well as great natural items. Numerous springs fill the creeks, as well as a special fish pond along the Spring Box Trail.
Buy
Shopping on
Pacific Avenue
includes surf shops, bookstores (especially the local landmark
Bookshop Santa Cruz
and the excellent used book and record store
Logos
), clothing, and gifts.
Bookstores
Some favorite bookstores, ahem
Book Cafes
that help make Santa Cruz what it is, are worthy of a 'book crawl' quite distinct from your pub crawl:
phone: +1 831 423-0900

address: 1520 Pacific Ave

phone: +1 831 457-1195

address: 204 Locust St

Two blocks from Pacific Avenue lies this little bookstore with the charming name. Has fresh burritos to the one side and Gigo hairdresser to the other. The intellectual stop on the book crawl; the Guillotine sells scholarly books and sometimes acts as an informal secondary bookstore for UCSC.
Eat
Budget
phone: +1 831 457-0159

address: 206 Laurel St and 1201 Soquel Ave

Mexican fast food. Seating is very cramped at Laurel St. location, so don't plan on being able to eat there with all your family and friends. $2–$10

phone: +1 831 426-5955

address: 841 N Branciforte Ave

A dizzying array of affordable sandwiches, New York-style pizza, calzone, soups, salads, and random Middle-Eastern foods. Especially good is the club sandwich, falfel wrap, lentil soup, onion rings, spinach calzone, and meatballs. $5–8.

address: 1116 Pacific Ave

Tasty cheap pizza by the slice or the pie, salads. $2–5. Great Santa Cruz souvenir: slice of pizza and Pizza My Heart T-shirt for $5!

Tacos Moreno

address: 1053 Water St

Award-winning tacos, burritos and quesadillas. Family-owned. 10AM to 9PM. $2–5. Limited dining and parking space. A local favorite and worth a visit.

address: 608 Soquel Ave

There are many taquerias in town, but this one attracts Mexican-American families, college students, and visitors from up and down the coast who come just for the huge traditional style meals. $1–6.

address: 2215 Mission St. & 1002 Soquel Ave

A great taqueria with unquestionably some of the most authentic Mexican food you will find in Santa Cruz. The 49er Burrito on their menu ($6.50) is a super burrito with red sauce and cheese poured on top (like an enchillada) and is one of their specialties.

phone: +1 831 426-1375

address: 738 Water St

Self-serve frozen yogurt shop. The flavors are changed daily and rather than paying for a size, you pay 42 cents an ounce for all the ice cream and toppings you want. Pick from pumpkin or jasmine yogurt to cheesecake and cookie dough toppings. If you do not like the taste of frozen yogurt, this is a good place. It tastes just like soft serve ice cream. Average cup is $3–5.
Mid-range
address: One Chaminade Ln

Two amazing restaurants featuring menus using only the freshest produce from local farms. If you're in town on a Sunday, Chaminade's Sunset Restaurant has an award-winning Sunday morning Champagne brunch. Happy hour is every Tuesday-Thursday, 4-6PM.

address: 1141 Soquel Ave

An oddly small colorful building which contains a restaurant of decent inauthentic Thai/Vietnamese fusion. There is half-outdoor seating complete with heat lamps, foliage, and colorful decorative lighting. Very vegan/vegetarian friendly. $4-6 for standard entree.

phone: +1 831 425-7575

address: 1336 Pacific Ave

Open every day for lunch and dinner. Reservations are taken only for large parties on weeknights, and the wait can be very long on weekends. Great Mexican food in dramatic dining room, but not cheap. Brighter cantina in back is a good lunch spot that becomes a bar at night, serves some of the best tacos in town for $2.50 a pop and has specials on Tuesday nights. Lots of seafood specialties. Homemade tortillas are excellent, as are the margaritas. Strolling guitar players some evenings. Kid friendly. Typical entrees $10–$16.

phone: +1 831 469-4400

address: 1100 Pacific Ave

This is a great downtown Italian spot. The food is quite good, and it's a very entertaining place to eat. On weekend evenings, you may even get a fully choreographed performance by the entire staff. $8–10.

Malabar

phone: +1 831 423-7906

address: 514 Front St

Excellent curried mangos and Kofta Joe. The service can be surly, but don't worry about it. Eat and be happy. Sunday night dinner is a fixed menu consisting of naan, salad, various curries and rice (in small amounts) and a dessert; however, the price is determined by what you think it is worth. Only have $5? It's okay. Feel like it's worth $20, that works too.

address: 105 River St

Innovative sushi and jazz club. Check local listings for music.

address: 121 Soquel Ave

Classy Californian cuisine using organic and fresh ingredients. $8–25. Reservations recommended on the weekend.

phone: +1 831 425-1913

address: 200 Locust

Features a plush lounge and an elegant dining room. Menu consists of happy hour bites (3PM-7PM) appetizers, sandwiches, burgers, pizzas, salads, and nightly dinner specials. Organic local produce from the downtown farmer's market provides fresh, healthy, and delicious food. Chef Bobby Madrid. Exquisite cocktails featuring an array of house-infused liquors - you don't want to be in Santa Cruz without experiencing the Red.

address: 145 Laurel St

A Santa Cruz institution. A veggie/hippy cuisine in a zany atmosphere. Much to the dismay of many a Santa Cruzian, Saturn Cafe's prices have become a little higher than the average hippy can afford. Burgers and sandwiches will run you around $8. The food is quite excellent, but the service tends to be quite slow.

phone: +1 831 427-9713

address: 542 Seabright Ave

Still often called "Linda's" even though the personable owner sold this cafe to the her business partner Tex Hintze quite a few years ago. Often a wait on weekends but you can start your mug of coffee while you wait. Cinnamon Rolls on the weekend are a must! Best breakfast in town! Vegan-friendly, kid friendly.

phone: +1 831 426-BREW

address: 519 Seabright Ave

Updated pub grub, and fresh beer made on the premises. Salmon fish and chips, with beer battered salmon fried in Japanese bread crumbs and served with sesame-wasabi tartar sauce and teriyaki garlic chili sauce is almost too rich to eat. Lots of vegetarian food. Big patio overlooks a busy road, but is a pleasant place to head after a day at the beach. Beer and pizza specials on some weekdays. $8–12 sandwiches and entrees.

Shogun

phone: +1 831 469-4477

address: 1123 Pacific Ave

Excellent sushi restaurant in a convenient downtown location. The exceptionally fresh ingredients and talented sushi staff make this some of the best sushi available in Santa Cruz County. They offer all the traditional suhis, as well as lots of variations, some of which are veggie/vegan friendly. Of particular interest is the "korokke," a potato croquette served with tonkatsu sauce, which you won't find in many local Japanese restaurants. Sushi plates are $3–9. Serves lunch and dinner through the week, dinner Saturdays, closed Sundays.

phone: +1 831 475-2725

address: 2650 Soquel Dr

It's letting the secret out of the bag to tell you that Linda of Seabreeze Cafe fame bought this larger venue to sling her famous fabulous food. Vegan-friendly, kid-friendly.

phone: +1 831 458-3020

address: 702 Soquel Avenue

The café serves breakfast foods, sandwiches, salads, and, of course, delectable fresh bakery items.

Thai House

phone: +1 831 458-3546

address: 353 Soquel Ave

Arguably the best Thai food experience in Santa Cruz. The food is quite good, the ambiance interesting and relaxing, and the staff always friendly. Kids will stay entertained by the two large aquariums. $6–15.

phone: +1 831 458-9808

address: 1501 Mission St

People travel from a fair distance to sample the authentic and very tasty Greek food. $6–15.

phone: +1 831 457-2307

address: 106 Walnut Ave

American breakfast and lunch. Fresh ingredients, friendly service, and a complete lack of trendiness. A favorite of Santa Cruz locals—long waits on the weekends.

phone: +1 831 427-0646

address: 819 Pacific Ave

Fantastic breakfasts featuring homemade bread French toasts, fruit salads, home fries, and more. Finishing Mike's Mess is a worthwhile challenge. Expect a line Saturday and Sunday. $1–10

phone: +1 831 423-1711

address: 1534 Pacific Ave

Amazing sandwich place. It's where all the locals go. The Castroville Italian sandwich and the tiramisu are to die for.
Splurge
phone: +1 831 476-4560

address: 2218 East Cliff Dr

Steak and seafood restaurant. Ocean view and full bar that's a favorite of locals. In the top three annually for "best happy hour" award from the local weekly paper.

phone: +1 831 457-1677

address: 910 Cedar St

Amazing local, organic food and great wine list.
Drink
For its size, Santa Cruz has a large number of drinking establishments from Irish pubs to nightclubs. Many of the bars are located along Pacific Avenue. A serious pub crawl can be done starting at either the
Asti
(listing below) and ending about 7 blocks away at the
Rush Inn
or the other way around.
Bars
phone: +1 831 459-9999

address: 110 Walnut Ave

Get a free membership card and get a stamp for trying all 99 different beers and win a T-shirt. Good California pub food (fried calamari sandwiches, burgers, salads, etc). Good student hangout.

Asti

phone: +1 831 423-7337

address: 715 Pacific Ave

End your pub crawl here and have a photo of your bare butt added to the lovely collage on the wall. Lots of cheap beer and college students.

phone: +1 831 423-7117

address: 923 Pacific Ave

Also known as "the meat market." Has $2 drinks on Tuesdays, attracting a huge crowd of cheap drinkers. Thursday is 80s night drawing a large college crowd. Monday is Goth/Industrial night.

Poet and Patriot Irish Pub

address: 320 Cedar St

Music sessions and darts games.

Red Room

phone: +1 831 426-2994

address: 1003 Cedar St

The downstairs dive to the upstairs bar, The Red, the Red Room is a hip little local joint in downtown Santa Cruz. Strong pours and a relaxed crowd, often University of California Santa Cruz students.

phone: +1 831 425-9673

address: 1220 Pacific Ave

Upstairs pub with all the trimmings—lamb stew, Irish dance and music, cider and many beers on tap.

The Rush Inn

phone: +1 831 425-9673

address: 113 Knight St

Friendly little place, bartenders were voted Most Friendly Bartenders 2003 in the Santa Cruz Metro weekly paper.
Coffee and tea
Music
phone: +1 831 423-1336

address: 1011 Pacific Ave

Large venue with bar/restaurant in the front and music venue in the back. Pool tables. Happy hour. Check local weekly papers for line-up.

phone: +1 831 427-2227

address: 320 Cedar St

"Kuumbwa" (pronounced koo-um-ba, silent "w"), a Swahili word meaning "act of spontaneous creation." Kuumbwa Jazz is an internationally recognized nonprofit jazz venue. It's one of the longest weekly nonprofit jazz presenters on the West Coast, established in 1975. When we aren't presenting our own weekly jazz series, the venue is available for outside promoters to bring in acts such as bluegrass, folk, Celtic and world music. The venue is also available for special occasions such as receptions, private parties, and community events.
Sleep
Santa Cruz offers everything from cheap drive-up motels along Ocean Street to cute B&Bs to one somewhat shabby high-rise hotel on the beach.
It is illegal to sleep in your car in the city of Santa Cruz so do not get caught napping in the neighborhoods.
Hotels
Camp
For our bohemian friends passing through (keep Santa Cruz Weird!), sleeping on city beaches cannot be recommended. Try the more chill beaches along the cliffs northwest of town, or along the sandy banks of the San Lorenzo, upriver in the gorge, along Highway 9.
Stay safe
There is much crime in the downtown area, often drug-related. You probably will be safe during the day and early evening, but keep your wits about yourself. Mountain lions exist in the more rural areas, but are uncommon. Attacks by mountain lions on humans are much rarer still, but have happened. If you should see one, do not approach it, and if it approaches you in a seemingly aggressive manner, stand as tall as possible and wave your arms; this will usually intimidate it.
During most of the year, the ocean is cold enough to quickly give you hypothermia, and there are dangerous rip currents at many beaches. Unless you're a qualified diver and you've done your homework, you've best off leaving it to the local surfers, who typically wear full-body wetsuits and know what they're doing.
If you are a skilled surfer, be aware that Santa Cruz's surfing culture is unfortunately notorious for its "locals only" attitude, and while in reality most surfers there are perfectly reasonable and friendly, if you are surfing there and you do get into a confrontation, best to just walk away.

Go next
Nearby cities:
Nearby towns:
Nearby attractions:
For a longer trip: