Santa Cruz de Mompox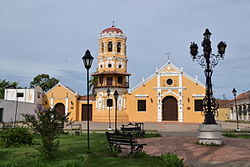 Santa Cruz de Mompox
(also known as Mompox or Mompós) is a city and a
UNESCO World Heritage site
in
Bolívar
,
Colombia
.
Understand
Mompox (often spelt Mompós) is a friendly, sleepy town on an island on the Magdalena river, which thrived during colonial times as it was the main resting port for ships travelling up the Magdalena from Cartagena to Honda. It has beautiful colonial architecture which rivals
Villa de Leyva
's.
Few Colombians, however, seem to know about this place, and being on an island without any bridges reaching it makes it rather inaccessible; as a result very few tourists come here except during Christmas and Holy Week. The mayor is keen on promoting tourism here, and a bridge is being constructed at El Banco, meaning it will soon be within easy-ish reach of the Bogotá-Santa Marta road. This will greatly facilitate access to Mompox. It also seems that this little town is about to undertake an irreversible transformation with the imminent arrival of hordes of tourists.
Get in
It might be possible to go by boat upriver all the way from Barranquilla.
It's also possible to fly to Mompox if you have a private plane.
Get around

Mompox is small. Mototaxis take passengers to any point with the town for 600 COP. Note that they may take several passengers to different places at the same time, so they are unlikely to take you directly to your destination.

See
There are various colonial churches, of which the Iglesia de Santa Barbara is probably the most famous as it appears on many representative photos of Mompox. It is unusual in that it has a Moorish-style tower with a balcony. Most of the churches only open for mass, which is unfortunate. The best time to take photos of most of the churches is in the morning, as their facades are not in the shade.
Walk around the streets of the Colonial center and along the river front, which are all very beautiful. If it's too hot, you can arrange an hour's tour of Mompox on a mototaxi (COP$10,000); it's also a good way to get your bearings and if you're lucky, learn some of the local history.
There's a museum on the Calle Real del Medio.
The botanical gardens appear, at first sight, to be rather unkept and overgrown. The principal reason to visit this place may be to talk to the guide, Don Ernesto, who resembles a living encyclopaedia with his extensive knowledge about all the plants and trees in the garden, including their medicinal properties. Although this man has never received a formal education he is extremely knowledgeable in general. Sadly, the future of the botanic garden seems to be uncertain, as the local council are not supporting it, and the owners are considering selling it as they cannot afford to keep it running.
It is possible to go on tour to the Cienaga del Pijiño if you are interested in seeing wildlife such as birds and reptiles. These tours can be arranged by calling at "La Cuarta" hotel and talking to a guy named Chipi.
Do
Strike up conversations on the street with the friendly locals, and they may let you peek into their colonial mansions.
Swim at hotel Doña Manuela for a small fee.
Climb the water tower for a small fee.
Take a lancha on the river for a small fee.
Rent a bike and tour the town.
take a city tour and be sure to visit the cemetery
Buy

Try the local wine at ViniMompox (Cra 3 No. 20-34), where they sell various wines made of banana, guayaba, mamon, orange and tamarindo.
Buy silver jewelery at various workshops around the Calle Real del Medio. Gold jewellery is also produced, but is less common.

Eat
Mompos has plenty of informal eateries catering to appetites of all sorts with local delights but be very picky about the chosen venue ensuring minimum sanitary standards are met.
The newly opened Mompoj Restaurant located at Bioma Boutique Hotel serves reasonable fusion dishes and the bar offers a variety of exotic cocktails. Service is not great and it is the priciest place in town.
Walking upriver two blocks from the Santa Barbara church you can find El Fuerte, where austrian chef walter, prepares stone-baked pizzas and homemade pasta in his eclectic bar.
Drink

The so-called "Zona Rosa" has several bars along the riverfront, quite a pleasant place to have a drink in the evening.
The bar at Bioma Boutique Hotel offers a nice selection of exotic cocktails and natural juices guaranteed to quench your thirst, delight your taste buds and get you in the mood for further enjoyment.

Sleep
All the prices quoted here increase substantially during the Christmas vacation and Holy Week. Mompox is hot, and you may want to consider staying in a room with air-conditioning.
phone: +57 315 308 6365

address: Calle Real del Medio # 18 - 59

Bioma is a boutique hotel born from the meticulous restoration and expansion of a Colonial house strategically located in the heart of Mompoxs' historical center offering its guests a unique escape from their everyday life by immersing them into the settings of a beautiful colonial UNESCO World Heritage Site. Bioma opened in April 2011; it delivers all the modern comfort and amenities expected by today's discerning traveler offering rooms equipped with comfortable beds, elegant bathrooms, air conditioner & ceiling fan, high definition TV with local and international channels, WiFi and iPod docking station. Bioma amenities include gardens, restaurant, swimming pool, terrace with 360 degree views of the city, jacuzzi and lounge; its full time staff is there to care for guests ensuring they have an impeccable stay in Mompox.

La Casa Amarilla

phone: +57 5 685 6326,+57 3013627065

address: Cra 1 #13-59

This completely new hostal opened in 2008 and has an excellent movie selection, beautiful front rooms and a communal kitchen. The owners are an Anglo-Colombian couple very knowledgeable in things to do in the region and can keep you fully informed on other hostels throughout Colombia as well as transport links.

La Cuarta

phone: +57 95 684 6127

address: Cra 4 No. 18-57

The cheapest least atmospheric place in town. Prices for a double are COP$25,000 COP with fan and COP$35,000 with air-conditioning. It's a building of modern construction. Friendly service.
The mid-range hotels which are set in colonial buildings are Hotel La Cassona at Cra 2 No. 18-58, Tel. (095) 685 5307 which costs COP$22,000 for a double with a fan, COP$35,000 for air-conditioning, and Casa Hotel San Andrés at Cra 2 No. 18-23, Tel. (095) 685 5886 which costs COP$35,000 COP for a double with a fan, and COP$50,000 with air-conditioning.

Hostal Doña Manuela

phone: +57 95 685 5142,+57 95 685 5621,+57 95 685 6175

address: Cr 2 No. 17-41

A double room with air-conditioning here will set you back COP$95,000. The rooms don't seem any better than other rooms in hotels set in colonial houses. Its amenities include on of the only two hotel swimming pools in Mompos. If you want to stay at a colonial hotel, and save a bit of money, it may be best to stay at a cheaper hotel, and pay the COP$8,000 daily swimming pool entry fee.