Santa Cruz de Tenerife
Santa Cruz de Tenerife
is the capital and largest city of
Tenerife
. It's also the capital city of the
Canary Islands
, together with
Las Palmas
.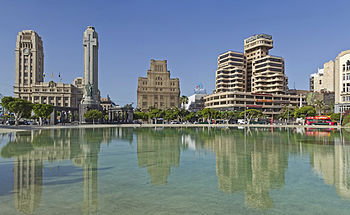 Understand
Santa Cruz de Tenerife is at the eastern tip of the island of Tenerife, the largest of the Canary Island chain. The municipal borough covers an area of 150.56 square kilometres and it is divided into two areas: the Anaga Massif and the southern ramp formed by the lava flows that run down from the Acentejo peak to the coast. The city's population was 223,347 in 2005.

History
From the beginning, the economic nucleus of the city centred on the port. The first wharf, constructed in 1548, was by the beach of Añazo, later destroyed in a storm. The bay of Santa Cruz was appreciated by navigators due to its natural advantages and that turned it into a food supply centre for the ships that sailed for the New World.
At the end of the 15th century a heterogeneous society began to form. The first settlements were near the castle of San Cristóbal, a fortification that protected the small town. New defensive castles were constructed along the coastal areas because the people of Santa Cruz had to defend themselves from frequent attacks by privateers and berberiscos pirates, Gallic and English. It fell to the British Navy, commanded by Admiral Nelson, on 25 July 1797.

Get in
By plane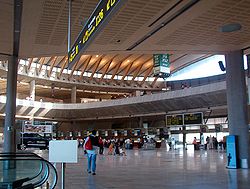 There are two different airports in Tenerife.
The
Tenerife Sur Airport
(
TFS
) (Aeropuerto de Tenerife Sur) is about 60 km away from Santa Cruz, in the south of Tenerife. It's open 24 hours a day with almost 9 million passengers every year.
The other airport is (TFN) (Aeropuerto de Tenerife Norte), closer to the capital, was limited only to island and national flights, but the recent opening of the new airport terminal has allowed the advent of international flights.
Getting there:
Taxi fare from Tenerife North Airport to Santa Cruz is €15, from Tenerife South Airport - €60.
Bus lines 102, 108, and 109 go from Tenerife North Airport to Santa Cruz (€2.65 as of Jan 2018). Line 341 goes from Tenerife South Airport to Santa Cruz (€9.35 as of Jan 2018). Company operating these routes is Titsa, times and fares can be checked on its website.
By bus
There are lots of buses coming from other cities of Tenerife island. Routes and times can be checked on Titsa's website or Google.Maps.

By car
The highways TF-1 (Tenerife Sur) and TF-2 (Tenerife Norte) meet south of Santa Cruz, making the capital well connected by the road network. Traffic may be an issue, and finding a parking spot can be a challenge before noon. The Meridiano shopping center has a large, free underground parking that's open from 9:00 until 1:30.

By boat
The Port of Santa Cruz de Tenerife has become one of the main ports of the country. You can arrive at the city on a ferry that connects Santa Cruz de Tenerife with Cadiz, on the mainland, but the trip takes two days, the company that operates this route is Acciona Transmediterranea.
Another possible destination is nearby island of Gran Canaria. Transmediterranea company runs ferries to Las Palmas (3 times a day, €35, 3 hours). Fred Olsen has ferries to Agaete - small town on the western coast of Gran Canaria (almost every 2 hours, €31, 50 minutes).

Get around

By bus. Fairly cheap (especially if you have a Bono card purchased at the bus station or from a tobacco shop) and fairly regular. Driving is very fast or very slow with little in-between. Streets can be very narrow. Parking is a problem in the centre.

See
One of the capitals of the
Canary Islands
, Santa Cruz de Tenerife is a modern city with a rich colonial history. It has a variety of historic and modern architecture, parks, and museums for travellers to discover.
Churches and cathedrals
Church of the Immaculate Conception

Church of St. Francis of Assisi

address: Calle Villalba Hervás

The second most important church in the city, after the Church of the Conception, completed in 1680 and notable for the large number of artworks inside. It is a good example of Baroque architecture on the Canary Islands.
Modern architecture
address: Avenida de la Constitución

Auditorium designed by architect Santiago Calatrava, on the shore of the Atlantic Ocean. Constructed between 1997 and 2003, the design is framed within the tenets of late-modern architecture of the late 20th century, and regarded as one of the finest modern buildings on the archipelago. It has been featured on post stamps and commemorative coins of 5 euros. The auditorium is the most recognizable and most photographed structure in the city. The main hall has capacity for 1616 spectators with a 16.5 m wide stage.

Santa Cruz Towers
Castles and fortifications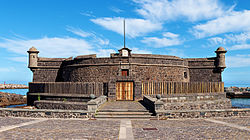 Castle of St John the Baptist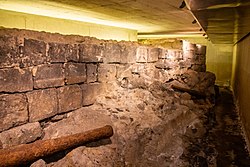 Spain SquareThe largest square in the city, with an artificial lake fountain by Swiss architects Herzog & de Meuron in its centre. It was constructed at the original location of the Castle of San Cristóbal in 1929.

phone: +34 922 28 56 05

address: Plaza de España

The first fortification of significance on Tenerife, intended as defensive stronghold for the Santa Cruz Bay, constructed between 1575 and 1577 to protect the city against pirates. From the 20th century it lost its significance as defensive structure and was demolished in 1929 to make space for the Plaza de España, which was built over the foundations of the castle. When the Plaza was remodelled in 2006, remains of the castle were discovered and a tunnel was constructed to make them accessible to the general public. They can be visited, along with a small visitor centre.
Museums and galleries
Museum of Nature and Archeology

phone: +34 922 53 58 16

address: Calle Fuente Morales

Considered one of the best repositories of Pre-Castilian objects on the Canary Islands, with significant paleontological, botanical, entomological, and marine and terrestrial vertebrate collections. It holds the largest collection of Guanche objects, for which it is internationally best known. It is widely thought of as the best museum of the Canary Islands.

Canarian Military History Museum

address: Calle San Isidro

Military history museum in the north of the city, housed in Fort Almeyda, a fortress built in 1859 to house artillery pieces to protect the vulnerable side of Santa Cruz against English invaders threatening the coast since 1797 under the command of Rear Admiral Nelson. It was designed as a compensation for the lack of defenses on the northern and western parts of the city, and protect the entrance of the Almeida ravine.

phone: +34 922 53 58 16

Opened in 1989, the centre owns a studio and photo lab, a conference room, and specialized library with more than 3500 books and files.

Museum of Fine ArtsMuseum founded in 1840 when the city took the initiative to store flags from the Battle of Cape St Vincent in a permanent location. The classic style building was established in 1929 by architect Eladio Laredo, and decorated with 10 different busts. The museum has 14 rooms, with collections ranging from 16th century Flemish to 20th century paintings, along with numerous sculptures and crafts. The "Tríptico de Nava y Grimón" by the Flemish painter Pieter Coecke is one of the most important pieces on display. There are also works from Canarian painters Juan de Miranda, Afonso Gaspar de Quevedo, Jose Rivera, and Cristóbal Hernandez de Quintana.

address: Avenida de San Sebastián 8

Cultural space and modern arts museum opened in 2008, with a permanent exhibition of the works of Óscar Domínguez.
Parks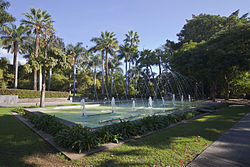 García Sanabria Park

address: Rambla de Santa Cruz

Public park inaugurated in 1926, laid out as a large garden with fountains and architecture. It is the largest urban park in the Canarias with an area of 67 230 m². The most important eye catcher is the park's floral clock, manufactured in Switzerland and gifted to Tenerife by the Consul of Denmark in 1958.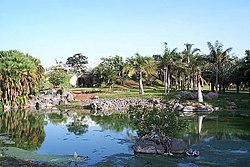 address: Avenida de la Constitución

Botanical garden with an area of 120 000 m² specialized in palms, set on an artificial hill overlooking the ocean. The garden includes a large system of streams, ponds, and waterfalls, as well as a museum dedicated to palms and a display shade house. Curiously, the botanical garden was built on a former landfill that was capped over in 1995, and opened to the public in 2014. It has over 600 species of palms on display, specializing in those native to tropical islands from around the world. The garden is an example of ecological botany, and is maintained without the use of pesticides or artificial fertilizers. Don't forget to pick up a map at the entrance for .

Parque Taoro

address: Calle Taoro 27

Park with fountains, waterfalls, and plenty of benches to take a rest in the shade while exploring Santa Cruz. Nice to have a quick stroll around.
Do
There are a number of museums. A good history museum is five minutes' walk from the bus station, where Bus 14 stops. An art gallery in town and a small planetarium/science centre on the way to La Laguna (Bus 14 passes it). A Bono bus card not only entitles you to cheap travel on TITSA buses, but also cut-rate museum entrance. Large Sunday market near the bus station.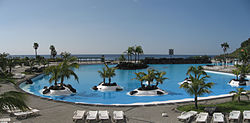 Parque Marítimo César Manrique

phone: +34 922 22 93 68

address: c/ Artistica Union el Cabo 5

Water park designed by architect César Manrique, covering an area of 22 000 m², and aims to recreate a natural environment with volcanic rocks, palm trees, and ornamental plants. It has pools with sea water, artificial waterfalls, hot spring jacuzzi, and a small artificial beach. There are also sports facilities and a gym. Warning: there are no lockers to store valuables left unattended while swimming, and pickpockets roam around the park. Don't bring valuables into the park, and only bring the minimum amount of money necessary.
Buy
There are two El Corte Ingles department stores selling pretty much everything, as well as various shopping complexes on the outskirts. The main market is well worth a visit, although it is not aimed at the tourists - great fruit, veg, flowers, etc. There is a flea market on a Sunday near the bus station, if you're short of fleas. Some electrical tourist tat near the main square, which are probably best avoided.
If you're on holiday though, there's more to life than shopping. Why not stroll around the beautiful park up by the Rambla instead?
phone: +34 922 21 47 43

address: Av. de San Sebastián 51

Covered market in Neocolonial style, built in 1943 to accommodate the needs of the growing city after the old market on the other side of the Ravine of the Saints had become too small. It played an important role in the distribution of food on the island. Economic importance declined from 1974 when wholesale retailers took over the role of food distribution, and the reduced commercial activity facilitated the development of the laid back experience the market offers today.

phone: +34 922 20 60 51

address: Avenida Manuel Hermoso Rojas 16

Shopping mall with free toilets and a Carrefour supermarket to stock up on snacks and drinks.
Eat
Canaries food, Spanish food and inevitably, fast food. Most places are good value, but one or two tourist traps near the port. Plenty of good fish, although a dictionary may be helpful.
phone: +34 922 609900

address: Doctor José Naveiras 38

Local cuisine, try Puchero canario (stew Canaria style) or pork with cabbage and red Mojo

phone: +34 922 244617

address: Calle Clavet 19

typical Casa de comida, try Ropa Vieha (monced steak in tomato sauce) ot Polines (bananas in moho)

phone: +43 922 15 18 67

address: Calle Antonio Domínguez Alfonso 36

Often regarded as the best restaurant of Santa Cruz, it specializes in a mix of Andalusia specialties and local Canarian cuisine. Great food, but relatively pricey.

Etéreo by Pedro Nel

phone: +43 922 19 41 95

address: Calle San Antonio 63

Upscale Spanish restaurant with a serious price tag. The food is excellent, and accompanied by a rich selection of local and European wines.
Drink
There are only a few bars, with a few local people in them.

Sleep
phone: +43 922 24 99 55

address: Calle de Valentin Sanz 33

Parking can be a nightmare, so it's best to use one of the underground car parks at around €12 a day.

phone: +34 922 534 422

address: Calle Candelaria 3

In the centre of the historical and business areas of the city. It is very close to the Auditorio, the shopping area, the harbour, and the theatres.