Santa Maria (Rio Grande do Sul)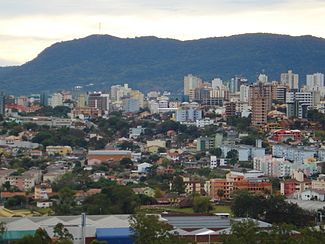 The city of
Santa Maria
is known as the geographical heart of
Rio Grande do Sul
, the southernmost state in
Brazil
.
Understand

Located at latitude 29º41'03" South and longitude 53º48'25" West, the city stays at 151m of altitude. The estimated population in 2004 was 261,980 inhabitants.
Santa Maria is also known as "Cidade Cultura" (Culture City).

Get in
BR-158
BR/RS-287
BR-392
RS-509
RS-516 - north-northwest from Caçapava do Sul
By bus
See
Coronel Pillar Historical Center

Edmundo Cardoso Memory House

address: Rua do Acampamento, 81 - Centro

Contains fossils from the Paleorrota geo-park.

Historical Culture Museum of the Franciscan Brothers

I.E.E. Olavo Bilac Historical Archive

João Luiz Pozzobon House Museum

Mallet Museum

Manoel Ribas College Memorial

Museum of Astronomy and Planetarium

Treze de Maio Community Museum

phone: +55 55 3220-4565

address: Av. Presidente Vargas, 115 - Patronato

Contains fossils from the Paleorrota geo-park.

Rio Grande do Sul Japanese Immigration and Culture Memorial

Santa Maria Art Museum

Santa Maria Railroad Museum

Santa Maria Sacred Museum
Do
Ride a bike "MTB" in Itaara and 4a Colônia.

Eat
Restaurante Augusto

phone: +55 55 3223-1050

address: Floriano Peixoto st, 1354

Traditional mid-age restaurant

Frei Pança

phone: +55 55 3221-2122

address: Floriano Peixoto st, 1328

Pizza, pasta

Churrascaria Vera Cruz

phone: +55 55 3222-0606

address: Medianeira Av, 1600

Very famous chicken barbecue

Imperial Sucos

phone: +55 55 3222-5330

address: Floriano Peixoto st, 1009

Sandwiches, mix juices

Bovinu's Churrascaria

phone: +55 55 3221-1790

address: Venâncio Aires st, 1596

The best barbecue in the city (all you can eat style, buffet)
Drink
Sleep
phone: +55 55 3220-1600

address: RST 287 road - km 239 - Nº 1981

Probably the best hotel in this area. More than 90 apartments and an event structure to receive about 1700 people simultaneously. Each apartment have phone with direct call and answering machine, air-conditioner, TV Directv with remote control and a small refrigerator. The hotel is about 5km from the city centre. The taxi fare is between R$15 and R$20. A single apartment costs about R$ 92,40 per day, a double costs R$ 132,00 and a triple costs about R$ 193,60. Note that this values can be modified during the year.

Hotel Continental

address: Benjamin Constant st, 1209

Itaimbé Palace Hotel

phone: +55 55 3222-1144

address: Venâncio Aires st, 2741

Palladium Executive Flat

phone: +55 55 3222-4682

address: Buenos Aires al, 322

Hotel Morotin

phone: +55 55 3222-4453

address: Ângelo Uglione st, 1629