Santa Marta
Santa Marta
is a city in the
Magdalena Department
of
Colombia
's
Costa Norte
.
Understand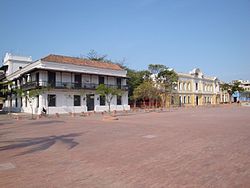 Santa Marta an important commercial port and tourist destination. Every day, there are cargo ships coming and going and the action is very much visible. From the beach, the view of the Caribbean Sea is more or less to the west (beautiful sunsets) with a huge rock of an island jutting up out of the water to make a somewhat dramatic effect. Off to the right is the port snug behind another even bigger rock. This is a decent beach if you like beaches that are right in town with lots of people, vendors, and noise. Vendors are extremely aggressive if you are on the beach.
Aside from the old center, the main attractions of Santa Marta are its two resort-like suburbs El Rodadero, to the south, and
Taganga
, to the north. El Rodadero has several high-end hotels and private "clubs" that cater mostly to wealthy Colombians, whereas
Taganga
used to be a fishing village and is very popular with (mostly foreign) backpackers. Taganga has many scuba-diving agencies.
There is a high season and low season. High season is December through April, with its peak from mid-December to late January (due to school and university vacations).
Get in
By plane
Simón Bolívar airportHas non-stop flights from Bogotá, Medellín-Cordova, Bucaramanga, Pereira and Cali. . If you get in from abroad check if baggage is unloaded in Bogota even if airlines promise they´ll send the baggage directly to Santa Marta.

A public Bus from the Santa Marta airport to the city centre Carrera 1A cost COP$2400.
A taxi to the Centre historico is around COP$25,000 (no prepaid or metered taxis available).
By bus
The
bus station
is all the way out of town on the main highway. To get there, you can catch a bus/colectivo with the sign "UCC TRANSPORTE" at carrera 1. The ride will take some 45 minutes and cost about COP$2,000. If carrying a big backpack, you might be rejected by some colectivo drivers, just wait for the big buses. With the taxi the trip takes around half hours and costs COP$15,000. In the bus terminal, you can get free WiFi at the tourist office.
Bus rides are available:
For more comfortable road travel across northern Colombia, a few companies offer air conditioned van services between Cartagena and Santa Marta, with stops in Barranquilla en route. Cochetur seems to be the most reputable of these. Price is COP$50,000 per person between the main two stops and they will pick you up and drop you off at your desired location in each city. You will likely share the van with 6-8 people including the driver. Tipping did not appear to be expected but a thousand or two goes a long way here.
If you're heading to the Coffee Region, a cheaper option is to catch a Berlinastur bus to Honda (COP$70, at least 12 hours, departure at 2PM), and right after that another bus to Pereira (COP$30, 6 hours). You'll need to wait for an hour or so in the middle of the night in Honda, but you can stay at Berlinastur office during that time.
Get around

Streets are numbered. The beach can be considered "Carrera 1" or 1st St., and the first street is usually "Carrera 1A" or 1A St. The next street after the first row of buildings is Carrera 2 or 2nd St. Calles are streets running from north to south. Unlike bigger cities in Colombia, taxis do not run on a meter. Payments range from COP$3500 for a "lift" (usually a ride no more than 10 minutes) to upwards of COP$20,000, depending on where you go. If you meet someone who 'knows' a taxi driver, this can be a good opportunity to negotiate a price to your next checkpoint in Colombia. Some drivers will take you as far as Barranquilla, although you have to negotiate.

See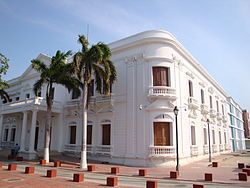 Museo del Oro

address: Calle 14 No.2-67

Displays a collection of precolumbian pottery, a nice collection of gold and a scale model of Ciudad Perdida.

Simon Bolivar's place of deathBeautiful and very interesting gardens, lots of iguanas, study the map before getting any further. The guide will tell you only about the buildings and the history of the "Libertador".
Do
Scuba divingNearby coral reefs provide good possibilities for scuba diving. All the scuba diving operators are at Taganga, so you'll need to go there to shop around (prices are very different from one to another). You can follow the PADI course (3-4 days), or just go for a 1-day dive (no licence required).

Jet skiOn the beaches, you can usually rent a jet ski in increments of 10 minutes. If you are not comfortable operating one, you can usually ask for a ride around. Life jackets are provided.

BirdwatchingBirdwatching at the El Dorado bird reserve above Minca ProAves.

address: Calle 21 3-88 Centro

The Neotropical Spanish School at Casa Scania is a small size Spanish School focused on quality giving classes in downtown Santa Marta and Barranquilla, USD8/hour with one student per teacher, USD6 per person in small groups.Course material, hot and cold drinks included. Casa Scania Calle 21 3-88 (between Carrera 3 and 4) Central Santa Marta. For more info see homepage.
phone: +57 311 3642134

address: Carrera 21, Calle 20-36

They offer motorcycle rentals, lessons, and motorcycle tours spanning 1-7 days. Run by a pair of young Americans, new business with nice new bikes. Rentals around US$30/day, Tours under US$100/day, all inclusive, varies by tour. Run from Drop Bear Hostel.
Buy

Santa Marta is famous for its beach sellers. Since beaches are open 365 days a year, there are always people wandering up and down the beach selling anything.
The beaches in the northern suburb El Rodadero have aggressive sellers. Take this as an opportunity to haggle - usually aim for COP$2,000-3,000 below the price asked.
If you are planning to go to Tayrona and need to buy snorkeling gear, you'll be disappointed to see only a couple of very basic Chinese packs, the same in all the shops. If you decide to buy them, the cheapest prices are in a kitchenware shop at Calle 15 with Carrera 3 (COP$15 for the "good" one).
Postcard stamps can be bought at the post office at Calle 22/Carrera 2 (COP$2,900 for Europe). No stamps are sold at the Deprisa post office (Carrera 3).
Carrera 5th is a big shopping promenade, with stores accompanied by street stalls and vendors. At the corner with Calle 20 there's a big supermarket (Exito). Some streets are pedestrian-friendly, such as Carrera 3 between Calle 15 and 20.

Eat
There are a lot of eating options. They seem to be good at roasting and grilling chicken. They do a good job of grilling beef tough but flavorful. Seafood is plentiful and relatively inexpensive lots of shrimp and seafood cocktail vendors. Most varieties of fruit are available even what is more common to cold climates. At night street vendors sell all types of snacks pizza, hamburgers, hot dogs, French fries, shakes, kabobs, rice in milk with coco, fried stuffed doughy things, etc. Coffee, hot chocolate, and both hot cinnamon and lemon is omni-present.
Restaurante El Españolete

address: Calle 13 no 2-45

Excellent Spanish food. Specialized in paellas, tapas and grilled meat. The owner, Toni, is from Valencia, Spain, and he can cook the real paella at a very reasonable price (less than US$15 per person). His wife, Alexa, is Colombian and her smothies are the best (she uses fresh passion fruit, mango, and other varieties of tropical fruits). They are both really nice and provide their customers with helpful tips to visit the best places in Santa Marta. Lunch menu is about $5. The restaurant is housed in a colonial building and it is even haunted by a ghost!

La Tasca - Tapas Bar

address: Calle 18 No 2- 72

Run by a Spaniard, this small and cosy restaurant offers an excellent selection of typical spanish tapas at a fair price. It is a real experience for the palate of both locals and tourists.

Agave Azul - Sabores de Mexico

phone: +57 5 431 6121

address: Calle 14 No 3-74

Very good Mexican food prepared by fabulous New York trained chef Michael McMurdo. With a range from burritos to steaks to seafood this very elegant food will blow your mind but not break the bank.

Merkabar / Welcome Restaurant

address: Calle 10 No 2-11

Good combination of local and gringo food. Good breakfasts, cheap filling lunches, and their famous "sopa del mar", soup overflowing with seafood. Their fruit juices are excellent. Gilberto, one of the brothers that owns and runs Merkabar, speaks English and is friendly and helpful with tourist needs.

Ben & Josep´s bar & restaurant

address: Carrera 1 # 18-67

(Dutch owner) On the beach road in front of the Park Hotel. The very best steak (filet mignon) in Santa Marta. Fine dining for a reasonable price.

Restaurante El EscorialA good restaurant is in the middle of the block behind the beach on 11th street

Restaurante y Pescadería Manuel

phone: +57 5-4231449

address: Carrera 1A # 26-167

Very nice seafood.

Restaurante El Santo

phone: +57 5-423-6170

address: Calle 21 - 2a 52

One of the few places in SM with good tender Argentinan meat and nice wine. Argentinan and Islandic owner. Very nice and welcoming.

Tim's Gourmet Coffee Shop

phone: +57 5 431 5446

address: Cra 1A 23-57

You'll get free Wi-Fi while you're having a fresh coffee made by beans direct from the organic growers on the slopes of the Sierra Nevada, Western Canadian/German pastries and European style breakfasts daily until 2PM. Crepes and deli sandwiches all day.
Street food:
Excellent seafood soup from a man at the corner of 13th st. and 4th Carr (diagonally opposite the small church.. next to sunglasses vendors. You'll see huge pots of soup). Very cheap and delicious, but only in mornings. Sells out by noon.
There is a man who has been sitting on 14th street between 3rd and 4th carrera (behind the beach) selling shrimp cocktail at a reasonable price for 23 years.
There is another man who has been sitting on 22nd street on 1st carrera (in front of the beach) selling a delicious shrimp cocktail at a reasonable price and he is very reliable and well known in the city.
Drink
address: Calle 19 4-11, Santa Marta

Good music, cocktails, excellent prices, slightly insane. Very popular.

Santo Domingo

address: Calle 17 No. 3 - 70 near the cathedral.

The best place to party in Santa Marta. The owners are super nice, they will personally attend. The owners are two Spanish. That women more beautiful and rumba, to good music and really nice atmosphere.I always found it a good show. Thanks Elena and Kike.

address: Calle 18 No. 3-69 (between Carr 3 & 4)

A fun rock n' roll bar. The Colombian owner (who is a spitting image of Neil Young) used to own a large rock club in Bogotá, but he sold it to settle down here. Every evening he VJs videos of all the great classic rock bands. Friendly staff, great vibe, nice decor.

BurukukaA trendy nightclub on the way towards El Rodadero. Burukuka sits on top of a hill overlooking the sea, with a great terrace. It's a high-end place, so dress appropriately. Also serves food. Vía al Edificio Cascadas del Rodadero, just out of town, to the south.
The drink of choice is, of course, beer. Because Santa Marta can get brutally hot during the summer (upwards of 35°C/95°F), it is a good idea to constantly have a bottle of water with you. During the evenings, when it gets cooler, beer and friends is often an excellent combination. It would be good idea to take a couple of "Stubbie Coolers" (Australian vernacular for an item which keeps the beer in your bottle cooler or longer) as the heat will have you drinking warm beer by the time you are at the end of your drink.
Soft drinks can be found at nearly every restaurant - sometimes you can even pick it up in glass bottles. They are cheap: a drink usually costs no more than COP$2,000.
Ask about Ben´s Bar on the Beach. Barrio Samario, La Puerta, and El Garage.
Juan Valdez Cafe

address: Calle 14

One of the surprisingly few excellent coffee options in town. Even many good restaurants don't have a good coffee machine and/or use good coffee beans.
Sleep
If you are looking for a place to stay, there are somewhat more expensive hotels. 10th street is less expensive. These include:
phone: +57 -318-303-3666

address: Calle 14 N3-58 (carrera 3)

Owned by two Californian brothers and built in an 80-year-old, neo-republican mansion and restored to recover its genuine colonial Caribbean feel. The large, high ceiling manor, with its eleven dorms and suites houses up to 60 people and provides beverages for many more. With pool, full size bar, hammock room, nightly meals and free Wi-Fi. Prices starting at COP$20,000 for a dorm with fan.

phone: +57-5-423-3276

address: Calle 10C No 1c-70

Classic South American backpacker's hotel. Rooms are quite basic and sometimes it's hot, but the staff is great, Wi-Fi very fast and free, defacto tourist information office for surrounding area (Tayrona, Lost City, etc.) Also has a really friendly restaurant, and offers safe boxes for backpacks when going on tours. They also have a location in Taganga at Calle 17 No. 2-36.

phone: +57-5-421-0977

address: Calle 12 No 3-01

Fairly new and clean hostel right on the corner with a locked security gate, ring the bell to get someone to help you. Rooms are spacious and well ventilated with lockable chests for your belongings. Free Wi-Fi. Two blocks away from the main plaza.

Hotel Nueva GranadaCalle 12 No 3- 17, Historic Centre of Santa Marta. Nice and small, with pool and jacuzzi, bar, comfortable and clean double and multiple rooms with air- conditioning or ventilators, unlimited internet access, and free breakfast. The staff is very kind and helpful.

address: Calle 8 No 1- 58, Rodadero

Cute hotel with all comforts, which has been managed by its owners for more than 40 years and it is famous for its warm and helpful staff. It offers comfortable standard roooms with air- conditioning, and suites with kitchenette and living room from COP$110,000 per night with breakfast. All rooms have a bacony with sea view.

Casa FamiliarPrivate, mild mannered and friendly staff. Rooms are small and basic.

phone: +57 (5) 4221975

Private,comfortable, friendly and attentive staff, and a great swimming pool. All rooms have air-conditioning and wireless internet access.

Finca Barlovento GuesthouseAt a beach right next to the Tayrona Park.

Cabanas Los AngelesThese cosy beach cabanas right next to the Tayrona Park are a great place for travelers who are looking for privacy and who don't want to spend too much on accommodation within the Tayrona National Park.

El Kool Koala Backpackers

phone: +57 5 421 9196

Run by an Australian with 20 years travel experience who speaks fluent Spanish in the best Aussie accent and his energetic local best mate. Really cruisy place, outdoor setup for cooking, chilling, or drinking the night away.

phone: +57-5-431-0208

address: Carrera 2 No 19-06

This is an immaculately clean hotel, which is a change from a lot of the places in Santa Marta. The immediate area is probably the best in Santa Marta, as opposed to the sketchier Calle 10 barrio. The colonial rooms are recommended, with very tall ceilings and fan for COP$30,000 for a private room (single). The staff is incredibly friendly.

Hotel Imperial Caribe

phone: +57 5 421-1556, +57 5 421-4556

address: Calle 17 No. 3-96 (between Carr 3 & 4)

Nice rooms, friendly staff. Singles with fan for COP$30,000. Doubles, Triples, A/C more. Free Wi-Fi in lobby.

address: calle 18-3#28

Less crowded. This place offers comfort at low price. Run by a nice family that really cares. A place to get off the Gringo Trail a bit.
Aluna Hostel calle 21 Carrera 5-72 , is one of the newest hostels in Santa Marta and is the perfect place for backpackers looking for a comfortable, quiet and safe hostel.

address: at one of the calmest beaches of the Tayrona National Park

Private,comfortable, friendly local staff, and within the Park

address: Minca

The hummingbird feeders and fruit feeders attract around 40 species of birds to the garden.

address: Minca

Air-conditioned rooms from USD25 per person. It offers a calm and totally natural atmosphere and one of the best restaurants of Santa Marta.

phone: +57 5 4210215

address: Cl 16 # 1c – 92 Barrio Centro

Small hotel with 12 rooms, restaurant, spa and rooftop jacuzzi.

phone: +573017090344

address: Calle 21 # 3-40 (between Carrera 3 and 4), Centro Historico

Backpacker Hostel with dormitories and private rooms. Kind and helpful staff. Each bed has its own fan (can be noisy at night) in 12-bed dorm. Small but nice swimming pool on the ground floor. Terrace bar with satellite TV and a hammock on the top floor. Wifi and 2 computers with internet. Kitchen available. Close to the beach (5 minutes walking). Laundry service. Checkout 11PM.

phone: +57 3159260883

address: Carrera 1A 5 - 93 El Rodadero

Apartments for rent day - season, near Tayrona Park and Taganga. 2 rooms with air conditioning, bathroom, LED cable TV, beach view terrace, free WiFi, pool, private parking, airport shuttle, local tours & snorkeling.
Go next