Santa Monica
Anchoring the
Westside
of
Los Angeles County
,
Santa Monica
is a beachfront city popular with tourists for its expansive beach and its famous pier, which are among the most popular coastal attractions in
Southern
California
. Within the city, visitors will find a number of urban shopping districts and plenty of restaurants and nightlife.
Understand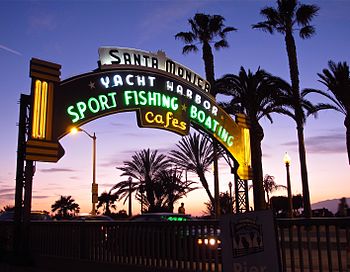 Santa Monica developed as a seaside retreat at the turn of the 20th century. The railroad owners built the first version of the amusement park on Santa Monica pier as an attraction to fill empty train seats on weekends. Santa Monica grew into an urban, eclectic, and prosperous beach city whose real estate values are amongst the most pricey in the world. Santa Monica is a very desirable city whose people are drawn to its accessibility and its progressiveness as a community. Today, Santa Monica is a mixture of very affluent, single-family neighborhoods, renters drawn by the high quality of life, lifelong surfers, young professionals and students.
Tourists visiting the Los Angeles region will find Santa Monica one of the best situated locations to base their trip. There are plenty of hotel, restaurant and entertainment options, as well as close accessibility to major sights like Venice Beach, Malibu and Beverly Hills. Visitors can also take advantage of the beach cities' moderate climate; during the summer and fall, as the mercury soars to 100 °F in the San Fernando Valley and 90 °F downtown, Santa Monica usually remains at a very comfortable .
Santa Monica has three
Visitor Information Centers
that feature experienced Travel Counselors, foreign language line, tickets to area attractions and free visitor information on attractions, hotels, dining, museums, galleries and entertainment.
Climate
Get in
By car
Santa Monica sits at the western terminus of the 10 (Santa Monica) Freeway, about 20 miles west of downtown Los Angeles and 7 miles north of Los Angeles International Airport (LAX). The city is roughly bounded by Centinela Blvd to the east, Ocean Park Blvd to the south, San Vicente Blvd to the north and the Pacific Ocean to the west.
The tourist center of Santa Monica is the downtown area near the famous Santa Monica Pier, which was once the western end of historic Route 66. By car, take the 10 Freeway to the 4th/5th Street exit, then head left toward the ocean. From the north, turn left off the Pacific Coast Highway (California 1) at the California Incline, which deposits you just a few blocks north of the pier.
By public transit
The county-wide
Metro
public transit agency offers service to Santa Monica from throughout the Los Angeles region. Santa Monica is the western terminus for the Metro Rail
Expo Line
, which runs out to
Culver City
,
Exposition Park
, and onward to
Downtown LA
. The line ends in Downtown Santa Monica at Colorado Avenue and 4th Street, just a few blocks from the Santa Monica Pier. Prominent Metro bus lines to Santa Monica include the 20/720 via Wilshire Boulevard from Downtown LA and the 04/704 via Sunset Boulevard and Santa Monica Boulevard from Union Station in Downtown LA. Lines 720 and 704 are Rapid lines which stop only at major intersections, making them faster than their local-stop counterparts 20 and 04 (however, the 20 and 04 run later into the evening). Service tends to be every 10 to 20 minutes. Metro fare is $1.75.
Santa Monica is also served by its own
Big Blue Bus
, which runs bus lines to surrounding neighborhoods such as Venice Beach and West Los Angeles, as well as an express line to Downtown LA (requires extra fare). Local fare is $1.25, with a day pass costing $4, both of which can be purchased from the driver onboard the bus. The reusable
TAP
card is good on both Metro and Big Blue Bus.
By plane
If arriving on commercial flights, the closest airport is
Los Angeles International Airport
(
LAX
) just a short drive south.
If you are arriving via LAX, you and your luggage can access the Santa Monica Downtown area for $1.25 by taking airport shuttle C and asking the driver to let you off closest to the stop for Big Blue Bus line 3. Once you step off the shuttle, exit the lot, and turn right, and look for a blue triangular-shaped sign at the corner of the street. Buses arrive every 15-20 minutes on weekdays, and every 15-30 minutes on weekends; this is a regular route, the fare is $1.25. Also, Big Blue Bus line 3 connects Santa Monica to the Los Angeles light rail Green Line at Aviation Station.
The following air taxi and air charter companies fly a variety of private charter aircraft and jets, from charter luxury Gulfstreams down to economical piston twins for small groups and individuals:

Get around
Many of Santa Monica's tourist destinations are within easy walking distance of each other. The city
Big Blue Bus
system operates a number of lines that link not only places within the city, but also neighboring Brentwood, Westwood and Venice Beach, making Santa Monica one of the relatively few places in Los Angeles where one needn't drive to get around. Traffic is very heavy in the downtown area, and during rush hour and weekends the city's main arterial streets (Wilshire Blvd, Santa Monica Blvd, Lincoln Blvd) are choked with cars. Santa Monica also has a fairly extensive bike share system,
Breeze
, with bike stations throughout Santa Monica and adjacent Venice Beach.
♿ Both the Big Blue Bus & Metro Rapid (Red Bus) fleets include pneumatic wheelchair ramps & chair anchor points. Most stations are level and paved and stops are pre-announced (audio & visual). Fares for passengers with a disability are at 50%.

See
Throughout Santa Monica there are numerous pieces of public art to discover. From large murals to huge sculptures, there are almost 40 of these to check out.
Bergamot Station Arts Center

phone: +1 310 453-7535

address: 2525 Michigan Ave

Over 30 art galleries, including the Santa Monica Museum of Art.

phone: +1 310-398-2500

address: 3100 Airport Ave

Centered around artifacts from the Douglas Aircraft Company, which used to manufacture iconic aircraft like the DC-3 at the Santa Monica Airport. It includes many aircraft in static display, from a replica Wright Flyer to World War II fighters to the microjet which appeared in the James Bond film Octopussy. "Rides" in a full-motion flight simulator are $8 each.

View Decks at Santa Monica Airport (KSMO)

phone: +1 310-458-8411

address: 3223 Donald Douglas Loop South

Open air-decks with picnic tables. Watch and photograph the airplanes as they come and go at the airport. Listen to Air Traffic Control on loudspeakers. Bring a picnic lunch. Also, Clover Park, at the corner of 25th Street and Ocean Park Boulevard, has a viewing area with a telescope focused on the runway.
Do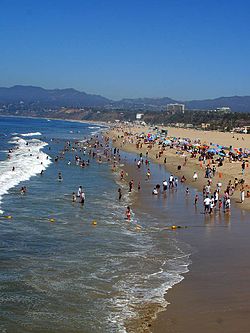 Buy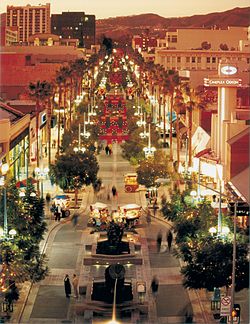 Santa Monica like the rest of the LA area is very cosmopolitan and attracts a lot of tourist shopping dollars.
Eat
Very diverse food selection, from high-end cuisine to burgers and tacos.
Budget
phone: +1 310 395-8279

address: 1517 Lincoln Blvd

Some of the best sandwiches on the west side. There will be a long wait during peak hours, so browse the authentic Italian market after you take your number, or go online, view the menu, and call in your order in advance.

phone: +1 310-451-8771

address: 1629 Wilshire Blvd

Serving breakfast, lunch, and hand-rolled bagels since 1978.

phone: +1 310-395-6675

address: 1405 Montana Ave

Offers Indian cuisine with a California consciousness. Emphasis is on healthy, so sauces are lighter, but flavor is still great.

phone: +1 310-828-2991

address: 2323 Wilshire Blvd

A great breakfast place! A small "hole in the wall" with a relaxed atmosphere and competent service, you'll find many locals trying to wake up on Saturdays and Sundays. Offering up traditional bacon and eggs with a twist the food is fresh and good. Meat lovers should try Uncle Zeke's scramble.

phone: +1 310 392-5768

address: 1406 Olympic Blvd

Fresh, cooked to order Mexican food in a taqueria atmosphere. It features good tacos and an excellent chicken mole burrito. Don't miss the pickled carrots and jalepeños in the salsa bar.

Rae's Restaurant

phone: +1 (310) 828-7937

address: 2901 Pico Blvd

Cheap, hearty diner food. Breakfast and lunch only. Quentin Tarantino fans may recognize the interior from Reservoir Dogs, or the exterior from True Romance.
Mid-range
phone: +1 310-260-8877

address: 1415 Montana Ave

Blue Plate is a small, cozy neighborhood eatery that serves great American comfort food. Located in the heart of Montana Avenue, Blue Plate is close to many hip boutiques and is a great rest stop after a day of shopping. An added plus: the menu is kid-friendly, offering healthy items for kids as well as organic baby food. The turkey meatballs and mac 'n cheese are a must-try.

address: 1025 Wilshire Blvd

A Los Angeles institution and this Santa Monica branch offers great margaritas and wonderful traditional Mexican food. The green corn tamales, available from May to October each year, are a specialty.

phone: +1 310-393-8831

address: 1414 Lincoln Blvd

Authentic Polish food can be found on Lincoln with a signature dish of roast duck. They have a fantastic outdoor patio in the back where you can get a great vodka martini.
Splurge
Drink
Santa Monica offers over 50
Happy Hour
specials all over town, from dive bars to the high end hotels.
Because LA and specifically the west side of LA are famous the world over for their night life, going out and drinking in Santa Monica is expensive, normal prices for a domestic beer are $5 and martinis frequently range over $15. The bars listed below are sorted by type and not price:
Sleep
Budget
Mid-range
Splurge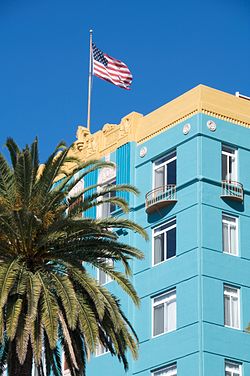 Stay safe

Crime rates in and around the tourist areas are relatively low, thanks to an increased police presence and "neighborhood watch" campaign by business owners. While there is a large homeless population in the area, you're unlikely to be seriously bothered.
The small neighborhood around Pico Boulevard and 20th Street can be a little rough, side streets in this area are best avoided at night.

Connect
Go next