Santa Rosa (California)
Santa Rosa
is the largest city in
Sonoma County
,
California
, and fifth largest in the
San Francisco Bay Area
. The city functions as a jumping off point for those that want to visit the wine country in
Napa Valley
, or driving out to the beautiful coastal highways and parks.
Understand
History
Santa Rosa's history is rich in culture and many different groups have called the area their home. Pomo, Miwok, and Wappo Indians originally populated the area followed by the Spanish in the early 1800s. The first deeded land was held as the Rancho Cabeza de Santa Rosa and was given to Senora Maria Ignacia Lopez de Carrillo by Spanish authorities.
In 1867, the county recognized Santa Rosa as an incorporated city and in 1868 the state officially confirmed the incorporation, making it officially the third incorporated city in Sonoma County, after
Petaluma
, incorporated in 1858, and
Healdsburg
, incorporated in 1867.
The city continued to grow when other early population centers declined or stagnated, but by 1900 it had been, or was being, overtaken by many other newer population centers in the San Francisco Bay Area and
Southern California
. According to a 1905 article in the Press Democrat newspaper reporting on the
Battle of the Trains
, the city had just over 10,000 people at the time.
The April 18, 1906 San Francisco Earthquake essentially destroyed the entire downtown, but the city's population did not greatly suffer. However, after that period the population growth of Santa Rosa, as with most of the area, was very slow.
In 1943, Alfred Hitchcock filmed his thriller,
Shadow of Doubt
in Santa Rosa. He would continue to use Santa Rosa, and later
Bodega Bay
in many of his films. Thanks to this, Santa Rosa became, and continues to be a major hub in the Bay Area for numerous movies.
Get in
By car
Santa Rosa is 55 miles north of
San Francisco
, via Highway 101. Depending on traffic conditions, this drive is as brisk as an hour and as long as two hours. It is best to avoid the Highways during weekday rush hours, and on the weekend after sporting events. Beautiful and alternative routes exist on
Highway 1
, and through Sonoma Valley.
By bus
Golden Gate Transit offers bus service out of San Francisco, and around the Bay Area every day of the week. The buses are large and comfortable, but are subject to the same traffic delays despite having access to the carpool lanes up and down Highway 101.
Greyhound offers rides into Santa Rosa from around the Bay Area, including San Francisco,
Oakland
, and the
South Bay area
.
By plane
By boat
Although none of the ferries in the San Francisco Bay Area extend as far as Santa Rosa, they can be used as a connection to the numerous bus services to the North Bay, while providing fantastic views of the Golden Gate Bridge and San Francisco skyline.
By train
Sonoma-Marin Area Rail Transit
, or
SMART
, connects Santa Rosa with Sonoma County Airport,
Rohnert Park
,
Petaluma
,
Novato
, and
San Rafael
.
The 70-mile train and bike path will eventually connect to the Golden Gate Ferry in
Larkspur
and provide mass transit between some of the most major cities in the Wine Country. is the station that serves downtown, located next to the historic station at 7 4th Street.
By thumb
Hitchhiking in the North Bay is an accepted practice, but as always have your wits about you. Travelers will find more luck along the coastal highway, which are teaming with tourist, rather than near Highway 101. If you are looking to escape San Francisco, walking across the Golden Gate to Vista Point, where all traffic will be heading north bound after leaving the scenic spot. Ask nicely, and many of the friendly Bay Area residents will be happy to give you a ride north toward Sonoma County and Santa Rosa.
Get around
Being largely suburban, a personal vehicle remains the most common method of getting around Santa Rosa and the surrounding area. There is, however, the
Santa Rosa CityBus
, but frequency, operating hours, and coverage leave much to be desired.
Sonoma County Transit
and
Golden Gate Transit
also provide service in Santa Rosa, but focus mainly on inter-city travel.
Bicycling in Santa Rosa is a reasonable option. Most destinations are reachable via not-too-busy roads, and notable car-free pathways exist from downtown to and beyond the western city limit. The primary off-street bicycle and pedestrian path system is the Prince Memorial Greenway, extending along the banks of Santa Rosa Creek from City Hall in the heart of downtown, out beyond the city to the west. On the western edge of downtown, near the Marriott Hotel in Railroad Square, this connects to the Joe Rodota Trail, a paved off-street path going to
Sebastopol
paralleling CA highway 12. Much of the city is relatively flat.
The downtown core is easily walkable, and if one were staying downtown they could conceivably while away a day on foot.
See
Do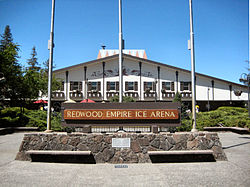 Visit some nearby wineries. Santa Rosa sits in the center of the famous Sonoma Wine Country and has nearly 200 wineries to choose from.
Play golf. With 16 golf courses in the county, you're bound to find one that suits your tastes.

Redwood Empire Ice ArenaThis well-known ice rink also known as "Snoopy's Home Ice" features Snoopy and the gang and was once owned by none other than Charles M. Schulz himself. It is located just across Hardies Lane from the Schulz museum.

Hike the county and state parksA few minutes from downtown, two adjacent parks offer short and long hikes in varied terrain, featuring two lakes. Lots of dogs, ducks and geese to see. A nice way to get in a bit of exercise without too much effort. Parks include:
Buy
Shopping malls and shopping centers
phone: +1 707 544-7467

address: 1071 Santa Rosa Plaza

Macy's, Forever 21, J. Crew, Apple, and 100 or so more stores and kiosks in a two-story indoor mall

phone: +1 707 527-5377

address: 733 Coddingtown Mall

This over 40-year-old mall features Macy's, JC Penny, Target, Nordstrom Rack, Whole Foods, and over 100 other stores. The 72 foot tall revolving sign in the parking lot was declared a historical landmark in 1993 by the City of Santa Rosa.

address: Farmers Lane and Sonoma Avenue

Outdoor shopping center includes several streets of chain and local stores, a mix of boutique and more pedestrian options, as well as several good restaurants.
Downtown Shopping
Downtown Santa Rosa consists of two main shopping areas, divided by Highway 101:
The 'main' downtown, centered around 4th St. east of Santa Rosa Plaza mall, primarily from B St. to E St., with less-concentrated options within a several-block radius of that core. Bookstores, newsstands, a music (instrument) store, small specialty shops, jewelry stores, and a number of restaurants are on offer.
Railroad Square, centered around 4th St. west of Santa Rosa Plaza mall and the freeway, primarily between Davis and Wilson streets. This growing area includes a number of antique shops, art galleries, and shops focusing on wares from places such as Indonesia and Mexico. A large local outdoors outfitter is on 3rd St.
Eat
Fourth Street Deli

address: 300 Mendocino Ave

Sandwiches and salads. Great place to grab lunch to eat at the park across the street.

El Patio

address: 901 4th St

Excellent and inexpensive Mexican food. A fixture for locals since the 1990s.

Lepe's Taqueria

address: 4323 Montgomery Dr

Delicious Mexican cuisine, fast-food style. Indoor and outdoor seating, close to Spring Lake and Howarth Park.

Shogun

address: 2350 Midway Dr

phone: +1 707 542-8282

address: 2446 Patio Ct

Japanese.

Mary's Pizza ShackFamily-friendly Italian restaurant and Sonoma County tradition. Features good-value lunch specials until 5PM. Two locations in Santa Rosa: 535 Summerfield Road (across from Howarth Park on Summerfield Rd. near Montgomery Dr.); and 3084 Marlow Road (Northwest Santa Rosa at Marlow Rd. and Piner Rd).

El Charro

phone: +1 707 570-2387

address: 1529 Farmers Ln

Good Mexican food.

Oliver's MarketLocal semi-gourmet grocery. In addition to standard supermarket options are at taqueria, very good freshly-made sushi, excellent desserts, very good cheese and wine selections, and a salad bar. Tables available to eat there, or take out. The Santa Rosa location is in Rincon Valley, on Montecito Dr. at Middle Rincon Rd.

Third Street Aleworks

address: 3rd St

Popular brewpub with good food. Both bar- and restaurant-style seating available, plus patio seating in good weather and billiards upstairs. Frequently loud.

phone: +1 707-546-7147

address: 1667 West Steele Ln

This small café with a cozy alpine atmosphere was once the favorite hangout of Charles M. Schulz. The table he routinely sat at as part of his daily activities is perpetually reserved for his presence.

phone: +1 707-528-4355

address: 208 Wilson St

French/Swiss cuisine. Local favorite.

Ca' Bianca Ristorante Italiano

phone: +1 707 542-5800

address: 835 2nd St

Excellent Italian food. Restaurant is in a large converted Victorian house in a quiet neighborhood near downtown, and so can be easily missed.

phone: +1 707 578-8180

address: 2700 Yulupa Avenue Suite #23

Excellent Japanese food, sushi, and sashimi. Arguably the most authentic Japanese restaurant in the area, as the menu and specials often include items not typically seen in Japanese restaurants in America, such as ume-shiso maki and various natto dishes.
Drink
address: 725 4th St

Perhaps now overshadowed by the much larger version in Windsor, this homey haunt offers specialty pizza, pub grub, and word-class ales.

The 440 ClubThe quintessential dive bar. Jackalope mounted on the wall, local music in the jukebox, and friendly service. Can't beat a Sierra Nevada draught for $2.
Sleep
Budget
phone: +1 707 525-9010

address: 3145 Cleveland Ave
Mid-range
phone: +1 707 546-4031

address: 1500 Santa Rosa Ave

phone: +1 707 541-0959

address: 100 Fountain Grove Parkway

phone: +1 707 546-4808

address: 2600 Corby Ave

Flamingo Resort Hotel

address: 277 4th St
Splurge