Santana do Livramento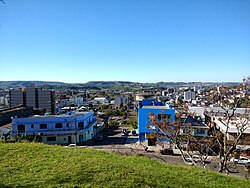 Santana do Livramento
, locally referred to as just
Livramento
, is in
Rio Grande do Sul
,
Brazil
. It's on the border with
Uruguay
, right across from the Uruguayan city of
Rivera
.
Understand
Livramento's big attraction is its location on the border: Uruguayans come for the inexpensive goods on the Brazilian side, and Brazilians come for the duty-free shops on the Uruguayan side. Travellers from other countries can take advantage of both. Livramento also gives you the chance to stand with a foot in each country—a cool photo opportunity.
To a large extent, Santana and Rivera function as one city: you can easily take a day trip from one to the other without even bringing your passport. You may not even notice you're crossing the border, which is marked by inconspicuous white border markers. If you decide to venture further into the other country, though, make sure to stop at immigration (located next to Siñeriz Shopping in Rivera) to get your passport stamped out of one country and into the other.
That being said, they are two different cities, with separate bus systems and administration and somewhat different vibes. Being in Brazil, Santana tends to be cheaper than Rivera, has more Brazilian foods and Brazilian-style buffet restaurants, and has more
Portuguese
than
Spanish
. On both sides of the border, though, it's not uncommon to have a conversation where one side is speaking Spanish and the other Portuguese, or where both sides are speaking
Portuñol
, a mixture of the two languages.
Get in
Access is done mainly overland, as the closest commercial airport is 230km away in
Uruguaiana
, (
URG
), and it has just a handful of flights a week.

From Brazil
Porto Alegre, the state's capital, is located about 500km away, a 7h ride by bus (100-135 BRL or 30-40 USD).
Santana do Livramento bus station, Brazil
From Uruguay
From Rivera, you can just walk or drive across the border. The city is connected to other parts of Uruguay by regular bus services.

Rivera bus station, Uruguay
Brazilian and Uruguayan immigration postsLocated in a brand new shopping mall, it has an attached duty free shop and a small food court. The location is a bit remote, so if you arrive by taxi, it might be a good idea to ask it to wait for you (metered taxi rides to Rivera bus station cost 90 UYU or 3 USD), but you can also ask the shopping security guard to order one for you. Brazilian passport holders are not supposed to get Brazilian stamps in their passports, but in this border it occasionally happens.
See
Praça InternacionalPut one foot in Brazil and one foot in Uruguay. Has some mom-and-pop shops with crafts that make nice souvenirs.
Buy

Lots of inexpensive stores catering to Uruguayans are located in the area near the border and the Praça Internacional. There are also lots of duty-free shops on the Uruguayan side.
Prices tend to be listed in reais in Livramento and in pesos in Rivera, but stores on both sides are happy to accept either currency. Currency exchange places, as well as lots of stands selling contraband, can be found on the border near the Praça Internacional. The unlicensed currency exchange stands right on the border offer very good rates, better than the official exchange places nearby. They accept US dollars as well as pesos and reais.

Eat
Coisa Nossa

phone: +55 55 3242-1160

address: Av. Tamandaré 1758

Brazilian-style buffet: serve yourself from an extensive selection of fruits, vegetables, and more, then choose from various types of meat that the servers bring around to your table.
Sleep
Cheaper hotels are available here than in Rivera.
address: Manduca Rodrigues, 747
Cope
Consulates
Uruguay

phone: +55 55 3242-1416

address: Av. Tamandaré 2101
Go next