Santander
Santander
is the capital and largest city of the province of
Cantabria
in
Spain
. It's on the north coast, with many beaches, ferries from Britain, and a small historic centre. Britons know the name best for the Santander Bank.
Tourist Information

phone: +34 942 203000, +34 942 203001

address: Jardines de Pereda

They're mostly helpful; difficult to park here.
Get in
By plane
Seve Ballesteros–Santander Airport

phone: +34 942 202100

Ryanair fly here from Brussels Charleroi, Budapest, Berlin Schönefeld, Dusseldorf Weeze, Dublin, Bologna, Milan Bergamo, Rome Ciampino, London Stansted, Edinburgh, Marrakesh, Barcelona, Malaga, Valencia, Palma de Mallorca, Gran Canaria, Lanzarote and Tenerife South. Iberia fly from Madrid, Barcelona and Gran Canaria. Wizz Air fly from Bucharest and Katowice. It's a single small terminal, but adequate for the number of flights. Usual facilities groundside and airside, but for non-Schengen departures don't go through passport control until 45 mins before your flight: Gates 6 & 7 beyond have no toilets or other facilities.
The
Alsa bus
runs to the bus station every 30 mins (06:30-23:00) from outside Arrivals, taking 10 mins. Buy tickets (€2.90) from the machine in Arrivals (which also sells tickets to other cities) or from the driver.
Taxis
from the airport to Santander are about €30. The taxi stand is in front of the terminal. You can also hire taxis with English speaking drivers via +34 692 240616, you can ask for the price of your trip and make reservations. Credit cards are accepted.
Santander Airport has direct access to
motorway A8
to Bilbao.
By bus
or
Estaciones
is the local name for the trio of the bus, Renfe railway and Feve railway stations, all adjacent in city centre. The bus station has the most facilities. Local buses drop off / pick up on the surrounding plaza, including the airport bus south flank of the terminal building. Most is underground, with cafés, ticket offices & machines and left-luggage. Long-distance buses run from the lower basement.
The
station timetable
is online. The main operator is
ALSA
, with buses to Santander from
Madrid
(5 hours),
Barcelona
via
Zaragoza
(9 hrs),
Gijon
,
Oviedo
,
Bilbao
(90 min) and Irun. International buses don't come here nowadays, change in Madrid.
By train
RENFE
mainline trains run 5-6 times a day to Santander from Madrid Atocha & Chamartín, taking 4-5 hours via
Segovia
,
Valladolid
and
Palencia
. A few of these trains start from
Alicante
.
Feve
run the slow, scenic, unreliable narrow-gauge railway east from
Bilbao
,
San Sebastian
and Irun / Hendaye (for SNCF trains across France), and west from
Oviedo
(for Gijon),
Aviles
, Ribadeo and Ferrol.
The Renfe & Feve stations are adjacent, facing the bus station. They both have ticket kiosks & machines (each for their own services only) and a few vending machines. Cross the street for better facilities including left luggage in the bus station.
By boat
Britanny Ferries
sail to Santander from Plymouth, Portsmouth and Cork. The routes are:
Plymouth to Santander (20 hours) sails Mar-Oct on Saturday, plus May-Sept on Tuesday, and returns Monday plus Wednesday.
Portsmouth to Santander (24 hours), twice a week year round, sailing days vary.
Cork to Santander (27 hours) sails Mar-Oct on Weds and Fri, and returns Tues & Suns.
They also sail to Bilbao. All routes cross the Bay of Biscay, notorious for Atlantic swells and upchucking.
is very central, off Calle Antonio Lopez near the bus & railway stations.
By car
France:
Santander is 150 ml (246 km) from
Biarritz
, 272 ml (437 km) from
Bordeaux
, 327 ml (537 km) from
Toulouse
, 583 ml (937 km) from
Marseille
and 685 ml (1103 km) from
Nice
.
Spain:
Santander is 517 ml (832 km) from
Alicante
, 443 ml (709 km) from
Barcelona
, 173 ml (279 km) from
León
, 243 ml (399 km) from
Madrid
, 630 ml (1014 km) from
Marbella
, 226 ml (364 km) from
Salamanca
, 474 ml (763 km) from
Santiago de Compostela
, 155 ml (250 km) from
Valladolid
, 314 ml (505 km) from
Vigo
and 249 ml (401 km) from
Zaragoza
.
Portugal:
Santander is from
Lisbon
and 405 ml (648 km) from
Porto
.
Get around
By foot
Santander is reasonably small. The distance from one end of town to the other are some 6km (4 miles) and can be walked in 2 hours along the coast road. Within the city center everything is within walking distance (15min walking).
By bus
Public buses are available at reasonable prices. Each journey costs € 1.10 (more for journeys out of the city proper, or you can save 40% by buying a 10-journey 'Bonobus' at a 'Tabaco' shop). A 10 journey Bonobus ticket costs € 6 (December 2009). Specifically, buses can take you to the main beaches some 2-4km (2m) from the city center. Timetables and map for download:
Hop On Hop Off Bus, tel 800-750-2859 departs from the Cathdral daily at 10.45 and 11:25AM, 12.00 noon, 1.15, 1.55, 4.45, 5.20, 6.00 and 6:35PM, with stops at Pasea Pereda, Museo Maritimo, Palacio de Festivales y Planetario, Palacio de la Magdalena, Casiono/Playa de Sardinero, Faro de Cabo Mayor, Matalenas/Campo de Golf. Estadio, Universidad, Avenida Valdecilla, Cuatro Caminos and Barrio Pesquero, the entire journey taking about 75 min. Internet rates: for 24 hours $21,95 per adult, $10.95 per child (5 to 15), for 48 hours $24,95 per adult, $11.95 per child (5 to 15) plus $3.95 "processing fee" per order. No refunds! Children under 5: free of charge. Explanations given in Spanish, English, French, German, Italian, Dutch and Japanese plus a commentary for kids.
By taxi
Taxis are widely available throughout the city.
Radiotaxi : tel. 942333333. Tariffs: Mon to Fri 6AM to 10PM, Sat 8AM to 3PM minimum € 3,15 plus € 0,78 per km, luggage € 1,17, waiting time € 15,52 per hour. Mon to Fri 10PM to 6AM, Sat midnight to 8AM, 3AM to midnight, Sun and public holidays: minimum € 4,00 plus € 1,02 per km, luggage € 1,50, waiting time € 20,23 per hour (2010)
By bicycle
The city offers bicycle rental, for a very low price, at a number of locations around Santander (Jardines de Pereda, El Sardinero, La Magdalena). Bikes are loaned for the day, so get in early to avoid missing out.
See
phone: +34 942203084

This headland 3 km east of the centre has a wooded parkland with beaches, a small zoo, a lighthouse and some kitsch replica ships. Its focus is the Palacio, summer residence of the Spanish King 1913-1930 and now an upmarket hotel and convention centre.
Museums
Prehistoric and Archaeological Museum of Cantabria

phone: +34 942207109

address: Casimiro Sainz 4

An impressively well curated and presented museum focused on the ancient history of the local Cantabria region. All items are presented in Spanish, French and English, and there are a significant amount of video and interactive displays. More than 1000 objects are displayed with a Neolithic focus, though the collection ranges at least the Paleolithic through Roman and medieval periods.

phone: +34 942274962

address: San Martín de Bajamar s/n.

phone: +34 942341204

address: Calle de Jerónimo Sainz de la Maza

In the lower floor of the bullring, in the western part of the city, near the Plaza de México, with bullfighting memorabilia, posters, photos and paintings, and colourful suits of bullfighters from all over Spain

phone: +34 942203120, +34 942203121

address: C/Rubio, 6

Principal art museum of the region with s remarkable collection of paintings and sculpture from the 15th to 20th centuries, from Italian, Flemish and Spanish schools and a painting of King Fernando VII by Goya

phone: +34 942234534

address: C/ Rubio 6

phone: +34 942391994

There's an art gallery and a strange collection of lighthouse images from popular cultureon everything from matchboxes to liquor bottles.

Colección del Ateneo de Santander

phone: +34 9421212820

address: C/ Gómez Oreña, 5-1º

Colección del Parlamento de Cantabria

phone: +34 942241960

address: C/ Alta 31/33

Colecciones y Patrimonio de Caja Cantabria

phone: +34 942234 534

address: C/ Rubio 6

phone: +34 942 251347

address: Calle de los Heroes dos de Mayo, Muriedas, Camargo

Historical 17th-century building, birthplace of artillery captain Pedro Velarde y Santillan, with antiquities and period furnishings, kitchen utensils, paintings. Visit by guided tour which starts on the hour.
Old Town
Churches
Cathedral

phone: +34 942226024

address: Plaza del Obispo José Eguino y Trecu s/n

Two-storey Gothic cathedral, the lower level (Iglesia del Cristo) built from 12th C, the upper Basilica mostly 13th C, then the cloister was added. Don't visit during Mass, usually M-F 11:00 & 18:30, Sa 11:00, 17:00 & 20:00 and Su 12:00, 13:30, 17:00 & 20:00.

Iglesia de la Anunciación

address: C/ Juan de Herrera 17

good example of Renaissance architecture

Iglesia de la Consolación

address: C/Alta 19

church in classical Baroque style

Iglesia de Santa Lucía

address: C/ Daoiz y Velarde 11

building of the eclectic style dating from the 19th century

Iglesia del Sagrado Corazón

address: C/ San Jose

one of the best examples of Neogothic style in town
Public buildings
Santander Ban

phone: +34 942206100

address: Paseo Pereda 9-12

Banco Español de Crédito

address: Hernan Cortes 11

building in the eclectic style of 1900

Banco de España

address: Avenida Alfonso XIII

opened 1922

Town Hall (Ayuntamiento)

address: Plaza del Ayuntamiento s/n

building in the eclectic style of the 19th century, richly decorated with columns, balconies and coats of arms

Mercado del Este

address: C/General Mola

erected from 1840 onwards, completely reconstructed in 1986

Mercado de la Esperanza

address: Plaza de la Esperanza

inaugurated 1904 in Modernism style

Plaza Porticadaconstructed as new city center after the fire of 1941

Casa Pardo

address: Paseo de Perez Galdos

House from 1915, also called 'Palacio de los Botin' with spectacular views over the bay, one of the most splendid mansions of the city, at Sardinero, reached with bus no 10

Casa Pombo

address: Plaza de Jose Antonio 3

Dique de Gamazosmall fishing port, dating from 1908, 180 m long, 15 m wide, 8 m deep, in the city center, reached with bus no 1

Post Office Building

phone: +34 942223023

address: Avenida de Alfonso XII

An impressive building, one of the landmarks of Santander, builtin 1915,in the city center, reached with bus no 1 and 8

Edificio de Los Arcos de Botin

address: Hernan Cortes 21

Neoclassic building on the north side of Piaza Pombo, near the harbour, good example of 19th cent. architecture, visitors are not allowed inside, in the city center, reached with bus no 1

Edificio de Los Pinares

address: Duque de Santo Mauro

Impressive private home of ship owner Francisco García, with an outstanding view on the beach as well as Renaissance and Baroque elements of architecture

Edificio de Viviendas

address: Calle Castelar, 15

One of the city's grandest mansions of the early 1900S in the historic district along the Calle Castelar and Paseo de Pereda.
Streets and Squares
Paseo de Pereda y Calle Castelar1550 m long street with nice views on the harbour and the cathedral and many buildings from the 18th to 20th cent., including Puerto Chico, Dique de Gamazo, Cuesta del Gas, and Banco Vitalicio

Plaza de José Antonio (Plaza Pombo)charming plaza with colorful flowerbeds and musician bandstand
Parks
Alameda de Oviedo

address: San Fernando, s/n

in the western part of the city center, running from Cuatro Caminos Roundabout in the west, to Plaza de Numancia in the east, specifically between Calle de San Fernando and Calle Vargas.

Jardines de Pereda

address: Paseo de Pereda, s/n

Santander's most famous park with a lot of trees, bushes and flowers, a pond, several sculptures, a music pavilion, a monument to the writer José María de Pereda (1833-1906), a fountain dedicated to the Cantabrian author, Concha Espina (1877-1953), the Fuente de los Meones and the city tourist office nearby.

Parque de Altamira

address: Paseo del General Dávila, s/n

botanical garden in city center, covering a total area of 16000m2.

Jardines de Piquío

address: Avenida de Castañeda, s/n

occupying an area of 13000 m2, with fine views on the Ensenada del Sardinero, Cabo Menor to the north and Magdalena Peninsula to the south. On a promontory between Primera and Segunda Playa (First and Second Beaches, originally known as the "Piquillo" or the "Punta del Rostro" (Face Point).

Parque del Doctor González Mesones

address: Avenida del Stadium, s/n

park with an area of 40000m2,with fountains, ornate stone benches with heraldic shields and a statue of the poet José Luis Hidalgo.

Parque de La Marga

address: Jerónimo Sainz de la Maza, s/n

west of the city, near Puerto Pesquero (Fishing Port), Dársena de Maliaño (Maliaño Docks), fish market and restaurants in the Barrio Pesquero (Fishing Quarter).
Parque de La Magdalena: see earlier listing.

Parque de Cabo Mayor

address: Avenida del Faro, s/n,

Covering an area of more than 100,000m2, the park is extremely spectacular on windy days, when the waves crash onto the cliffs. The Faro de Cabo Mayor is the oldest lighthouse in Cantabria. It was built in 1839, is 30m high and its light can be seen from 29 miles away. The rock formation of the Puente del Diablo (Devil's Bridge) and the Panteón del Inglés (Englishman's Pantheon) is nearby.
Do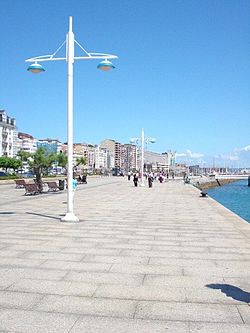 Picnic on Magdalena Peninsula
Learn how to sail
5 city walks: go to the Santander Tourist Office in the city center (Old Market, near the Old Banco de Santander) and get a free city guide; the free city guide describes these 5 itineraries. These 5 itineraries are enough to keep you busy for 1-2 days.
boat round trip: There is a regular boat service through the Santander Bay, boats run from Santander to Pedreña, Somo and back. For a 45-minutes round-trip you have to pay €3,90 and the boats starts at least every hour.
Enjoy the beaches. Walk up to the lighthouse at Cabo Mayor, visit the museum and enjoy the view from the top.
Beaches
Santander has a lot of fine beaches.
Magdalena Beach (Playa de la Magdalena)
Sardinero Beaches (Playa del Sardinero)
Camel Beach (Playa del Camello)
Mataleñas Beach (Playa de Mataleñas)
Magdalena Peninsula (see the penguins in the 'mini-Zoo') & Magdalena Palace (Palacio de Magdalena)
Lighthouse at Cabo Mayor (faro de Cabo Mayor), and the devil's bridge (puente del diablo), a bizarre rock formation.
Playa de Bikinis, safe and lovely beach on the Peninsula de la Magdalena, protected from big waves, very calm.
Playa de Covachos, Cotero (Santa Cruz de Bezana), one of the most attractive beaches,
Playa de El Bocal, Corbanera, peaceful and quiet,
Playa de El Camello, Avenida de la Reina Victoria, near Magdalena Peninsula,
Playa de El Puntal, Somo (Ribamontán al Mar),
Playa de La Concha, in the middle of Sardinero,
Playa de La Magdalena, Ensenada del Sardinero, with fine views of the bay,
Playa de La Maruca, Monte,
Playa de la Virgen del Mar, San Román, peaceful and quiet,
Playa de Langre, Langre (Ribamontán al Mar), spectacular situation between the cliffs,
Playa de Los Molinucos, small beach north of Segunda Playa,
Playa de Los Peligros, Avenida de la Reina Victoria, quiet beach in a sheltered bay,
Playa de Mataleñas, between Cabo Mayor and Cabo Menor, the 'luxury' beach of Santander,
Playa de Somocuevas, Liencres (Piélagos), with fine golde sands,
Playa de Valdearenas, Liencres (Piélagos), fine sand dunes,
Playa Primera de El Sardinero, Plaza de Italia, the most famous beach of Santander,
Playa Segunda de El Sardinero, Playa de Castaneda.
Somo Beach is a little bit outside of Santander. It can be reached from downtown Santander by boat. Boats leave every 10 minutes and the boat ride takes about 10 minutes. Somo Beach is about 3 km long and is less crowded than beaches in Santander.
Cultural events
Centro Cultural Caja Cantabria

phone: +34 942204300

address: Tantín, 25

The buildings is also known as "Modesto Tapia". It was designed by the Catalan architect, Domenech i Muntaner, a contemporary of Gaudí, and was inaugurated by Alfonso XIII in 1907. It incorporates many Modernist architectural features and was completely re-modeled in 1994. The Social and Cultural Office of Cantabria Bank offers theater performances, rock, pop and jazz concerts, conferences, art exhibits and workshops in drama, painting and photography.

Centro Cultural Doctor Madrazo

phone: +34 942310161

address: Casimiro Sainz, s/n,

Organized by the Cultural Bureau of Santander's City Council.

Palacio de Festivales de Cantabria

phone: +34 942361606

address: Gamazo, s/n

Designed by Javier Sáenz de Oiza, opened in 1991, classical music concerts, ballet and dance performances, home to Cantabria's School of Dramatic Arts
Festivals
Fiestas Virgen del Mar (Lady of the Sea festival): May 19
Los Baños de Ola: July 16 until 20
Fiestas de Santiago (St.James's Festival): July 25
Mercado medieval (medieval market): second half of August
Romería del Faro (pilgrimage to the lighthouse): August 23
Buy
Lupa

phone: +34 900200328

address: Avenida de Parayas, s/n

Mercado de la Esperanza

phone: +34 942220529

address: El Mercado, s/

busy market built in 1897 and restored in 1977, oldest surviving market in Santander after the Mercado del Este, built in 1839, was recently demolished

Santa María Pescados

address: San Francisco, 12

offering fresh seafood from the Cantabrian Sea, shellfish, hake, sea-bass, sardines, squid, octopus lobsters, percebes (goose barnacles) and crayfish

Hilario

phone: +34 942219854

address: General Dávila

meat shop located at the Hospital Santa Clotilde
Learn
The
Universidad Internacional Menéndez Pelayo
offers summer courses for university students, including Spanish language courses for foreigners, that take place both at the Magdalena Palace and at Residencia Las Llamas.
The
Universidad de Cantabria
offers Spanish language courses of 4 to 10 weeks duration throughout the year through the
Centro de Idiomas
(CIUC). CIUC also coordinates exchange students at the university.
Eat
Lots of cheap cafés in and around the bus station. A coffee and pincho for breakfast won't exceed €3.
The best area to eat fish is around the fishing harbour (Barrio Pesquero), although locals usually regard this as a tourist trap.
Santander has many Regma ice-creamery outlets, with servings of 8 popular flavours. Other chains such as Capri on Paseo de Pereda have a greater range of choices.
Taj Mahal on Calle Santa Lucía is the only Indian restaurant in town and serves a tasty alternative to the Spanish staples.
Sakura on Paseo Canalejas near Cuatro Caminos serves Japanese dishes.

phone: +34 942 34 27 36

address: Calle Repuente 20

Upscale dining, relocated from its former site on Resconorio.

phone: +34 942 213028

address: Casimiro Sainz 15

Upscale wining and dining, better seating upstairs.

phone: +34 942 363785

address: Callle Tetuan

Upscale seafood restaurant, gets admiring reviews.

phone: +34 942314149

address: Gómez Oreña, 15

Bar, good for tapas or main meals.

phone: +34 942213023

address: Castelar 19

Seafood restaurant, too cool to post opening hours.

phone: +34 942222515

address: Andrés del Rio, 7

Fine dining and wining.

phone: +34 942213001

address: Hernán Cortés 63

Another good seafood restaurant but too cool to state opening hours.

address: Plaza Doctor Fleming, 3

Sushi, sashimi and other Japanese cuisine.

El Jardin de Aida

phone: +34 942314960

address: Avenida Reina Victoria, 27

Traditional cuisine, try the cheesecake.

El Cormorán

phone: +34 942 273005

address: Segunda Playa del Sardinero

Breakfast, coffee or dining by the sea.

El Figón

phone: +34 942235366

address: Cardenal Cisneros, 7

Looks like a shack, but within is quality home-style cuisine, good value for money.

phone: +34 942332733

address: Av Nueva Montaña 2

Traditional and rustic food.
Drink

The main spot is Plaza de Cañadío in the centre of old town. It's a hive for young Santanderinos and exchange students, with many bars and restaurants. A favourite drink is calimocho, a red wine/coca-cola combo.

Sleep
phone: +34 942 205 000

address: Calle Cadiz 22

Good business-type hotel, clean and efficient, close to stations. Breakfast is pricey, try adjacent cafés.

phone: +34 942 318 081

address: Plaza de los Remedios

Clean friendly business-type downtown hotel.

address: Calle La Braña 14, El Sardinero

Small rooms, but clean & cosy and near the beach.
Santemar Hotel, Calle Joaquin Costa 28, Tel: +34 942 272 900, a few blocks back from La Magdalena and Sardinero beach.
Gran Hotel Sardinero, Plaza de Italia 1, Tel.: +34 942 271 100, 4-star near Sardinero beach.
Hospedaje Magallanes, Magallanes 22 Entlo, Tel.: +34 942 371 421, is a 2-star in city centre.
Hotel Chiqui, Avenida Manuel Garcia Lago 9, Tel.: +34 902 282 700, is 3 km east of centre by Sardinero Beach.
NH Ciudad de Santander, Menéndez Pelayo, 13-15, +34 94 2319900. Good modern place downtown.
Go next